It Begins with Silence: Victoria Chang on Her Writing Process
"Why are you circling around and around, afraid to go into the center?"
Dear Silence,
I wrote in the margins of my notebook: What are you doing? What's at stake here? Why are you skirting around things? Why are you circling around and around, afraid to go into the center? I think I am circling around you, Silence, your center, and the closer I get, the closer I am to shame, to the language of shame.
The center could be the rack that Mary Ruefle speaks of in her book Madness, Rack, and Honey. The torment, pain, torture of what poetry does to the world, what poets do with words, and what words will do to a poet. I don't think, though, that Ruefle meant that we should only write about painful life experiences or feelings, but rather that we should write to put language at risk. I like that: What words will do to a poet.
Do I want to risk going into you in order to come out with words? To let the words build into something that is no longer me? Can I be the hawk and the storm that tries to kill the hawk? Am I willing to write about the dead? Will the language that I make murder me?
In our house, loud language was everywhere—bundles of Mandarin from Mother's mouth, Father's nearly perfect English, but Taiwanese-accented Mandarin. Then our Chinglish. But in our house, silence arranged itself like furniture. I was always bumping into it. When unrelated aunties and uncles came over for dinner parties, I envied the laughing as they drank Riunite wine, ate steaming fish and tofu. When they left, they took all the words. What was left after their laughter was always my grief.
I didn't know what was wrong so each night I prayed to God, but God just gave me tomorrow. Eventually, I stopped praying because I realized that God and I did not speak the same language.
Last night, I went to the talent show at our children's school. Kids dressed as sharks running around in circles. Popular girls with matching ripped jeans and long flat-ironed hair singing pop songs and dancing unenthusiastically. A magic show, piano players, ukulele players, joke-tellers . . .
Then a boy got up and the music began. He sang "Never Enough" from the film The Greatest Showman. I didn't remember the song or the film, but his opening breath was so quiet, it was Ruefle's rack. That was poetry. I think that is why I write. That is why I want to make art.
After he finished to a standing ovation, I remembered that this was the boy who was recently outed at school. This small seventh-grader sent his insides out, through his mouth, in small envelopes.
I am seeking whatever is painful in my body, whatever is joyful. While seeking, I may never find myself. While seeking, I have no idea what form I may take or whether anyone, including myself, will ever like what I write. Most of writing feels like walking in the dark. I'm reminded of what Donald Barthelme said: The writer is that person who, embarking upon her task, does not know what to do.
Recently, during a reading, the poet Valzhyna Mort said, Lacking language is the beginning of a poem to me. This is what writing feels like to me too. In some ways we are coming out of silence to make a new language. This making comes out of a deep desire to understand something that is invisible and voiceless.
Do you know that Jeanette Winterson cast this generative uncertainty of creative practice in terms of time in Art Objects: Essays on Ecstasy and Effrontery:
My work is rooted in silence. It grows out of deep beds of contemplation, where words, which are living things, can form and re-form into new wholes. What is visible, the finished books, are underpinned by the fertility of unaccounted hours. A writer has no use for the clock. A writer lives in an infinity of days, time without end, ploughed under.
Writing feels like being within you, silence, and then emerging, bronzed. Somehow, writing feels more related to beginnings than endings. Writing feels outside of time. In a windowless room. Not in a room at all. In a state of being half-awake and half-possessed. In an endless snowstorm, ploughed under. Alone. As I reach for memory that has become extinct.
Dear Silence, how do I enter you, seeking answers, but come out writing into and toward ambiguity? How do I live the questions, as Rilke says in Letters to a Young Poet. How many times have I looked so hard for someone's eyes to catch mine that I disappeared? That feels like writing. That feels like living the question.
It's not that the boy's voice sits within me now. It's the bird his voice became that I now seek. I am trying to make birds out of silence. Birds that will fly away, that I will never see die.
___________________________________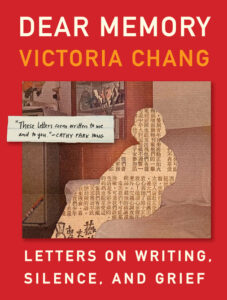 Victoria Chang's Dear Memory: Letters on Silence, Writing, and Grief will be published by Milkweed Editions in October 2021. 
---