Ishmael Reed: Mr. Miranda, Hamilton Left Out a Few Things
A Critical Take on the Broadway Hit
Enter Indentured Female Servant.
Indentured Servant: Well I'm not an Indian, or Negro, and I'm certainly no Harriet Tubman, but there's another class of people who were left out of your musical.
Miranda: Another one?
Indentured Servant: People like me. Indentured servants. Our lives were hard, but Negro people got the worst of it. Don't ever let nobody tell you that it was all about class and that race didn't matter. Yes, we worked alongside of Negro people in the fields and even fought side by side with them against the British, even made love to them, but we White poor never had to meet the struggles that Negroes encountered. Our skin color gave us an escape hatch, while Black people were slaves for multiple generations.
No, we didn't come here in luxury liners. We came below the deck. Packed together. Hundreds perished from diseases, but nobody threw us overboard to sharks at the sight of an anti-slavery schooner or chained us together. Unlike the Blacks, we could rise. Run for office. Get married. Own property. Some of those who leased our labor left their estates to us, which included slaves. For us the North Star was just another star.
After we served a period of about four years, we could move on with our lives. Even run for office. I worked at the Schuyler household. We all served the old general, a mean old Dutchman, and his wife and their pampered daughters. Because of their slaves and we indentured servants, they led a life of comfort. The daughters spent time attending the theater and having dinner parties and teasing young men with the promise of sex.
You can see me standing in that portrait of Angelica that was painted by John Trumbull in 1785. No, that's not a bird's nest on her head. It's a hat. The whole family was involved in the slave trade. Hamilton too. If he were such an abolitionist, why didn't he intervene when his father-in-law sold a whole Negro family? I never will forget it. March 8th, 1779.
Everybody was in tears—slaves and indentured together—as he sold James, his wife, Silleve, and their children, Molly and Daniel. Not one member of the Schuyler family showed remorse. Not even Eliza who was still at home. Not one. They all had their personal slaves. Yet the General is called an abolitionist because he founded that New York Manumission Society.
"Who? These voices must be wrong. Black people love my play."
Unlike the early times when we fought side by side with Negroes, worked with Negroes and even became their lovers, we advanced. We became their oppressors. The overseers. The patrollers. We figured that if we played our cards right and went along with the system that one day we'd have a swell place like Mount Vernon.
So, Mr. Miranda, by romanticizing people who treated human beings as animals, you're playing along with the system as well. As for this bank you praised him for starting,—the loans and credit went to his rich friends. There was nothing for the farmers and nothing for poor Whites like us. But none of us suffered as much as Diana.
Indentured Female Servant Exits.
Miranda: Who? These voices must be wrong. Black people love my play. Why even a character named Ishmael Reed who is going around bad mouthing me, nitpicking my book, and piggybacking on my success, laid out $1,200 for two orchestra seats. He had to forego his mortgage payment. They're calling Hamilton the greatest musical of the last hundred years. The former president and the first lady are recommending it to all of their friends.
Why look. (Holding up the San Francisco Chronicle's Arts section and pointing to its cover.) Here's the front page of the San Francisco Chronicle's Sunday Pink Section. They're teaching Black and Hispanic school kids to think like me, which means, if you read one book about a subject, you got it down. But maybe I have been had. Maybe all of the dancing, costumes, singing and moving stage set are like a beautiful house built on a sacred Indian—I mean Native American burial ground.
Did the Schuylers and Alexander Hamilton treat slaves and Native Americans the way my voices say? Hey, wait! I have a Black ancestor. Sophie, a slave who was born in Virginia. Native American ancestry. Boriquan. Have I written something that is opposed to me? What have I done?
Enter the ghost of Diana, a runaway from the Schuyler family. She has a wild look. Wears a bloody torn white dress. Barefoot. Rushes toward Miranda as we hear the barking of vicious dogs. He is startled. He tries to push her away.
Diana: Mr. Miranda, help me find my bones. My skull. I can't be buried until my bones are found. I'm sure that some ribs can be found. (Tugs at him; he resists.)
Miranda: (Clearly frightened.) What do you mean, who are you?
Diana: Diana. I ran away from the Schuyler mansion. This White man hid me, but we were found out. They dragged me to this tavern until old man Schuyler came with some men and threw me into a wagon to take me back to the house. They held me in the basement for weeks without food or water. I could hear them upstairs. Going about their daily activities. The girls had endless parties. I could hear their laughter and the dancing.
Miranda: That can't be true. Chernow says that Eliza was an abolitionist and that after her husband Alexander's death, she vowed to continue his work.
Diana: They never challenged their father. They went along with the brutality meted out against the slaves. They were indifferent to our condition. They were waited on and didn't know how to fend for themselves. They didn't even know how to boil an egg. I ran away because I had higher goals than to be their female eunuch. Finally, they came and got me. I had been sold. They beat me so that I lost consciousness. When I awoke, I was in a carriage. Tied up.
Miranda: But what about Angelica and Eliza?
Diana: They pretended that they didn't know what was going on. So, I worked in my new master's house for a year. I behaved. All the while, plotting to escape. So, when nobody was looking I ran away again. This time they came after me with their dogs. I thought that they would take me back to the plantation. No, they didn't stop the dogs.
"Mr. Miranda, you must write a scene for me. Their son volunteered for the duel which led to his death. We didn't volunteer for slavery."
The men were laughing even when the dogs tore into my flesh. They left, but not before cutting off my fingers and toes for souvenirs. That night wolves dined on my flesh. I lay there while wild animals feasted on the rest of me. Day and night. Mr. Miranda. I think my bones are still there.
Takes ahold of Miranda's arm. Pulls him. He resists and begins to scream.
Diana: Come, Mr. Miranda. Help me! Help me find my bones! I can have an African funeral. With singing, and drums, and dancing with a great feast. Mr. Miranda you wrote that lovely scene where Alexander and Elizabeth are mourning their son Phillip who was killed in a duel. The audience mourned with the actors on the stage.
Mr. Miranda, you must write a scene for me. Their son volunteered for the duel which led to his death. We didn't volunteer for slavery. What about my father? What about my mother? I was snatched from them when I was a toddler. I was playing in the yard when these White men came and snatched me. They took me to Albany, New York, to the Schuyler mansion. Write that scene for me Mr. Miranda, as you did for the Hamilton's boy.
Miranda: (Screams. Puts his hands to his head.) Stop.
Diana: Please Mr. Miranda, put my grief on stage. Mr. Miranda.
Miranda: (Almost near tears.) I was just following Ron's book.
Diana: You have the Schuyler sisters singing that all men are created equal and include women the sequel and then they raise their clenched fists. They didn't show their love for liberty at their father's home. Slaves waited on them hand and foot tending to their every frivolous demand. Please Mr. Miranda help me find my bones…
Diana exits, crying for her "bones." Miranda staggers around the room. Holds his hand to his head. Pulls out a handkerchief and begins to wipe his forehead. Doorbell rings. He answers. Returns to room with a FedEx envelope.
Miranda: (Begins opening envelope.) Who could be sending me a FedEx at this address? (Reads.) "Schuyler Flatts Burial Ground. Bioarcheological evidence identify the unmarked burial ground as a place once used by individuals enslaved by the prominent colonial Schuyler family."
What! What! WHAT! Chernow has some explaining to do. He told me that he's delivering a speech at the National Society of the Academy of Historical Institution or—I always get the name wrong. It's scheduled for 7 PM. It's 6 PM now. He's probably in the green room now.
Doorbell. Miranda walks to pick up the phone.
Offstage voice: Car service.
__________________________________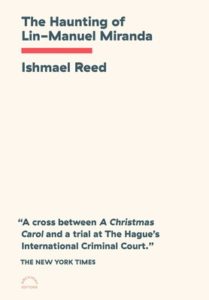 Excerpted from The Haunting of Lin-Manuel Miranda. Used with the permission of the publisher, Archway Editions. Copyright © 2020 by Ishmael Reed.
---