Where Are the Unlikeable Female Characters in Young Adult Fiction?
Hayley Krischer on the Reluctance to Publish Stories of Unlovable Girls
Courtney Summer's first published book, Cracked Up To Be, was written out of spite. Her manuscripts had been rejected multiple times. The rejections felt deeply personal and the feedback, Summers said, was consistent: Editors complained that her female characters weren't likeable.
It was 2008 and there were a lot of great female characters floating in the young adult sphere, with Katniss Everdeen of The Hunger Games standing out most. Katniss was the girl-next-door who could also shoot you in the heart with a bow and arrow and not miss. She, and the rest of her peers in YA, were very likeable.
But Summers wanted to write about a different kind of girl. She wanted to write about someone who was hardened. Someone already jaded and poisoned. Someone who wouldn't cut you with a weapon, but with her words.
"I just wanted to write a book where I could see those parts of myself reflected back at me. Because I was so sure that other people had the same feelings. That they weren't always happy. That they were angry. And I knew it was okay to be all these ugly emotions," Summers said. "So instead of writing someone less rough-edged, I thought I would write the most brittle and angry female protagonist that I can… and that'll show you."
That character was Parker Fadley.
"I shouldn't have finished off the bottle of vodka in my room last night… Back then, I drank to be caught. It was the start of my great campaign to distance myself from everyone. I even had a checklist and everything. First item: indulge in alienating, self-destructive behavior."
Summers queried a number of agents and was signed within a week by Wednesday Books. She was only 23 and it was a first book for Summers, her agent, and her editor. They stood behind her despite a disappointing trade review and despite a slew of harsh posts on Goodreads.
But her plan worked. Cracked up to Be became the first of a string of successful books for Summers, culminating in the release of Sadie, which landed on the New York Times best seller list in 2018. Summers couldn't have imagined that more than 10 years after its release, Wednesday Books would have reissued her debut novel, slap on a brand new cover, and ask her to write an introduction illuminating Parker, her complicated, unlikable lead character. A character, who initially, no one wanted.
The young adult contemporary world has a love/hate relationship with unlikeable female protagonists. Female YA characters are expected to be good role models, heroines. They're allowed to be upset or insecure or enraged, but not too upset, insecure and enraged. They're expected to make so-so choices, but certainly not terrible choices. And if they do, they should be apologetic for them. Unsure is okay. Being messy is not. They're supposed to have empathy and understanding for others. Research tells us this is what society wants from girls too: they're expected to be cheerful, to look feminine, to be wholesome and not be bossy or express other domineering qualities. Which should come as no surprise.
We expect our male characters, particularly teenage male characters, to be somewhat difficult. We like them because they're hard to like.
Boys in YA novels, on the other hand, tend to have free rein. You're supposed to like the guy with the chip on his shoulder. There's Dallas Winston in The Outsiders, who is described as "tougher than the rest of us—tougher, colder, meaner." There's Holden Caulfield from Catcher In The Rye, who was kicked out of multiple schools, who's apathetic, depressed and disconnected. More recently, there's Nate Macauley in Karen McManus's uber bestseller One Of Us Is Lying, a handsome drug dealer who's been "in trouble since the fifth grade." Those are the boys everyone falls in love with.
We expect our male characters, particularly teenage male characters, to be somewhat difficult. We like them because they're hard to like.
"When we apply these gender roles to girls, it tends to make them bossy or rude, but when we apply them to boys it makes them assertive, strong and brave," said Susen Shi, senior librarian for young adult services at the New York Public Library. "Sometimes we give boys a lot more leeway in terms of flaws than we do girls. I don't know if when people are talking about unlikable characters, they're talking about unlikeable male characters," she said. But she was pretty sure they weren't.
These kinds of expectations aren't limited to straight girls; it's an issue for queer female or female-identifying YA characters, too. One viral thread on book twitter captured it best with this statement: "Queer women should get to be chaotic and horny and dark and still be celebrated."
So why do we have so few unlikeable female YA characters? And maybe a better question is: can young adult readers, or better yet, the gatekeepers of young adult fiction, tolerate multiple iterations of the unlikeable girl protagonist from their authors?
"It's really hard for people to wrap their heads around a writer who would create a character you wouldn't like, because at the end of the day we all want to be liked," said Tiffany D. Jackson, author of Allegedly, Monday's Not Coming (a Coretta Scott King award winner), and more recently Grown. "When we dare to do the opposite of that, there are questions: 'Why doesn't your character have redeeming characteristics? Why doesn't your story reflect hope?' I always kind of say to myself, well, why don't you want to see the real world? Why are you trying to escape that you're not facing about yourself?"
Jackson first encountered these kinds of questions when her debut, Allegedly, was released in 2017. Allegedly follows nine-year-old Mary who was convicted of killing a baby. Mary is Black. The baby was white. The book begins with Mary at 16; she had just been released from "baby jail," is living in an abusive group home and wants her life to be better. She wants to go to college. Mary also wants the truth about the murder to come out. When she says that she "allegedly" killed the baby, you want to believe her. You root for her. She couldn't have killed this baby. Could she?
Adults want us to write idealistic views of what teenagers are like. And teens are looking for the real scoop.
Jackson shapes Mary with such an empathetic lens. She was born into poverty, has a mentally ill mother, was sexually assaulted as a child. Of course you don't want to believe she was capable of this. You're praying that she was wrongly convicted. And look, the truth was difficult for readers to swallow, that truth being that she did it. (She didn't mean to do it. She wasn't old enough to understand the consequences of it. But she did it.)
Many readers didn't want to believe the ending; on message boards or on social media, they'd debate what the "real" ending was, which shocked Jackson. Adults would ask her: How can you do something like this? But the teenagers she spoke to understood the ending.
"Adults want us to write idealistic views of what teenagers are like. And teens are looking for the real scoop," Jackson said. "I firmly believe that if we're writing the YA space that we should be answering to kids and not to adults."
For Black female characters, this is an even more difficult feat. The publishing industry is notoriously white. Authors of color have to work even harder to get their foot in the door, let alone get someone to accept or like their characters. "Diverse authors have the pressure of representing people of color in a certain way that makes us seem human and that humanizes us when we're already faced with a bazillion stereotypes," Jackson said. "So all of the stories that come out have to be humanizing and full of hope and with redeeming qualities so that white people will see us as human and feel that our stories are worth being told. My take on it is that we shouldn't have to present ourselves as perfect human beings for people to respect our stories."
*
I've always been interested in unlikeable female characters. I want to read about women and girls who turn me on my head, who make me uncomfortable, who make the wrong choices. Who can be shallow or careless. Who remind me of myself.
Isn't it our job as authors to explore those characters, the ones we want to reject? The mean ones.
I'm new to young adult fiction. My young adult debut, Something Happened to Ali Greenleaf (trigger warnings) follows Ali, a high school junior who is raped by the most popular boy in school, an athlete she's had a crush on for years, and cool girl Blythe, his best friend, tries to convince Ali not to report the rape. Both girls are dealing with trauma. They're both bottled up with rage: they're angry, tired and confused, letting all of those messy feelings out on the people around them. They turn on their friends, they turn on each other. They're not always so likable.
Those were the kinds of characters I wanted to see when I was a teenager: raw, complex kids who make terrible choices but who are still worthy of respect. My choices as a teenager in the 1980s were limited. I had S.E. Hinton's books, which shaped me, and which I loved, and still love, but her protagonists were boys. I related most to V.C. Andrews' Flowers in The Attic because the kids were unloved, trapped, had emotionally distant parents, anxiety, confusion, terror. I related to their full experience except for the incest. That storyline was not in my reality, thankfully.
In middle school at least there was Judy Blume. Blume put the words down on the page that no one would ever, ever say out loud. Sometimes her characters were ruthless. They lied. They manipulated others. And the full torturous middle school experience was captured in one book: Blubber.
Blubber is about an overweight girl named Linda who is tormented by a group of girls, including the narrator, Jill, a callous bitch. What? She was. Though Jill wasn't the leader of the perpetrators, she was a very willing participant. So what did they do to Linda? They called her "Blubber." They made her call herself "Blubber." They picked at her clothes like crows. They wrote in chalk on her driveway, "Blubber lives here." They made a list on how to bully her. They held her hands behind her back forcing her to show the boys her underpants. In 1980, Blubber was banned in Montgomery County, Maryland for a "lack of moral tone."
"My name will always be Blubber," Linda said. There were tears in her eyes.

"And don't you forget it," Wendy said, "because even if you weigh fifty pounds you'll still be a smelly whale."
I was probably about 11 or 12 when I first read Blubber. I remember being drawn to it because of how relentless the kids were, but also because I recognized the behavior. I knew it. It was familiar to me. Maybe I participated in this kind of behavior. Maybe I acted like Jill. Maybe I enjoyed it, or maybe I was fascinated by cruel group mentality. Maybe I was ashamed by it or scared of it. Judy Blume captured all of it—all of those swirling ugly emotions. Somehow Judy Blume was insightful enough to portray behavior we didn't want to see in ourselves. But I could not ever imagine a book like Blubber being published today.
Isn't that what we want from a book, especially a book when you're a teenager? For someone to put your thoughts down on the page, thoughts you didn't even know you were having until you saw their words? Isn't it our job as authors to explore those characters, the ones we want to reject? The mean ones. The bullies and the cruel kids. The unlikeable kids. Then that way we can better understand them and maybe, in turn, understand ourselves?
If that's the case, then why the reluctance? Why are we so careful about constructing the dark side of female YA characters? Will the publishing world ever move past this hurdle?
I asked this question to Kathleen Glasgow, author of Girl in Pieces and How To Make Friends With The Dark. In Girl In Pieces, Charlie, the protagonist, is fighting for her life. She was left on a hospital lawn, her blood seeping through a bedsheet in the freezing sleet and snow. Charlie is a cutter. She struggles with sobriety. People around her have their share of mental illness. Not every turn is easy or hopeful. She's not the kind of girl you'd want to wrap your arms around—even if you tried, Charlie wouldn't let you. But she's funny, self-depreciating and real.
In the past forty-five days, I've tried to kill myself; been put in a psych ward; been shipped by bus across the country; got a job washing dishes in a dumpy coffeehouse; and now I'm lurking in the house of a weirdo with an apparent drinking problem.
It took Glasgow about nine years to write this story. No one was in her ear about it, making her doubt herself. Not until she met with an editor during a writing conference in Taos, New Mexico. The editor, a woman, read part of the story. She told Glasgow that she really liked it and that it was powerful. But the editor had reservations. "When you start to send this out, a male editor is going to turn this down right away."
Why? Glasgow wanted to know. How could this woman be so sure? The editor told Glasgow that a male editor won't understand this particular female story. That Charlie will turn them off because she hurts herself and that makes her "unattractive."
Thankfully, Glasgow didn't take that editor's advice. She found an agent quickly who sent out the manuscript. Within four days, they had offers, and Girl In Pieces would go on to become a New York Times best seller. It was a New York Public Library Best Book for Teens. It was on the American Library Association's Amelia Bloomer Book List. Readers tattoo her words on their arms, they send fan art, they embroider quotes. She gets emails from kids in pain and emails from teachers about kids in pain. They understand Charlie. They know someone like Charlie. Maybe they are Charlie.
Yet even with all of that, Glasgow still sees an obstacle for young adult authors who want to write about unlikeable or unlovable girls. "We want girls to conform to be safe and protected and nice because we don't want anything bad to happen to them. If they don't conform, then bad things are going to happen to them," she said. "And so we call these characters 'unlikable' because they don't fit in to what we want girls specifically to be. Which is nice and compliant even when they've been traumatized."
We shouldn't need an alternative universe to create unlikable YA female characters. Isn't our world painful enough?
There's one exception, she said: fantasy. "Unlikeable female characters have existed for years and years in fantasy and no one has batted an eye. Because if you put that in a contemporary book, there's suddenly an issue."
We shouldn't need an alternative universe to create unlikable YA female characters. Isn't our world painful enough? This doesn't mean that characters who want to save the world or who want to fight for social justice aren't important. Of course they are. Sometimes you just want a straight up hero, a Katniss Everdeen who will come in and save the day, who won't feel undeterred, who will stand up for humanity. But the damaged, unlikeable girls matter too. And we shouldn't be ashamed of their stories.
__________________________________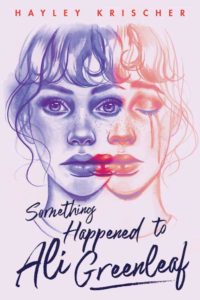 Something Happened to Ali Greenleaf by Hayley Krischer is available now via Penguin Teen/Razorbill.
---