Interview with a Journal: ZYZZYVA
Everything You Need to Know About the San Francisco-Based Literary Journal
In this installment of Interview with a Journal, we sit down with Laura Cogan, Editor at ZYZZYVA.
Founded in San Francisco in 1985, the journal aimed to highlight and amplify "West Coast poets, writers, and artists from a wide range of backgrounds, many of whom were otherwise overlooked by established publications, and providing them with a much needed platform."
In 2020, ZYZZYVA celebrated 35 years of continuous publishing. The publication is nationally distributed and includes contributors from around the globe. Some of these notable authors and poets include (but are certainly not limited to) Kay Ryan, Kaveh Akbar, Tommy Orange, Lucia Berlin, Rebecca Solnit, Daniel Handler, Adrienne Rich, and Lawrence Ferlinghetti.
*
Why do you love literary magazines?
Because publishing a literary magazine is a romantic endeavor that, at its best, holds within it the possibility of making an idealized notion of publishing an actuality. These journals do their work in more or less precarious conditions, chronically understaffed and stretched for resources. The best of them persistently publish work that challenges, rather than flatters, their readers. Their circulation is small in absolute numbers. Yet their impact for writers is considerable. Whether a writer is just starting out and hoping to get their first few stories published so they can catch the eyes of agents and publishers, or an author is working in a new form and refining new material between books, publication in a journal can provide substantial support.
Literary magazines are the unlikely powerhouses of publishing. So I love them for their role in the larger ecosystem of publishing, and, as an editor, I love them for the opportunity they provide to work directly with writers. But before I knew about any of that, I loved them first for the beauty and interest they offered me as a reader curious about contemporary literature. And while ZYZZYVA's mission is to be of service to writers, I always hope it is first and foremost a pleasure for anyone to read.
*
What is one of your favorite pieces that you've published? Why?
It would be impossible and unwise for me to select favorites, and in truth I am always most excited about the issues we are currently working on. Instead, I can say this: just as with certain books I've read, there are pieces from past issues that frequently re-emerge in my thoughts or imagination.
In No. 112 (2018) we published a long essay by Suzanne Rivecca about depression and anguish, writing and not-writing, and San Francisco, among other things. I think often of how difficult it is to explain depression, how hard to put into words that state of being, and yet how precisely and movingly Rivecca traced the knotty paths of her thoughts during that time. It is still the longest piece we've ever published, and it felt important to make that space for it.
In No. 116 (2019) we published two poems by Carl Phillips. One of these, "Fixed Shadow, Moving Water," is especially exquisite. In a short space, this poem raises essential questions about power, politics, love, and art, and closes with a response in the form of another open question, a way forward that prioritizes intimate connection (between two humans, and also in the way we observe the natural world). This kind of distillation is the magic of poetry. And the tenderness of this poem–especially in a time of acute turmoil and inhumanity—is so affecting. The last two lines ring in my mind.
*
What are some of the challenges you've faced working at or running a magazine?
This is an almost painful question to answer in 2021, as we emerge from the most difficult year we've seen yet. For all the obvious reasons, the challenges lately have been intense and myriad. The perennial challenges of fundraising and of building earned income have never been more acute, as distribution was massively disrupted last year and all our planned special events around our 35th anniversary had to be reimagined, scaled-down, or set aside. Perhaps a less obvious, but ongoing, challenge is the issue of how best to make sure we are supporting our authors in bringing all possible attention to their work in an incredibly noisy media environment.
*
How did being on the staff of a literary journal/magazine change the way you read?
I'm now so in the habit of reading with a pen in hand for work that I can't read recreationally for any length of time without making some sort of note in the margin. I usually keep a pen in my left hand while I read so that I don't have to disrupt things too much by getting up and hunting around for something to underline with. Yes, I write in most of my books—I know this will horrify some, but I'd entreat them to see it as a sign of engagement: the books that I love the most are usually the most marked up. The notes I make are usually ideas I want to be able to return to later, or flag some kind of connection, or are simply an admiring acknowledgment of an element of craft. I think the habit emerged out of wanting to be able to retrace my thoughts when I return to a given piece.
When I'm juggling reading submissions, editing an issue, and reading for pleasure, seeing my own notes on the past few pages helps me re-immerse quickly in a given text. I think, too, this habit indicates how deeply I'm now in the habit of experiencing reading as something collaborative, as a conversation between author and reader, and between one work and many others.
*
What is the most important thing that a writer should include in their cover letter/pitch?
Contact information is the only essential. It's interesting to know a bit about whether a piece would be the author's first in print, or where else their work has appeared, and if the work is a part of a larger project with a publication date that's certainly helpful to know, for planning purposes. But for the most part, the cover letters are not important. We read every submission, and the only essential information for a cover letter is how best to reach the author.
*
The publishing and media industries have recently undergone a long-overdue reckoning in how they handle equity and diversity. How can literary journals promote inclusivity without indulging in tokenism? What actions have your publication taken to support equal representation?
Equity and diversity are not new subjects of concern for us. But they are subjects that require ongoing examination, and ongoing improvement. For our editorial team, our commitment to inclusivity follows organically from our genuine interest in reading diverse works, in hearing stories from a variety of voices. And I think that's fundamentally your most important tool as a journal editor: an authentic curiosity about new writing. With that foundation in place, tokenism is honestly an anathema.
I think the next required layer is having ongoing, open, and rigorous editorial conversations about the balance in the publication. We have weekly meetings where we review our inventory and try to take a step back, look at it with fresh eyes, and see how it's shaping up. I certainly would not want to pretend we have this entirely figured out at ZYZZYVA, but I do hope that our readers can see how seriously we take the subject, and have done for some time.
*
Tell us about your submission process.
We have several themed issues upcoming: our new issue, No. 120, is on Technology, and we have just closed No. 121, on Family.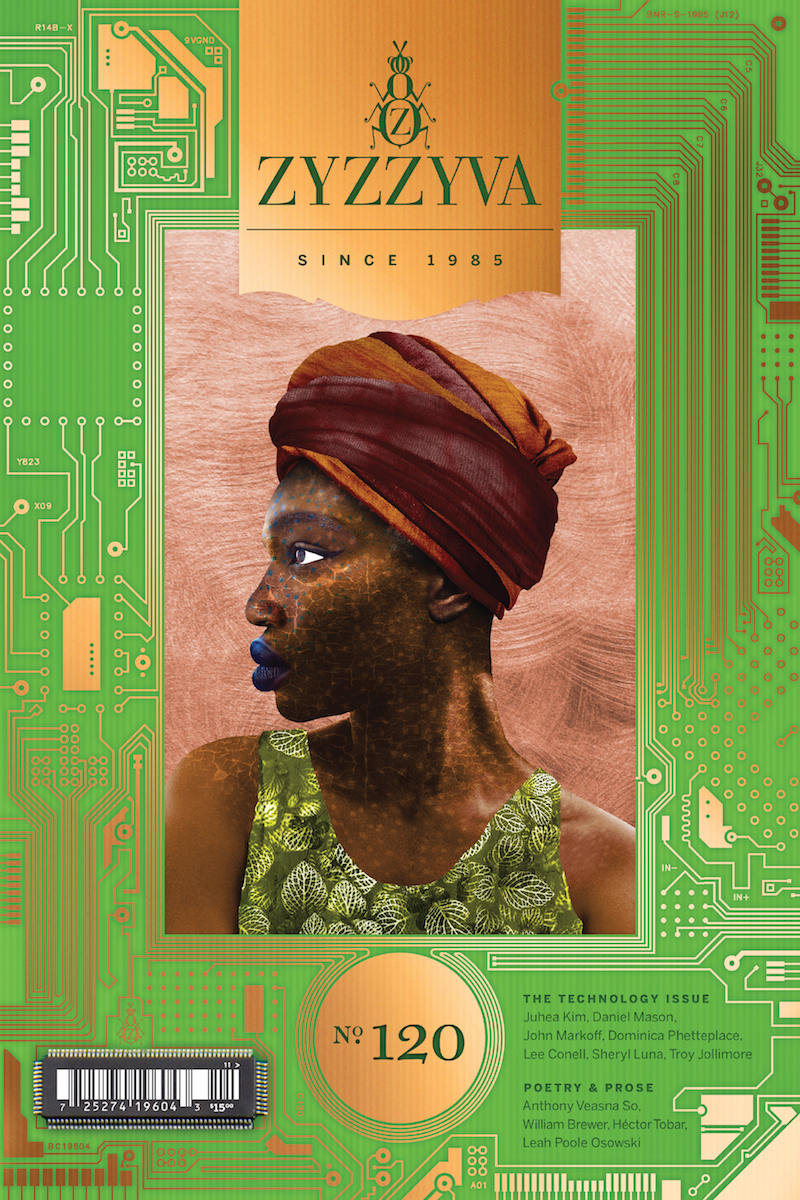 We are currently building inventory for No. 122, which we're tentatively calling our International issue. This one will focus on pieces about life beyond the borders of the United States, with work about immigration and travel, and several pieces in translation. And we are also building inventory for a non-themed issue for 2022.
We will be open for submissions from June 1st to September 1st.
We do not charge reading fees. Simultaneous submissions are fine.
Please send all submissions to our office:
ZYZZYVA
57 Post Street, Suite 708
San Francisco, CA 94104
Complete submission details are available here.
–Laura Cogan, Editor
---