Interview with a Bookstore: Brookline Booksmith
"Dedicated to the fine art of browsing"
Brookline Booksmith, located just outside of Boston in Coolidge Corner, originally opened in 1961 as Paperback Booksmith with the slogan "Dedicated to the fine art of browsing." The store was one of the first bookstores on the East Coast to recognize that "serious" paperback books—a publishing phenomenon of the late 1950s—opened up the world of great literature to a mass audience. Prior to that, paperbacks mostly featured westerns and nurse stories and "serious" literature was only available in hardcover. Paperback Booksmith sold a diverse range of books—from great literature to naughty books, from books by and about the radical left to books by and about the radical right. The Booksmith was one of the first stores to display the books by category, rather than by publisher, and to organize its books alphabetically by author, encouraging customers to enjoy browsing on their own and at their leisure. Since its beginnings as Paperback Booksmith, Brookline Booksmith has continued to evolve, serving the people of Brookline and Boston. – As told by Marshall J. Smith, founder of Paperback Booksmith in 1961.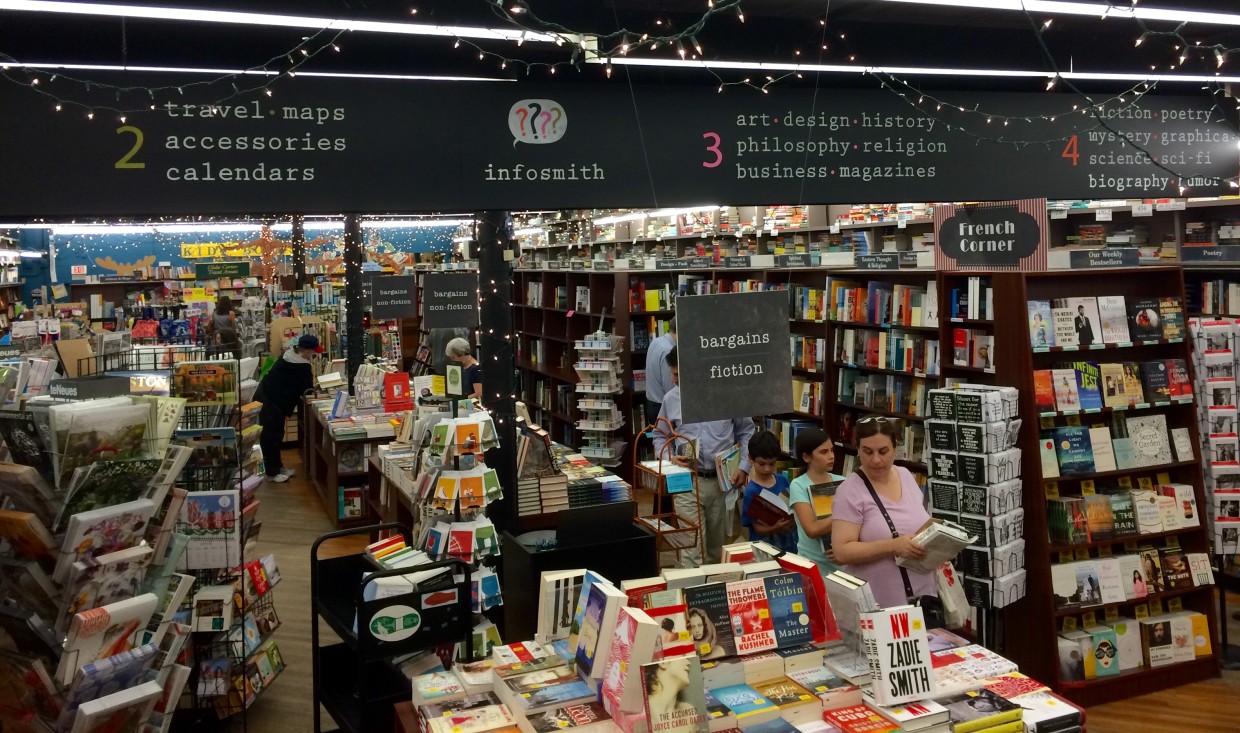 If you had infinite space what would you add?
Lisa (co-owner/assistant manager/buyer): If we had infinite space, I'd love to add a second floor for a rooftop garden bar. I see a solar-powered, light-filled space with high loft ceilings and long, large windows overlooking the city. The building would be composed entirely of recycled and/or eco materials, the glassware, utensils, chairs, fixtures and carpets would be a mix-up from the world's greatest flea-markets. This lovely oasis would be an alternate event space for us where our patrons could hear live music or listen to international poets while sipping New Zealand wines and eating simple, Ottolenghian food. As the seasons allowed, we'd have outside seating, lots of potted trees and flowers, garlands of tiny lights. Additionally, I'd like to use the retail space on our right for various Booksmith offices. I'd like to have a bibliotherapy department and a travel annex for creating unique/scholarly literary tours, perhaps even a space for Grub Street offices, that we might join our shared missions when/as possible.
In recent years, we've expanded our Used Book Cellar, adding a wooden floor and lights to make the space enjoyable. We've also expanded our Cooking section and our Travel section to reflect our customers' current interests. We've added a French Corner. We'd love to add six more languages, too. We have a lively micro arts supplies station, with the latest in coloring books and fine tools for artists on the go and a newly renovated state of the art Gift Room. With infinite space, we could become a kind of full service imaginarium, offering all of the content, sustenance, and inspiration, needed to pursue an engaged life of the mind.
What do you do better than any other bookstore?
Lisa: I think we at Booksmith are uniquely informed by the dialogue we share with our customers.  We respect our readers and are often inspired by them.
Working, as we do, in an incredibly literate, international community, keeping up with the evershifting, often deepening evolutions of mind and spirit of this base affords us an immense and rewarding challenge. Our booksellers and buyers strive to be as fully aware of all things cultural, intellectual, social and political as they happen or have happened in our larger world and to reflect this mosaic in all of its complexity (and occasional horror) upon the various shelves and tables within our store. Our staff aims high to serve the larger community; we recognize this work as our mandate but also our great privilege.
Who's your weirdest regular?
Paul (newsletter editor/returns manager): The weirdest one waits quietly in line, puts the newspaper on the counter, offers a little smile, money changes hands.
"Need a bag for that?"
"Yes."
The bags are stored in the bin at your feet, but there might also be a short stack lying on your side of the counter, in her line of sight. If she sees you pick one from the stack, you'll never find out about her dark side. If you bend down to pluck one from the bin, where she can't see you, she'll turn cold, and angry. You straighten up, and sense that something has happened, but you can't imagine what.
"Give me the bag first."
She opens the top, takes a sniff, and thrusts it back at you.
"Another."
This repeats until she smells that a bag is safe.
She has outright accused me, and several other booksellers, of trying to poison her. It can be very distressing, especially for new booksellers who don't know to casually plant a stack of bags in plain sight as soon as she comes in the front door, and only when her back is turned.
What's the craziest situation you've ever had to deal with in the store?
Dana (co-owner/manager):  So many, so little time! Way back, in 1995, Booksmith won the Publisher's Weekly Bookstore of the Year, a national award. Then PW editor John Mutter was en route to visit the store for photos and an interview. Minutes before his arrival time, I found a pile of dog poop just outside our front entrance. I raced to clean it up before John got here but was still at it when he appeared. "No job too small or too big?" he quipped. Yup.
A month ago, our building suffered a major power failure. No lights, no air conditioning. We had to close for customers but we'd had a new fixture delivery just before the power loss. So our tenacious booksellers went on to empty bookcases, install new ones and fill them in—all by flashlight, in sweltering heat. Similarly, our gift store crew busily created summer displays for the season. And we sold a few books to desperate customers by the daylight of our front door. Hmm… time for drive-thru service?
What's your earliest/best memory about visiting a bookstore as a child?
Zoe (promotions manager): Brookline is my hometown and I've been coming to this bookstore for long before I could remember that the name of it was Brookline Booksmith. I used to call it "the store with the creaky floors." I have hazy memories of the Booksmith when I was a child; I dimly remember there being a bookstore cat who used to doze in the window. My first confirmable memory of Brookline Booksmith was attending an author event to see Margaret Cho. She was on tour for her first memoir, I'm The One That I Want, around 2001. I was 13. We waited in line and got our book signed and my mom, for want of anything better to say, told Margaret that we'd seen her perform recently. Margaret was very sweet and welcoming. I was so embarrassed, for absolutely no real reason, just for the mere fact of my mother's existence.
What I remember from that reading is sitting in the dark and feeling something similar to magic happening around me. Book tours are a strange animal, and memoirs are stranger still; there is something very personal and raw about an author getting behind a mic and reading their published memoir aloud to strangers. As an audience member, hearing the author's words read aloud in the exact way they intended is revelatory. The whole experience is peppered with closure; you're all here, everyone involved, from reader, to memoir, to author. There you all are, together.
So that's my first concrete memory of being in a bookstore, of being in my bookstore, and becoming aware of how my surroundings changed what was happening. You can achieve that level of intimate sorcery in a coffee shop or gymnasium, but it's difficult. Something about shelves of books, each different and unique in its own way, buffering you against the harsh truth of reality makes for a special kind of venue, a secret spot of stories. It's possible I made this store my home on that very night when I saw Margaret Cho read here, decades ago. Or it could have been one of the thousands of times after that, I'll never know for sure. But it happened. I remember.
If you weren't running/working at a bookstore what would you be doing?
Dana (co-owner, manager): No clue, honestly. I've been here for 34 years and worked for the Brentano's chain for seven years before that. I got a teaching degree in college but after one stint of practice-teaching, I knew that was not for me. As a lifelong bookworm, what better spot for me to land than a bookstore? And as far as the independent bookstore manager vs. chain bookstore manager experience,  I liken it to the difference between babysitting (chain store) and having your own children (indie store).
What's been the biggest surprise about running a bookstore?
Dana: How incredibly complex (not rocket science but many, many plates in the air at once) and never-ending, always expanding the work is. How much evolution is required to stay relevant. How many surprises there are every day. How unusual and fascinating each and every person, customer or staff is. How books never stop changing lives.
SLIDESHOW: Brookline Booksmith Staff Recommendations
Brookline Booksmith is located at 279 Harvard St, Brookline, MA 02446.
---