Where the Words Grow On Trees
In a Seattle Orchard, A Poet Publishes Her Work On Apples
In the northwestern corner of Seattle—right up where the numbered streets enter into the triple digits and sidewalks go extinct—you'll find Carkeek Park. It's a gorgeous 220-acre plot of land with hills and streams and valleys and an expansive beach. It says something about Seattle's abundant beauty that Carkeek probably wouldn't crack an average Seattleite's list of top 15 most beautiful parks, but part of that has to do with how remote it is. It's not close to anything.
If you take the D Line up from downtown Seattle all the way to the very last bus stop—it's supposed to run about a half an hour without traffic, but there's always traffic now so it'll be at least 45 minutes—you wind up across from the southernmost tip of the park, a little green appendix. If you follow the trail along Piper Creek, you'll be in the middle of the woods in no time. About ten minutes down the trail you'll realize, maybe while in the middle of an intense Twitter direct message conversation about some dumb thing some dumb politician said, that you have no phone reception. The breeze suddenly sounds louder, you can feel it on your skin.
The thing about Northwestern forests is that they force you to come face-to-face with the brutal truth that the English language simply doesn't contain enough words for all the tones of green that occur in nature. You could stare into those leaves and thatches of moss for days and not smash enough random syllables together—sanistel, vertruse, nevander—to name all the different shades you see. That moment is always humbling.
The forest gets thicker and thicker along the trail until you reach a clearing on the left. It's an orchard—Piper's Orchard, a sign helpfully informs you—on the westward-facing side of a hill. Named after Andrew W. Piper, ("a professional baker, a city councilmember, a Seattle mayoral candidate, and a political cartoonist" who lived in Seattle at the dawn of the 20th century, the sign explains) the orchard is modestly sized but prolific in bounty. Mostly apples. Some pears. Filberts, cherries, walnuts. A single quince tree. It's been there for a century but was grown over for decades. Finally, in 1983, someone took two years to excavate the orchard from the forest that swallowed it up, and it's been producing fruit for the people of Seattle ever since.
Unlike dark and mysterious forests, which millions of years of mammalian evolution have taught us to fear, an orchard invites humans in as clearly as an invitation to a birthday party. People make themselves at home in orchards. Kids climb trees without asking permission; adults yank fruit off branches and happily chomp away. It's a cultivated place, an area where humans have lived and worked and shaped the land to their liking, and so we relax our guard and gallumph around as openly as we would in our own carpeted living rooms.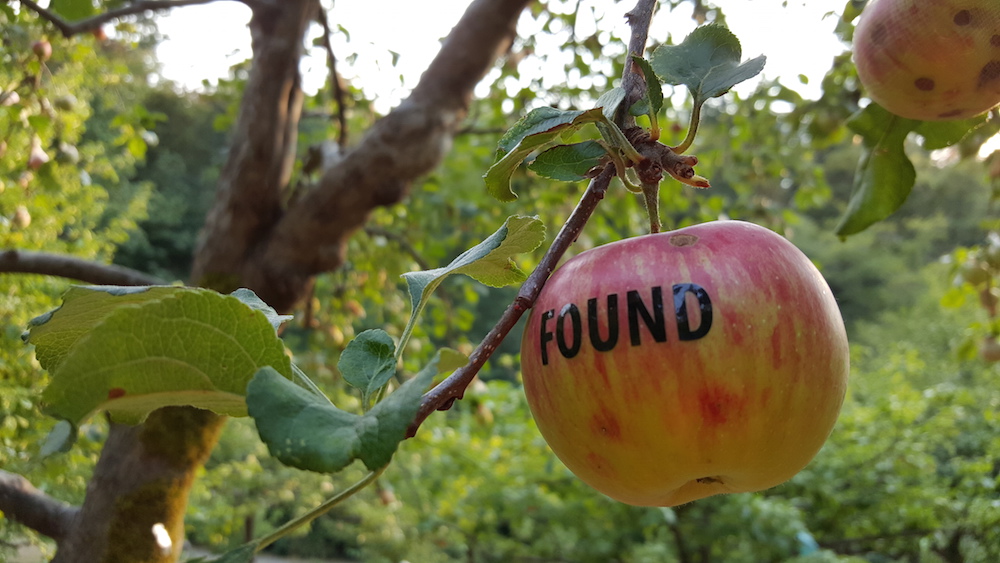 But imagine you're glancing around Piper's Orchard, judging the color and shape of all the apples with a hungry eye, and you spot, there, on the skin of one of the apples hanging right in front of your face, a word. In clear, capital letters, it says "FOUND." The letters are lighter than the rest of the apple, a pale green in contrast with the red skin around it.
Until you see a word printed organically on the side of an apple, you don't really ever quite realize how unnatural words are. Most adults can't separate the word from the object without strenuous mental effort: sky, water, leaf, orchard, apple, person, word. But to find a word like this in nature? And not even the right word? If the apple was labeled "apple," that would make more sense, somehow. But even so, it feels wrong, an artificial juxtaposition that makes the juices of your brain effervesce in alarm. We spot faces in nature all the time—in the whorls of a tree stump, in the expanse of a cloud—but nobody ever claims to discover, say, the spontaneous appearance of the word "Jesus" on a corn tortilla. And for good reason: nobody would believe it.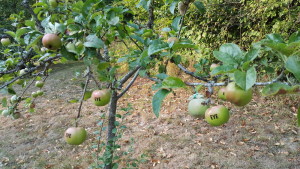 Looking around, you can find more examples of words, this time in the form of black vinyl stickers on the sides of the apples. A tree full of tiny, hard apples in the back are riddled with the word "EYE." You find "ANTIQUE" and "PARENTS." A pair of "CANOPY" sway heavily on a branch. The top of the shiny black "L" in "LORE" has slipped down, a striptease revealing a lighter green underneath in exactly the same shape as the sticker below it.
If you had access to the internet in Piper's Orchard, you'd be able to consult Google, which would assure you that apple tattooing has been around for centuries. In Japan, photography professor Jane Stephens told University of Cincinnati Magazine, tattooed apples are a boutique business, with some specimens costing anywhere from $10 to as $150 each. Some apples, Stephens says, "have sayings on them, such as, 'Best wishes for a long life,'" and she explains that a "Japanese pop star put his picture on apples to give his entourage for presents." With a data connection, you could effortlessly summon an image of Che Guevara etched by sunlight and stencil into the skin of an apple.
* * * *
The worded apples of Piper's Orchard are part of a site-specific public art project called HEIRLOOM by local poet Shin Yu Pai. It's a natural evolution in Pai's work; her poems often interject themselves into the connective tissue between words and visual art, and her work is always aware of its contextual placement. She's written a host of poems in response to photographs and paintings, she's published a beautifully crafted book of poems about the relationship between poems and paper. These sorts of endeavors can often lean toward precociousness, but Pai is inquisitive and not at all self-conscious. Poetry is her scientific method, the way she makes sense of the world.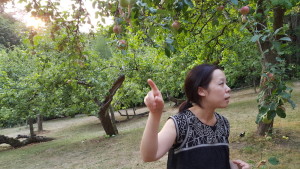 And HEIRLOOM has required boundless patience as Pai wrestled with both the concept (the work originally began as a response to a story she read about a GMO apple that would not brown when exposed to air) and the logistics (last year she tested her tattooing method and she's been modifying her techniques through trial and error ever since) of the project. Though the idea of printing words on apple peels using sunlight—"I think of the orchard as a giant photographic canvas," she says—has stayed the same all the way through HEIRLOOM's two-year gestation, virtually everything else about the project has changed since its moment of inspiration.
"I had been wanting to write about food," Pai tells me, especially the concepts of nutrition and agriculture. She aspired to write a poem that could contrast GMO apples with the "heirloom, really antique" varieties in Piper's Orchard. The fruits of these trees are much closer to the apples you'd find in the Middle East and Asia centuries ago than to the steroidal cloned red deliciouses you can find every day of the year in any grocery store in America. Piper's Orchard apples aren't as friendly as the kind you buy in plastic bags—they're a little harder, with a complex flavor profile ranging from pucker-sour to rich and oaky.
Pai first came to scout Piper's Orchard for HEIRLOOM with her year-old son, and he helped shift her goals into something "not so didactic, but more personal." Pai chose to hone her writing into the form of a "visitor's guide or a field guide to the orchard that would illuminate this place and this land and this history—everything my son could learn."
Over the last year and a half, Pai's son has been acquiring language—A is for apple—and the ever-present children's books in her house turned her attention to the idea of an abecedarian poem. The original idea was to put every word in the alphabet on every tree, but Pai says she quickly abandoned that concept when she put it into practice. Not every apple responds equally well to tattooing, and not every apple is big enough to have the word "NONESUCH" plastered across it in readable type.
"I thought that everything would stay on the trees much better than it has," Pai says with a note of discouragement, "but there's been human intervention and natural intervention." She says rainfall might have caused some of the apples to fall prematurely, but she's started to discover evidence of "people interacting with the apples. I see apples placed artfully in locations around the orchard. There was a sack of apples tied to one tree. Apples with bite marks and fingernail marks. Those were surprises to me."
She shrugs it off. When you're working with plants in a public setting, she says, "you are collaborating with a very fickle partner. Many partners, actually." She can't blame the de facto literary critics for meddling with her work: "my kid wants to pick the apples and eat them." It's the most natural thing in the world for humans, she says: "It's food."
Pai, who describes herself as not scientific-minded at all and from an urban background, moves around the orchard with a surprising comfort and ease now. She notes that she needed a ladder to affix the vinyl stencils to some apples months ago, but now those same apples have grown so much that the branches have come down to meet her. She can discuss the qualities of the different apples. She's learned a new language.
* * * *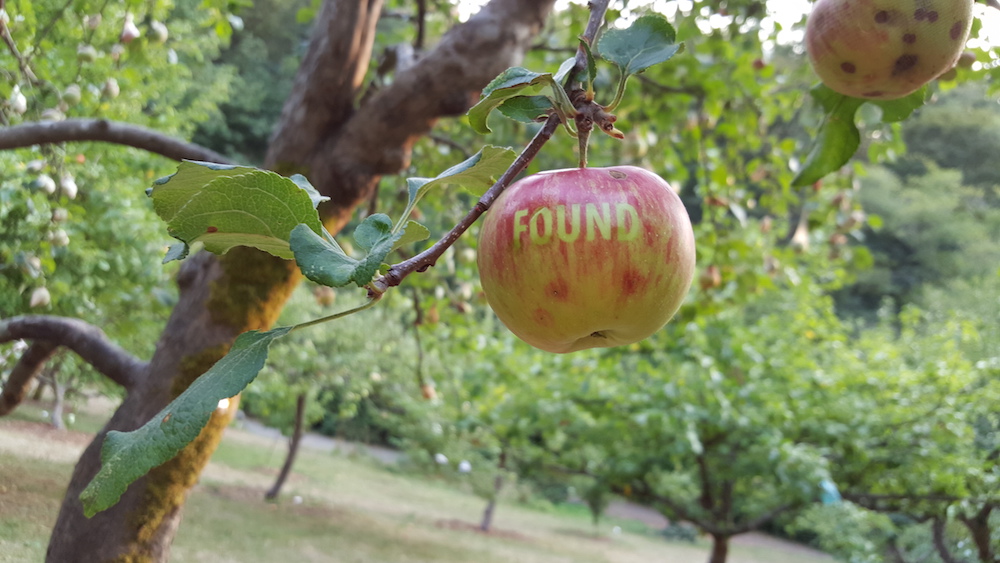 "HEIRLOOM," the poem, consists of two dozen short pieces that in total take about seven minutes to read from beginning to end. A QR code on a sign outside the orchard leads to a website where you can hear a recording of Pai reading the poem set to field recordings from Piper's Orchard. Each segment begins with a one-word title, and then it focuses on a single aspect of the orchard. She reports on the origins of the trees; some of the apples are "ushered from Russia," Pai reads with the wind in the background ush–ush-ing along with her. She recounts the rediscovery of the orchard in 1983:
FOUND
beneath ivy & thorn,
arching cane & suckering
root, ruin – the forest orchard
"gone to seed"
In "BOUNTY," Pai reflects on the utility of Piper's Orchard, with the "thousands of pounds of unsellable fruit" from the trees that "circulate to city food banks." Elsewhere in the poem, she critiques the red delicious, with its "mealy mouthfeel of an American classic;" explains how to graft trees; lists all 25 varieties of apple that grow in the orchard; recounts the old tradition of wassailing in orchards and hanging pieces of toast in the branches to implore God for a substantial harvest; and pays tribute to Minna Piper, Andrew's wife and the woman who planted the orchard ("master gardener/mother to eleven.")
Pai has never wasted a single word; she approaches every word with seriousness and an intentionality. But there's a joy in that craftsmanship, too, the earned joy of a worker who becomes an artisan. In HEIRLOOM, you can hear Pai fall in love with words she's encountered over the course of her research: cambium, calyx, hypanthium. Like her son, she's delighting in acquiring a new vocabulary, a more refined way to interact with the world around her. Watching her walk around the orchard touching the apples and judging their hue, is a rare pleasure; a poet who is at ease with the words in the world around her. Everywhere, things are growing.
---