Interview with a Bookstore: Biblioasis
The Bookstore Partner of Windsor, Ontario's Biblioasis Press
Biblioasis opened in its current location on Wyandotte St. E. in Windsor in Nov. 2012. An earlier incarnation of the store existed in downtown Windsor from 1998 to 2007. In the interregnum, Biblioasis operated almost exclusively as a publishing house, though it kept its fingers in the bookselling game by maintaining an online store of approximately 10,000 titles. Though its first incarnation was almost exclusively used, it now offers a balanced mix of both new, used and antiquarian titles. Dan Wells, the founding owner and publisher of both Biblioasis bookstore and Biblioasis Press, decided to open the store in part because he struggled to find a job at either his local independent bookstore—South Shore Books—or any of the area mall chains, and a volunteer stint with another bookseller amounted to little more than carpet-cleaning. With an expectation of failure at the outset, Dan is enormously grateful to have proven himself wrong.
What's your favorite section of the store?
Dan Wells (owner/publisher): When I need a break and wander into the bookshop, I almost always find myself gravitating to one of two spots: the new arrivals tables, to see what's recently come in, or the fiction wall. We've one of the best selections of literary and independently published fiction this side of Toronto, as you would expect from a bookstore associated with an independent press. And I've wiled away more than a few coffee breaks browsing in both places.
Bob Stewart (bookstore manager): We have a large blue counter that runs across the middle of the shop floor. It's eight feet long and it used to be a mailing and packaging work station in the press office. Today, it's where we display our new arrivals, and it's curated in an ever-evolving mix of chronology (when the book arrived), color/book jacket elements, author, subject… I like to look out there and see a mix of new fiction, local poetry, large format art books, graphic novels, rock bios and those unclassifiable creative non-fiction books that can really set off a table display.
Tina Lyons-Hagen (bookseller): If I was asked to close my eyes and envision my ideal space for a bookstore, Biblioasis would be what I pictured: worn, creaky wood floors, exposed brick walls, and books piled precariously on shelves, floors, and tables. When you add in Loki, the resident dog, clanging cast iron pipes, the retro Bunn Pour-Omatic commercial grade coffee maker and mismatched mugs, it's almost like a movie set.
If you had infinite space what would you add?
Dan: We're working on the more space thing, trying to find another location in the same neighborhood. Mainly, I'd love a dedicate event space, as the practical issues of ripping down part of the shop for events—and then putting it back together again the next day—makes events more burdensome than they should be. We'd do many more events if there was a dedicated space.
Bob: More space for customers to hang out and read: armchairs, daybeds, window boxes, and, just for sheer aesthetics and whimsy, a spiral staircase.
Tina: Definitely more space—for customers to relax, and for creative displays. Add in an impossibly impractical wood-burning fireplace, a sparkly chandelier, and a rolling library ladder, and I may never take a day off!
What do you do better than any other bookstore?
Dan: Local history, poetry, philosophy, literature: all of these are the strongest sections in the store. Marrying the right book with the right reader at the right time. Learning from our customers.
Bob: I think we talk local history better than any other bookstore. And it's not something I set out to do. I just know a lot of Windsor's official history, and maybe even more of the unofficial history, having worked in local newspapers for 15 years prior to becoming a bookseller. We carry and publish at lot of local history books in a city that can't get enough of its own history. As a result, you end up talking a lot about local history.
Tina: We listen to what customers want, and then we source those books. Because we are an indie store, our collections are really a reflection of our individual tastes, our neighborhood, and our customers, rather than a mirror of top-ten lists and flavors of the month. I think this encourages a sense ownership of the space in both staff and customers, and allows us to make sincere recommendations (and criticisms).
Who's your favorite regular?
Dan: I don't get into the bookshop much any more, unfortunately: I'm rarely on the floor, as publishing takes more and more of my time. But I always appreciate seeing some of the customers who've been with me since the beginning. You would think it would be the university professors or lawyers or other professionals who would be our best customers: certainly, when I started out I assumed this would be the case. But it's often been the postal workers and security guards and janitors and cab drivers who've proven to be the true bibliophiles, enthusiastic amateurs who read far more widely and are often much more knowledgeable than the experts. It's these customers, whoever they are, from whatever background they come from, I rank as my favorites, and who I miss, stuck in my back office as I am, most.
Bob: There's a gentleman named Abdul who came into the store on a regular basis. He appeared to be of limited means, but he was curating quite a varied collection of used, and often expensive, books on Middle Eastern and Post-War European history, political science and philosophy. We would order them in from all over the world, and very faithfully he would come in and pick them up, often bringing small treats like banana bread and juice for the booksellers. Sadly, we haven't seen him in several months. There are special order books waiting for him on the shelf.
Tina: I've only been on the Biblioasis team for a few months now, having come from another bookstore. It's been wonderful having my regulars from my former workplace walk in to Biblioasis, see me, and be sincerely happy to reconnect.
What's the craziest situation you've ever had to deal with in the store?
Dan: I don't think it's possible for me to pick just one. Just being able to have a life in books for close to two decades is crazy enough. 
Bob: I started at Biblioasis in Nov. 2014 during the week Biblioasis Press launched From The Vault, a local history book. I was brought on to help unload boxes of the book in a storage locker and to deliver the books to other area bookstores and retailers. By the end of the second day, I somehow ended up behind the cash register in a packed storefront, with a lineup of people out the door, all of them clutching copies of the book. I'd never operated a cash register or a debit machine before and the then bookseller was nowhere to be found. We made money that day, so any mistakes I may have made were well hidden.
Tina: About five shifts in to my employment here, we were discussing the upcoming launch of the new Harry Potter book. Bob basically said "I'm going on holidays that week, so you're in charge of the launch party." We managed to pull off a fabulous night, with themed snacks, a self-proclaimed witch giving wand demonstrations, media coverage, and costumes. At midnight, the customer line ringed the entire perimeter of the store!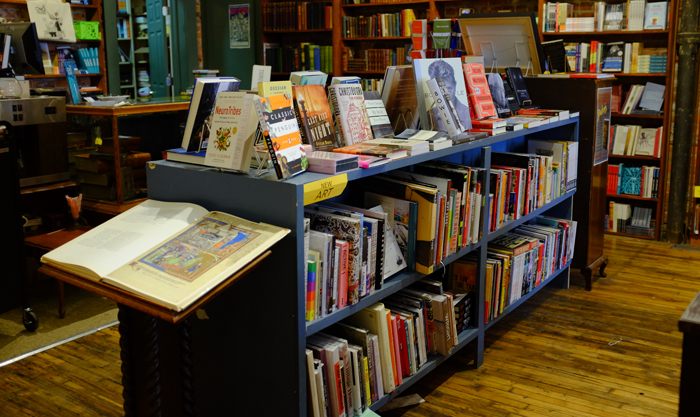 What's your earliest/best memory about visiting a bookstore as a child?
Dan: The only bookstore in the town I grew up in was called Clem's Book Exchange, a glorified junk shop with a maze of plywood shelving and books rising to the ceiling. There was no heat, at least in the back, where the floor wasn't much more than packed earth, and the light was so dim it could have been used as a set for a slasher film. And in the annex rom where Clem kept the literature, the roof leaked terribly. But I spent innumerable hours in there, teeth clicking away in the winter, sweating in the summer, ignoring the dampness and smell of mold, always finding something I hadn't known I wanted. I'd hide in a corner of that backroom maze and read for hours, sometimes entire books, so that I wouldn't have to pay for them. My nose and throat would tickle for hours after I left. The store closed a little over two years ago, and I went back with a writer of ours who knew the store as a kid as well to pay tribute: without Clem's, I'm virtually certain that there wouldn't have been a Biblioasis.
Bob: G.E. Copeland Bookseller and Stationer on Lincoln Road in Windsor. It's where I first encountered the famous bookstore scent, and where I picked out many Hardy Boys and Three Investigators books while waiting for my Mom to buy gift wrapping and ribbon and Scotch tape.
Tina: I grew up in a very small town in the Ottawa Valley. Sadly, we didn't have a bookstore in town until I was in my teens. I faithfully made a weekly trip to the public library, and wrote my library membership number (#3329) on the cards of my chosen books. I was so very excited when the librarian waived the five book-per-week limit for me, and I was allowed to borrow as many books as I wanted.
If you weren't running or working at a bookstore, what would you be doing?
Dan: Postal worker, perhaps. I got called for an interview at Canada Post the week I signed a lease on my first shop.  Or a unemployed historian of the Scottish Enlightement. Needless to say, I'm happy I'm neither.
Bob: Because Dan Wells in going to see this, I am going to say "writing."
Tina: It's hard to say; I've worn so many hats in such a variety of careers. I do know that I need to be in an environment that's relatively unstructured, open to creativity, and that doesn't care that I wear jeans.
What's been the biggest surprise about running a bookstore?
Dan: How much work it is. I figured it would give me ample time to read and write. Though it's been far more fun, and much more gratifying, than I'd expected too.
Bob: Contrary to what everyone thinks, there is no time to read.
Tina: Ditto what Bob said! Also, how quick you get at figuring out what someone is asking for when they say things like "I don't remember the title, but the author's name starts with a K, and the cover has flowers on it."
SLIDESHOW: Biblioasis Staff Recommendations 
---