Otto Penzler's 5 Crime and Mystery Picks for September
E.W. Hornung, Cornell Woolrich, Helen Eustis, and More
Each month, I recommend five works of mystery/crime/suspense fiction, new or old, with no agenda other than to share a distillation of more than a half-century of avid reading in this most distinguished literary category.
Lawrence Block, editor, In Sunlight or in Shadow (Pegasus, 12/16)
As an anthologist myself, I am so jealous of this brilliant idea! Authors were invited to write a story inspired by an Edward Hopper painting, and the results are diverse and mostly superb in this beautiful book, which has a full-page color reproduction of each painting. Not all stories are mysteries, and some are better than others, but there are beauties by Michael Connelly, Robert Olen Butler, Joyce Carol Oates, Jeffery Deaver, and those I'm unfairly not specifically mentioning.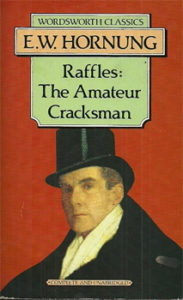 E.W. Hornung, The Amateur Cracksman (1899)
A.J. Raffles was among the first of the gentlemen jewel thieves who were all the rage in books, magazines and, later, motion pictures from the 1890s to the 1930s. Played in movies by David Niven, Ronald Colman, and John Barrymore, the ultimate urbane safecracker was almost as popular as Sherlock Holmes in the 1890s, stealing mainly from those who deserved to be robbed and usually to help someone in distress. Hornung was the brother-in-law of Arthur Conan Doyle.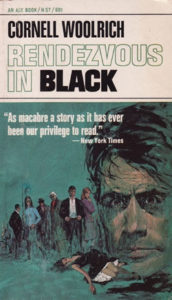 Cornell Woolrich, Rendezvous in Black (1948)
Not as well known as some other Woolrich works, such as Rear Window, Phantom Lady, or The Bride Wore Black, this diabolical novel is the sixth and final novel in Woolrich's "Black" series. In The Bride Wore Block, the female protagonist seeks vengeance on those she believes responsible for her husband's murder, hunting them down and killing them. This masterpiece of suspense follows a similar plot structure—with a twist. A young man's sweetheart is accidentally killed and he, too, seeks vengeance, but he doesn't kill those he believes responsible. He learns who each loves the most and kills them.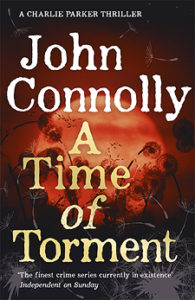 John Connolly, A Time of Torment (2016) 
Detective and horror fiction are diametrically opposed, one relying on reason, one on supernatural events, but Connolly in his memorable Charlie Parker series manages to combine them with solutions explained fairly and rationally. Parker, a former New York City policeman, is now a private eye who takes on the most malevolent criminals—both flesh and blood and those with occult powers. In A Time of Torment, the 14th in the series, Parker tries to protect a former prisoner, the trail leading to The Cut, an isolated and incestuous community that worships a god known as The Dead King.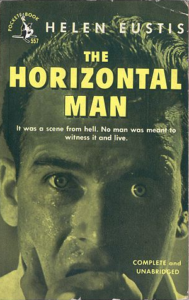 Helen Eustis, The Horizontal Man (1946)
The first book acquired by Joan Kahn, the greatest mystery editor who ever lived, in 1946, this courageous novel is a walk down the mean streets of the mind, exploring raw human emotions at a time when this was simply not part of the detective genre. Superficially placed at an exclusive girls college, its true setting is in the minds of its characters, though the murder of a handsome Irish lecturer and poet is real enough. Its surprise ending has been compared to Agatha Christie's The Murder of Roger Ackroyd.
Feature image: Nighthawks, Edward Hooper, 1942.
---