Inspiration, From a Distance: On Loving and Fictionalizing Ruth Bader Ginsburg
Elizabeth L. Silver Considers the Perks of a Near Miss
They say never meet your idols; instead, look to the people in your day-to-day life for guidance, and find inspiration from them. But the Honorable Ruth Bader Ginsburg could be a person in my day-to-day life and my idol—at least I used to imagine she could be.
When I was younger, I fantasized about sitting next with RBG and having lunch, wearing microbial gloves to protect her from any germs, and then the afternoon would bleed into the evening so we could explode a cork from a bottle of Prosecco and talk about our lives. I didn't want to just talk about my life with her or learn about her life outside the pages of her biographies, but rather I wanted to discuss her life–life. The one not necessarily written about, the one we even rarely know about ourselves.
When I sat down to write my third book, a novel called The Majority about a fictional first female Supreme Court justice, I wanted to explore the early interior life of a woman who would become the first female Supreme Court justice in America, and while I wasn't writing about RBG exactly; rather, I was creating someone new, someone with a little bit of Sandra Day O'Connor and Elena Kagan, a little bit of Sonia Sotomayor, and so many other women. But in order to write this book, I dreamed that I needed to actually meet RBG, or at least see her in action.
So in 2019, I traveled to Washington, DC to visit the Supreme Court. I knew that by sitting in the visitor's gallery, I would still be in her presence, observing, breathing the same air, and it would be more than enough.
It was essential to keep that beautiful magical image of the Notorious RBG in my heart, untarnished, and private, and because of that, my love will not fade.
The night before my visit, I waited anxiously. I'd gone to law school, worked in a state supreme court's chambers, witnessed oral arguments in the state of Texas, and read countless oral argument transcripts. But apart from the limited images I'd seen of the US Supreme Court, I didn't really know much about its interior, famously known for its privacy. Arguments are not televised, instead sketched on paper like hieroglyphics, and also recorded on audio so we can listen to them, but not concretely visualize what's happening behind the scenes.
As a result, all the subtleties of human behavior—the gestures of hand, the nods of a head, the body language which oftentimes makes all the difference between guilt and innocence, between love and hate, is stripped when you miss the visual component. In other words, we—the general public—can't fully know what it's really like inside the gilded tower.
Early in the morning of my visit, the wind shrieked as I sat down on the marble steps, waiting for the doors to open. The sky was almost unnaturally blue and the weather uncomfortably cold. I watched as the front steps of the building filled with hopeful visitors, eager to secure a spot for the day's courtroom argument as the sun cast an ominous shade over their bodies, all eager to witness history in the making. I was one of them, pen in hand.
As I walked up each of the forty-four steps, my phone buzzed, alerting me that RBG was sick and wouldn't be in court that day—the only day I was to be in town and able to attend oral argument. It was the first time in her tenure on the court that she'd ever missed oral arguments. Still, arguments would continue. All nine justices weren't required to be present, and so on went the show. Eight justices appeared from behind the glass curtain to take their seats—save RBG—and my heart sank. As a fan, I was sad; but as a novelist exploring the life not of RBG, but rather a fictional Supreme Court Justice I was creating in my imagination, I felt robbed.
But only for a moment.
The reason they say you shouldn't meet your idols is because if you do you run the risk of disappointment. But the other truth is that you can also lose the mystery, the mystique, the excitement for what might happen if one day you do truly meet. It is the perennial chase, the eternal flirt that keeps the flame alive, the cerebral kama sutra. Don't let it finish, don't come face to face with your version of perfection, because you know intellectually that perfection doesn't exist, can't exist. Love is love… from a distance.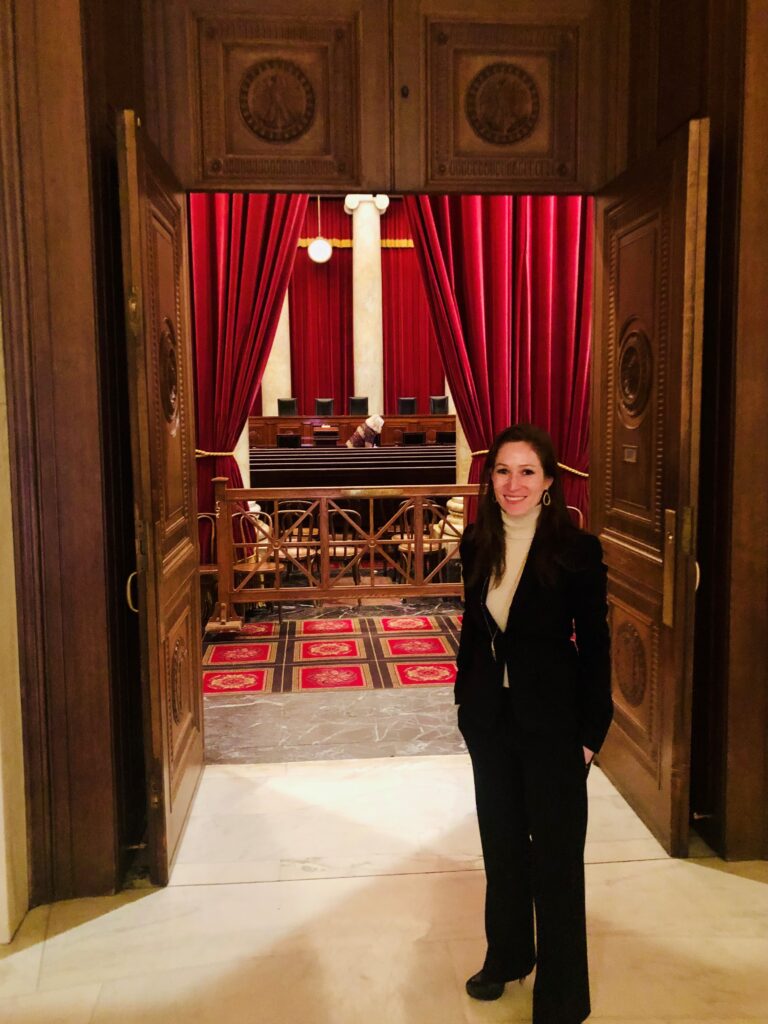 And so from a distance, I sat in the gallery listening to the other eight justices question the attorneys at the podium, and I examined the inflection of their voices and the way in which they interacted with one another, the building, and the people inside, and realized that this was not just the right way for the day to have proceeded, it was the only way.
We are in a certain kind of love with our icons, and that iconoclast creates a path that perhaps doesn't lead to a real person, but rather a public version of that person. An image flanked with a kitschy phrase or a bronzed smile poisoned with unrealistic expectations, carrying with it a mirage of perfection.
It was essential to keep that beautiful magical image of the Notorious RBG in my heart, untarnished, and private, and because of that, my love will not fade. And because I had the gift of distance, because I never swooned or felt disappointed, because I never examined her face up close or felt tongue-tied before her, I was able to create an entirely new character who I love even more, who bears some resemblance to my idol, but is entirely her own person, with her own flaws and gifts and looks, and I hope, a touch of her magic, too. It's fantasy, after all. And fantasy can last forever.
_____________________________________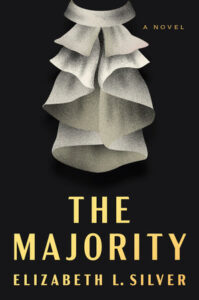 The Majority by Elizabeth L. Silver is available now via Riverhead Books.
---