Inside the Mind—and Heart—of the Other Woman: On Thought-Provoking Infidelity Narratives
The Author of Her Turn Considers Books About Marital Affairs
"There is a promise made in any bed," Arthur Miller writes in The Crucible. That's the deepest reason, beyond the hurt, humiliation and betrayal, that every married or partnered woman dreads the Other Woman. It's the fear that the disruptive, destabilizing effect of sex will make the promise come true and the man will leave with the Other Woman.
The worst has happened to Liz, the heroine of my new novel, Her Turn: ten years ago, her husband left her for his lover. From several points of view, Liz is now thriving: she enjoys her job as a newspaper editor, her friends, her college-age son, and a shifting cast of gentleman callers. But the aftershocks of her divorce persist. When the Other Woman, now married to Liz's ex-husband, submits a personal essay to the column Liz edits with no idea that she's entrusting it to her predecessor, a calamitous comedy is set in motion. Throwing journalistic ethics out the window, Liz engages in a pretend-edit of an essay that she never intends to publish. Her one-sided, email relationship with the Other Woman throws just about all of Liz's tidy life into disarray, including her own affair with her married publisher. Liz herself is now an Other Woman, something she has to think about seriously for the first time.
Other Women are as varied as the women whose partners they are bedding. Here's a selection of some of my fictional favorites—engaging, enraging, and thought-provoking.
*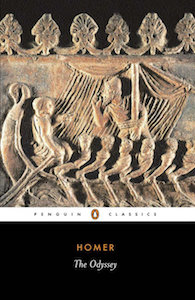 Homer, The Odyssey
The goddess Calypso, in Book Five of The Odyssey, is devastating. With her braided curls, her House Beautiful cavern suffused with the scents of citrus and pine, she sings as she weaves with a golden shuttle. A ripe, grape-laden vine coils around her cave, a symbol of her seven-year hold on Odysseus. At first, their desire was mutual, but now Odysseus longs to return to Ithaca and his wife Penelope. When Hermes orders Calypso to let her lover go, she outfits him with advice, provisions, and the makings of a boat—just in case he forgets her power and generosity. And she can't resist reminding him of her superiority to Penelope.
…I know my body is
Better than her is. I am taller too.
After disloyally agreeing that a mere human could never match the beauty of a goddess (or perhaps he is simply realistic), Odysseus spends his last night with Calypso. In Emily Wilson's wonderful translation,
The sun went down and brought the darkness on.
They went inside the hollow cave and took
the pleasure of their love, held close together.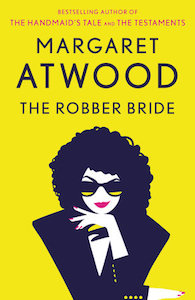 Margaret Atwood, The Robber Bride
When gentle, New Age Charis wonders why her so-called friend Zenia has murdered her beloved chickens, another friend tells her, "Because she's Zenia… Don't fret about motives. Attila the Hun didn't have motives. He just had appetites." Other than minor cruelties like the slaughtered chickens, Zenia has appetites for other people's money and—especially—other women's men. Atwood's wickedly funny page-turner centers on the havoc Zenia wreaks on three college acquaintances as she picks off their men one by one, then discards them.
Charismatic and beautiful, with a cloud of dark hair and breasts that grow and a waist and nose that get smaller, she has an infinite stream of pathetic stories about a mysterious cancer and her difficult beginnings—as a Romanian gypsy, a White Russian, a Berlin Jew, a Greek girl abused by an Orthodox priest. Men fall for her hard-luck stories like ninepins.
Although Zenia almost always profits in some way from her liaisons, that seems secondary to the playful exercise of her cruel superpowers. Lorrie Moore called her "Iago in a miniskirt," and the random malignity she shares with Shakespeare's villain makes her especially frightening. The only reason for the carnage she leaves in her wake, from heartbreak to suicide, is "Because she's Zenia."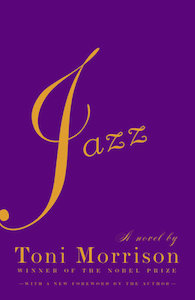 Toni Morrison, Jazz
Morrison sketches most of the plot in the first few sentences of Jazz. A man in his fifties falls in love with Dorcas, an 18-year-old girl, with a love "that made him so sad and happy he shoots her just to keep the feeling going." His wife goes to the funeral and cuts Dorcas's face in the coffin. After this operatic start, the plot meanders like jazz, looping and spooling through the pasts of the husband Joe, his wife Violet, and their circle of family and friends in 1926 Harlem.
Although Dorcas is the least explored of the main characters, everyone has an opinion about her. For Violet, she is greedy and haughty, the kind of woman who steals things from the tops of dressers and has no shame when found out. For others, she is a minx ("I could tell by her walk her underclothes were beyond her years") and a scene-stealer ("Everything was a picture show to her and she was the one on the railroad track"). Joe is in the minority, convinced that he never knew sweetness "until I tasted her honey." Believing in the soft side of Dorcas, he says he shot her because he was scared: "Didn't know how to love anybody." Maybe, but he also knew that Dorcas was planning to leave him for another man.
In this haunting portrait of Black life in the Jazz Age, Dorcas is the enigma at its center. She is also the catalyst who, in death, makes unexpected things happen. As Joe mourns for her and Violet broods over her picture, she wonders if she too isn't falling in love with Dorcas. That might be a stretch, but a friendship between Violet and Dorcas's aunt develops, also a return to speech for Violet, a relationship between Dorcas's friend Felice and Joe and Violet, and finally, the revival of a dead marriage. It's an impressive legacy for a young woman with no special talents or conventional beauty ("All those elements of pretty and the recipe didn't work"), but Morrison's sleight of hand makes it uncannily convincing.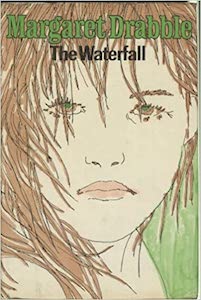 Margaret Drabble, The Waterfall
You have to give Drabble full marks for originality. Not too many passionate love affairs start in the bed where the woman has given birth just days before. And not too many affairs continue in the almost constant company of a newborn and her three-year-old brother. Jane Grey's husband has left shortly before her home birth in 1960s London, so her cousin and best friend Lucy and her husband James take turns staying with Jane in the first days and nights after the birth. Things in her hot bedroom are intensely fleshly, with blood on the sheets, leaking breasts, and a hungry infant in a cot at the side of the bed. Still, it's a surprise when, without any preamble, the taciturn but fetching James announces that he must be in that bed with Jane.
So it begins, the sexual awakening of Jane and her betrayal of Lucy. Although massively introspective, Jane does not disturb her erotic haze by discussing Lucy with James. On an outing with him and, as usual, the children, she thinks, "This is the peace of treachery: this calm, the lovely calm of infidelity." Warning: the lovely calm is temporary.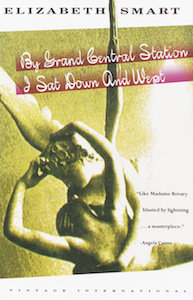 Elizabeth Smart, By Grand Central Station I Sat Down and Wept
A cult classic widely admired for its lyrical prose, By Grand Central Station I Sat Down and Wept is beloved by romantics and a rich source of argument for others. Is Smart's ecstatic description of a woman's affair with a married poet, closely inspired by her own affair with the British poet George Barker, a feminist work? Is she triumphant in desire, the "empress of a new-found land, that neither Columbus nor Cortez could have rivalled," or is she the passive victim of her infatuation with love itself, as well as with the poet?
At the start, she "picked him out with cold deliberation," financing the poet's and his wife's trip to California. But after the man surprises her bathing and "gave me what I could no more refuse than the earth can refuse the rain," the narrator falls into a helpless, rapturous passion.
She does spare an occasional thought for the poet's wife, realizing "I have broken her heart like a robin's egg," and "On her mangledness I am spreading my amorous sheets." But she seems to think all's fair in love and besides, the poet never leaves his wife. By the end of the book, both wife and lover are pregnant. The lover alternates between wondering why no one has buried her, since she is clearly dead, and striving for a more detached view. Imagining the man sleeping at home in "the cursed comfort he preferred to my breast," she acknowledges the wife and their dangerous dance: "Oh my gentle usurper, whom I also have usurped, my enemy whom I have both killed and been killed by. Let him write words that will acquit him of these murders."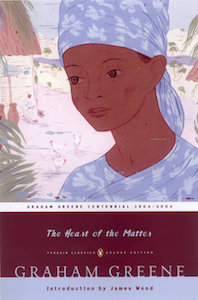 Graham Greene, The Heart of the Matter
Being the Other Woman is not guaranteed fun and games, at least as drawn by Greene in his so-called "Catholic novels." An acute, intense study of guilt and despair, The Heart of the Matter centers on Henry Scobie, a policeman in West Africa, and his discontented wife Louise. After Louise departs for a respite in South Africa, Scobie encounters a 19-year-old who has been widowed in an accident at sea. He would always remember that Helen "was carried into his life on a stretcher grasping a stamp album." Thirty years younger than Scobie, Helen has a combination of sharpness and pathos that is irresistible for him—especially the pathos. Scobie finds it difficult to disentangle love and pity, and he thinks fondly of Helen as cannon fodder or a bone the sea has washed up. Her slender knuckles look to him like "a small backbone that has been broken."
Not surprisingly, their affair has few or no moments of unalloyed joy. Pressing him to leave his wife, Helen says, "Other people seem to have love affairs which start and end and are happy, but with us it doesn't work." Scobie is filled with Catholic contrition and within a month Helen has taken on many of the least attractive traits of whiny, demanding Louise. Scobie expresses both the concern and the impatience women arouse in him when he wonders of Helen, "Where did she pick up this heartbreaking tenderness? Where did they learn to be so old so quickly?"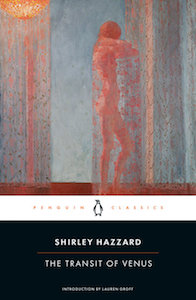 Shirley Hazzard, The Transit of Venus
Caro Bell, the heroine of Hazzard's brilliant, bewitching novel, is one of the most appealing characters in 20th-century fiction. She is also the Other Woman, engaged in a long-term affair with the married playwright Paul Ivory. Although the full picture of Paul's character only emerges close to the end of the novel, you don't have to be a close reader to see from the start that he is shallow, snobbish, capable of cruelty, and a big mistake. Caro knows that—"All my weakness is distilled in you," she tells him—but she is hopelessly in love with his charm, his brains, his sex appeal.
Aside from her character, something that keeps the reader sympathetic to Caro is that Tertia, Paul's wife, is almost always a dreadful human being. That's not an uncommon novelistic tactic when it comes to preserving the Other Woman's appeal, but just about everything else about this tightly calibrated novel is extraordinary.
__________________________________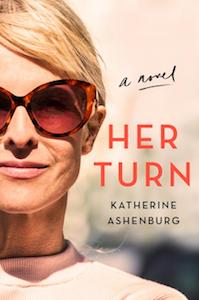 Her Turn is available from Harper Perennial, an imprint of HarperCollins Publishers. Copyright © 2021 by Katherine Ashenburg.
---