Inside a Perfect Replica of New York City
On the Elaborate Microcosm First Constructed for the 1964 World's Fair
"A poem," E. B. White wrote in his 1949 masterpiece Here Is New York, "compresses much in a small space and adds music, thus heightening its meaning. The city is like poetry." Nothing compresses the city in order to heighten its meaning more palpably than the Panorama of the City of New York—an astonishing feat of architecture, urban planning, and craftsmanship, strangely poetic in its deliberate contrast of scale and significance. To look at it is to see, perhaps for the first time, a singular city of ordered complexity and elegant enormity, dynamic duality and paradox in action.
Constructed by a team of more than 100 architectural model builders from Raymond Lester & Associates over the course of three years, this elaborate microcosm reduces every hundred feet of cityscape to one inch of Formica panels and urethane foam. This conceptual compression cost $672,662.69 to construct in 1964—the equivalent of approximately $5 million today. But what makes the Panorama most striking is its affront to our sense of scale. At 9,335 square feet, it is both a miniature and an expanse, containing every street, every park, and every single one of the 895,000 buildings constructed prior to 1992, when Raymond Lester & Associates updated the model.
The Panorama, which now resides at the Queens Museum, was created for the 1964 World's Fair as a celebration of master builder Robert Moses and his indelible imprint on the cityscape. A brilliant architect and a fierce politician who publicly defied politicians—including, in one famous incident, President Franklin D. Roosevelt himself—Moses envisioned and brought to life 658 playgrounds, 416 miles of parkways, 288 tennis courts, 678 baseball diamonds, and numerous major roads and bridges. He was a man animated by "an imagination that leaped unhesitatingly at problems insoluble to other people," as Robert E. Caro wrote in The Power Broker, his Pulitzer Prize–winning 1,200-page biography of Moses.
But Moses, like the city itself, was also a man of dualities. Although he began his career as an earnest idealist and an irrepressibly optimistic reformer, the power machine hardened him into a man of "iron will and determination," in Caro's words. Intent on bending the world's greatest city to his will, he imprinted Gotham with his fiery fusion of idealism and egotism. That his legacy should be celebrated by a miniature model of the city, Moses's favorite toy, is only fitting.
Perhaps most emblematic of all is how the Panorama was pitched at the 1964 World's Fair, where it became a favorite attraction as a kind of indoor helicopter tour of the city, promising to provide a "god's-eye view" of the urban ecosystem. In a sense, visitors were invited to try on the view of Moses, a self-anointed god who had drawn the master map not only of the city's infrastructure but also of its very character and destiny—the craftsman of the grand stage onto which, in the immortal words of White, "enormous and violent and wonderful events . . . are taking place every minute."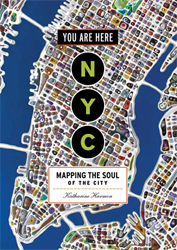 From You are Here: NYC: Mapping the Soul of the City by Katharine Harmon. Used with permission of Princeton Architectural Press. Copyright © 2016 by Maria Popova.
---