Inès Cagnati: The Insider Who Always Felt Like an Outsider
Liesl Schillinger on the French Novelist Who Wrote
Powerfully of the Immigrant Experience
How do you learn the stories of people who are too impoverished, powerless, or uneducated to write their stories themselves? Often it is outsiders who relay them, through leaps of empathetic imagination—as Harriet Beecher Stowe did with Uncle Tom's Cabin, awakening the conscience of the nation by exposing the cruelties of American slavery, or as Jane Wagner did with her 1969 children's book, J. T., calling attention to the plight of the urban poor in a novella about a boy who rescues a stray cat whose miseries resemble his own. But sometimes, authors who have overcome daunting circumstances emerge from profoundly adverse environments to give voice to personal travails in their own words. The experiences they describe land in us with disturbing power and commanding authenticity. Consider Jeanette Walls's The Glass Castle, or Tara Westover's Educated.
Inès Cagnati is such an author. Her novels and short stories about the Italian immigrant community in France in the middle of the 20th century resurrect a transitional era that might otherwise have passed without leaving a trace. Her quietly devastating debut novel, Free Day, which won France's Prix Roger Nimier in 1973, offers an insider's view of what it feels like to be an outsider, not only in the land in which you live but in the family to which you were born.
In the last century, between the wars, an unprecedented "massive" and "sudden" wave of immigration flooded the southern French region of Aquitaine. Eighty thousand Italians, mostly agricultural workers, moved to the severely underpopulated departments of Lot-et-Garonne and Midi-Pyrénées, lured by reports of plentiful jobs, gigantic tomatoes, and "dreams of El Dorado."* Illiterate for the most part and unable to speak French, many of these economic refugees found work on marshy, rocky farmland that had been abandoned by Frenchmen who had fallen in the Great War or who had moved to the city. The arrival of the Italians revived a failing region, but it also prompted French anxieties about alien invasion and cries for quotas. How did the French farmers in the region treat the economic refugees? How did the Italian newcomers treat one another? And what were the actual conditions of daily life in the tightly knit rural communities where the newcomers settled?
In 1997, a symposium in Bordeaux addressed these questions. The historians and sociologists in attendance concurred that Cagnati's "lucid and unsparing" fiction was an "indispensable" resource, and built upon it by soliciting oral histories of other first- and second-generation Italo-French southerners. They had plenty of statistics, of course (population figures and percentages), but to understand the vécu, the lived reality behind the numbers, the scholars needed to speak with individual men and women who remembered what it had been like to be a child in that time of privation, prejudice, and migration, because, as Cagnati writes, "A child is life's memory of itself." And for those stories to gain a human complexion, they needed names attached to them. "It's important for every thing to have its own name," Cagnati emphasized. When you name things, she explained, they become "less neglected, because once you give them a name, people can know them and talk about them." In Free Day, she gives names to the unnamed and voices to the voiceless. As in most of her later fictions, she tells her story from the point of view of a little girl—as helpless as the child narrator of François Truffaut's The 400 Blows—who relates her daily life without judgment and with brutal, unrestrained truthfulness that kindles pathos in the reader.
The story begins on a gelid, white-skied winter weekend in southern France in the 1950s. Fourteen-year-old Galla is cycling the twenty miles between the Catholic girls' school she attends, where she is scorned as an uncouth scholarship student and mocked for her ugly homemade clothing, and the remote hardscrabble farm where her family lives. Her parents had not wanted her to go to school at all; they needed her at home to do the work that her addled, worn-out, perpetually pregnant mother was no longer capable of doing. Galla has always been the family's workhorse, dressing, feeding, and looking after her four little sisters (especially the youngest, the angelic, blind, four-year-old Antonnella), minding the cattle, assisting at the birthing of calves, working in the fields, and deflecting the fury of her brutal father. But Galla, in an act of rebellion and self-preservation, stubbornly insists on pursuing her education.
She rides across the frigid, marshy,  rocky landscape on a rusty, squealing bicycle that is her only reliable companion and support. The bike's wheels are caked with icy mud from the riverine path that laces through the fields, woods, and bogs that lie between the farm and the road to town. In summertime, Galla loves the untamed countryside, rejoicing at "the marshes . . . rustling with wild tulips, the fields and the ditches gone wild with flowers and all their mingled scents." But it is winter now, and the going is treacherous. The mud slows her down but she perseveres. Whenever the bike hits a patch of black ice and shoots off the asphalt, skidding down sleet-encrusted slopes towards the riverbank, Galla fears for the bike's safety, not her own. But she keeps going, "sometimes pedaling, sometimes getting off to gently guide my bicycle." She sees the bicycle as her friend. "I thought, I'm holding its hand. I would have liked to be able to sing  to cheer us up, but I couldn't. I was too tired."
"When my parents had me naturalized, that was a tragedy," she said, chain-smoking all the while, "because I was not French. I wasn't Italian anymore either. So I was nothing."
This is a journey Galla usually makes every two weeks, from school to home and back, to comfort her mother, who weeps every time she leaves. But this particular journey cannot be repeated. The reasons why emerge through recollections and reveries that race through Galla's mind as she rides, some of them harsh and matter-of-fact, some of them fanciful dreams of lands "where the days are gilded with sunshine, where you sleep at night cradled in the blue of the waves of the sea." Like another unhappy literary child, Charlotte Brontë's Jane Eyre, Galla is in the position of all children, who can "feel, but they cannot analyze their feelings," and "know not how to express the result of the process in words."
Free Day reflects a good deal of the author's own history. Cagnati, who died in 2007, was born in the French town of Monclar-d'Agénais, in Lot-et-Garonne, in 1937. Her parents were both Italian—her father from Treviso, her mother from Vicenza—and she would never consider herself French. In one of her extremely rare television appearances, in 1989, upon the release of her final book, Les Pipistrelles (named for a species of  bat common in southern France), speaking fluent French that retained an Italianate stamp, she told the moderator that, in her childhood, she and her family and their immigrant neighbors "had the misfortune of being foreigners, and always being regarded as strangers." "But . . . you're French," he said. "No," she said. She was naturalized, but not a citizen. "When my parents had me naturalized, that was a tragedy," she said, chain-smoking all the while, "because I was not French. I wasn't Italian anymore either. So I was nothing." "Was childhood a happy time for you?" asked the benighted moderator. "Completely unhappy," she said.
She had grown up speaking Italian, and only learned French upon arriving at school. Like most of her protagonists, she had felt separate. "To be a child, it seems to me, is to be born apart," she said, because adults objectify children as something "little," something other. Children and the elderly (the subject of her 1979 novel, Mosé, ou Le Lézard qui pleurait—"Moses, or The Lizard That Cried") or "crazy people" (the subject of her 1977 novel Génie la folle) are "not like other people, they don't react like other people, they're not perceived to be like other people," she explained. Flailing for a scrap of comfort, the moderator protested, "But your anchor point, the value you hold to most firmly, seems to be the family unit." "Yes," she agreed, "because it's the only foothold you have in the world, the familial unit, with the father and the mother, even if they did not do for you what they could have done . . ."
"Their world was hostile, aggressive, they didn't want us there. I didn't understand their language or their rules."
Did she really feel like a foreigner, he asked, given her success on the French literary scene, her career as a professor of French, and her prizes? "Yes, always," she said. "Even now." In her works, Cagnati often addresses the specific hardships faced by immigrant girls and women of her era, both in the wider society and in their own households. Barred from full inclusion in their new country, they also suffered in their villages and homes from a sexism that limited their freedoms, condoned violence against them, and blamed them if they were sexually attacked. In Free Day, Galla fears a sexual predator who lurks in the marshes near her home; she knows that if he attacks her or her sisters, it is they alone who will suffer, he will not be brought to justice. In an introduction to her novel Génie la Folle, about an outcast mother and daughter, Cagnati deplored the double standard. She wrote: "A girl who is raped, who didn't know how to protect her virtue outside of marriage, is seen as guiltier than the man who raped her; who, it is said, was only fulfilling his role as a male." She asks: "Where is common sense to be found?" Galla, for her part, does not ask that question; she simply accepts that this is how things are.
The scholars in Bordeaux buttressed their research and the oral histories they had collected with an interview Cagnati gave to a regional newspaper in 1984. In it, she spoke at length about the difficulties that she, like Galla, had encountered as an immigrant high-school student. "At school, my world turned upside down," Cagnati told the reporter. "I understood nothing that anyone told me, I couldn't even obey, I didn't know what they wanted." The French schoolchildren made fun of her. "Their world was hostile, aggressive, they didn't want us there. I didn't understand their language or their rules, or what I was supposed to do in order to be tolerated, or at least to be pardoned for being myself, different," she said. "I think it was the same for the others." She added, "I think we were rejected more because we were poor than because we were Italian." Cagnati's impressions were confirmed by the accounts of several of her immigrant contemporaries. "Nobody is meaner than kids, you know," said one. "You can't say they were mean," countered another, "but they considered us a little inferior. And because of our large families, they took us for, I'm not saying Gypsies, but close." Still, according to a third Italian transplant, on the whole, "we were appreciated for our goodwill, our hard work, and our honesty."
At a contemporary geopolitical moment when populist leaders across the globe are demonizing immigrants and outsiders, and when the xenophobic rhetoric and punitive, inhuman policies of President Donald Trump target the foreign-born, Cagnati's searing evocation of the immigrant experience in Free Day moves the heart and stirs the conscience. Where, indeed, is common sense to be found?
Cagnati was luckier than today's immigrants. In spite of the rough transition period that shaped her and some of her peers, the integration of the interwar Italian boom generations into the French community proceeded with remarkable smoothness. No anti-immigrant protests broke out in Lot-et-Garonne or Midi-Pyrénées; the Italians were needed, and over time, they were accepted, such that today young generations of Italian-descended French in the southwest don't question their nationality, their right to be French. Reading Free Day, they, like us, can understand the distance that their predecessors—like Galla, like Cagnati—traveled to earn their sense of belonging, their right to be themselves, their right to be free.
*From a study of the 20th-century Italian immigration wave in southwestern France, "L'arrivée et l'implantation des Italiens dans le sud-ouest (1920–1939)" by Monique Rouch, in Les Italiens en France de 1914 à 1940 (Rome: École Française de Rome, 1986).
__________________________________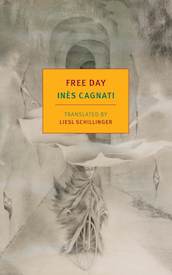 From Free Day by Inès Cagnati. Used with the permission of NYRB.
---