Indies Recommend: Small Press Books You Should Read This December
Seattle's Open Books Picks Its Favorite SPD Titles
As the nation's only non-profit distributor, Small Press Distribution is dedicated to getting small press literature to the people who want to read it. As such, we're grateful to our main customers—indie bookstores—the outward-facing purveyors who present our books to the public with flair and aplomb. To celebrate the great individuality of our favorite indie stores across the country, SPD's asked a few of them to shine a monthly spotlight on their ten all-time favorite SPD-distributed titles. This month, we're happy to host Seattle's very own poetry paradise, Open Books.
Open Books is 500-square-foot shop brimming with more than 10,000 new, used, and out-of-print poetry and poetry-related books. We order from publishers huge, tiny, and in-between, and carry a routinely updated collection of used books in order to maintain what we hope is a continually varied and interesting stock. After more than 20 years, the store's founders recently retired and a new owner has taken up the reins, excited to see what the next 20 years will bring.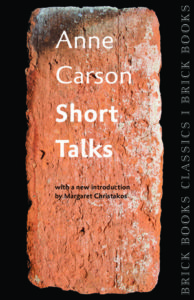 Anne Carson, Short Talks
(Brick Books, 2015)
The renowned ancient Greek scholar's first book beautifully reprinted on amazing paper, with an extra "short talk" on afterwords functioning as the afterword. Sometimes humorous, other times eerie, these prose-poems range in topic from waterproofing to Gertrude Stein at 9:30 at night—the most fascinating micro-lectures you'll ever attend. Nobody has not bought this book after opening it.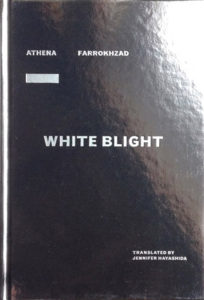 Athena Farrokhzad, White Blight, tr. Jennifer Hayashida
(Argos Books, 2015)
One family's immigration story in six voices, told to one another through blunt colloquialisms, warped adages, cultural sayings, and razor-sharp metaphor. Each member views collective uprooting with idiosyncratic retrospection, bringing to the table debts of gratitude, traumas of war, exhibits of globalization, and—vitally—the variable faces of love fully flared. A marvelous debut.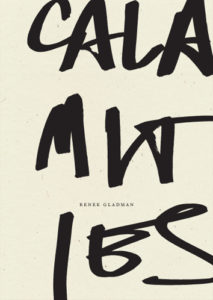 Renee Gladman, Calamities
(Wave Books, 2016)
A mage's anti-calendrical daybook comprising short, untitled proetic pieces billowing out as one around an intensely yet calmly self-reflective/reflexive "protagonist." It's as if this work is the cerebral cortex of a work about a writing teacher.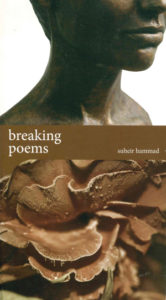 Suheir Hammad, Breaking Poems
(Cypher Books, 2008)
Suheir Hammad offers more than poems, she remakes language. After each title "break" a world unfolds, a world hewn from the Arabic of her native Palestine, the heart of her native Brooklyn, and the varied and interweaving music of exile and longing. Each exquisitely crafted line demands to be read out loud, and in the liminal space between word and sound, Hammad's beat breaks siege and breathes a homeland of poems.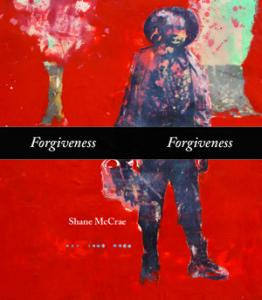 Shane McCrae, Forgiveness Forgiveness
(Factory Hollow Press, 2014)
Not his most recent book, but as wrought, nuanced, and flooring as anything he's ever had published. With an instantly recognizable, rhythmically oriented lyric style, McCrae harrows through the darkest parts of personal history, American racism, and familial abuse unearthing rays of redemption and restoration in his wake. We don't have enough good to say about this poet or his poetry.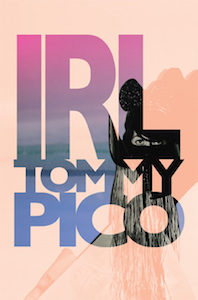 Tommy Pico, IRL
(Birds, LLC, 2016)
This debut blends the language of millennial ennui with the reality of inherited trauma. The subtle shifts between topics as varied as classical mythology, rooftop parties, and genocide are profound and affecting on the page. Maybe this is what it's like to see a mind mid-thought, overwhelming and brilliant.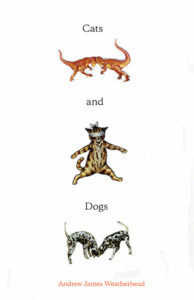 Andrew James Weatherhead, Cats and Dogs
(Scrambler Books, 2014)
A perfectly down-to-earth, refreshingly observant collection by a Brooklyn neuroscientist-cum-dog-walker gently influenced by Zen.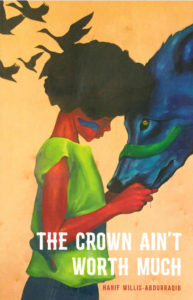 Hanif Willis-Abdurraqib, The Crown Ain't Worth Much
(Button Poetry, 2016)
In Willis-Abdurraqib's material world, time is marked by pop culture references and scenes are painted with soundtracks spinning in the background. Hanif does well to invite all types of readers to discuss many topics concerning a quintessential black experience in Columbus, Ohio, where his music reflected his friend circles, as much Britney as it was Jay Z.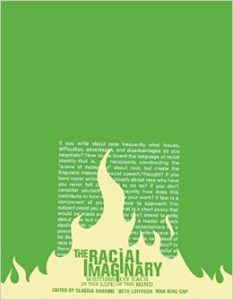 The Racial Imaginary, ed. Claudia Rankine, Beth Loffreda and Max King Cap
(Fence Books, 2015)
This collection of letters, all sent in response to Claudia Rankine's 2011 open letter on the subject of "race and the creative imagination," lays bare the inherent racism often passing as literary and artistic discourse in the United States. Essential reading.
* * * *
During the ownership transition of the last few months, we haven't had much time for reading. But a winter break is coming, and these are some the 2016 books we're squirreling away for the colder days to come: I'd ask you to join me by the Rio Bravo and weep but you should know neither river nor tears remain, by Jorge Humberto Chavez (Shearsman Books); Antigona Gonzalez, by Sara Uribe (Les Figues Press); My Country, Tonight, by Josué Guebo (Action Books); Bone Confetti, by Muriel Long (Noemi Press); and then we became, by devorah major (City Lights Publishers); Porcelain Pillow, by Thomas Meyer (Lunar Chandelier Collective); Arrive on Wave: Collected Poems, by Gil Ott (Chax Press); War Variations, Amelia Rosselli (Otis Books, Seismicity Editions); You're the Most Beautiful Thing That Happened, by Arisa White (Augury); and Decoherent De'Gniw Eht, by Elizabeth Zuba (SplitLevel Texts).
And because we sometimes just need to get everything we can by a particular poet, we appreciate SPD for the chance to fall down rabbit holes with poets such as Kim Hyesoon (SPD carries five of her books, along with the wonderful anthology Anxiety of Words, from Zephyr Press, 2006), and the chance to complete our collections with important debuts such as Claudia Rankine's The End of Nature (Cleveland State University, 1994), and small chapbook treasures such as C.D. Wright's 40 Watts (Octopus Books, 2012) and CA Conrad's Circle M (Counterpath, 2016). 
---