India's Nationalist Assault on Intellectuals and Students
On Campus Activism Amid a Culture of Oppression
On an August 2015 morning, two young men on a motorcycle stopped outside the home of Malleshappa Kalburgi, a 78-year-old literature scholar in the town of Dharwad in the southern state of Karnataka. One rider stayed on the bike while the other walked up to Kalburgi's door and introduced himself as a former student. Kalburgi had been the vice-chancellor of Kannada University, and he was famous for his critique of superstition and conservative practices, which angered Hindu extremists. After a brief conversation, the "student" fired at Kalburgi with a pistol, hitting him in the chest and forehead, and escaped on the waiting motorcycle.
The assassination of Kalburgi was the third murder of an Indian intellectual in two years. In February 2015, Govind Pansare, an 81-year-old Communist politician and writer, was entering his house after a morning walk with his wife in Kolhapur town in western state of Maharashtra. Two men on a motorbike, their faces covered with stoles, stopped on the street and repeatedly shot him with a pistol. He died in a hospital four days later. In August 2013, Narendra Dabholkar, a 67-year-old doctor and rationalist thinker, who like Kalburgi had campaigned against superstition and black magic for decades, was on his morning walk in Pune, a few hours from Pansare's home, when two men shot him point-blank and escaped on a motorbike. After Dhabolkar's murder, an anonymous letter had threatened Pansare. "You will meet the fate of Dhabolkar," it had said.
Uday Prakash, a 65-year-old writer who is one of India's finest novelists, was in Anuppur, his village in the central Indian state of Madhya Pradesh when he heard of Kalburgi's killing. Prakash had recently arrived from a suburb of Delhi, where he spends half his time. The talk in Delhi about the nation's booming economy, Modi's plans to turn India into a manufacturing hub, and building "smart cities" all over the country, grated on him. A famine was raging through hundreds of villages.
Most villagers are subsistence farmers who depend on a single crop—rice. The harvest that year had failed. Prakash knew that desperate poverty first hand. He had left his village as a teenager after his parents died and worked as a construction worker, a farmhand, and an errand boy, all the while educating himself, eventually becoming a journalist and writer in Delhi. Years later, after he found literary success, he had returned home and began living there for a few months of the year. "All around me people didn't have food to eat," Prakash said. His village is near the border of the state of Chattisgarh, where a Maoist-led insurgency has been raging for several years. Prakash said that sympathy toward the poor gets a person branded as a "Maoist terrorist." "I was living with a feeling that borders are being created everywhere in the country," he told me. Since Modi came to power, Prakash had been feeling fearful, as if India had undergone a societal shift. Kalburgi's murder was the third Indian intellectual in two years, and it rattled him. "India has always had riots, but the targeted killings of intellectuals and dissidents is a new thing," he said.
He called a fellow writer to speak about the murder, and his friend had reached out to the academy of letters and found it hadn't even sent a message of condolences to Kalburgi's family. "Sahitya Academy Awards are supposedly given to a writer to honor him for outstanding work. It is an award I had received. One of us is killed and they don't even say a word," Prakash recalled.
"For a while now, writers, artists, thinkers, and intellectuals in our country have faced violent, insulting behavior," Prakash posted on his Facebook page. "This is not the time to stay silent, seal our lips, and hide in safety somewhere. If we choose that, it is going to get more dangerous. In protest against the murder of Mr. Kalburgi, with humility, and with great concern I return the Sahitya Academy Award granted to me in 2010-11 for my novel Mohandas. I am in my village at the moment. I will reach Delhi by September 6 or 7 and will return my award certificate and prize money."
The Hindi language newspapers, which sell tens of millions of copies and mostly lean right, greeted his decision with mostly silence and some derision. The liberal English press interviewed him. A month passed. Mohammad Akhlaq was lynched to death in Bishara village outside Delhi. India had reached a tipping point.
Nayantara Sahgal, an 88-year-old novelist and essayist who had won the national academy award for her novel Rich Like Us in 1986, and whose uncle, India's first prime minister Jawaharlal Nehru, had established the Sahitya Akademi in 1954, decided to follow Prakash's example and returned her Akademi prize. "The Prime Minister remains silent about this reign of terror," she wrote in a statement she titled "The Unmaking of India." "We must assume he dares not alienate evildoers who support his ideology."
A dam of reticence and fear broke. In a few weeks, five writers on the board of the Akademi resigned; 35 writers from across India returned their awards in protest against a growing climate of intolerance.
*
Jawaharlal Nehru University in New Delhi is traditionally known as one of the most open spaces in India, a leftist stronghold where one could safely debate sensitive subjects. In February 2016, I received a message from a graduate student there, Umar Khalid, inviting me to speak at JNU about the question of Kashmir. "We intend to take the debate forward on these questions of occupation and the history of it, the atrocities and most importantly the question of self-determination," Khalid wrote. I grew up with the war in Kashmir, reported on it, and wrote my first book about it. But I was traveling for work, and promised to speak on another occasion.
The event, "The Country Without a Post Office," borrowed its name from the title of a poetry collection that many consider the most influential literary work on Kashmir, written by the Kashmiri-American poet Agha Shahid Ali. To speak of Kashmiri independence is rare in India, as liberals and leftists stop at a measured critique of the rights violations by Indian troops in Kashmir, or offer a vague call for dialogue. Khalid and eight other student-organizers were among a minority trying to push the boundaries of national consensus.
Students from Akhil Bharatiya Vidhyarthi Parishad, or All India Student Council, a group affiliated with the BJP, had complained that the event was "harmful to the campus's atmosphere." University officials agreed and revoked permission. Organizers ignored the ban and proceeded with the program. On the evening of February 9, a small group gathered outside a university dorm for the event. Participants were reading poems and singing songs when members of the ABVP arrived. "Kashmir is ours, all of it!" some chanted.
Several Kashmiri students were in the gathering, and they responded with a traditional Kashmiri slogan for independence: "What do we seek? Freedom!" Other protesters covered their faces with handkerchiefs, as if tear gas were filling the streets, as they often do back home. Someone yelled: "The battle will continue till India disintegrates!" A scuffle erupted between the two groups, but after a while, everyone dispersed. "I didn't give it much thought. Angry political arguments happen here," a graduate student told me. "I went to the library, worked a few hours."
The morning after passed peacefully. In the afternoon, Mahesh Giri, a BJP member of Parliament, filed a complaint at a Delhi police station, describing the previous night's events as seditious and anti-national activities. That night, Khalid and Kanhaiya Kumar, the president of JNU student's union, agreed to appear on television as panelists on debate shows. Between 9 and 11 pm every night, almost every network explodes into a cacophony of arguing voices.
Kumar appeared on India News, a Hindu-language network. Deepak Chaurasia, a veteran anchor, appeared to be furious and repeatedly shouted at Kumar, accusing him of being a sympathizer of terrorists and an anti-national. "Do students come to JNU to study or to support terrorism?" he asked.
Khalid appeared on The Newshour, whose frothing-at-the mouth anchor and editor-in-chief, Arnab Goswami, plays the role of a fearless patriot waging a war against India's real and imagined enemies. A caption in large font describes the show as "Super Primetime." The subject of his choice for the evening is called "The Burning Question" and computer-generated flames leap around the phrase on the television screen. Goswami berates and humiliates guests who disagree with him or whose answers fail to satisfy the questions he asks on the behalf of " the nation" with his trademark line, "The Nation wants to know…" "He is the 'Nation' personified, and the 'Nation' is in a permanent state of murderous rage," according to one critic.
"You are more dangerous for this country than Maoist terrorists! " Goswami shouted at Khalid. Goswami then began talking solemnly about Hanumanthappa Koppad, an Indian soldier who had been rescued from an avalanche at the Siachen Glacier in northern Kashmir at about 6,000 meters above sea level. Since 1984 India and Pakistan have been fighting over Siachen, a 47-mile-long slow-moving river of ice circled by stunning peaks where air is so thin that soldiers posted there live with fainting spells and intense headaches, lose their limbs to frostbite, and are killed more frequently by snow avalanches than by enemy bullets. It is a refrigerated no man's land which has cost India and Pakistan billion of dollars and the lives of several thousand soldiers.
"We are proud of him and we are ashamed of these anti-nationals," Goswami said. Khalid moved in his seat and began to speak, and Goswami went berserk. "You will not speak when I am speaking about someone like Lance Naik Hannumanthappa… I have run out of patience with you, with the shallowness and half-literate nature of your arguments," Goswami shouted.
Some of the biggest television networks seemed to have declared a week of hysteria, hyper-nationalism, and Islamophobia. An anchor with India News egged on a spokesman of the BJP to initiate police proceedings against the students. The lead anchor of Zee News declared: "We won't tolerate anyone insulting India. No traitor will be spared." Another BJP spokesman went on The Newshour with an iPad and declared that he was in possession of evidence of Kumar making a seditious speech, but the video on his tablet turned out to be doctored. (During another television debate, he displayed a picture that he said exhibited the obvious valor and sacrifice of Indian soldiers, but on closer inspection it turned out to be "Raising the Flag at Iowa Jima," the famed photo of six US Marines taken by Joe Rosenthal in the final stretch of World War II, except that the American flag had been replaced with the Indian one using Photoshop.)
By February 12, Rajnath Singh, the home minister of India and the second-most-powerful man in the Modi government, declared that he had directed the Delhi Police to take the "strongest possible" action against those who uttered Kashmiri independence slogans at JNU. A few hours later, Kumar was arrested on charges of sedition. Singh followed up by claiming that Hafiz Saeed, the head of the banned Pakistani terrorist organization, Lashkar-e-Taiba (The Army of the Pure), who has a $10 million US government bounty on his head, had lent his support to the students at the JNU event. His claims turned out to be based on a tweet from a fake Twitter handle that spelled Saeed's name incorrectly.
Kumar came from a working class family in Bihar, India's poorest state. His father, a subsistence farmer, has been paralyzed by illness for three years. His mother, a low-wage worker, earned $50 a month. An older brother, a worker in a factory in a distant northeastern state, pitched in to support the poor parents, who live in a small, dilapidated brick house. Beghusarai district, where Kumar grew up, has been a stronghold of left-wing politics. Scholarships had helped Kumar find his way from Beghusarai to New Delhi, and Kumar had joined the student wing of a leftist party at JNU.
Kumar was interrogated by the Delhi Police and kept in prison for three days, after which he was brought before a court in central Delhi. Journalists and supporters of his showed up, as did BJP politicians and a group of nationalist lawyers who chanted "traitors of the nation!" and "hail Mother India!" "Within seconds, I was surrounded by at least ten men in lawyers' coats," wrote Alok Singh, a reporter for The Indian Express. "They started slapping and punching me, targeting my face and head. I remember screaming at them, 'I am a journalist. I am a journalist.' But nobody seemed to care." A few photojournalists managed to capture a revealing photograph: Ameeq Jamie, a young activist from Kumar's party, lying on the street while O.P. Sharma, a BJP legislator in his fifties, stood over him and pounded Jamie with his fists. The police did not intervene.
Another three days passed until the next court appearance, and this time Kumar was the target. As he entered the court complex, another group of lawyers charged at him, punching and kicking him to the floor. One of the lawyers who attacked Kumar later walked into the courtroom and took a seat behind him. Kumar pointed him out to the police, but the man refused to identify himself. "Then he left and nobody said anything," Kumar recalled. "Police let him go."
The courthouse assaults and the tacit support by the Delhi Police stunned India. A few days later, about ten thousand students, professors, and activists marched through New Delhi to the Indian Parliament to protest the persecution of the students. Many wrote articles critiquing the violence.
Right-wing television networks began shifting their focus to Umar Khalid, who was also charged with sedition and had gone into hiding. They began building a portrait of Khalid as "the mastermind" with connections to Pakistani terrorist groups, providing "evidence" of the treason. "Call records accessed by the Delhi Police show that Umar Khalid has made calls to Kashmir, Bangladesh, and even West Asia" an anchor announced. News X, a struggling network, claimed it had an exclusive based on unnamed sources in the Intelligence Bureau that Umar Khalid was a sympathizer of Jaish-e-Mohammed, a banned Pakistani terrorist organization, which has attacked India and also participated in attacks against American troops in Afghanistan. No evidence was offered in support of the claim. One evening at a wedding in Delhi, I was talking to a friend about the trial of Khalid. A burly man in an extravagant suit overheard us, stopped in his tracks, and declared imperiously, "That Umar Khalid! He is the man to get!"
Reports about Khalid's father also began to air. Syed Qasim Rasool Ilyas was once a leader of the Students Islamic Movement of India. The student group had been founded in 1977 at Aligarh Muslim University, a college about 100 miles outside of Delhi that helped create an educated Muslim middle class in India. SIMI was largely focused on the socio-economic and political challenges facing India's Muslims. As a student at the university, Ilyas had joined SIMI and risen to be its president. After getting his doctorate in chemistry, Ilyas retired from SIMI in 1987.
A year later Khalid was born, and as he grew up Ilyas resumed his activism. Ilyas became a spokesperson for the Babri Masjid Action Committee, a coalition of politicians that argued the Muslim case over who rightfully owned the land in Ayodhya on which the medieval mosque stood, until a Hindu nationalist mob demolished it in 1992.
Several members of SIMI, angry about the destruction of the mosque and the massive anti-Muslim violence that followed, were radicalized at this time. In 2001, as the first Hindu nationalist government ruled India, Lal Krishna Advani, who fomented the Babri Masjid destruction, and who had become Deputy Prime Minister and Minister of Home Affairs, banned SIMI. Federal officials argued that SIMI members had formed a terrorist wing, Indian Mujahideen, which was responsible for a series of bomb blasts across India. Now, llyas's membership in SIMI, fourteen years before the group was banned, was being used in the trial of his son.
One afternoon I set out to meet Ilyas in Okhla, the largest Muslim ghetto in Delhi. An invisible border separated the upper-middle class neighborhood of New Friends Colony in south Delhi and the ghetto that spread out beyond it. The street turned narrower, the construction more frenzied and claustrophobic as I kept driving. The ghetto had witnessed building activity, often illegal but permitted by generous bribes to the police, because most Muslims wanted to live in the area; old personal networks and cultural affinity were partly the reason, but the big push came from the fear after the 2002 Gujarat riots. A squalid jumble of brick and concrete and dust rose around me for miles. The ghetto had trees, but no open public spaces. It housed a varied population of different educational backgrounds, aspirations, and economic circumstances, united solely by being co-religionists, who weren't allowed to rent or buy properties elsewhere in the city.
I met Ilyas in a modest apartment on a residential street. A billboard on the façade of the apartment announced it as the office of the Welfare Party of India; Ilyas is the national president of the party, which has almost no influence among India's Muslims outside of Delhi. A few old men watched television and smoked cigarettes in the living room. Ilyas sat behind a desk cluttered with books and papers in a small room. He had been receiving threatening phone calls from Hindu nationalists. "Somebody even called from Australia this morning to threaten me with death," Ilyas said. His older daughter was a student at Amherst; a younger girl studied in Delhi. Modi supporters threatened them with rape on social media. "I can't even repeat to you what they have been saying to my daughters."
Ilyas is a practicing Muslim, but father and son embraced radically different visions of politics. After Khalid enrolled at JNU, his father saw him gravitating more toward broader human suffering rather than being focused on the problems of his inherited religious community. "He would argue with me that Muslims are only obsessed with their own problems in India. He wasn't ready to engage only with the Muslim problems," Ilyas told me. "How can someone who doesn't even believe in Muhammad be part of Jaish-e-Mohammed?"
The father appeared on television and appealed to his son to emerge from hiding and face the legal process. The police raided the homes of journalists his son had spoken to. Sadiq Naqvi, a young reporter who had known Khalid since they were undergraduates, was interrogated for three days.
Meanwhile, to challenge accusations of being treasonous and anti-national, JNU professors were offering public lectures on the meanings of nationalism. Hundreds gathered when Gopal Guru, one of India's foremost political scientists, began his lecture with the question, "What is the nation?" "A nation has to be understood as the promises it makes to its people, and the aspiration it provides them. In 1947, we were promised a nation bereft of indignity, humiliation, and lies," Guru said. "And as I speak, we are seen as anti-nationals who are not fit to live in this country. The political class must be questioned on how far these aspirations have been delivered."
On February 21, Khalid and four other students emerged from hiding and congregated on the steps of the JNU's administrative block. Hundreds of students gathered to welcome them. Khalid was wiry thin and had dark circles around his sunken eyes as he stood on the administrative block stairs. He wore an oversized, striped crew neck sweater over a pair of denims. A carelessly wrapped stole around his neck completed the picture of a debonair campus radical. "Comrades, my name is Umar Khalid but I am not a terrorist," he addressed the gathering with a smile. Khalid recounted the charges against him, evoking laughter from the students. But the mood turned somber as he spoke about the threats of rape and acid attacks that were made against his sisters.
"For the last six years when I have been doing politics on this campus, I have never thought of myself as a Muslim, I have never projected myself as a Muslim. I believed that it is not only the Muslims but the Dalits and the tribals, too, who face oppression and prejudice in our society," he told the crowd. "The first time in seven years I felt I was a Muslim was in the last ten days." He repeated a sentence from the suicide note of Rohith Vemula, a Dalit scholar at a university in southern India, who killed himself after he was expelled from the university following aggressive lobbying by a senior minister of Modi's government, who accused him of treasonous behavior and tagged him anti-national: "I was reduced to my immediate identity."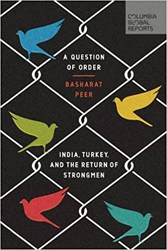 From A Question of Order: India, Turkey, and the Return of Strongmen. Used with permission of Columbia Global Reports. Copyright © 2017 by Basharat Peer.
---