In Which Daniel Mendelsohn Wishes Someone Would Ask Him About Gardening
(And Also Answers Some Questions About Books)
Daniel Mendelsohn's Ecstasy and Terror is available now from New York Review Books.
*
Which book(s) do you return to again and again?
Obviously, as someone deeply invested in the "classics" (in both sense of that word, with both a big and a little "c"), there are works I necessarily return to for (as it were) professional reasons: the Odyssey, of course, which I teach, write about, and am now translating; Greek tragedy, the Greek and Roman historians, all things that I write about. And then there a few more "modern" (ha!) authors who have marked me in one way or another over the years and continue to speak to me in a way that I find useful for my own work as both writer and critic: Proust above all—I read the whole shebang every ten years, more or less—Cavafy, Montaigne, Wilde, Gore Vidal, and so forth. It's a mixed bag.
But the fact is that apart from those things, which are a kind of mental furniture—they are just around—I rarely return "again and again" to books for personal pleasure. The one exception is Jane Austen, who is probably the one serious author that I have re-read many times for sheer enjoyment. Apart from that, there are a couple of books I love to dip into now and again for purely sentimental reasons: Mary Renault's The Charioteer, for instance, a gay novel set during World War II which had a huge effect on me when I was a closeted adolescent in the 1970s, and which I like to rifle through every now and then, I think mostly just to remind myself of a me that once was but is hard to recognize any more—a useful exercise for a memoirist, maybe. And then I'm always plugging Noël Coward's only novel, Pomp and Circumstance, a bit of comic froth which I read every August and which reduces me to tears of laughter each time. So that's fun.
Which non-literary piece of culture—film, TV show, painting, song—could you not imagine your life without?
I am (and have been since the beginning) a crazy R.E.M. fan, and it would be very hard to think of my life without their 1992 album Automatic for the People. The plangent strings, the melancholy lyrics, the mood of nostalgia to be found there—such a surprise after their previous album, Out of Time—spoke so strongly to the mood of pervasive loss in which I and many others were steeped in the late 80s and early 90s.
I remember the day it was released, I came back from the record store and sat listening to it on the floor of my apartment in Princeton—I was in the last year of my dissertation and living above a bookstore—weeping hot tears, track after track. "Try Not to Breathe," "Everybody Hurts," "Nightswimming"—I can barely even type the titles without getting emotional, it's like a time machine for me. There are moments in your life as an absorber of popular culture when the synchronicity of the film/album/artwork/whatever, the larger social situation, and your own personal moment—I had just lost a very close friend and roommate to AIDS—produces an unbelievably powerful receptivity. I can't imagine my 30s, that very specific moment at the beginning of the second decade of the AIDS crisis, without that album.
And of course I have always been crushing very hard on Michael Stipe.
What was the first book you fell in love with?
This will be a short answer, since I've written about this at length in a New Yorker essay that now appears in my new collection. The Persian Boy, a historical novel by Mary Renault about Alexander the Great told from the point of view of his Persian lover, a eunuch named Bagoas, was the first book that I cathected utterly. I was a gay fourteen-year-old, I felt crushingly lost and alone, and this book about gay love in an unimaginably distant time and place gave me, finally, an external correlative for feelings I didn't even have a name for. I think in many ways it quite literally saved my life.
It's hard, today, to recreate how totally isolated and freakish one could feel as a gay teenager, pre-internet, pre-Will & Grace, pre-everything: you had no idea if you were the only person ever to have these feelings, or if there were anyone else like you out there. So to find this novel—this bestselling novel, which was being reviewed in the Times Book Review—about people like me was immensely important. I must have read it 50 times by the time I went away to college, it was the only thing I had.
What do you always want to talk about in interviews but never get to?
Décor! Gardening! I'm a big design nut and, now that I live full-time in the country, an avid and happy gardener. All these nice people come up to my house from the city and we talk about Homer and the classics and W.G. Sebald and the Holocaust, and I'm, like, "Don't you want to ask about my Robsjohn-Gibbings end tables which I got for $50 at the old flea market on Sixth Avenue!?! And look how fabulous my Mme. Alfred Carrière climbing roses are this year!"
I'm joking, partly, but my point is: authors are whole people, and there's an underlying consistency in everything we do. If I were interviewing someone, I'd be looking around at the end tables, because it all is part of the story—everything you are and are interested in ends up in your work, somehow or other. Pay attention.
Name a classic you feel guilty about never having read?
I have never read To Kill a Mockingbird. Mortifying! I'm pretty sure it wasn't taught in my middle school or high school—which is odd, considering that we did read things like The Barretts of Wimpole Street—and after that I somehow just kept missing the boat: as I got older it seemed to recede, not in cultural importance, God knows, but in urgency. I think that most of the time when you miss reading a classic, it's not because of any conscious design but merely the result (like many things, actually) of fortuitous lapses—in this case, because your knowledge that it's always inescapably there induces a paradoxical indifference: you keep thinking that one day, you'll get to it.
Anyway, this particular book so pervades the culture that I almost feel as if I had read it, by this point. I remember when all the brouhaha about Go Set a Watchman came out, I was reading all the articles, the discussions of Harper Lee's authorship, the questions about the manuscripts, etc., etc., following along and nodding at this or that point, and I had to keep reminding myself that I hadn't, in fact, read Mockingbird.
Is there a book you wish you had written?
I suspect that the question really means, "What book do you so admire that you wish you'd written it?" But for me it's enough to admire. To say that you wish you'd written someone else's book is to say, essentially, that you wish you were someone else; which I don't.
__________________________________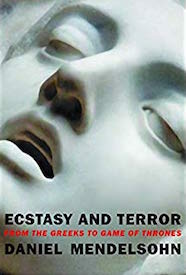 Ecstasy and Terror by Daniel Mendelsohn is now out from the New York Review of Books. Used with the permission of the publisher. Copyright © 2019 by Daniel Mendelsohn.
---