In Utter Celebration of Juliet Stevenson's Brilliance as an Audiobook Narrator
Scott Spencer on Her Delightful, Deft Approach to Text
Have you ever dropped a thermometer and watched its ball of mercury break into a scatter of glistening droplets? That's my mind right now. The table next to my bed is anchoring a tottering tower of books I have begun and then abandoned, not out of displeasure but because… well, I actually couldn't say exactly why I have put down the Andrew O'Hagan and picked up the Fernanda Melchor and then switched over to Samuel Butler. I am merely following my mind's whims and my mind is a whim factory, goaded into hyper-productivity by the pandemic.
But there is a voice, a reading voice not my own, the voice of a stranger who can cut through the chatter, calm the restlessness, and rivet the attention—the voice of the great British actor Juliet Stevenson. Over the past eighteen months, and for nearly 300 hours, I have been listening to her read Mrs. Dalloway, Sense and Sensibility, The Paying Guests, The Wings of the Dove, The Little Red Chairs, and several others. In the past—and now, three months ago can accurately be called The Past—I have mainly listened to Juliet in my car, while I made my rounds up here in the Hudson Valley, where we think nothing of driving an hour for a haircut.
Now in this time of no visits, no tennis, no poker, no movies, no shopping, no restaurants, and the needle on my gas gauge has barely stirred, I must listen in the house. Home with Juliet—and I do not live alone! At first it was a bit disorienting to openly continue a relationship forged in intimacy, and yet weeks later, it feels natural and easy. I find nothing brings the quivering shards of mercury back into one shimmering ball like sitting on the sofa and having Juliet Stevenson read to me.
"My job is to make things clear to the reader," she has said, discussing her second-half-of-career life as a narrator of literature. But of course, my Juliet would be so modest! She has also said that, having skipped university, she relishes the opportunity narrating books gives her to fill in the many gaps in her reading. Me too, Juliet! I have those pesky, persistent gaps, too! Take Doris Lessing. I knew there was more to Lessing than The Fifth Child. But what did I do about it? Nothing—until you came along and led me through The Golden Notebook. I would have never even attempted that dense, argumentative book except I wanted to hear you read it.
Stevenson might not be a Registered Literary Critic, but her audiobooks accomplish what I think is the main task of the RLC, which is to enrich the reading of readers. Her audiobook of Middlemarch is a case in point. There are lengthy passages in the Eliot that mirror intellectual pursuits that are often sterile and insane. Reading these packed pages right now, with my mind in its compromised state, would be close to impossible and far from pleasurable. But hearing them filtered through Stevenson's intelligence and calm sensibility? Delightful! Even a fatuous idea becomes interesting as she has enlarges and illuminates it with her voice—that voice which is the audible expression of her profundity and humanity.
And she has a Streepian knack for mimicry. She's read to me as in the voices of a men, women, and children, and with Irish, Serbian, Cockney, South African, French, and Korean accents. In Middlemarch, the immense cast of characters speaks with revealing variations of pitch, timbre, and pronunciation. "You have to make sure the reader understands which of them is speaking at any one time," she has said. "It's like being a juggler and juggling lots of balls."
Stevenson burrows deeply into what she reads and creates a seemingly effortless explication of the text.
Here's a sobering bit of information. Juliet Stevenson read Middlemarch only after contracting to narrate it. She prepared by assigning the various characters names of people she actually knows. She refers to this process as "casting" the book, so that when Dorothea or Lydgate speaks, or either of the Cadwallers, Stevenson thinks of a cousin or a neighbor who she has privately assigned the role.
But she brings more than a genius for creating voices. Stevenson burrows deeply into what she reads and creates a seemingly effortless explication of the text. And, I think, she is almost always right in her interpretations, though if I ever meet her, I will quibble about her Mr. Pancks in Little Dorrit. And speaking of quibbles and Charles Dickens: Juliet would have me believe that in a contest between him and Elizabeth Gaskell, she would give the nod to Gaskell, particularly the Gaskell of North and South. To me, that is an opinion bordering eccentricity—yet what business do I have saying such a thing? First of all, I don't want to contradict Juliet Stevenson, and secondly—and I suppose this should have come first—I haven't read North and South, or anything else by Elizabeth Gaskell.
Now, we're nearly at the conclusion of Middlemarch; I may be ready to part company with the folks in Midland, but I don't see how anyone is going to replace Juliet. So, I will take her word for it, and order up North and South. Absolute worst-case scenario? I spend 17 hours listening to Juliet's voice, and then say: Very good but I still wish you'd narrate Bleak House.
__________________________________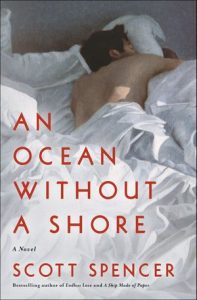 An Ocean Without a Shore by Scott Spencer is available now via Ecco.
---