In Search of the Open-Armed America of 1975
Phuc Tran on a Long-Gone Approach to Welcoming Refugees
Dear Mr. President,
I was almost two years old when we were evacuated from Sài Gòn in April 1975. In the tumult of escaping with my parents, I lost my right shoe. And then we lost my father—literally, not euphemistically. My parents became separated before we boarded the helicopter, and I clung to my mother as we thudded skyward. It was the first time we had ridden a helicopter, and it was riddled with terror. My mother tells me I cried a lot. She was 24 years old.
We didn't know it, but my father managed to escape from Sài Gòn separately, and my parents found each other on Wake Island a few weeks later, an improbable and miraculous reunion. My grandparents and some aunts and uncles had escaped as well.
We arrived in Pennsylvania in May, 1975, and we immediately asked for blankets and winter coats because we found the 76 degree weather bone-chilling. This was not Sài Gòn. It was a spectacle to behold the refugee camp at Fort Indiantown Gap—tired, poor Vietnamese masses, huddled and yearning to stay warm as they breathed free.
Our family waited in converted barracks until we could be sponsored by Americans who would take on the grand responsibilities of helping us with employment, housing, education, and assimilation. What was Thanksgiving? Who was Paul Bunyan? What were the words to "American Pie"?
The president at the time was Gerald Ford, and he had inherited a morass of war. The Republic of South Vietnam was doomed, and the United States had every right to cut and run after 20 years and little to show for it, but the president knew that many Vietnamese civilians would die if the United States simply evacuated. My grandparents worked closely with the Americans throughout the war. The president saw a moral imperative to save innocent people who would have been summarily executed. The unfortunately named Operation Frequent Wind—the final military operation that directly evacuated thousands of Vietnamese—was not an easy call, but it was the right call.
The president did not lump all Vietnamese people together into the same boat (pun intended—too soon?). He understood that the people who wanted to flee their war-ravaged country no longer had any viable options. South Vietnamese were fleeing with their spouses, parents, and children in search of a better life—in search of any life. He saw that, and he did something about it.
President Gerald Ford's refugee policy gave many Americans an opportunity to model America's loftiest ideals: generosity, kindness, inclusion.
The president did not conflate America's anti-war sentiments with anti-Vietnamese attitudes despite the polls that said only 37 percent of Americans supported Operation Frequent Wind. Americans were exhausted, angry, and polarized, but the president's clarity and purpose created a space for other Americans to be moral agents—even if they were the moral minority. His directive allowed the Burkholders, the Hookes, and the Joys—three American families in Carlisle, Pennsylvania—to sponsor our family of eleven. They are all still our friends to this day, 45 years later. The president's refugee policy gave many Americans an opportunity to model America's loftiest ideals: generosity, kindness, inclusion.
When our family came to Pennsylvania, we had the clothes on our backs and a faltering command of English. The kindness that our sponsors showed us gave my family the most important thing we needed: hope. Even when we weren't sure if we ourselves could do this America thing, normal middle-class American families were willing to help us as we found an apartment, a job, and a used, sage-green Pontiac.
They gave us something to be a part of, and since 1975, we've never stopped trying to be a part of it.
America is complex, imperfect, and paradoxical; above all else, it is aspirational. Our stories weren't always "happily ever after," and we experienced bigotry and discrimination and setbacks. The president didn't put us all into a basket of deportables, and we knew that the prejudiced Americans whom we encountered were not representative of what America really was. America was—and is—aspirational.
Along the way, we learned to use whom correctly; we learned that Lee Greenwood song and sang it in 7th grade chorus; we cheered at football games. We've moved to all corners of this amazing country. That original helicopter load of refugees is now lawyers, nurses, engineers (so many engineers), teachers, and even a tattooer (much to my parents' chagrin). That's me. There's a black sheep in every family—even ours. That's how deeply American we are.
We are unwaveringly committed to the American ideal. Lately, it doesn't feel like the America that we came to, and I imagine that President Ford might have some difficulty recognizing the White House immigration policy that he left behind. It's sometimes hard for me to find that open-armed America of 1975, too, but I'm going to try.
America is a song. It is not a dwindling resource. It is an ongoing melody.
It's now up to me and my family to be the next Burkholders, Hookes, and Joys. When our sponsors took us in, they weren't just helping us out. They were minting new Americans, and in the process of being helped, we learned to help. Helping those in need was the truest expression of who our sponsors were. It's the truest expression of who we are, too.
Some feel that our country is a pie—a pie that's sliced thinner and thinner, whose slices are shared among hungrier and needier mouths. I wouldn't want to share the American pie either if I believed that it was finite and crumbling.
But America is a not a pie. It's a song. We were invited by three Pennsylvanian families to sing that song. We learned the words, and we started to sing—first, shaky and off-key, then loud and strong. America is a song. It is not a dwindling resource. It is an ongoing melody, sometimes sad, sometimes joyous. In 1975, my family was invited to join in that song, and we've never stopped singing it.
My wife and I are now teaching our daughters the words. They'll sing it loud and long, and they'll know that they belong. They'll know that it is their duty to lend their little voices to this song because this is not the time just to sit on their hands and listen.
God bless the USA—we need those Lee Greenwald lyrics right now.
__________________________________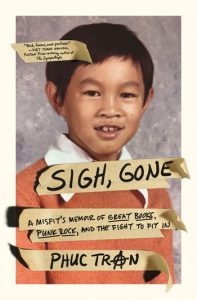 Sigh, Gone by Phuc Tran is available via Flatiron Books.
---