In Search of the Muslim
Community of Ladakh
Medina Tenour Whiteman on Encountering the Unexpected
The summer after I returned from my language year abroad, travel bug having firmly embedded its fangs into my neck, the chance to go on a trek in Northern India came up. With what I had to spare of my student loan, I felt entitled to push my year of travelling a little further. It had become an addiction for me; I anxiously raked through my experiences abroad and felt they weren't "enough"—they hadn't shaped me sufficiently yet, broken me in.
Some French and Belgian friends were planning a trek in Ladakh, geographically part of India, in the northern state of Jammu and Kashmir, but ethnically and culturally Tibetan—and therefore, presumably, Buddhist. This piqued my interest, less for the hiking element than the prospect of diving into a human environment that was completely unknown to me. In that aloof, reductive way Westerners often have of thinking we can peel away the cultural clutter of Oriental wisdom and take a draught of it neat, I was intrigued by Buddhism, seeing it as a remote, more gnomic cousin of my native Sufism.
Moreover, our destination, the Zangskar Valley, lies in the Himalayas—another land fixed in the European imagination as the antipodes of human experience, as different from England in climate, geology, beliefs and lifestyle as can be imagined, and therefore a bucket-list candidate for any Western xenophile. Getting there would be demanding; at the time the valley was only passable for a few months of the year, by foot or by pony.
I flew into Delhi alone and late at night, and from the airport took a taxi to the Ladakhi-run hotel where my friend had thoughtfully booked a room for me. The next day I was told that it was Indian Independence Day, and that, bizarrely, my hoteliers would be fined if they had foreigners staying. Trying not to feel petulant that India had not thrown open its arms to me, I left my backpack in a locker at the bus station and went for a wander.
A few hours of sightseeing later, I stopped at an internet cafe to reassure my family that I hadn't been eaten by Bengal tigers. Next to the internet cafe was a curious sight: two onion-shaped domes, horizontally striped black and white, emerged from behind some walled-in trees. Finishing my computer business and thinking it time for some spiritual business, I walked around the block looking for an entry point to this mosque. Eventually I found a footpath behind some houses. A cow grazed pensively.
Sitting at one corner of the open-sided mosque was a woman working at a hand-driven sewing machine, her bright henna-dyed hair uncovered. Startled at my presence, she greeted me politely and left me to it. I went to pray, brushing away some dried flowers from an overgrown bush, and then sat listening to a pair of love birds twittering in the arches. When I got up to leave, the seamstress pulled me into her house, insisting on feeding me daal, which turned out to be eye-wateringly spicy for my feeble English taste buds. Her daughter spoke excellent English and we chit-chatted for a while. I tried to play down my excitement, but it was a wonderful feeling to be welcomed by strangers as something akin to a distant relative. I have little recollection of what was said, and they were far too courteous to pry into the reasons why we share a faith, but it hovered in the room with us, a happy mystery that pulled us together.
What I really thirsted for on this trip was a taste of something more remote than the Islam I grew up with.
The seamstress and her daughter advised me to go and visit the tomb of Humayun, the second Mughal emperor. I covered my head walking through the Muslim neighborhood, but my solitude marked me out as a foreigner as much as my face. I cannot speak Hindi or Urdu, and in any case, giving casual salams might create more confusion than communion. Besides, I didn't want to risk looking like a Westerner ostentatiously feigning assimilation, so I didn't bother, and nobody bothered me in turn.
The following morning, after a hairy all-night bus ride from Delhi to Manali, where I met the rest of the trekking party, a long journey by 4×4 took us through all four seasons in one mountain ridge, breaking through a frosty mist to a verdant slope—our first glimpse of Ladakh. Several Ladakhi guides were waiting for us at the first encampment to lead our group and the pack ponies. While they spoke Hindi to a few members of our party, their own language is a historical offshoot of Tibetan.
En route to the Zangskar Valley, we stopped in the dusty town of Padum. There we came across an unusually tall man wearing a classic Tibetan cross-fronted burgundy shirt, leaning forward with a serious gait as he strolled across the road, his arms held behind his bulky torso. Unlike the Ladakhi Buddhist men, who wore their hair and beards long, this man kept both trimmed close to the skin; otherwise there was not much to differentiate him, at least to a casual observer. One of my traveling companions followed my gaze and nudged me. "That's a Ladakhi Muslim," he casually mentioned. I could hardly believe my ears. Although I rejoiced at this new discovery of Muslim marginalia, a small part of me was strangely disappointed that my attempt to journey as far away as possible from all that was familiar had been stymied. It reminded me of a Sufi story in which a man sees the Angel of Death in Alexandria and flees to Bukhara, where he runs into the self-same Reaper, who says, "Ha! That's lucky! I saw you just two weeks ago in Egypt, but I've been commanded to take your soul in Bukhara today!"
The only other time I crossed paths with another Muslim during this trip was when we finished our trek and spent a night at a hostel (beds! showers!) in Kargil, a town close to the border of Pakistani-administered Kashmir. But I didn't strike up conversation with the locals, partly because I was too exhausted for amicability, and partly because I was not sure how a hijab-less Muslim woman trekking in a mixed party of non-Muslims would be received.
In any case, what I really thirsted for on this trip was a taste of something more remote than the Islam I grew up with. I wanted to witness Tibetan Buddhism in all its glory, in villages that lie hours off the most remotely beaten path, or a monastery constructed around a spring in a cave where the disciples of the Buddha meditated. In one monastery we were invited into the room of a cheery monk who offered us sampa, roasted barley flour mixed with tea and rancid yak butter. Surprisingly moreish.
[pullquoteIif the Ladakhi Muslim I saw in Padum was anything to go by, Muslims and Buddhists had been living here side by side long enough to be almost indistinguishable.[/pullquote]
We saw numerous chortens, the Tibetan word for stupas, stone constructions containing the relics of saints. They were strikingly beautiful, the monasteries breathtaking, the continuity of an ancient spiritual path marvelous, but with some surprise I found myself pining for the familiar aesthetic abstraction of a mosque. The vividness of the monasteries rattled my nerves; their abundance of painted and carved deities, demons, boddhisattvas and hungry ghosts were gorgeously painted but made me claustrophobic. One of my trek companions told me that the contrast between Tibetan Buddhism and the stark simplicity of Zen is thought to come down to the Himalayan landscape itself, so otherworldly that it gave rise to a wildly detailed panorama of spiritual entities in its inhabitants' consciousness. There is also the syncretic blend of Buddhism with indigenous Tibetan paganism, Bön; in one monastery I saw animal skulls hung in prayer rooms and an inflated animal bladder hanging from a ceiling. I craved clarity, but I could not seem to find it here. Maybe there was too much of me in the way.
Yet if the Ladakhi Muslim I saw in Padum was anything to go by, Muslims and Buddhists had been living here side by side long enough to be almost indistinguishable. How had the followers of these two religions managed to maintain this neighborly relationship? Back in the UK, I set to scouring the SOAS library.
*
Islam and Buddhism first became acquainted on the Silk Road, those threads of human movement that wove between China, Persia, India and Central Asia from the fourth to the tenth centuries. Merchants trading salt, spices, turquoise, coral, amber, opium, tobacco, hashish, tea, silk, leather and sheep's wool would routinely risk life and limb to ply treacherous Himalayan trails on trips lasting months to reach Lhasa, the capital of Tibet. Nicknamed "The Roof of the World," Tibet was known to the travellers and geographers of antiquity as an important trading hub, though it was virtually unknown to the Western world until as late as 1980, and has been synonymous with the unreachably far-flung. After the birth of Islam, many of the merchants traversing this route became Muslim, and a number of them settled in Tibet and Ladakh permanently—maybe with the perilous return journey in mind—where they married local women. Pollinated by trade, but rooted in the family, this was the beginning of the Muslim community in the Tibetan Empire, which at the time encompassed Baltistan in present-day Pakistan, Bhutan, Tibet, Mongolia, and Ladakh. Religious intermarriage was so common that to this day it is almost unheard-of for Muslims in Ladakh and Tibet not to have Buddhist relatives.
This burgeoning community of indigenous Tibetan Muslims was gradually supplemented by traders from Kashmir, mainly Shi'i merchants, and, much later, Chinese Hui Sunni Muslims who fled Chinese state persecution during the Cultural Revolution. (Sunni Muslims are Khache in Tibetan, "from Kashmir," while Shi'a are sbalti, "from Baltistan.") Finding a peaceful environment in Tibet, albeit one whose living conditions were harsh in the extreme, a small number settled, dedicating themselves mainly to farming and butchery. While Buddhist monks and nuns are strict vegetarians, lay Buddhists in this area are often meat-eaters, although, in order to avoid accruing bad karma, they leave the killing of animals to others—specifically Muslims. The latter, as a mark of respect, avoid monasteries and chortens when slaughtering animals. This curious symbiosis meant that in Leh, I could eat anything I liked in the restaurants as everything was halal.
But friendliness between Muslims and Buddhists goes beyond the merely gastronomical. In 17th-century Tibet, it is said that the fifth Dalai Lama, Lozang Gyatso, saw a Muslim man praying on a hill on the outskirts of Lhasa. When asked what he was doing, the Muslim explained that he was praying there because there was no mosque in the area. The Dalai Lama ordered that arrows be fired from the top of the hill in all directions, and the land between the points where the arrows fell was bequeathed to the Muslim community. This area is known as rGyang mda' khang (The House of the Far-Reaching Arrows) and is the site of Lhasa's first mosque—still used today for jumu'ah prayers—as well as the Muslim cemetery.
__________________________________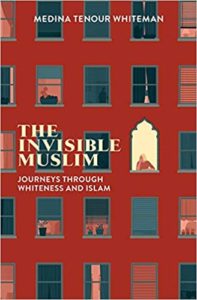 From The Invisible Muslim: Journeys Through Whiteness and Islam by Medina Tenour Whiteman. Copyright© 2020 by Oxford University Press and published by Oxford University Press. All rights reserved.
---