In a Greek Refugee Camp, the Simple Pleasures of a
Game of Soccer
"The kids have no idea what they've just survived."
Unable to hitch a ride to the camp—it's 7 am, no cars yet on the road—I flag down and climb aboard the public bus to Allonia and ask the driver how much he'll charge to drop me at OXY. "Ela," he growls, fanning his hand to beckon me, "katse'dho!"Get on, sit here! I fold down the child-sized shotgun seat as we rumble off.
Plastic ikons the size of playing cards sway from the tattered sun visors, the saints' faces morose yet calm, as if resigned to the perils of Greek highways. I smell bittersweet incense; the pair of widows whispering behind me must have attended early mass.
A flimsy guardrail, the cliffs below it, the Aegean beyond. The sea is vacant except for a shark-grey naval ship patrolling the Turkish coastline ten kilometres north. Twenty-four hours ago the Turks accepted an offer from the EU: two billion euros to blockade their own coastline, for now, thus detaining the refugees on that side. Yesterday only three rafts got across the straits, all after dark, the lowest number of the year so far.
The silent driver gives a fellowly nod-and-wink as he drops me off. As I cross the highway—cheered by his gesture and the vision or version of me it conjures: a fine and likeable fellow, a hearty volunteer bounding off his hitched ride and striding into the sleeping camp—there's a flash of movement in the bus's last window. A blurred face, a raised hand. I tip my hat brim, grin and wave. The figure comes into focus. In the receding window's ikon frame, he is not waving but giving me the finger.
*
The night shift are still asleep on their cots in one of the otherwise-vacant tent shelters. I stand staring in. The earth lurches violently and I'm airborne, swooping, hitting the ground with a chuff of breath. I lie prone, winded, my left cheek and my lips squashed into the gravel. My right arm is torqued behind me. A solid weight pins me in place.
I hear myself say faintly, "Pericles?"
"You see, Stavro, how difficult it would be for any stranger to invade the camp and cause harm?"
"You keep proving it," I say. "May I get up now?"
"Pardon…? Ah, of course!"
As he climbs off my back I add, "I hope Ratko's all right. The big Serbian guy? I hear you sprained his ankle."
"Nonsense! He is fine. I know how to tackle without harm. Unless I need to cause harm. As you know, there are people who would hurt our visitors."
I stand up. Although I'm winded, I am in fact unharmed. My fall was controlled, guided, as if I was being dipped by a ballroom-dancing champion. Pericles pumps my hand and grins up at me, his inflated arms and sandbag thighs packed into a wrestling team track suit oddly accessorized with a trilby hat.
He has all but grown a beard overnight. His English is densely accented but good. He was delighted to be hired as OXY's night watchman; his former job, bouncer at the main hotel, was lost with the crisis and the vanishing of the tourists, phenomena he refers to with no detectable air of grievance.
"All quiet here last night?" I ask, picking up my hat and brushing it off.
"Too quiet! I had to walk all night to stay alert. You too must be more alert, Stavro. Ah, may I demonstrate"— pronouncing the first two syllables like demon—"a new chokehold I'm trying to learn?"
"I think I'd like to stretch a bit first. Maybe get a coffee."
"Very well then, tomorrow! For now I will go home and sleep."
Here, when a crowd queues up, or, more urgently, a raft comes ashore, dithering is impossible.
I climb the portable steps of a dirty, abandoned-looking truck trailer and knock on the door. Two voices yell from inside. I let myself in. The mobile kitchen's interior—unlike its facade—is new, all gleaming sinks, shelves, counters and fridges. A shiny cauldron of lentil stew simmers on a galley stove while latkes brown on a grill. Roddy, the chef, turns from the cauldron and offers me a drink from his mug. Coffee spiked with, I think, gin.
He makes further friendly noises. The words are incomprehensible, the accent a mystery. Irish? Welsh? Glaswegian? I'm not even sure he's speaking English. Overnight he will have prepared the usual 600 servings of the vegetarian stew that the camp has on hand daily. A wiry, concave man in a spattered chef 's tunic, his left hand bandaged, he's walleyed and wobbling.
At the grill in a T-shirt and jeans, Danny—strapping, tattooed, mostly toothless—flips the latkes, presumably a snack for him and Roddy. A home-rolled cigarette droops from his underlip. He picks up his mug and nods to me, red-eyed. "Drink up, lad—long day coming."
According to Lindsay he has logged some 50 night shifts in a row, mainly at OXY. She keeps begging him to take a night off. Down the length of his triceps I read, WITHOUT OUR BRAIN & MUSCLE NOT A SINGLE WHEEL CAN TURN, with the anarchist Aas full stop.
I nod toward the cauldron. "You think that many will come today?"
"If not today, soon enough," he says in a Geordie accent. "The Turks have banked their cheque, haven't they? They'll self-blockade for a couple days, then ask the EU for a raise. Here, eat one of these with your victory pills"—a euphemism for lentils among volunteers of the Spanish Civil War—"they're masterful."
And they are.
In the canteen hut I make instant coffee. To Kanella, who has followed me inside, I toss a few slices of processed cheese extracted from a stale sandwich. She traces her ritual three circles before curling up at my feet next to the portable radiator. From my satchel I take the proofs of a novel I'm supposed to be reviewing, its backdrop the Roma holocaust during and after World War II.
At 9 am a bus arrives and we get to work. This group of Syrians crossed by fishing boat, not inflatable raft—perhaps a ruse by the smugglers to fool the Turkish navy. For a while I'm making cheese sandwiches in the canteen, then helping Larry at the wicket distribute the sandwiches along with bananas and bottled water. Once everyone has had at least something to eat and drink, we'll commence the slower process of dishing up bowls of the lentil stew.
This group seems almost cheerful. Having crossed on a proper boat must be a factor, though there's also the bright sun after days of rain, and the relative emptiness, hence spaciousness, of the camp. The queue is amiably patient, as if people realize there is no hurry, there will be food and space for everyone. Larry and I find our rhythm and now I hear him—behind me, slapping together more sandwiches while I pass them out through the wicket—softly whistling "King of the Road."
This work, which I love, is the pure antithesis of my work at home. The writing life is solitary; this is dynamically social. The writing life is staggered with doubt and procrastination; here, when a crowd queues up, or, more urgently, a raft comes ashore, dithering is impossible.
The rush is over and Larry, in his beret, whistling as he tidies the canteen, shoos me away like a testy but goodhearted uncle. "Here—keys to the camper. Go give Chet Baker a couple slices of this awful cheese. Then find the soccer ball, behind the passenger seat, and see if any of these kids want to play."
"You going to join us?"
"Wouldn't hear of it, Steve. My sporting days are over. Get out of here."
It hits me that the children, too, have just crossed the border straits on a dinghy steered by a refugee who might never have seen the sea before.
Ten minutes later I approach one of the large tents. Many of the Syrians are just inside, sitting on chairs or on the woven sleeping mats, some eating, some lying down. Others are sitting out on the benches against the tent's white plastic walls, tilting their faces, eyes closed, toward the low but warm sun.
In the mouth of the big top I hold up the ball and call out, "Anyone want to play?" Instantly three children leap up and start toward me—a boy of around twelve years old, another around ten, and a girl of six or seven. We set up in front of the field kitchen trailer. I drag a steel crowd-control fence into place for a net. The boys mime that they consider it rather small but it will do.
At first, the game pits the two smaller children versus the elder. I play goalkeeper for both sides. I'm no soccer player and have little idea what I'm doing. They do. Even the smallest, the girl, can kick with some force if little accuracy. But it's the middle child—blue T-shirt, jeans, dirty trainers too big for him—who can really dribble and drill his shots with precision.
His grin is spirited, almost taunting. The three race around in front of me, the girl falling a couple of times, crying momentarily, getting up and rejoining the game. Behind them the parents have emerged from the tent to join the other Syrians on the benches, where they all sprawl in the sun, watching the action with faint, fatigued smiles.
It hits me that the children, too, have just crossed the border straits on a dinghy steered by a refugee who might never have seen the sea before. The kids' resiliency may have more to do with ignorance than youth; they have no idea what they've just survived; they must feel their parents would not lead them into dangers over which they, the parents, had no control.
As for the steersman randomly appointed by the traffickers, in the children's eyes he too must have seemed a competent adult. Or have such illusions already been shattered, at least in the oldest one's mind? He has a face crowded with hard cares, lessons gleaned too early in the cram-school of a war zone.
The kids hold a penalty kick shootout, heel-clearing a spot in the gravel, fussily placing the ball, quibbling over the placements and whether a shot that smacks the edge of the fence should count. I don't understand the words but can follow the negotiations. The kickers whoop and cheer when they score. A few adults clap or chuckle. Larry, smoking a pipe, watches and calls, "Careful now, kids!" when they slip on the gravel, and, to me, "Careful of your back, Steve!"
Omiros, the Lion of OXY, looms along in his flapping trenchcoat and aviator shades, steps into the fray, steals the ball and chips it past my hand. He nods to me and bids the awestruck children salam, then swaggers on toward the lower parking lot, where an empty bus should soon be appearing.
I assume the soccer players are on their way to wherever in northern Europe their parents hope to claim asylum.
By 1 pm the Syrians are boarding and a handful of volunteers stand in the dirt of the parking lot to see them off. The ten-year-old boy in his blue T-shirt, sitting on his mother's lap, has pressed his face to the window and keeps grinning and waving at me. He's holding one of the red, heart-shaped balloons that we handed out to the children as they boarded; someone in Poland mailed a box of them to the Captain's Kitchen.
I lose sight of the mother and son, then there they are in the open doorway of the bus. The boy waves again, I wave back, then he leaps down and sprints toward me, the balloon on its string jigging behind him like a kite. He stops in front of me, lifts his small hand for another formal shake and then, with his left, proffers the balloon and nods firmly.
Again imitating the Muslims who've thanked me for one thing or another, I put my left hand over my heart (should it be my right?) and accept the gift. "Shukhran," I say. He turns and runs back to the juddering bus, his mother in the doorway beckoning as she happily scolds him. Come, my love, hurry!
So a day that began with a snapshot of seething local animus ends as a kind of idyll, the setting sun warm, the camp serenely still after being vigorously, usefully occupied. The bus disappears around a mountainside to the south and I assume the soccer players are on their way to wherever in northern Europe their parents hope to claim asylum.
Now—April 2020—I wonder if they even made it out of Greece and into Macedonia before that border and others to the north crashed closed. With luck, the three are now kicking a ball around on a windswept pitch beside a very different body of water, the North Sea or the Baltic.
But they might well be interned in one of the growing refugee "hot spots" of Greece, still awaiting a decision on their asylum claim or, if rejected, living there as prisoners while lacking access to such amenities of modern prisons as showers, flush toilets, libraries, clean water.
I stay after my shift to talk to Lindsay, Omiros, Asim, Pilar and Larry, and we share an early supper, Kanella ecstatically helping us to make inroads on the surfeit of lentil stew. The crags behind the camp glow with the setting light and echo Pink Floyd's Dark Side of the Moon while a cold wind, after two days' calm, blows south across the straits.
__________________________________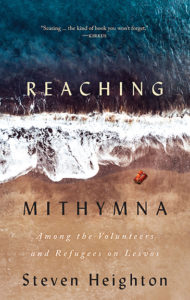 Excerpted from Reaching Mithymna: Among the Volunteers and Refugees on Lesvos by Steven Heighton. Copyright © 2020 Steven Heighton. Published by Biblioasis. Reproduced by arrangement with the Publisher. All rights reserved.
---