If You Want to Write a Novel, Start with a Plan
Stephanie Gangi on Writing Her Debut in Her Late 50s
I was 55; he was younger. I was also, somewhat regrettably, wiser, and too old to hurl myself into a romantic wreck. My middle-aged superpower revealed itself: I could see into the future and choose, if not a guaranteed on-time arrival at a fairy tale destination, at least a less turbulent route. So I did that. I ended it—but man, it was hard to quit being in love.
I had my friends, my friends listened, and I retold the story in detail, the wine glass refilled, over and over. After three months and then six months, I was still with the friends, still with the wine, still with a wound I had to probe. What was the point of being my age if I did not connect dots, discern patterns, course-correct? I couldn't stop talking about it. A friend finally lost patience and said, "You're a writer. Just write it."
I was a writer but not that kind of writer. I wrote and edited other people's words in speeches, executive summaries, annual reports, and slide presentations across every new platform that came along. I did that for decades. I'm glad I did; I learned a lot, I was pretty good at it, and I secured my family with income and health insurance. But I'd been playing with poetry since girlhood, filling journals, and making secret story starts and chapter ones. When I married, when I became a mother, I'd channeled my vocation away.
Anyway, there I was: late fifties, kids launched, exes elsewhere. My friend's advice—Just write it—rang out inside me, an admonishment but also, a challenge, so I took it on. I called it a "project"; the word "novel" was too intimidating. My day job had taught me, in corporate-speak, to reach desired outcomes by establishing resources, key deliverables, and actionable objectives to achieve a business goal. I did three things: I made a project plan (my map to the future); I bought craft books (I had no idea how to write a novel); I signed up for a writing workshop (for accountability).
The project plan lived on my desktop in a file. It consisted of elements that expanded or contracted or disappeared entirely, depending on how useful they proved to be. There was definitely a synopsis that ultimately diverged considerably from the final manuscript. I hadn't yet learned that the writing process reveals something of you to yourself; as the narrative evolves, the writer evolves too.
I did three things: I made a project plan (my map to the future); I bought craft books (I had no idea how to write a novel); I signed up for a writing workshop (for accountability).
Another element of my project plan was—more corporate-speak alert—to craft a mission statement. That took the form of a faux rave review from a faux New York Times. (Much later, the NYT did call out the book in a round-up of debuts; their review fell somewhat short of a rave.) I also devised a work schedule with milestones I hoped to hit and pinned it to a bulletin board with a sightline of 24 inches, staring me down on the daily. I can't write to "word count," as so many other writers successfully do. I want to, very much, but I inch inward as I write and sometimes 250 words takes more time and energy than 1000 words—for me, anyway.
Another key piece of the project plan was figuring out a non-threatening version of an outline. I came up with my own way to organize the story that was a little less, um, structured. I wrote the arc this way: 1. This happens; 2. And then that happens; 3. Now what happens? I filled notebook pages with Happenings (my header for each page), shuffled them a million times, and then, miraculously, they became sketches and then scenes and then chapters, which I shuffled again and again for a couple of years.
I had no MFA or writing mentor (except the writers I read and analyzed like a forensics investigator to find out how they'd slayed me) so I studied close to 30 books on writing, on how to write. Among them were The War of Art by Steven Pressfield, Wired for Story by Lisa Cron, The 90-Day Novel by Alan Watt, Manuscript Makeover by Elizabeth Lyon; and the essentials including Anne Lamott, Stephen King and Louise DeSalvo. They were of varying degrees of relevance—I could never write a novel in 90 days, for example, as much as I might want to—but I learned from every one.
The aggregate take-away from all this reading was—is—this: Every challenge, every low point, every hurdle, every insubordinate plot line, every flat character, every false note, did not come up just because I was learning on the job. I understood from reading the craft advice of novelists, especially, that my detours and wrong turns and dead ends were typical, whether it was a first or fifth book. It was part of how to write a novel! This was a revelation and a tremendous relief and helped me persevere when I felt defeated.
As did the writing workshop—my first ever, aside from classes at university long ago. I walked in and was dismayed by how many "older" writers were crowded around a low table on chairs meant for pre-school kids. At the end of a couple of hours, my knees ached, and I felt like just another senior with a nice hobby. I was determined that this would be my first and last "writing workshop," and reader, I am so thankful that it wasn't. By joining the group, I realized that although my time at my desk is a solitary stretch, membership in a community of writers—young, old, in pre-schooler chairs or online—means I am not alone and that, like my craft-books revelation, my writing struggles are writers' struggles.
In this particular workshop, the leader gave us excerpts and assignments to write in the style of writers like Hanif Kureishi, Julie Otsuka, Deborah Eisenberg, Mary Szybist, Etgar Keret, and Ann Beattie, to list a daunting few. The assignments had to include a preamble about how my work addressed the published work. At the top of each page, I wrote things like:
Preamble: Third person close narrator. Mood: Loss but hope/opportunity, as usual. Tone: Reportage-esque?
Preamble: Second-person, close narrator. The mood is opportunity-within-loss; tone is matter-of-fact. I tried the first/second-person mash-up but it was hard to do!
I thought of the assignments as "actionable objectives" and added them to my project plan file. I tried out the various styles of the famous writers to go deeper into the work I was doing away from the group. Maybe a better way to say this is I used the assignments to progress my own personal work. Other workshop participants wrote fresh material for each class while I cheated and re-worked a single narrative via the assignments. What else could I do? I had become obsessed with my project plan, the bulletin board, the plot knot I was trying to undo at my desk, the characters I was trying to bring alive. I couldn't think of anything but my novel.
I was finally able to call it what it was. A novel. And I wrote poems and essays and short stories and now my second novel (I'm 65) and I'm working on my third. Also, thrillingly, I work with other writers to help them customize their own "project plans." Instead of diving into another romantic wreck, I chose to use the dots I'd connected, the patterns I'd discerned, to correct my course and pursue a different high, like romance, like love. "Just write it." This happens, that happens, and I am about to find out what happens next.
________________________________________________________________________________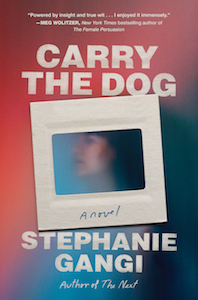 Stephanie Gangi's novel Carry the Dog is available now via Algonquin. 
---