I Think I Will Get Hung, but I Don't Care As Long As I Get Breakfast
The Victorian Tale of a 13-Year-Old Boy Who Murdered His Mum
On July 17th, 1895 the body of a 37-year-old woman was found in a small terraced house in East London. Her eldest son immediately confessed to the killing. "I got out of bed and I stabbed her," said the 13-year-old Robert Coombes. "I did it with a knife, which I left on the bed. I covered her up and left her." He said that he and his 12-year-old brother, Nattie, had planned the murder of Emily Coombes together, and that the younger boy had given him the signal to strike. "Nattie was in the back room, and coughed twice," said Robert, "and that was when I done it, when Nattie coughed." The boys were charged with murder and detained in Holloway gaol, north London.
On Tuesday, September 10th, Robert was told that he would shortly be tried for matricide at the Old Bailey, and that he would face the murder charge alone. Nattie was to be discharged so that he could appear as a witness against his older brother.

Dr. Walker, the medical officer of Holloway gaol, talked to Robert that day about the forthcoming trial. The boy at first seemed gleeful at the prospect of going to the Old Bailey, telling the doctor that it would be a "splendid sight" and he was looking forward to it. He would wear his best clothes, he said, and have his boots well polished. He started to talk about his cats, and then suddenly fell silent. A moment later he burst into tears. Dr. Walker asked him why he was crying. "Because I want my cats," said Robert, "and my mandolin."  
*  *  *  *
Remand prisoners were entitled to send a letter a day, posted at the government's expense, and on Saturday, September 14th, Robert wrote to the Reverend Francis Shaw, a curate at a mission church off the Barking Road, just around the corner from the Coombes family's house. Robert and Nattie went regularly to church—they were among only a fifth of Londoners to do so—and they also attended Sunday school. It was said that the brothers had been to a service even on the Sunday after the murder. According to an interview their father gave to the Evening News, Robert was a great favorite of the Reverend Shaw, and the curate had recently prepared the boy for confirmation. Coombes said that Shaw had offered to give evidence on Robert's behalf at the Old Bailey.
"Dear Mr. Shaw," wrote Robert,
"I received your letter on last Tuesday. I think I will get hung, but I don't cares as long as I get a good breakfast before they hang me. If they don't hang me I think I will commit suicide. That will do just as well. I will strangle myself. I hope you are all well. I go up on Monday to the Old Bailey to be tried. I hope you will be there. I think they will sentence me to death, and if they do I will call all the witnesses liars.
I remain, your affectionate friend, RA Coombes"
Robert had drawn two pictures on the letter. The first, captioned "Scene I – Going to the Scaffold," was a sketch of three figures making their way towards a gallows, with the word "Executioner" written above the first figure.
Beneath this drawing, Robert wrote: "Will – To Dr. Walker, £3,000; to Mr. Hay, £2,000; to Mr. Shaw, £5,000; to my father, £60,000; to each of the warders, £300."
The second picture was entitled, "Scene II – Hanging." It showed a body suspended by the neck from a gallows, with a hand pulling the rope and a message issuing from the mouth of the dangling figure: "Good-bye; here goes nothing. PS – Excuse the crooked scaffold. I was too heavy, so I bent it. I leave you £5,000."
The letter was skittish, excited, switching between bleakness and gaiety, lightness and weight. Robert seemed full of bravado (he didn't care about death, only breakfast) and defiance (he would kill himself if he was not killed; he would denounce the witnesses as liars if he was convicted). In the captions to the pictures, he was both an airy "nothing" on the gallows, and a being so heavy that he bent the wooden beam. The reference to his weight bending the scaffold was a joke—a piece of gallows humor—about the wobbly line of his drawing. The tone of the letter was unsteadily detached, as if Robert was half allowing and half refusing the sorrow that had started to leak in when he wept in Walker's office about his mandolin and his cats.
On the day that he killed his mother, the explanation that Robert had given for her disappearance was that a relative had died and left them money. This was a veiled version of the truth: his mother was the relative who had died, and the boys were the inheritors of her wealth. "All I know is that we are rich," he had told his aunt. When Robert predicted his own death, in the letter to Shaw, he became the munificent benefactor. As if his love was money, he bestowed his bounty on the men who had shown him kindness: the prison warders, the curates, the prison doctor and, most of all, his father. In this fantasy, death was not an absence but a release of riches.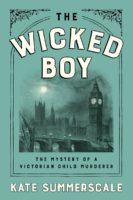 From THE WICKED BOY: THE MYSTERY OF A VICTORIAN CHILD MURDERER by Kate Summerscale. Reprinted by arrangement with Penguin Press, a member of Penguin Group (USA) LLC, A Penguin Random House Company. Copyright © Kate Summerscale, 2016.
---