10 Story Collections You May Have Missed in May
Fiction in Small Portions in a Time of Distraction
Well, we've made it to June, as many of us struggle with the state of racial injustice and government malice in this country. Our attention spans are depleted. For this month's list I decided to focus on short-story collections. If you finish one story? You've completed one thing in your day. I'm also listing ten collections, rather than my usual five titles, so that there really is something for everyone. These collections include a mashup of Sino-Californian Janeite delights, techno sci-fi focusing on various kinds of entertainments, and quiet tales of connection in an American Jewish community. 
*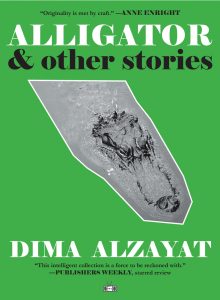 Dima Alzayat, Alligator: Stories
(Two Dollar Radio)
Alligator contains several stories of breathtaking power, worth noting since the title story alone, based on the true story of a Syrian man lynched in Florida in 1929, is worth the price of several volumes. Born in Syria, raised in the United States, and now residing in the United Kingdom, Alzayat "may be the first person to realize that our history is our own black mirror," wrote a bookseller. Start reading now and you can say you were an early fan, because Dima Alzayat combines superb writing with razor-sharp imagination and focuses on social injustice, racial violence, and global immigration.
Article continues after advertisement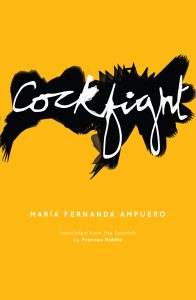 María Fernanda Ampuero, Cockfight
(The Feminist Press at CUNY, trans. by Frances Riddle)
Cockfight is the Ecuadorian author's first book to be translated into English. "Reading these stories won't make you happy, but discovering this talented new author will," wrote the Kirkus reviewer, correctly, since Ampuero's 14 brief tales bring tears to the eyes, showing how many ways women and girls can be abused in their homes, the places where humans are meant to feel safest. From cruelty to molestation to beatings, pure ugliness is on display. Don't look away. Bear witness.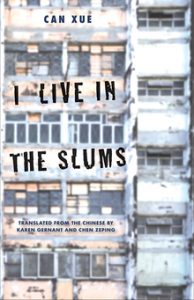 Can Xue, I Live in the Slums: Stories
(Yale University Press, trans. by Karen Gernant and Zeping Chen)
This story collection is from the renowned author of Five Spice Street, an imaginative flight into a place of rank poverty, where nonetheless large ideas matter. That doesn't mean all characters in Can's gutters are looking at the stars; it does mean that all of her characters are attempting to take the measure of their space and place in it. If anything ties these stories together, it's that of change, fluidity, time's progress, which affects both people with no power, and the animals (rats, birds, mice) around them. Some of the strongest moments involve animals observing human life.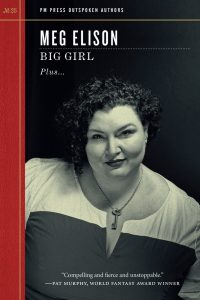 Meg Elison, Big Girl
(PM Press)
This title story in this collection reminded me of something a friend said years ago regarding women and our reproductive lives: "Oh, you know how we change," she said. "Nothing ever fits." The "big girl," whose name is Bianca, swells to 350 feet tall. One of her thumbs could crush a man's skull as if he were an ant. However, things change for Bianca after she gives birth (through a mighty strange impregnation). One reviewer complained about the stories being uneven, but Elison is so inventive I could not care less about consistency. I just want to read more of her work. Highly recommended for creativity and feminist drive.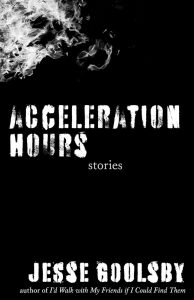 Jesse Goolsby, Acceleration Hours: Stories
(University of Nevada Press)
This may be one of the only examples of literary fiction written by an active-duty military officer. Goolsby serves in the Air Force, currently as an English professor at the U.S. Air Force Academy. His award-winning novel I'd Walk with My Friends if I Could Find Them is now followed by a collection containing stories as fast and painful as a sucker punch—even the longer ones. A 20-year-old lesbian soldier goes AWOL. A Marine prepares a feeding tube for a prisoner at Guantanamo. A girl in a red hijab haunts a soldier back at home. Gorgeous writing, necessary witness.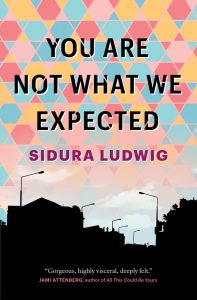 Sidoria Ludwig, You Are Not What We Expected
(Astoria Press)
You Are Not What We Expected covers 15 years in a Canadian Jewish neighborhood and characters who include the lonely, the abandoned, the orthodox, the secular, the immigrant, and the transient. One reappearing figure is Elaine Levine, who belongs to The Elaine Levine Club—"senior women who like to get together because they happen to have the same name." The trick that author Ludwig pulls off with brio is to serve up a slice of life, very particular life, life bristling with anxieties and awkward encounters, yet make that slice deliciously universal.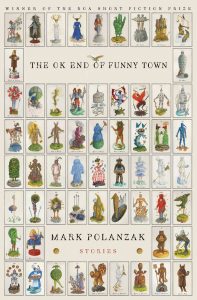 Mark Polanzak, The OK End of Funnytown
(BOA Editions Inc.)
A knitting robot that covets Icelandic wool. A giant (this one, a male) blends into the scenery. A school teaches things like Staring Into A Mirror While Depressed. This book demonstrates that the psyche in the author's hybrid memoir POP! remains skewed. Some of the stories, like "Camp Redo," about a summer getaway for adults, hew closely to real life, while some like "A Proper Hunger" illustrate what might happen if a contemporary trend gets out of control. All of them, however, make for thoughtful, funny, and even occasionally uncomfortable reading.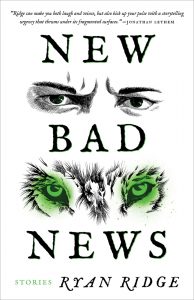 Ryan Ridge, New Bad News
(Sarabande Books)
Jonathan Lethem calls Ryan Ridge "a more rueful Mark Leyner," so I had to read this collection of short shorts as soon as possible. Plenty of anonymous people populate these pieces, but Ridge includes the famous, too: Jackson Browne, Charlie Chaplin, Elliott Smith, Arnold Schwarzenegger. For someone raised in Kentucky who lives in Salt Lake City he knows a lot about California's demons and dreams; the five sentence "Echo Park" and its follow-on "Echoes of Echo Park" reverberate (sorry) with La-La Land longing.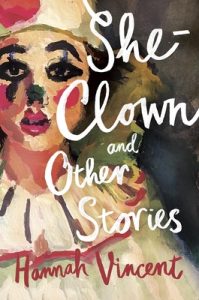 Hannah Vincent, She-Clown, and Other Stories
(Myriad Editions)
What do women want? This collection might be read as an attempt to answer Freud's question, but only an attempt. Vincent's characters have secrets, problems, heartaches, most of which can't be solved or explained, even as these characters work on survival in a world that remains predicated on male power. What makes the stories work is that the women are well aware of the compromises they're making and the inequalities built into the systems they live in every day. Vincent uses their anger, sadness, and disappointment to build a case for biology isn't destiny.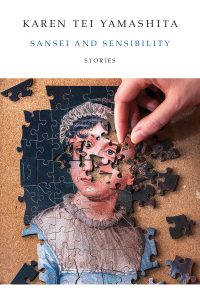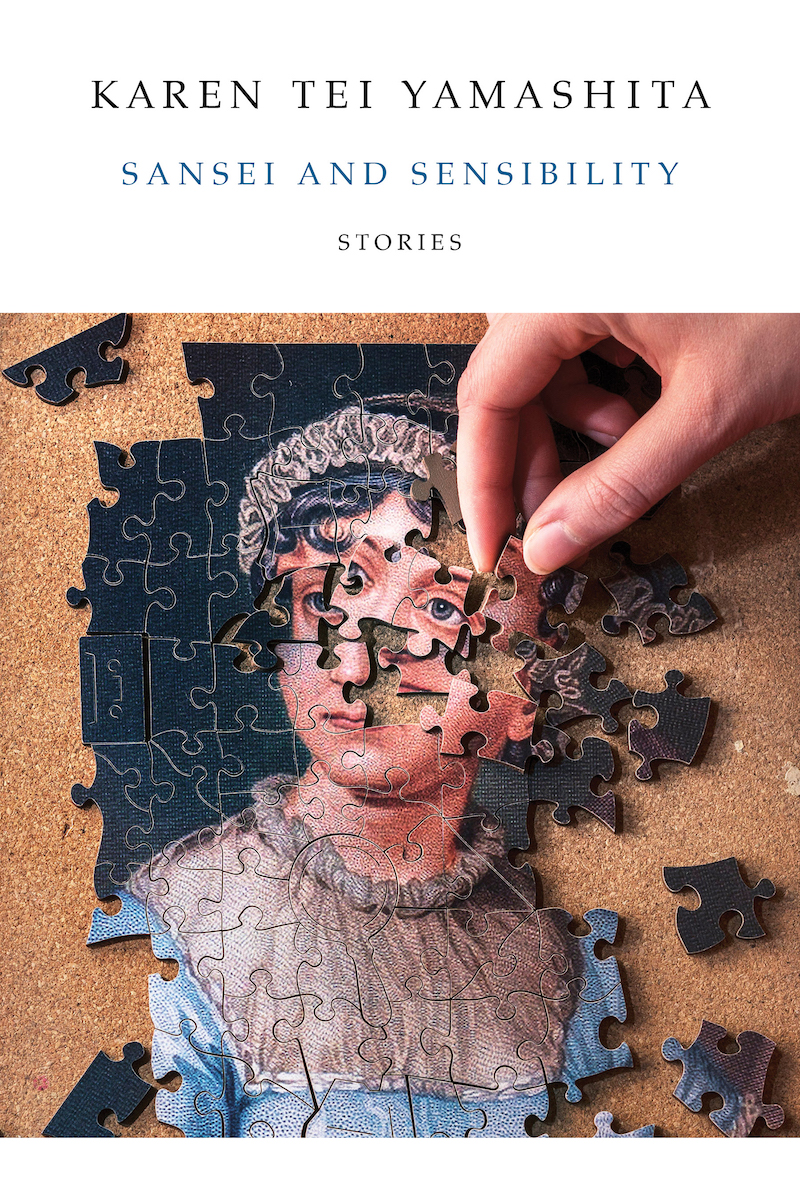 Karen Te Yamashita, Sansei and Sensibility
(Coffee House Press)
This books is so good that I want you to read it even before you read I Hotel, Yamashita's amazing 2010 multiform novel about different decades at a residential hotel in San Francisco's Chinatown. But this set of stories—the first, Sansei, all centered on third-generation Japanese immigrants, the second, Sensibility on mashups of modern Japanese-American life with the novels of Jane Austen. E.g., meet not Fitzwilliam Darcy, but instead Darcy Kabuto II, football hero, class vice president, and best-looking member of his class, "which meant he looked like he was the son of Toshiro Mifune." Enjoy. Just—enjoy.
---