How Writers Can Best Conceptualize Their Work
Graeme Simsion on the Key to Developing Engaging Ideas
"Where do you get your ideas?" Every author has been asked that question, as if it's the most important—almost the only—aspect of writing. And most of us who've enjoyed some success have been approached by someone with a brilliant idea (as judged by them) that merely requires a little typing on our part to become a bestseller—with them obviously being credited as co-author and pocketing half of the royalties.
But there's some truth in the popular perception. If you're telling a conventional story, the development of a premise, possibly expressed in a single sentence, is the most critical phase of your project. In some form, it will go in the enquiry letter to an agent or publisher, on the cover of your book and on posters for the movie adaptation. Plenty of writers will tell you that it's not their best-written books but the ones with the compelling premises that have been most successful.
Even in literary and experimental fiction, the concept, though it may not be expressed in the same way as a more plot-oriented premise, is important. It's the book that you're writing, the project you're putting a substantial part of your life into, and you need to be clear on what it is.
And yet… when I run workshops for writers who have at least begun drafting their manuscript, many—most—of them struggle to explain what it's about and, particularly, the story that it's telling.
It's set in a dystopian world, post-apocalypse…
It's about my grandmother, but fiction.
It's about the oppression of [insert minority group].  
Or even: It's not a conventional novel. (Fine, but what is it?)
This is not to downplay the importance of place, character, themes and innovation, and indeed they may be intrinsic to your concept. But if you're going to tell a story, and take a planned approach to it, you need to have at least a sense of the plot: what's going to happen in the place you've chosen or world you've created, what journeys your characters will take and what decisions they'll face, what events and conflicts will bring to life the issue you want to explore. If you're not telling a story, you're still doing something: be clear on what that is.
If you're planning a novel primarily to explore a character, the character may be all you have at this point. I suggest you ask: what situations would best test and showcase that character? And you'll have the beginnings of a character-driven story.
Plenty of writers will tell you that it's not their best-written books but the ones with the compelling premises that have been most successful.
The Rosie series began with the character of Don Tillman, a socially awkward man whom I saw as struggling to fit in and be accepted. What situation would best highlight that? I landed on the search for a partner, since, in contemporary Western society, it's a quest full of subtle social conventions in which there is no obligation to be "accepting" of someone you don't want to pair with.
Your concept is so important that it's worth applying your best creative efforts to coming up with and refining it over an extended period, and not starting your writing project until you are comfortable with it. Debut novelists frequently say that the idea had been brewing in their heads for a long time. And frequently those debuts are their most successful books. I suspect there's a connection. So, always have some ideas brewing and let them brew a while.
Practically, that means being on the lookout for concepts and allocating some of your creative time to thinking about them. It doesn't have to be every day, but about once a month I devote a little time to thinking about what I'll be working on next… and beyond that.
Creatively this is the toughest phase, because there are almost no restrictions. Once you have a concept, you'll be working more or less within its boundaries. But right now, for the only time in the project, it's wide open.
If you're going to tell a story, and take a planned approach to it, you need to have at least a sense of the plot.
If you're waiting for inspiration, I suggest you use the time to write a short story or essay or poem or otherwise work on your writing. Don't waste your novel-writing energies on anything other than a concept you're happy with and excited about.
If you're writing a story of any kind, you should be aiming to produce a clear and concise summary of what it will be about—the premise—plus supporting notes. A good way to express your premise is in the form of a logline, like those you see in a TV or movie guide: a one- or two-sentence summary of the plot and its main challenge or conflict. The focus is on the set-up, rather than the complications or ending: if you have ideas for these, they can go in the supporting notes.
Loglines are an important marketing tool for screenwriters, so there's plenty of advice around on writing them. As a novelist, your primary concern is to clarify and express your thoughts for your own guidance. Look at a few loglines (IMDB is a good source) and you'll get the idea, along with evidence that they can be constructed even for the most unconventional works. Here are a few:
During WWII, a German businessman uses his resources to save Jews from the concentration camps. (Schindler's List / Schindler's Ark)
When a video of Bart and Homer fighting goes viral, they become social-media celebrities. (An episode of The Simpsons)
The lives of two mob hitmen, a boxer, a gangster's wife, and a pair of diner bandits intertwine in four tales of violence and redemption. (Pulp Fiction)
And at the more experimental end of the scale:
A nurse is put in charge of a mute actress and finds that their personae are melding together. (Persona)
A dying man in his forties remembers his past: his childhood, his mother, the war, personal moments and things that tell of the recent history of all the Russian nation. (The Mirror)
Putting your premise in this form is the endgame of this stage. Along the way, your expressions of it are likely to be messy, half-formed and contradictory, as you kick around possibilities on paper and in your head.
___________________________________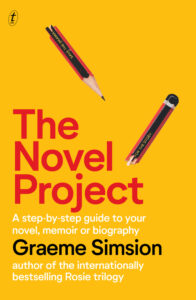 Excerpted from The Novel Project: A Step-by-Step Guide to Your Novel, Memoir or Biography by Graeme Simsion. Copyright © 2022. Available from Text Publishing.
---