The Secret Lives of Writers and Mothers
Aamina Ahmad on Coming to Know Her Mother's Truest Self
When I was a girl, I stumbled on my mother's secret life.
I knew nothing of it for years; for most of my life, she had just been my mother: she cared for three small children, cooked meal after meal, told us stories, and dropped us off at school, often late, chanting: I'm late, I'm late, for a very important date! in a way that made me anxious. I was nine or ten when I read a story she had written called The Nightmare about a Pakistani woman who travels abroad to marry a man based in the UK and struggles to adjust to her new life. She becomes increasingly distant from her family, mentally fragile, plagued by a recurring dream in which she sees a bird being wounded. I was gripped by the story, but more than that, enthralled by the searing power of my mother's imagination, something I had had no idea of until that moment.
As a shy child with a tendency to loneliness, always feeling slightly on the outside of things watching (is this all writers?) even when surrounded by siblings and play mates, I spent a great deal of time imagining other worlds, making up stories to entertain myself. That my mother, my opposite in so many ways—beautiful, extrovert, strident and outspoken (always late!) seemed to visit that same world felt like a revelation, as if she had unveiled a secret self to me; and it was thrilling. What else have you written I asked? by which I meant: what other secrets do you have?
There was the workshop she started attending on Thursday nights where she did I don'tknowwhat but from whence more stories came; The Gatekeeper's Wife in which a white woman living in Lahore discovers the wife of one of the city zoo keeper's is stealing food from a caged tiger with the apparent blessing of the animal, and After Life, a story about the sale of Albert Einstein's eyes. The stories were always surprising and mysterious and when she wrote a story narrated by a piece of lace, I wondered: are you allowed to do that? Who said that you could?
And then along with these new stories, came new women friends, who although they were brown were nothing like the auntys I'd always known; instead they smoked furiously and talked at breakneck speed about books and politics, and making theatre and publishing books. They're so loud, I'd think, as I slunk up to my room, never entirely following their conversations, falling asleep to the sound of an impassioned argument about the Labour Party, or Pakistan, or India, or laughter, or sometimes singing if someone remembered a Bollywood golden oldie in the early hours, wondering what world was this my mother now inhabited.
When she wrote a story and I said it might be a novel and she kept writing until it was, I felt that one of her secrets had, for the first time, also, partly, become mine.
When she began translating and then writing plays, she worked at night after the rest of us were asleep, her dictionaries and papers spread out around my sleeping dad, working in slivers of whatever time she could find around us. Given that she was up most of the night and my father rose early for work, there seemed to be someone awake almost all the time in our house. Is this weird, are we weird? I wondered as she stayed up all night long.
Somewhere I imagined were mothers who baked, who didn't set Angel Delight powdered custard over a Digestive biscuit for dessert (sets in a minute!) because they had to make a deadline. Sometimes, I'd skulk around her room at night distracting her, curious about what she did all night, the Urdu poetry by Pakistani women, that she was translating a mystery to me—the script a spidery, inky secret. She shared a new language with me and words like feminist and resistance rolled around my mouth awkwardly.
And in those hours, I nosed around the new books that had found their way into her already bursting shelves: Woman At Point Zero, Wide Sargasso Sea, A Wicked Old Woman, Feminist Fables. No one at school had heard of these books—where had they come from, why was no one else reading them? Why do you read such strange books? When I was up late because I wasn't writing the essay on Jane Eyre I was supposed to write, proclaiming the book was boring, she told me to write about Jane's dreams. These are nonsense, I said, like all dreams are, and so she interpreted them for me, the images somehow speaking to her just as easily as the Urdu script, bringing new life to my sense of Jane, of the meanings dreams can hold. Then she explained how I could catch my own dreams (in case I ever needed to). Maybe, I said, you should consider baking more.
In her other work, I found more of her other selves, especially in the plays where she created every kind of character you could imagine. When she made a theatre company, the people who played those characters wandered into our home, and the late-night dinners got louder (actors!). I learned that resting actors could be found working at Tower Records, and that when the novelists came over, you absolutely never said: haven't you been writing that book ALL my life now? My Saturday mornings were spent at rehearsed readings in shabby venues instead of Brent Cross where I'd rather have been trying on clothes in Top Shop. This is the fringe! they said, buzzing. It really is, I thought.
My dad's friends talked about buying new cars, holidays, and loft conversions. The actors, the directors, the writers didn't seem to make plans that far ahead. Calendars were marked instead with grant application deadlines and my mother was up nights again fumbling with her calculator, eyes rimmed red, trying to get enough money to make sure actors could work instead of rest. Why do you do it to yourself, I asked. Why does anyone chose to live this life with its uncertainties and vicissitudes? We have no choice, my mother said; we cannot deny who we are. So they celebrated the successes when they came, everyone thrumming with the excitement of an opening night, and then they waited, however long it took, for the next one to come along. I have choices, other choices, I thought even as I snuck onto my mother's computer to write poems that spilled shamefully from me like secrets I couldn't keep.
When she wrote a story and I said it might be a novel and she kept writing until it was, I felt that one of her secrets had, for the first time, also, partly, become mine. And when, as the years passed, and I discovered I could no longer deny who I was, my mother and I talked more and more, about stories and motherhood and books and politics and feminism and resisting, and I began to stay up late, writing after my children had gone to bed, understanding finally something I hadn't realized in all this time. That my writing self was not my secret, other self, as my own children now likely think, but my truest self—just as it had always been hers.
___________________________________________________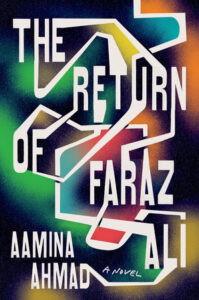 Aamina Ahamd's novel The Return of Faraz Ali is available now via Riverhead Books. 
---