How Watching Men's Figure Skating Helped Me Fall Back in Love with Writing
Jenny Tinghui Zhang on Protecting Your Joy
When I was one, my parents set me down in front of three objects: a money bill, a stuffed doll, and a book. The exercise was simple–whichever object I chose would determine the kind of person I would become. According to my parents, there was no hesitation. I crawled to the book.
Those who swear by this exercise might call my passion for words "destiny." Others will say that it was because my mother was once a writer. Whatever its source, my love grew, from regaling my third-grade peers with stories about a dog family to the first creative writing class I ever took in college.
I was a writer to my friends, to my family, to strangers if they asked. I wore the name as a badge of honor, because it was true: all I ever wanted to do with my life was just write. And I did, through college, around my 9-to-5 job, and on nights after my then-boyfriend was asleep and the only light in my studio apartment was the clinical glare of Microsoft Word. Writing was there for me through unemployment, breakups, and moments of solitude. When I had nothing else in this world, I thought, at least I would have this.
Every writer has different reasons for why they write. Here were mine: I wrote to keep myself company. I wrote to make myself feel moved. Most of all, I wrote because I was trying to make sense of the world, and of myself. I realized this early on: it was a joy to be able to tell stories that came from inside myself. There were entire castles to build, an infinite number of doors to open and winding passageways to light. I was full of the world. To be a writer was to see every moment as potential. There was no such thing as boredom when you were the one with all the stories.
In my dreams, I would be like Colin Firth's character in Love Actually, specifically the part where he sits at a quaint lakeside cabin and plucks away at his typewriter. What serenity, I thought. What bliss. Everything I did, from publishing my first short story to applying to grad school, was with this dream in mind. Back then, I wasn't yet aware of the great gulf that existed between simply hoping and actually achieving, but I knew that all I had to do was to keep writing.
*
In fall of 2020, I finished the book I had been working on, Four Treasures of the Sky. Miraculously, it sold.
For some time, it was difficult to believe that it was all real. I oscillated between disbelief and ecstasy, constantly asking myself if this was all a dream. My parents could not stop talking about it. My friends were overjoyed for me. I woke in the mornings smiling. But as I finally allowed myself to believe that this was all happening, another realization sunk in: that this book, which had breathed, lived, ate, and slept next to me, was finally going to do the last thing I was prepared for—leave. It would travel around the world, meet readers, and stand on its own without my protection. All of a sudden, I was terrified.
One day, as I looked at my writing desk with dread, I wondered: have I fallen out of love with writing?
Call me precious. Call me childish. Call me thin-skinned and delusional. Yes, I was and remain all of those things. But isn't this the natural instinct of the creator, of all caretakers? I was afraid of letting go. I was afraid of saying goodbye. Most of all, I was afraid of how my book would be treated by others when I was no longer there to speak for it.
The fear ebbed and flowed, a constant undercurrent that accompanied my other emotions of excitement, gratitude, and euphoria. I was working on what I hoped would become a second novel, but approached everything I wrote with this same sort of fear: that of no longer being in control. The act of writing began to feel daunting and threatening, something I no longer recognized. Instead, everything I did was preceded by trepidation and followed by disgust. Writing was no longer a part of me–it now lived outside me. One day, as I looked at my writing desk with dread, I wondered: have I fallen out of love with writing?
*
This February, the Winter Olympics took place in its host country of China. I tuned in as I have every two years since the 1996 Summer Olympics in Atlanta. One of the top stories of these Games was the men's figure skating event, a field stacked with superhuman athletes and the promise of more quadruple jumps than ever before.
The quadruple jump, or simply the "quad," is one of the most difficult elements to perform; it involves the skater completing four full revolutions in the air before landing on one foot. For the past decade, the quad has dominated men's figure skating as a differentiating factor between those who would be champions and those who would not. In the last few years, longtime fans and skating purists have begun to decry the scoring system for how it favors quads, leading to skating programs that forgo artistry and elegance in favor of shoving as many quad jumps in as possible.
I watched as skater after skater completed the free skate, their four-minute programs chock full of audacious quad jumps. There was Donovan Carillo, the first skater from Mexico at the Games. Keegan Messing, a Canadian competitor who performed in flannel. Jin Boyang, the elegant pride of the host country. Japanese sensation Yuzuru Hanyu, the two-time back-to-back Olympic champion, who attempted to land the Quad Axel, a feat never before achieved in competition. In those four hours, quad after quad spiraled across the screen, some landing, some missed, all of them blurring the lines of what the human body was capable of.
Last to skate was Nathan Chen, the favorite to win. Nathan was dubbed the Quad King at 18, primed to take the crown at the last Winter Games in 2018, but then the unthinkable happened: he fell or missed nearly every single jump. His Olympics ended quietly—a Quad King he may have been, but a Quad King he was not, at least not when it mattered most.
Four years later, Nathan had a new hunger in his eyes, the kind that flared and burned from having something to prove. Ever since the failure of 2018, he had been training with one thought in mind: redemption. So, at this Olympics, Nathan had a plan. His program was technically difficult and filled with quadruple jumps—five, to be exact. They were also strategically placed in the second half of his program, earning him even more points. These were the jumps that would help him win, and he did win, landing all of his quads and scoring an unprecedented 332.60.
When I finished watching Nathan's program, I couldn't help but think of my own relationship with writing. There was no such thing as falling in or out of love, I decided, scolding myself. There was no such thing as romance. I simply needed to work harder at it. I was chasing a quad jump myself, or maybe five.
Here was a man who came to perform because he loved it, because it brought him joy, quads and medals be damned.
It didn't work.
Instead, my boyfriend found me in the backyard, crying into my knees. "I feel so alone," I told him. I was writing more than ever before, but the weight of my fears made it an ugly, depleting experience. I was not someone who felt full from the world—instead, my world had become so utterly small.
*
A few days later, YouTube recommended a video from the men's figure skating competition. There was one skater who I had missed the first time I watched: Jason Brown of the United States. Jason won a bronze medal in the team event at the 2014 Winter Olympics in Sochi, becoming one of the youngest male figure skating Olympic medalists.
At this year's Olympics, Jason, now 27, was one of the few skaters who did not have a single quad in his program. He placed sixth after his short program, and against competitors like Nathan Chen, Yuzuru Hanyu, Cha Junhwan, and Uno Shoma, this likely meant that he had no chance to stand on the podium without a few quads in his free skate, much less one.
In the video, he takes the ice as the announcer calls his name, raising his slender arms in recognition of the audience. He looks peaceful, although nervous. He is wearing a gray, smoky shirt soaked with yellow, red, and orange—an appropriate symbol for the song he will be skating to: Schindler's List. In the middle of the ice, he comes to a stop, breathing deep and closing his eyes.
When the music starts, he opens them. They seem unfocused, not really seeing, or perhaps seeing beyond the realm of the arena. He glides across the ice, bending with the melody as it wails and moans. When he jumps, he floats for just a moment, stopping time, before landing with ease. There is beauty and grace here, there is passion. Most importantly, there is not a single quad.
He completes his program with a spin combination, his arms reaching, legs tucking. The skate was technically and artistically perfect, the correspondents agree. When he finishes, his face breaks into a smile.
I read the writings of my old self, and I thought: this is love.
I did not realize it, but I was crying. The program was gorgeous, yes. He was an incredible skater. But what moved me to tears was the fact that he came to the competition and gave it everything, knowing that he would likely not win. Here was a man who came to perform because he loved it, because it brought him joy, quads and medals be damned. He was making a statement with his performance: no matter what happened, he would always have this.
Jason Brown was brave, I thought. Not for competing, not for eliminating quads from his program, but for loving. He was brave for committing to his passion and being proud of it. Brave, for letting his love for his sport and craft be enough.
*
Recently, I finished the last page in a notebook I had kept since 2011. The notebook, an offensive shade of teal green, had been home to all my random musings, notes, and fascinations since college. It held the beginnings of stories that would and would not see the light of day, it held questions, outlines, and freewrites. It held garbage and it held greatness. It even held the first words I ever wrote in relation to my book.
Upon filling up the last page, I flipped back through the notebook, cringing, laughing, and marveling at all the things I had written throughout the years. In the margins, notes to myself:
"If you're so obsessed with boys, why don't you write a manifesto of boy stories?"
"Untitled Book that I am GOING TO FINISH"
"Can I be that brave? Can I? (Yes!)"
"Sometimes, soup."
These were the words of someone who did not fear exposure or ridicule or judgment. These were the words of someone who was writing before bed because she couldn't go to sleep without jotting down the idea in her head; of someone who thought of a funny tale; of someone who wanted to be a writer. I read the writings of my old self, and I thought: this is love.
*
How do you fall back in love with writing? It is different for everyone, I know. But this is how I did it, slowly, day by day:
You do it by walking away, by not writing at all. You do it by reading, by immersing yourself in other people's words, not because you are trying to see how it could help you with your own writing, but because you miss the days when you could appreciate a book as just a book. You revel in other forms of art and bow in the presence of other artists. Films, poetry, music, paintings, and architecture—they are all there for you. The fine lace detail on a blouse. The cake that sits in glass at your favorite coffee shop, the scalloped flowers of its icing.
How do you fall back in love with writing? You do it by rejecting the belief that it is about working harder, or better. No, it is not. It is about preserving your joy and protecting your love. Fewer quads, or, even better, no quads at all.
You do it by revisiting your old words—not the ones that were published or accepted at literary journals, but the ones that never made it. The ones that live inside your version of an offensively teal-green notebook. Revisit yourself, too, and often. Remember the yearning and courage you had to write simply because you loved it and believed that it was enough. Because actually, it is.
How do you fall back in love with writing? You do it by placing yourself in front of three objects. You do it by crawling to the book every time.
_____________________________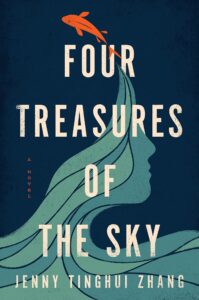 Jenny Tinghui Zhang's Four Treasures of the Sky is out now from Flatiron Books.
---