How Wasps Are Less Bothersome—And More Beautiful—Than We Think
Seirian Sumner on the Science Behind Wasp Stings
The more we intrude on nature, the angrier we get with it for bothering us. Nature is an unwanted house guest, a flaw in our perfect gardens, an uprooter of our concrete deserts. We are so busy complaining about how nature disrupts our sterile order that we miss most of the beauty that is under our noses. Perhaps this is why most people today recognize wasps as only the social wasps—those picnic-botherers, loft loiterers, "murder hornets"—for it is these particular wasps that we notice when they cross our paths.
It's an awful shame that we don't take more care to notice the 32,000 other species of hunting wasps—the solitary ones—which comprise 97 per cent of all the world's stinging wasp species. You might have seen these lonesome insects in the summer, digging into sand banks or excavating crevices in stone walls or patios. You probably mistook them for bees.
Our blinkered and vexed view of what wasps are appears to be recent. The writings of early naturalists are littered with impassioned accounts of the ways of solitary wasps. They were a favorite of the gentleman and gentlewoman naturalist in the 19th and early 20th centuries. Their out-of-print books hide gems that show we were not always quite so ignorant and blinkered in our view of wasps. These naturalists started to uncover the endless forms of solitary wasps almost 200 years ago. Their careful obsessions have provided the natural history needed to guide modern scientists, as few have the patience these days to spend time with a solitary wasp.
The life of a solitary wasp is predictable and cyclical: she digs a burrow with one or more brood cells, provisions it with prey she has caught, lays an egg and seals it up before abandoning it forever. Without a whiff of nostalgia for her abandoned babe, she moves swiftly on to digging her next burrow. Then repeat. And repeat. She doesn't have much opportunity to work on her social skills. She never meets her own offspring because they emerge long after she has disappeared. She rarely interacts with fellow mothers except when reprimanding an interloper intent on stealing her prey. She does have sex, probably only once though, stockpiling enough sperm in her sperm-storage sac to last the rest of her short life.
The more we intrude on nature, the angrier we get with it for bothering us.
As well as being unsociable, she's deadly if you happen to be an arthropod. Solitary wasps are some of the planet's most ingenious executioners. A silent assassin. The stinging apparatus of a female delivers a chemical cocktail of toxins, enzymes and amines which simultaneously paralyze prey and inoculate it with antimicrobials. The venom is a hunting tool and a preservative, keeping her victims alive, a helpless but healthy sack of living nutrients that can be easily transported and stored in the burrow. Her blossoming babes eat the still-living prey over several weeks.
Honed for success by natural selection, our solitary slayer is unhurried, skillful, punctilious. Evolution does not tolerate a clumsy, careless solitary wasp, especially when it has worked so hard to provide her with the perfect hunting toolkit to deliver a chemical cocktail fit for a long, clean and final sleep. Evolution has also had fun generating an eclectic array of execution styles and strategies through these multifaceted chameleons. Solitary wasps are mistresses of many guises, each with her own macabre theater of tricks and personalities in her quest to be the best single mom a baby could wish for.
It is not difficult to understand why those early naturalists—I'll call them the Wasp Whisperers—were obsessed with finding out how wasps hunt, how they kill and what they do with their victims. The Whisperers' florid and entertaining texts describe how these insects hunt with elegance, kill with compassion and store with style. Watching solitary wasps was the ultimate action thriller entertainment in a pre-movie era. They offer some uncomfortable parallels with assassins in our own world, but unlike the typical human assassin, the solitary wasp cares about her kill: she has a vested interest in being tender, benevolent, and attentive to its comfort and health. The slow, controlled death of her victim delivers life to her own offspring.
Unlike the typical human assassin, the solitary wasp cares about her kill
The Wasp Whisperers make no apologies for giving personality to their insect playthings but they don't intend to imply any logical thinking on the part of the insects. In their defense, I can personally attest that unconscious anthropomorphism is irresistible when watching solitary wasps. It is hard not to relate to them as you would to a friend or even a foe.
Abandoned books, forgotten tales, dusty truths and observations; it's time to give a whisper from the grave to those early naturalists and their obsessions with solitary wasps. What have we learned from these Wasp Whisperers of the past and have we done them scientific justice with the gems they bequeathed us?
*
Jean-Henri Fabre is perhaps the most famous of the Wasp Whisperers. The Frenchman broke the mold of nineteenth-century naturalists in not being a privileged gentleman of means. Fabre grew up in poverty in the 1820s and 1830s but, driven by his passion and tenacity, he taught himself entomology. He qualified as a teacher, although he is best known for his observations and experiments on insects, which he published in ten books.
Fabre's work was noticed by Charles Darwin and is thought to have influenced Darwin's own writings, despite Fabre's staunch objections to the theory of evolution by natural selection. Souvenirs Entomologiques formed the original collection of Fabre's writings on insects, and multiple editions were published between 1879 and 1909. The book has 31 chapters on wasps, yet these only really made it into the public eye after being translated into English and republished by Alexander Teixeira de Mattos in 1915 and 1920 respectively as The Hunting Wasps and its imaginatively titled sequel More Hunting Wasps.
These books are a tsunami of science, obsession and comedy. Although Fabre's rhyme is eccentric and excitable, each morsel is underpinned by observation and thanks to his bell-glass observation chamber, he was able to replicate his findings with a level of integrity. I make no apology for preferentially picking out gems of intrigue and delight from the works of Fabre, for it is he who whispers most prominently from the graves of the Wasp Whisperers.
Fabre was obsessed with the sting. And quite rightly too, for a solitary wasp is not a hunter without her sting—it is the tool by which she conjures her assassin's magic. It delivers the venom—the essential cocktail of chemicals that renders prey as helpless, paralyzed but perfectly preserved larders containing all the nutrients needed for baby wasps. Fabre called the sting 'mother's stiletto,' perhaps in reference to the offensive stabbing weapon of the medieval assassin.
Anyone who has been stung by a wasp (or bee for that matter) will appreciate why it's called a "sting." There is no denying, it really does sting. Pain surges from the focal point of venom entry (being stung on the finger is particularly bad for this—such a high concentration of nerve endings) and seeps up the body like the darkness of Sauron. Later, the itching starts and (sometimes) it stays with you for days. This is a best-case scenario—for some people the venom sends the body into immunity override, which ends in a rapid trip to hospital, and sometimes (sadly) even death. But it is typically only the stings of social wasps that cause this much inconvenience.
How did a tool of maternal love transform into a killing implement?
One of the most frequent questions I'm asked is "How do you get the sting out?" I will say this just once: only honeybees leave their sting in you when they sting. Most of the other 22,000 species of bees and the 32,000 species of solitary and social hunting wasps are sensible enough to keep their stings intact for future use. Why honeybee workers have evolved the self-destructive behavior of having their innards ripped out when they sting you remains an unanswered question. Whether an insect leaves its sting in you is down to sting morphology. I realize stings are an uncomfortable topic for everyone. However, as the sting is the critical tool in the hunting wasp's portfolio, evolution has paid very careful attention to making it bespoke for the many different ways that these wasps slice their hunting pie.
Remember that the origins of the sting lie in the egg-laying sheaths of the parasitoid wasp, which didn't have a proper sting, only a long, elegant ovipositor that it used to deposit eggs (and a little bit of venom) onto or into prey. The egg-laying apparatus needed to be long and malleable for delivery of her babies to hard-to-reach prey. How did a tool of maternal love transform into a killing implement?
The weaponized ovipositor is short compared to its gentler ancestral forebear: the willowy egg-laying tube can be up to eight times the length of the wasp's body, but the weaponized version of today is rarely longer than the abdomen. At least part of the answer, then, is down to physics: the force needed to pierce the prey's skin would buckle even a moderately long sting, especially when the quarry is wiggly and intent on escape.
A typical wasp sting is made of stiff cuticle plates down which the venom can be administered, surrounded by flexible membranes. The stiff "stingy bit" is called the shaft and it's far from being a simple pin. It comprises two rod-like structures connected via a clever sliding interlocking mechanism and it is attached to cuticular basal plates. The shaft can be a curved scythe, a straight dagger or a spring-loaded arrow. It can have barbs, big or small, or be smooth. Ancestrally it is gently curved, but some species (like velvet ants, which incidentally are wasps, not ants) have shafts that coil up inside them.
When not in use, the shaft sits politely inside its sheath. Shaft and sheath vary enormously in shape, size and mobility across species. It is the interaction between sheath (and specifically a hardened flap called the third valvula) and shaft that is the engineering marvel of the sting and the success of the hunter. The flap has evolved many functions: it cleans the sting shaft and protects it from damage, and in some species provides strength and rigidity to the shaft, important for defense.
But most critically it provides the clever biomechanics needed to guide the shaft to penetrate its victim in precisely the right place, close to the nervous system, to deliver the juicy surprise. This precision is helped by sensory receptors that the hunting wasps inherited from their parasitic ancestors—these same receptors help identify the spot for an ovipositing wasp to drill into. Remarkably, the flap is not controlled by any muscles. Instead, proteins are thought to help it return to its resting position after stinging: it is truly a feat of engineering innovation and ingenuity, an area of wasp biology waiting to be noticed.
__________________________________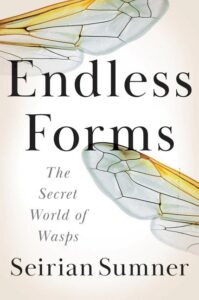 Excerpted from Endless Forms: The Secret World of Wasps by Seirian Sumner. Copyright © 2022. Available from Harper, an imprint of HarperCollins Publishers.
---