How Vanya on 42nd Street Captured a Changing New York City
On the Film Adaptation of Chekhov's Uncle Vanya
Raymond Carver had a hero and role model: Chekhov. After Carver died, many obituaries suggested Carver was "America's Chekhov." The accolade would have likely thrilled, if embarrassed, the humble Carver. He loved Chekhov, even inserted some of the Russian's poems into his own book of poems, never claiming they were his own, merely happy to see Chekhov there beside him, in print. Carver said, "Chekhov is the greatest short story writer who ever lived." "Anyone who reads literature," said Carver, "anyone who believes, as one must, in the transcendent power of art, sooner or later has to read Chekhov." Tess Gallagher wrote how "Ray had somehow won permission through a lifetime of admiration [of Chekhov] to take up his work with the audacity of love."
What would Carver have thought of one rendering of his beloved Chekhov, done not far away from the drama of Birdman, just around the corner on 42nd Street? When French director Louis Malle decided to film André Gregory's stage production of Chekhov's Uncle Vanya, calling it Vanya on 42nd Street, Carver had been dead for six years. Carver never saw how boredom and dissatisfaction in fin-de-siècle rural Russia got a distinctively New York makeover, a vividly urban readaptation of his hero's classic. Not least because of its venue: a space once housing the raunchy Ziegfeld Follies, the dilapidated art nouveau New Amsterdam Theatre, built in 1903, a few years after Chekhov's play premiered.
For much of the 1980s, André Gregory rehearsed Chekhov nearby in another boarded up Broadway jewel, the ruined Victory Theater. There he persuaded a small group of actors—Julianne Moore and playwright Wallace Shawn included—to show up for free, in their spare time, to rehearse Uncle Vanya each week, for years, a marathon odyssey before a handful of invited friends and family. Gregory later managed to raise $900,000 to fund and entice Louis Malle to shoot the entire play. (Malle had worked with Gregory and Shawn before, on the 1982 miracle My Dinner With André.)
They spent two weeks filming in the New Amsterdam Theatre, in a movie that begins with footage of the actors playing themselves, dressed in everyday modern garb, emerging from the subway. They greet one another, pace through Times Square's streets to the theater. Their faces bob along with other faces bobbing along in the glorious jam that is midtown Manhattan, soundtracked by Joshua Redman's jazz groove, "Chill." Moments later, Gregory and Shawn stand alongside a food vendor. They talk to one another near the New Amsterdam's lobby, munching, in the cool spring air, on a pre-performance knish.
The New Amsterdam closed its doors in 1982, leaving rats to gnaw away at a lot of it. Yet Gregory and Malle stole a little corner of the stage, in this crumbling beauty, to create beautiful crumbling art, Chekhov in the city. Gregory himself is something of a maestro of ruins. He's directed many plays in ruined theaters, ruined castles, ruined men's clubs, ruined riding stables. Why so many ruins, he once wondered? Probably because he's a director allergic to formal theaters.
"We can sense a great bustling metropolis somewhere nearby, somehow inside the drama, part of the drama, there for us to try to comprehend."
Gregory recalls an old German theater director once coming to a rehearsal. He loved the ruined space, thought it truly wonderful. Gregory asked what, specifically, he found so wonderful. "How perfect," the old director said. "This ruin of a theater, on this ruin of a street, in this ruin of a culture, in this ruin of a nation, and here inside the ruin on a stage, this peculiar little group of actors who still care about culture and art, who still care about Vanya—just imagine—and watching them, this peculiar tiny little audience who also cares, and behind them in the vast empty auditorium, the ghosts of thousands of audience members who in the past did something like this every night."
Malle's camera rolls in the ruins. On film, the actors make ready for their performance. They casually chat to each other. They complain of being tired. They pour tea, set up the table, arrange the bench, organize the chairs, the sofa. "Drink?" actor Phoebe Brand asks Larry Pine, who plays Doctor Astrov. "No. No thank you," Pine replies. "I don't want it somehow." "A little Vodka?" wonders Brand. "Not today," says Pine. "How long have we known each other?" Pine enquires. "How long," Brand says, "Lord, let me see . . . Eleven years. More." "How much have I changed?" Pine asks. "Very much I think," says Brand, "your looks have faded." "Ah," Pine laments, "I have become a different man."
Then, all of a sudden, the camera shifts. Now we can see what Brand and Pine were seeing: a tiny audience in front of them, with André Gregory in the front row. He's smiling like the Cheshire Cat. We've been watching Chekhov for a while; the play had already begun, even before we'd realized it. Doctor Astrov and Marina were dialoging the opening of Act One, in a brilliantly seamless shift between the street and stage, between modern life and modern art. Gregory said this "was what it feels like to live a life"—not just to perform a life. There's something marvelously urban about this, too. We can sense a great bustling metropolis somewhere nearby, somehow inside the drama, part of the drama, there for us to try to comprehend.
Doctor Astrov is bored with life, hates his "provincial life," he says, hates "his Russian life," "with all the power of my soul." The only glimmer of light before him is his one passion: his forest. "I hear the forest sighing," he says. "I planted that forest . . . I watch it take root, it grows, it sways in the wind, and I feel such pride."
And yet as Astrov talks about thrills of nature in the ruins of urban nature, urban nature sneaks into the frame: in the muffled distance, we hear the hum of cars, the honking of horns, the blaring of a fire truck, even the rumbling of a subway car beneath the earth. "Tell us something new," Astrov asks Vanya. "Something new, what's new? Nothing's changed," Vanya says, "I'm the same . . . no, probably worse, for I have grown lazy and complain all day. What's changed . . . ?" It's a troubling question. No city person could ever ask it. What's changed? Everything's changed, is changing; Times Square was changing, quite literally then as Astrov and Vanya spoke. New York was changing, all cities change; there's always something new going on.
__________________________________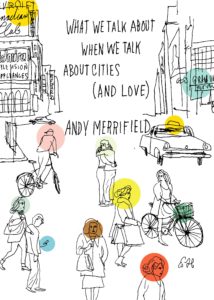 FromWhat We Talk About When We Talk About Cities (And Love). Used with permission of O/R Books. Copyright © 2018 by Andy Merrifield.
---