How Tony Soprano Inaugurated a New (and Raw) Version of Masculinity
Susan Bordo on One of Pop Culture's Most Well-Known Mob Bosses
The fact that Tony Soprano, in 1999, inaugurated a new version of masculinity—one that boldly refuses to soften and make more palatable the violence that often goes along with the sexual (or any other) appeal of the raw—isn't apparent until the fifth episode of the first season of the show, called "College." The writer David Chase knew it would be transgressive.
The Godfather had Don Leone kill with his own hands only once, when he was a young immigrant (played by Robert De Niro) trying to establish himself in a neighborhood run by a greedy, less attractive Don. And once he is The Godfather (Marlon Brando) the film makes clear his biological family is his priority and justification for everything he does. When his son Michael loses touch with that, even going so far as to have his own brother killed, Coppola no longer bestows on him the affection that the first film brought to its depiction of Vito.
Tony Soprano, unlike Vito, likes the life, doesn't dream of legitimacy, and complains to his therapist Dr. Melfi (Loraine Bracco) that "the sun is setting over the empire," and that he's come in at the end rather than beginning. Until "College," we never see any real tenderness toward his children, and although he is troubled by panic attacks and mourns the leaving of a family of ducks from his pool, Tony is thoroughly coded as hyper-macho, from the opening credit journey from the Lincoln Tunnel to his north Jersey McMansion ("the rings on Tony's meaty fingers, the thick dark hair on his forearms, the cigar between his teeth, the smoke trailing from his mouth as he checks the rearview mirror") to his casual but undeniable dominance over the other guys in his gang and his soldier, nephew Christopher (Michael Imperioli).
"College," however, whose frame is a trip with daughter Meadow (Jamie-Lynn Sigler) to check out colleges in Maine, reveals the side of Tony that is at the heart of the fantasy I described earlier, of the vulnerable sweetness that the right woman can release in the beast. In this case and I suspect it is this way for many men—that woman is his daughter. Throughout the episode, Tony affectionately hugs, playfully pokes, grabs her hand, and communicates pride to Meadow—smart enough to be admitted to the best colleges, but as beautiful as "those models on the cover of Italian Vogue"—as he tells her at a candlelit dinner at a New England restaurant.
They are both dressed up, and the atmosphere and intimacy are more like a grown-up date than a meal between father and daughter. Twice during the episode they exchange heartfelt "I love you"s—not in itself unusual between parent and child—but both also remark on how special and unusual their relationship is. In fact, the relationship is unusual for Tony; he treats Meadow with an admiring respect that he doesn't lavish on any other women in his life (not even Dr. Melfi), so much so that when she asks if he is in the Mafia, he admits to her (as he hasn't to either Carmela or Dr. Melfi) that his work involves some "illegal gambling… and whatnot."
They both know the admission is a delicate way of acknowledging that what she has suspected is true—an honesty that she rewards by contrasting him with the other boring, "full of shit" lawyer and executive dads of her friends, and praising that "you finally told the truth about this." (In the shooting script, she also says "And anyway, you're my sexy dad"—a line eliminated in the actual filming, no doubt because, given all the intimacy between them, it was too suggestive.)
Win his respect (as Meadow has) and the beast becomes a prince.
His behavior toward Meadow makes believable Carmela's (Edie Falco) confession to Father Phil Intintola that she still loves Tony and harbors the hope that he can change. We'd seen Tony the slob, in his underwear, eating prosciutto straight from the package at the family kitchen island. We'd seen him as the confident, surly boss of his men. We'd seen him brushing off his mistress. What we haven't seen is the sweetness that James Gandolfini brought to the role ("He's such a big guy, and yet he's such a sweetie pie," said Chase of his casting)—and that is undoubtedly part of what attracted Carmela to Tony when they first dated, and perhaps part of what keeps her with him, too. We see in "College" why women fall in love with him—not just for his raw masculinity, but for his courtliness. Win his respect (as Meadow has) and the beast becomes a prince.
But hold on. The Sopranos is not going to indulge the viewer in any fantasies of that kind. On the way to Bates College, at a gas station stop, Tony had spotted Febby Petrulio, who ten years earlier had been busted for selling heroin and flipped on Tony's father's friend Jimmy. Tony holds him responsible for his father's decline, and while Meadow is interviewing at Colby, chases Petrulio down and kills him—declining Christopher's offer to do it for him, and with a predatory violence that (as Matt Seitz and Alan Sepinwall put it) "makes it clear that this isn't some cute series about a henpecked Mob boss with troublemaking kids." Seitz and Sepinwall go on:
[B]ack in 1999, the effect of this particular killing was seismic. Four episodes in, viewers had seen murder and violent death attributable to negligence or incompetence, but Tony didn't commit any of these acts, nor was he directly responsible for their occurrence… And although it seemed unthinkable that hat he'd go through the series without ordering at least one person's death—he's toyed with the idea—a killing like this seemed equally unthinkable, because TV protagonists didn't get down in the muck like that. That was what henchman and guest stars were for.
Since the Sopranos, we've "watched countless protagonists do horrible things," but this was the first. And while on a trip with his daughter! (Chase initially imagined The Sopranos primarily about the family, which would have appeal to female viewers.) As viewers, if afterward we still felt drawn to Tony, then, like Carmela, we would be accepting a bargain with the devil: the steep price of the magnetism (and promise of protection) of raw masculinity. Sure, he could be tender with his daughter, and genuinely adore her. But make no mistake: Tony was a killer.
Screenwriter Matthew Weiner, watching the episode, recognized how convention-shattering "College" was: "I just turned to my wife," he recalls, "and said 'You do understand what's going on here. This has never been done, that you would take this hero and father of this TV show… and he's going to strangle this guy with his bare hands. And we're going to have to watch him next week and act like we care about what's going on with him. That is revolutionary."
Revolutionary, yes—and also truer to life than the fantasy of reforming the beast, or the illusion that when the wife-batterer comes begging "Stella!" everything is gonna be alright from then on.
__________________________________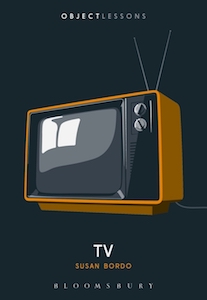 Excerpted from TV (Object Lessons). Used with the permission of the publisher, Bloomsbury. Copyright © 2021 by Susan Bordo.
---