How to Spend a Literary Long Weekend in Seattle
Bookstores, Taverns, and Ghosts
Seattle is one of the few cities where you can walk in any direction and you will stumble upon a great bookstore or café—along with great libraries, publishing houses, and more. (It has the most bookstores per capita in the country!) It's not surprising that Seattle was the second city in the United States (after Iowa City) to be designated a UNESCO City of Literature, joining such global cities as Edinburgh and Dublin.
And while we all know Seattle is home to Amazon (which we all know started as an online seller of books), the literary history of Seattle is vast and varied, from the strong Indigenous storytelling traditions of over 30 Native tribes, to authors such as Theodore Roethke, Raymond Carver, and Octavia Butler. Additionally, the Seattle government invests a lot of resources into its arts and culture programming, which nurtures a fervent community of arts and performance spaces. It makes sense that Seattle is consistently labeled one of the most well-read cities in America.
And while a weekend may not cover everything you can explore in the city, this is a great start.
*
· FRIDAY ·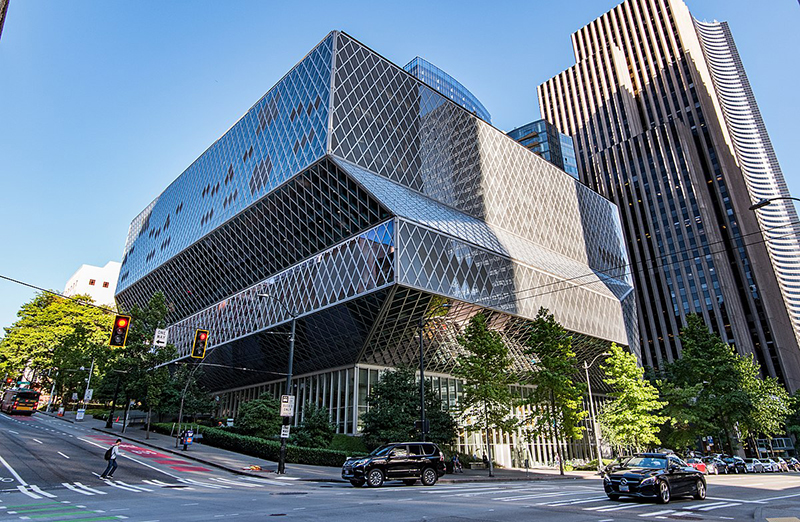 Seattle Public Library
2:00 pm
Designed by Pritzker Prize-winning architect Rem Koolhaas, the central branch of the Seattle Public Library system will excite both book and architect nerds alike. Inspired by the "Emerald City" nickname for the city, the glass-and-steel edifice drives up a hill 11 stories, but can be entered on multiple different floors. (And the 10th floor reading room has one of the best views of the city.)
A major section of the Library is the "Books Spiral," which spirals up four floors and allows visitors to peruse the entire nonfiction collection of the library without traveling to different parts of the building or taking stairs. There is over 1.5 million books in the library, so you could spend a whole day exploring if you wanted to.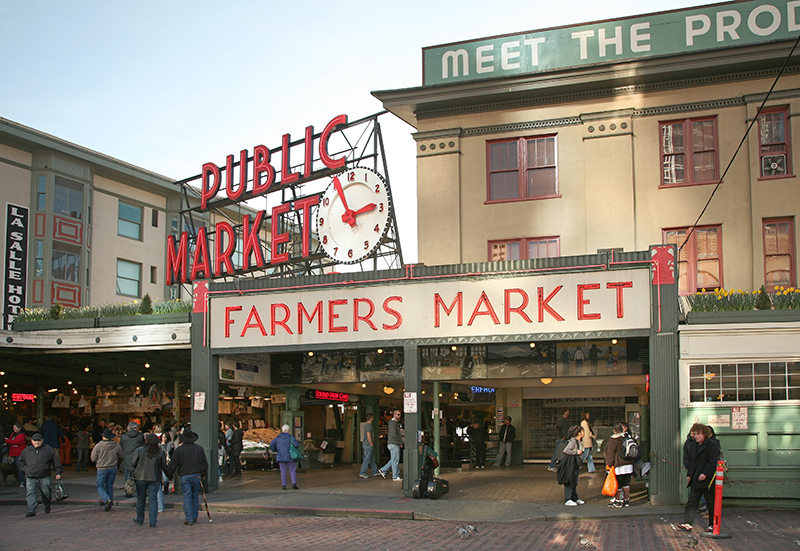 Pike Place Market
2:00 pm
While one of the top tourist sites in the city, it might surprise you to include it on this guide. However, among all the various food vendors, there are six independent bookstores—each with its own distinctions—within the Market.
Near the entrance of the Market is Left Bank Books, which has been worker-owned for almost 50 years. With a great science-fiction collection, the bookstore celebrates socially conscious works and the independent spirit of the city. (It was the only place in the city to sell Arthur Evans's Witchcraft and the Gay Counterculture, for example.)
Not too far in the market is Lamplight Books. Here you will find a great poetry section, as well as great used book finds of hard to find classics. But if you're looking for children's books, Lion Heart Book Store is the place to go. Also, right down the hall from Lion Heart is Golden Age Collectables, which is one of the oldest comic shops in the world. (At least, according to them!) The shelves are overflowing with pop-culture ephemera, and showcases some of the best graphic novels being published today.
Also in the Market is Chin Music Press, which is also a publisher and features many local writers. Additionally, if you just need a spot to sit back and peruse shelves of used books, BLMF Literary Saloon would be your spot. In between, grab a coffee, some flowers, or a sandwich. Pike Place Market has it all!
 *
Elliott Bay Book Company
6:00 pm
From the library you could see Elliott Bay Books, and it's a worthy next stop. One of the top bookstores in the country, Elliott Bay is the heart of literary culture in Seattle. Not only boasting a mind-boggling selection of books, they regularly host numerous events and have one of the most bustling bookstore cafes (Little Oddfellows) you'll ever come across. Enjoy a pastry and a coffee, or a house-made soda, and people watch or stumble upon the more than 500 authors that come through the bookstore for readings and signings.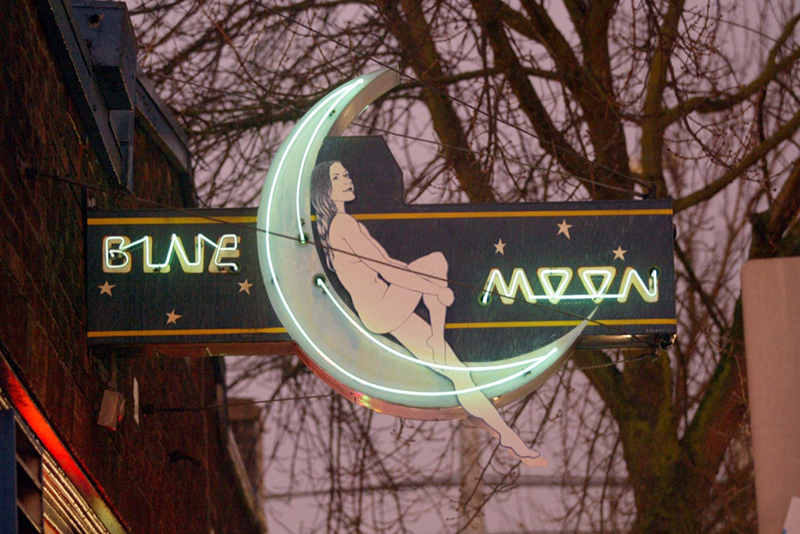 Blue Moon Tavern
8:00 pm
Open since 1934, Blue Moon Tavern is a literary institution in the city, where such writers as Richard Hugo, Allen Ginsberg, Carolyn Kizer, Dylan Thomas, Theodore Roethke, David Wagoner, and many, many students have come through its doors—and stumbled out.
The tavern was also a haven for University of Washington professors, such as Joe Butterworth, who got swept up in the McCarthy purge, and still to this day is a clubhouse for the counterculture that Seattle has always been home to. The interior hasn't changed much, so don't be surprised if you see a few ghosts from its past walk through as you put down a few drinks.
*
· SATURDAY ·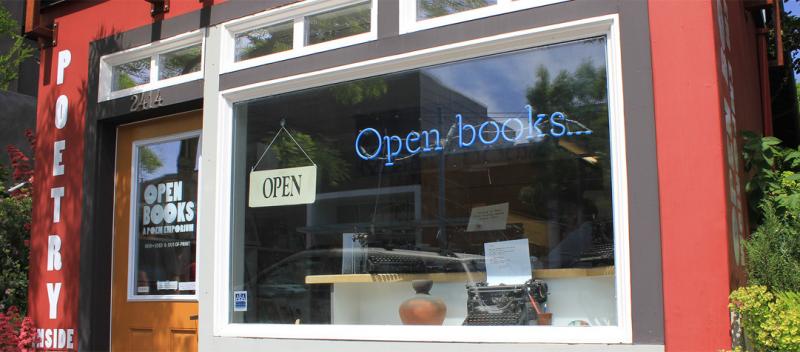 Open Books: A Poem Emporium
10:00 am
One of the most beloved bookstores in the city, it is one of the few poetry-only bookstores in the country, with readings every week and rare editions of many of the best poetry collections ever published.
*
Book-It Repetory Theatre
12:00 pm
Take in a matinee from the Book-It Repetory Theatre, which has adapted classic and contemporary works for the stage for over 30 years and over 150 original adaptations to its credit. They have presented everything from Austen and Dickens to N.K. Jemisin, Octavia Butler, and Yuyi Morales.
*
Hugo House
3:00 pm
One of the best resources for writers in the city, the Richard Hugo House leads writing programs for teachers and students and hosts some amazing literary events. From its Hugo Literary Series, which commissions writers to investigate a single theme and present it, to the Cheap Wine and Poetry series, there is plenty to see here. Additionally, the Zine Archive and Publishing Project library can be found on the house's second floor, and features more than 20,000 zines, chapbooks, and other small press periodicals.
*
Third Place Books Seward Park
6:00 pm
Looking for a quick pick-me-up? At Third Place Books, its restaurant Raconteur has a great happy hour and cheap food, including burgers, pretzels, and a great book selection you can page through as you sit back and enjoy the environment.
*
Seattle Arts and Lectures
8:00 pm
One of the best literary programming in the country, this is where you can see readings and Q&As with heavyweight authors, everyone from Tom Hanks to Isabelle Allende. A great way to see the best of the city's literary community.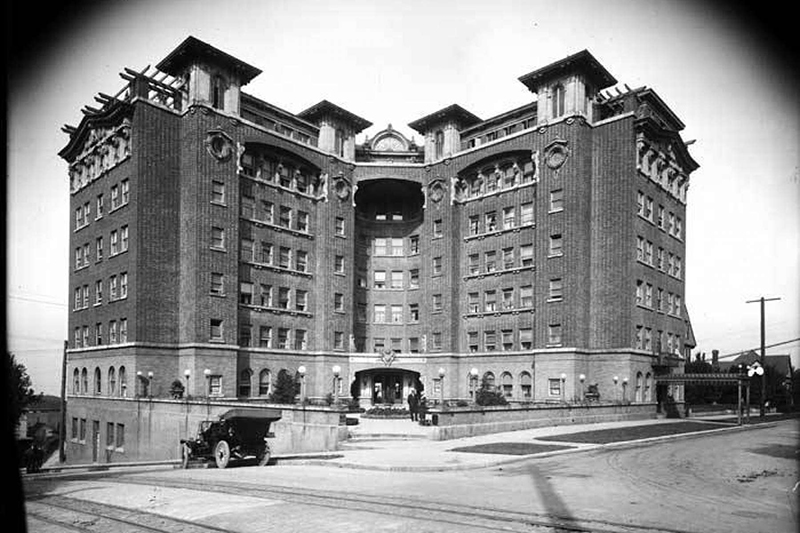 *
Hotel Sorrento
11:00 pm
For a nightcap, the Sorrento hotel is the perfect place to end the night, and one where it's rumored that Alice B. Toklas haunts the hallways. Find a spot in the Fireside Room, a gathering space for poets, musicians, and artists for over a century—and feel the rich history of the city.
---