How to Build an Antiracist Workshop
Felicia Rose Chavez on Fostering Safe and Equitable Spaces for Creativity
When people of color receive an invitation to write, to exercise voice in public space, naturally we're wary. Our lives are an exercise in repression—the everyday denial of voice—so as to safeguard our bodies. By not speaking out, we reassure white people that we are inoffensive, nondisruptive, not at all how they see us, be it consciously or subconsciously; that is, as imbeciles, criminals, clowns, or whores. And we deny ourselves voice in order to avoid losing our shit. Because once we open our mouths, who knows what'll come out, and when it'll stop. Our welfare depends on a cultural imperative of silence.
That's why I just come out and say it: "Take my class! I teach an anti-racist writing workshop."
I email this message to student-led organizations and influential faculty members that support people of color, first-generation college students, feminists, activists, and queer and questioning students. The title of my email? "A Safe Space for Creative Concentration." I define "safe" as a student's right to retain their own authority, integrity, and personal artistic preferences throughout the creative writing process without fear of free-reining bigotry.
In the message, I share the story of my past frustrations in workshop, and then counter that narrative with my own approach. Mainly, that I believe that writing is a political act, and in order to honor that offering, we must consciously work against traditions of dominance and control in the creative writing classroom, curating safe spaces for participants to explore race, class, gender, and sexual orientation. Don't worry about being creative, I plead. It's not about that. It's about sharing our stories. We must be heard.
The first time I sent this email, I was nervous as hell. I imagined the collective eye roll of my white colleagues: An anti-racist writing workshop? What does that even mean? It didn't help that I was new to campus. I couldn't rely on reputation to substantiate me. I felt vulnerable, wary of the backlash I might encounter.
But then I got that first response from a student, a quick-fire email in all caps: "YES! I'M IN!" I didn't know this person, had never worked with him before, yet he understood without me even having to explain. At that moment I knew that I was on to something.
I wasn't crazy. It wasn't just me.
People of color need a collaborative artistic community to which they belong and feel safe; they need it, but they don't always know how to ask for it and are often unaware that alternatives exist. It's our responsibility as workshop leaders to verbalize our anti-racist agenda for them, in clear, unapologetic language, language that opens doors instead of closes them. We must reach out to people of color, openly differentiate our approach to the writing workshop, and then welcome them into our collective.
As opposed to the norm—recruiting, exploiting, and then wholly disregarding a few token writers of color in an otherwise all white workshop—the anti-racist approach demands that we dismantle the traditional infrastructure first, and then go about recruitment second.
When people of color receive an invitation to write, to exercise voice in public space, naturally we're wary.
To recruit writers of color, we've got to be about it.
Being about it isn't easy, because we're forced to articulate our writing workshop principles independent of the old infrastructure. Suddenly the way it's always been done feels like a crutch; without it, we might stumble. That crutch is the "monument of white ideology" of which Claudia Rankine writes in her essay, "In Our Way: Racism in Creative Writing":
To maintain our many writing departments with their majority white faculty has, we often forget, taken conscious work, choice, and insistence. The perpetuation of white orientation, white narrative, white point of reference, white privilege, white denial, white dominance, and white defensiveness if any of these things are pointed out or questioned, has taken work and is the originating problem.
In other words, maintaining the status quo takes time, energy, and resources, all of which we claim to lack when it comes to creating an alternative, anti-racist model.
Admitting that neutrality does not exist—that we currently fuel politicized, race-based writing workshops—is the first and most important step toward change. To bring down the monument of white-centered ideology, we've got to dismantle not only the pedagogical infrastructure of white bias, but also the white supremacist ego of domination and control behind the decision-making.
Where do we even begin?
Let's take a cue from successful course designers and begin at the end, evaluating the values implicit in our writing workshops' learning objectives.
*
What are the goals of your workshop? This is the stuff of course descriptions, those one-paragraph windows into your classroom. Harried workshop leaders tend to write course descriptions on deadline, or better yet, plug in recycled language from hand-me-down syllabi, with the aim of checking a bureaucratic box more than conscientiously articulating how participants will transform under their guidance. Remember that in recruiting people of color especially, first impressions matter, and that includes your writing workshop description. It's not enough to desire diversity; you must plot an anti-racist workshop, differentiating your endgame from the traditional model.
A quick online search (not to mention years of personal experience) reveals that most writing workshop learning objectives tend to be identical. Strip away flourishes, and the boilerplate language reads something like:
Upon completion of this course, participants will
» Engage in the art of literary writing
» Read the master writers in order to develop a fundamental grasp of the genre(s)
» Write through an imitation of the master writers » Develop a critical vocabulary of craft
» Receive critique via workshop
» Demonstrate improvement in writing
» Study the rules of the English language
This tidy enumeration summarizes the traditional workshop model, in which participants are barren, bereft of storytelling experience and unexposed to learnèd literacy, much less proper English. In effect, traditional workshop leaders reinforce the myth of inferiority.
I mean, they use the word master.
And it flies—of course it flies!—because so many of us are convinced that we're bad at writing, that we aren't creative, that we don't like reading because books are too old and irrelevant.
People of color need a collaborative artistic community to which they belong and feel safe; they need it, but they don't always know how to ask for it and are often unaware that alternatives exist.
What if you revised your workshop goals to convince participants that they are experts in their own right? Rather than serve as passive receptacles for white authorship, a democratic educational model demands that all participants contribute to knowledge production. Let's deconstruct the traditional workshop goals in an effort to foster a twenty-first-century anti-racist alternative.
1. Engage in the art of literary writing
The insistence on literary writing is an apt starting place, for what is "literary" code for? A lot of workshop leaders front like even they don't know, appending a jokey "whatever that means" in parentheticals. Because who wants to come out and say it? Literary means civilized, cultured, "classical" writing. (There's that word again! Evidence that English and creative writing share a mutual reinforcement of white supremacist infrastructure.) This is not your common creative expression; it's not genre entertainment for the masses. Literary writing has noble merit, in the tradition of privileged white male figureheads. It's infused with elevated purpose, grappling with complex truths and the profundity of the (privileged, white, male) human condition.
"Literary," in sum, means gatekeeper.
"There seems to be a more or less tacit agreement among literary scholars," writes Toni Morrison in Playing in the Dark: Whiteness and the Literary Imagination, "that, because American literature has been clearly the preserve of white male views, genius, and power, those views, genius, and power are without relationship to and removed from the overwhelming presence of black people in the United States." Morrison argues that "this black presence is central to any understanding of our national literature and should not be permitted to hover at the margins of the literary imagination."
There is no such thing as white literary purity, no chance at comprehending classical narratives without the political, historical, creative, and cultural contexts of African, Latinx, Native, and Asian Americans. Still, traditional workshop leaders insist on playing gatekeeper, segregating literature and thereby limiting our full artistic realization.
What if you brought down the gate?
Ditching "literary" means ditching an elitist tradition that positions writers of color as outsiders, forced to imitate whiteness in order to earn their badge of literacy. Instead, consider persuading participants that over the course of the workshop, they will succeed in one or more of the following:
» Write in order to achieve their best work
» Manage their ongoing development through regular self-assessment and reflection
opportunities
» Pursue creative writing topics of their own choosing
» Experiment with narrative techniques most important to them
» Grow in confidence as writers
Note that in the list above, the workshop leader regards participants as individuals with varying aesthetic preferences. There's a mutual respect at play, a willingness to support participants' personal artistic journeys.
Bottom line: the workshop leader affirms that participants arrive at the classroom as writers, whether or not they know it yet. Each of them comes from a unique storytelling tradition. There's no gauntlet through which they must earn their literacy, only opportunities to enhance their storytelling abilities, both in terms of technical skillset and psychological savvy. It's within this multiplicity of voices that participants fully comprehend the significance of their own story.
True, ditching the term "literary" shrinks the workshop leader's supremacy as art's official gatekeeper. That's a hit to the ego. But student storytelling is not, was not ever, yours to conquer, control, and manipulate to your aesthetic. You are artistic ally, trusted confidant, ready resource, steady guide. Your confidence in their innate ability as writers does wonders to your workshop participants.
__________________________________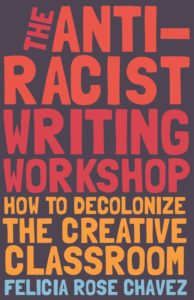 From The Anti-Racist Writing Workshop: How to Decolonize the Creative Classroom by Felicia Rose Chavez. Used with the permission of Haymarket Books. Copyright © 2020 by Felicia Rose Chavez.
---