How the Women in My Family Fought for Their Daughters' Education
Zhuqing Li on the Wisdom of Her Mother: "Knowledge is something no one can take away from you."
In my first year of high school, I flunked my English class. My mom was not someone I'd go for a consolation hug, or for forgiveness with an excuse. Throughout the elementary school years, she had been in exile on a remote island called Dongshan, leaving me to be raised by relatives and friends. I was already in middle school when both of my parents returned from their respective exiles—Mom on the coast and Dad in an inland village in called Penghu—and resumed their teaching jobs in the university. Since her return, Mom had been very strict with my studies.
Mom herself had been educated in the province's best university, and in her absence, I had learned at school that this kind of formal schooling was a bad thing, and that the best-educated people needed to be "re-educated" by peasants to become well-rounded and kinder. This was why, I was told, the great leader Mao Zedong started the "cultural revolution."
So, growing up during the Cultural Revolution, and absent my professor parents, I picked up schooling in an ad hoc fashion, skipping some years, and by the age of 14, among the cohort of kids with equally irregular education, I somehow made it into a good high school affiliated with the university. There, English was completely foreign to me, and the strings of dynasties and emperors' names felt interminably long and tedious. I failed in English and barely passed the history course.
That was 1976. My family was finally together under one roof, resembling a normal family just like everyone else's. But that fall, our dear leader Chairman Mao died and the red sun over us set, throwing my world into darkness once again.
There was talk, at the time, of resuming gaokao, the college entrance examination that had been abolished the year when I was four. This spurred Mom to be even more adamant that I improve my grades; my parents' return and the family reunion felt like a precursor to another shakeup in my life.
"Knowledge is something no one can take away from you."
That was when my English teacher visited us in our small apartment. He lived in the same apartment compound and came to urge my parents to help me develop my potential. Father, the first college graduate of his generation from his rural village, said dismissively: "It's okay, she's a girl." His words seemed to drop a silent bomb in the small room.
Outside the window came a young voice hawking popsicles. Mother turned to me, her finger shaking as it pointed to the window: "If you don't fix your grades and get into the university, that'll be what you'll do for the rest of your life!" By that, she meant selling popsicles.
From the vantage point of that stifling awkwardness, selling popsicles outside in the shade did not seem to be the worst option in my subtropical home. What I did not pick up, at that moment, was the fiercest and yet muted clash between Mother, a well-educated girl from an elite family, and my father, a country boy who, despite his education, still held a deeply ingrained traditional bias against girls.
Mother did not know a word of English. When she was in college in the 1950s, and the Soviet Union was China's best friend, her mandatory foreign language was Russian. She forced me to memorize English words by repeating the letters in the correct sequence until it became muscle memory. That soon grew painful for me, and when my tears did nothing to soften Mom's resolve, I decided to memorize the whole text rather than the sequence of the letters for each new word.
My grades shot up overnight, leading my classmates to suspect me of cheating. "Keep doing what you do." Mom said, giving me her first and clearest approval. From then on, instead of micro-managing my study, she outsourced the challenge to best schools.
After graduating from an elite college, I was assigned by the government to a dead-end job. Mom took up my cause again. She left no stone unturned searching for a way out for me—and in the process, she produced Aunt Jun.
I had never known my mother's half-sister. She was now an American citizen who was reconnecting with the family after having lost touch for 33 years. Aunt Jun turned out to be surprisingly like Mom when it came to education. Seeing me stuck in a system that had the power to pop my life's dreams in one single swoop, she said to me: if you get admitted into an American graduate school, I'd sponsor you. It wasn't a blank check; it was a challenge, to me and to herself, as she had to earn every dime with hard work.
Mom was ecstatic at my admission to Georgetown's graduate school: "We've arrived in the new era!" To her, my prospects in America, a country that she knew even less than me, also represented her own achievement in delivering her daughter to a better time and place. That would turn out to be the beginning of China's 40-year rise. The number of Chinese students coming to study in America would explode from a couple of tens of thousands per year, at the time of my arrival, to around 370,000 at its height in 2019 and 2020. Only education could take you to better places, that was Mom's parting advice. But I never could bring myself to share with her the shock of seeing the big check Aunt Jun handed to me for the tuition.
Mom and Jun are both the oldest daughters—Jun by my grandfather's first wife, and Mom by the second. My grandfather, like many powerful men of his time, had more than one wife. I would later learn from Aunt Jun that theirs was a prominent clan in the southeastern city of Fuzhou, one that for over three centuries had produced numerous highest-ranking scholar officials through the traditional imperial exam system. This long history of Mom's Chen family was never told to me or anyone in my generation during the revolution times as we grew up. It was the counterrevolutionary feudal past from which the Chen family was eager to detach themselves in order to become socialist new citizens. But as Mom later opened up in the post-Mao reform era, she recalled how she had adored her big sister Jun, and how they had spent their best childhood hours with books: Jun was the tutor, Mom the smitten pupil, and both dreaming of becoming teachers.
Through a twist of fate, the year Jun graduated from college, she was separated from her mainland family and got stranded on the Taiwan side in the Republic of China. Mom was devasted. She missed Jun terribly and was worried sick about Jun's being trapped on the enemy territory of the Communist mainland. For consolation, she held on to her faith in her sister: as long as Jun was alive, she'd find a way to live a meaningful life. This faith became a source of comfort during those 33 long years of blackout on her beloved sister's fate.
That faith in education was what Mom wanted to pass on to me, her oldest child and only daughter.
Mom's faith was also bolstered by the resilience of Jun's sister Hong. Equally well-educated, confident, and determined, Hong had survived waves of Mao's revolutions by making herself indispensable in her hospital and in the province's healthcare system—so much so that in the early years of reform, the Party Secretary of Fuzhou at the time sought her out to deliver their daughter. This party secretary, Xi Jinping, would become China's president.
"Knowledge is something no one can take away from you." All three women, who had been old enough to know their grandmother—Aunt Jun, Aunt Hong, and Mom—told me this at one time or another. This is the family adage that had been passed on to me. There are more: "Girls with education can marry without a dowry," and "Never be a decorative vase in the house." All these sayings traced back to my great-grandmother, who herself never had a day of education but was an extremely talented storyteller and had been the source of profound wisdom for the girls in her family.
That faith in education was what Mom wanted to pass on to me, her oldest child and only daughter. Contrary to Dad's attention to my two younger brothers, Mom was particularly strict with me. My parents' firm belief in education in the end sent all three of their children to continue post-college education in foreign countries. When we left, the best future was still believed to lie outside of China. Then we stayed: I in the U.S., one brother in Japan and the other in Germany.
Five years ago, Mom had a health scare and was rushed to the emergency room. Upon learning the news, all three of us hopped on the plane overnight and converged at her hospital bed. "Do you regret that your children are all so far away?" Our baby brother asked Mom, as he propped her up. "Not at all." Mom replied with a weak but proud smile, even as she struggled to sit.
Mom recovered from that health scare, but is now losing her memory and ability to walk steadily. She and my father recently moved into an assisted living facility. None of their children were able to help with their transition due to China's stringent COVID policy, so we connect often on WeChat, the popular Chinese messaging media, for video calls.
During those calls, her recurring question to me was whether my two children, both sons, had gotten into good colleges. When she asked again right after I informed her of Daniel's admission to a good law school, my impatience got the better of me and I asked her back: "Did you try the simple exercises that I'd taught you?" "Too busy." She replied with disinterest. It was a blatant lie because she had all the time in the world. "Can you read something to me?" I felt desperate. "Can't see well." She produced a reply after a pause.
Where is the Mom who would never accept a bad grade for lack of effort? Where is she, who at every turn had pushed me to a better world she believed in yet never knew? Looking into her eyes, I wanted to scream, and tracing that flickering light, I wanted to reach out and retrieve that Mom I knew. But the hollow in her eyes advanced, and words came to my mind fell apart before they registered: Do not go gentle into that good night. I knew even my best translation would fork no light in her descending night.
To take away one's education, you have to break down her brain and kill her cells. In Mom's peaceful smiles, I know she sees her triumph in me, the daughter whom she pushed at every turn to a better place.
__________________________________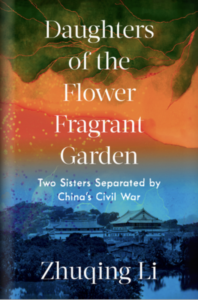 Daughters of the Flower Fragrant Garden: Two Sisters Separated by China's Civil War by Zhuqing Li is available via W. W. Norton & Company.
---