How the Trump Presidency Became a Hotbed of Conspiracy Theory
David Rohde on Truth and Misinformation
Throughout American history, presidents have typically dominated the country's political discourse. Teddy Roosevelt's description of the presidency as a "bully pulpit" remains true. The White House is an unmatched platform for pushing a political agenda and swaying the views of American voters. Presidents have also always manipulated facts, but in the post-Watergate era they generally lost public support after being caught telling outright lies. Bill Clinton's declaration that "I did not have relations with that woman, Miss Lewinsky," hurt him politically. George W. Bush's infamous "mission accomplished" speech following the invasion of Iraq did the same.
In his campaign and the first year of his presidency, Trump showed a brazen willingness to lie. Aides tried to restrain Trump, but he continued to use his Twitter feed and, to a lesser extent, his public comments, to make false and exaggerated claims. Trump also took pride in dismissing the advice of experts.
At the same time, Trump, like all American presidents, was barraged with information. Foreign intelligence services mounted disinformation campaigns designed to influence his thinking. Democrats and other domestic political rivals tried to damage him politically. Aides jostled to advance their personal ambitions and agendas, including some who fed the president false claims clearly designed to play to his long-held beliefs and biases.
Under Trump, though, the amount of false information emanating from and circulating inside the White House was remarkable, current and former administration officials said. Disinformation, false information that is deliberately spread and designed to deceive, mixed with misinformation, false information spread unintentionally. The primary source of the dynamic was Trump himself. The president welcomed the chaos and infighting and, it seemed, had no misgivings regarding the use of misleading facts. He also sometimes ignored information that aides presented to him. "He's very engaging but he didn't seem to read anything we gave him," said a former White House aide who asked not to be named. "What you see is what you get. There's no hidden genius there."
Some current and former officials blamed some of Trump's initial advisors for exacerbating the dynamic. One former senior official singled out Steve Bannon for criticism. "He was not there to serve the president," the official said. "He was there to manipulate decisions." (Bannon declined an interview request.) The former senior official said that Bannon fed Trump rhetoric that reinforced the president's biases and ended up in Trump's speeches and tweets. Bannon constructed narratives that played on fear—such as illegal immigrants "invading" the country or longtime allies "cheating" the United States—that appealed to Trump's prejudices. Bannon and his allies "would deliberately feed misinformation to the president," he said, and called Bannon "a master manipulator of Trump, in particular." The former official said that Bannon also fed Trump "deep state" conspiracy theories to get the president to distrust the advice of career government officials who opposed Bannon's policy goals.
"Like any leader, he came to the office with certain weaknesses and vulnerabilities," said one of the former senior officials. "He is in an environment that exacerbates them."
Current and former administration officials said that Trump did consistently express some clear policy goals in private—from confronting Chinese trade practices to ending prolonged American wars in the Middle East. "When he is briefed well and served well, he will make good decisions," the former senior official continued. "He will also change his positions." A current official who asked not to be named said that while Trump's public rhetoric toward Iran and North Korea was bombastic, the president himself adamantly opposed engaging the United States in an armed conflict. "I have never worried about a reckless decision involving matters of war and peace," he said. "This is not a warmonger president."
A second current official said that the failure of the Clinton, George W. Bush, and Obama administrations—and the Washington elite as a whole—to address economic inequality, the loss of high-paying manufacturing jobs, and the opiate crisis, created an opening for Trump's rise. "They saw us kowtow to China for thirty years—and it proved to be economically disastrous. And they've seen two wars that sacrificed 6,500 Americans but made no sense," this official said. "They just feel abandoned and betrayed by Washington. That there are a lot of people benefiting more than them."
Many aides continued to try and manipulate the president after Bannon left the White House in August 2017. Many cabinet members, several former aides said, played to Trump's ego by flattering the president or telling him that if he took certain policy actions he would look strong. "I think he is easy to manipulate because of his deep insecurities," one of the former officials said. Trump's family members and other senior aides tried to ensure that the president was given reliable information and honest advice, but he sometimes ignored it. "Like any leader, he came to the office with certain weaknesses and vulnerabilities," said one of the former senior officials. "He is in an environment that exacerbates them."
*
For members of the Washington national security establishment, the President's Daily Brief should have provided Trump with relatively reliable information. The Church reforms, the 9/11 attacks, and the Iraq WMD scandal had led to repeated efforts to make the briefings as politically neutral as possible. Skeptics on the left and right scoffed at the notion that the intelligence agencies would not have political motives of their own. At the very least, the agencies would want to continue to convince the presidents, as well as members of Congress, to increase their budgets. Clapper and other current and former officials contend that intelligence officers have learned from the scandals of the past that "speaking truth to power" is best for national security, presidents, and the agencies themselves.
The way Trump received the briefing differed from his immediate predecessors. Bush had received a written copy of the PDB each morning in a leather-bound briefing book, read it, and then went over each item in face-to-face meetings with CIA Director George Tenet and a handful of aides. He often asked his intelligence briefers rapid-fire questions, according to Michael Morell, who was one of them. Obama received an electronic version of the PDB on his iPad, read it alone, and shared it with thirty of his top aides. He asked fewer questions during in-person daily briefings. After he took office, Trump received his briefing as he sat behind the "Resolute" desk in the Oval Office.
At his request, as many as fourteen of his senior aides attended, including CIA Director Mike Pompeo, Director of National Intelligence Dan Coates, National Security Advisor H. R. McMaster, and, at times, his son-in-law, Jared Kushner. Trump asked for the presentation to be primarily oral and visual. Written briefings on specific topics were kept to one page. Pompeo told the Washington Post in 2017 that the new president enjoyed poring over visuals—charts, maps, videos, photos, and "killer graphics." Trump interrupted briefers with questions and asides. Trump preferred a free-flowing conversation over one-way lectures. "It's a very oral, interactive discussion, as opposed to sitting there and reading from a text or a script," Pompeo said.
Staffers on the National Security Council initially generated multipage memos for Trump, as they had for Bush and Obama, that outlined detailed policies and strategies. He also received a thick briefing book each night. Over time, it became clear that Trump, unlike Bush and Obama, rarely read these. An order came down from senior officials to reduce the NSC memos to a single page. Eventually, aides came to the conclusion that the best way to raise an issue in writing was to prepare a long, narrow card, made of heavy paper stock, with "The White House" written across the top. One former aide said the information that needed to be relayed to Trump had to be reduced to "two or three points, with the syntactical complexity of 'See Jane run.' "
During meetings, McMaster tended to address Trump in a formal manner that the president viewed as lecturing. Aides encouraged McMaster to joke with the president. He tried to do so, saying, "Mr. President, just seventeen quick points on that!" Trump reacted with disdain. Former aides said that McMaster believed his job was to present the president with honest advice and clear options. Privately, they came to see McMaster's approach as naive. "This was his first job in Washington," a former aide said. "He didn't know how to play the game."
Supporters of Pompeo praised the strong personal relationship he developed with the president, which they said protected the agency from Trump's attacks. "Pompeo can be the president's best friend because he's a back-slapper who speaks his language," said a former aide. As had been true since the agency's founding, CIA staffers believed it was critical to establish and maintain access to the president—the intelligence community's most important customer. At the same time, Pompeo's willingness to take risks and delegate authority made him popular in the agency's Directorate of Operations, which carried out covert operations. Pompeo also lifted Obama-era limits on the CIA's role in American drone strikes. Both moves were seen as a reversal of the micromanagement and risk aversion of the Obama White House that operatives had complained about for much of the previous eight years.
Critics of Pompeo emerged in the agency and administration as well. They accused him of self-aggrandizement, referred to him as pompous, and said he remained in Trump's good graces by telling him what he wanted to hear. "He will make compromises in the short term to keep his constituencies happy, including the president," the former official said. "He will hold back his views." In more alarming behavior, in some national security meetings Pompeo voiced his own policy views rather than the more neutral findings of the intelligence committee. He made statements regarding misconduct by Iran that did not match carefully vetted intelligence-community assessments. At times, Pompeo even pitched covert CIA operations to Trump without being asked to prepare them.
All of those steps were a radical break in the protocol that had taken hold in the four decades since the Church reforms. Intelligence officials clearly had biases. Like many other government officials, they were loyal to their organization and favored its success and growth. But a consensus had formed that briefings should be as fact-based and politically neutral as possible. From the Bay of Pigs to Vietnam to faulty Iraq WMD intelligence, bias in the presentation of intelligence had helped cause some of the largest foreign policy debacles in US history. From Clapper to Blee to Hurd, three generations of American intelligence officials had generally embraced the approach of needing to present facts that might anger a president or a policymaker. Now, Pompeo, aides feared, was telling the president what he wanted to hear.
Former aides reported on another habit of Trump's that impacted the information he received. Throughout his career, Trump tended to be skeptical of the recommendations of his own staff at times, and often turned to outsiders for feedback and advice. This habit continued in the White House. Trump cultivated a coterie of informal advisors. At the time, information that Trump received from them surprised White House staffers. The problem emerged during a July 19, 2017, National Security Council meeting regarding Afghanistan. In the two-hour session, Trump indicated that he had been deeply influenced by a meeting he had recently had with a group of Americans who had fought in Afghanistan. According to officials, Trump said the veterans told him NATO forces had not been helpful, and that China was making money off of mining in Afghanistan while American troops were fighting the Taliban.
One official reported that Trump expressed frustration at the slow pace of an effort to help American businesses obtain rights to those mines instead. Finally, he repeatedly criticized his military advisors and called for the firing of General John Nicholson, the four-star general then in command in Afghanistan. Trump suggested that the veterans who fought in the war were better able to advise him on Afghanistan. He then compared the administration's Afghanistan policy review with the renovation of a famed New York restaurant in the 1980s. Trump said that the restaurant, Manhattan's elite 21 Club, had shut its doors for a year and hired an expensive consultant for a renovation. After a year, Trump said, the consultant's only suggestion was that the restaurant needed a larger kitchen. (The restaurant had, in fact, closed for only two months, and the renovation was extensive and widely praised.)
At roughly the same time, some aides were telling Trump that he should adopt a proposal from Erik Prince, the brother of Education Secretary Betsy DeVos, to use private contractors rather than American soldiers to secure Afghanistan. A former national security official who asked not to be named said that Trump presented the option at the meeting in an appealing but unrealistic way. "An American company will do this cheaper and better without young Americans in uniform dying," he said, paraphrasing the argument made by backers of the plan. In fact, deploying Prince's army was completely unrealistic. Thanks in part to an investigation by FBI agent Tommy O'Connor, guards from Prince's former private-security company, Blackwater, had been convicted of killing more than a dozen civilians in a 2007 shooting in Baghdad. Deploying a large number of Blackwater-like security contractors, which had gone disastrously in Iraq, would likely fuel a surge in anti-American sentiment among Afghans, and aid the Taliban insurgency.
*
In January 2018, Trump's appetite for conspiracy theories sparked chaos in Congress and the White House. On January 10, 2018, the White House issued a statement supporting the renewal of Section 702 of the FISA Amendments Act, a post-9/11 program that allows US intelligence agencies to collect the communications of foreigners overseas without a warrant—including when they are speaking with Americans. The next morning, on Fox & Friends, Andrew Napolitano, the network's top judicial analyst, personally appealed to Trump to change his position on the bill. "Mr. President, this is not the way to go," Napolitano said. "Spying is valid to find the foreign agents among us. But it's got to be based on suspicion and not an area code."
"What kills me with Trump is, we needed a disruptive leader," the official said. "But his fundamental flaws got in the way."
Napolitano then invoked the debunked conspiracy theory that British intelligence agencies had spied on Trump Tower during the 2016 campaign. Napolitano had first floated the theory in early 2017; it was repeated by Sean Spicer, then the White House press secretary. Stunned British intelligence officials, in a rare public rebuke, had dismissed the claim as "nonsense" and "utterly ridiculous." The Republican-controlled Senate Intelligence Committee also investigated the claim and found it to be false.
Forty-five minutes after Napolitano asked Trump to oppose the renewal of Section 702, the president tweeted, "This is the act that may have been used, with the help of the discredited and phony Dossier, to so badly surveil and abuse the Trump Campaign by the previous administration and others?" Fearing that the legislation would fail to pass without Trump's support, White House Chief of Staff John Kelly, National Security Advisor H. R. McMaster, Director of National Intelligence Dan Coats, and CIA Director Mike Pompeo convened an Oval Office meeting; Speaker of the House Paul Ryan joined by phone. Together they convinced Trump to reverse his reversal. "Today's vote is about foreign surveillance of foreign bad guys on foreign land," he tweeted. "We need it! Get smart!"
Several former aides told me they came to the conclusion that Trump's character flaws prevented him from delivering on his agenda. A former senior national security official told me he lost faith in Trump after observing his decision-making. Presidents George W. Bush and Barack Obama both did a better job of weighing information. "That's why the president gets the big bucks," he said. "To discern where the preponderance of the evidence lies, to discern where the more persuasive argument lies." The former senior official who was critical of Bannon said that he supported Trump's goal of aiding the middle class, confronting China, and reforming immigration. Bold changes were needed but, over time, he saw that Trump could not deliver them.
"What kills me with Trump is, we needed a disruptive leader," the official said. "But his fundamental flaws got in the way."
Other aides recognized Trump's personal flaws but remained committed to helping him achieve his policy goals. The second current official said he realized that Trump alienated some Americans. "The constant narcissism and the showmanship, it often gets carried away," he said. "I can understand why so many people can't stand the guy." He acknowledged Trump could be abrasive. "He's definitely selfish. He's a damaged person, for whatever reason in his childhood. But I don't think he's evil." The official argued that the people who voted for him—and the democratic mandate they gave Trump—should be respected. He predicted that Trump's legacy would be different than what his critics now see. "I think in the deep distant future, people will look and see that he did not get us involved in another war," he said. "And he injected friction into China's ambitions to be a global empire."
__________________________________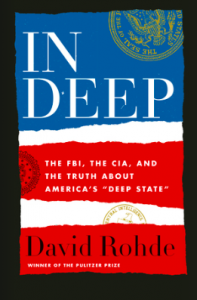 From In Deep by David Rohde. Used with the permission of W. W. Norton. Copyright © 2020 by David Rohde.
---