How the Stepe Brothers Radicalized Peoria and Inspired a Punk Rock Revolution
Jonathan Wright and Dawson Barrett on Social Misfits and How a Scene is Born
Midwesterners tend to take for granted that they're a year or two (or more…) behind the coasts. With punk rock, it was no different. If Chicago was punk's "redheaded stepchild," lagging behind Los Angeles, San Francisco, New York, and Washington, DC (as the 2009 documentary You Weren't There suggests), Peoria was the Second City's own downstate black sheep. You Weren't There chronicles the early punk scene in Chicago from 1977 ("the year of punk") to 1984. But in that Orwellian year, even as the Chicago scene was fracturing, the scene in Peoria was only just getting started.
Like so many music scenes, it started at a record store. And in the way that Chicago had Wax Trax, Peoria had Co-Op.
"I went into Co-Op and there was a flyer up: 'Want to start a hardcore band,'" recalls Bob Gordon, who later worked at Co-Op before opening Acme Comics in the early 90s. "I asked [the clerk] Russell, 'Who are these guys?' He's like, 'They're these kids; they came in on skateboards. They're crazy. They're from Chicago.'"
No one realized it at the time, but that flyer essentially launched Peoria punk rock. Naturally it was the Caterpillar Tractor Company, as the Fortune 100 firm was then known, that brought those "crazy kids" 150 miles down from the Chicago suburbs to the corn and soybean fields of central Illinois. Their father, a Caterpillar engineer, was about to be transferred—it was either Brazil or Peoria, as Barry Stepe recalls. "It turned out to be Peoria."
All music scenes need catalysts: dedicated soldiers to do the footwork, true believers to spread the word. In Peoria, they arrived in the form of four skateboarding brothers from Willow Springs, Illinois, fresh from the task of introducing hardcore to Chicago's western suburbs.
*
Between 1978 and 1987 alone, the Stepe brothers—Steve (b. 1963), Barry (b. 1965), Todd aka "Chopper" (b. 1968), and Kyle (b. 1971)—are credited with having formed more than 100 "bands" (or rather, 100 different names for various combinations of Stepes) and recording dozens of demo tapes. First came the Schteppies in 1978, with Steve on bass and Barry on drums and vocals. Among the highlights of their Rubber Chicken cassette was the song "Punk Rock Janitor," which detailed their misadventures mopping the floor at a Mr. Donut franchise. But the Stepes' first band of significance was Negative Element, featuring Barry on guitar and Chopper on bass.
With nods to British Oi!, Black Flag, and the Circle Jerks, Negative Element embodied the aggressive hardcore sound that was beginning to crystallize across the country. "The Brothers Stepe (that's S-T-E-P-E) along with [drummer] Keith Lyons and [vocalist] Tom Faulkner were among the first true hardcore (as opposed to punk) bands to emerge in the Chicago area," asserts the Reckless Records review of Shouts of Rebellion, a 2017 reissue of the band's discography. "[They] helped define the underage scene, as well as fathering the western suburban punk scene that followed in their wake."
Their music was fast, chaotic, and quirky: adolescent posturing tinged with wry humor, rapid-fire skate rock propelled by teenage hormones. Along with punk-rock compatriots Rights of the Accused, Negative Element was largely responsible for incubating Chicago's all-ages scene as punk turned to hardcore.
"It was a totally different atmosphere," Barry notes. "A lot more aggressive."
Chopper Stepe was barely a teenager when Negative Element (then called the New Anarchists) debuted at a Willow Springs health club where the Stepes' mom worked. It was Halloween of 1981, the same night LA punk band Fear played Saturday Night Live and a crew of slam-dancing punks—including SNL's own John Belushi, Ian MacKaye of Minor Threat, and members of the Meatmen, the Cro-Mags, and Negative Approach—caused a near-riot (and $20,000 in damages) on national television. That very evening in the Chicago suburbs, Negative Element was churning out covers of the Germs, the Dead Kennedys, Cockney Rejects, and Richard Hell, "plus a few originals to a bunch of joggers while trying to drown out the Pac-Man machine," Barry recalls.
"We were messy and snotty, and we were still just little kids," Chopper adds. "We played sloppy, and we didn't give a shit."
As Chopper and Barry cut their punk rock teeth in Negative Element, the eldest Stepe, Steve, played bass for Rights of the Accused, another group of adolescents unknowingly shaping the contours of American hardcore. It was that band's 1983 show with Naked Raygun at the Cubby Bear in Chicago that famously turned a 13-year-old Dave Grohl on to punk rock.
"That night changed everything I knew about music," said the former Nirvana drummer and Foo Fighters frontman. "It just turned my world upside down." And it was at Wax Trax, naturally, where Steve Stepe came across the ad that brought him into the band.
The Stepes' parents graciously indulged their children's wayward pursuits, allowing them to venture into the big city on their own at an early age.
"We would spend the weekend going to punk shows, record stores, and making fanzines," Barry explains. "We saw great bands like Black Flag, Misfits, Social Distortion, and Bad Brains and skated around as much as possible."
Wired with inspiration, Negative Element began to make a name for itself with animated live performances.
"I think we brought a lot of youthful, crazy energy into the Chicago scene," Barry says. "We met most of the bands at local shows and developed friendships with some of them. We used to go see Six Feet Under, Trial by Fire, DV8, the Effigies, and Naked Raygun, to name a few. Rights of the Accused were already friends with Naked Raygun and most of the other bands, and we all got along great."
Articles of Faith was one of the great enduring bands of that early Chicago hardcore scene. Like Naked Raygun, they befriended their slightly younger brethren and supported their efforts to open up the scene to all ages. In April 1983, they invited Negative Element to join them on a road trip to Minneapolis to open for the Replacements. Unfortunately the Stepes had to turn down the offer: it was a school night, after all.
Negative Element's early, boom-box-recorded demos landed the group a slot on Version Sound's now-legendary Meathouse compilation, alongside Rights of the Accused, Battalion of Saints, JFA, and the Minutemen. That in turn led to the band's debut: the eight-song Yes, We Have No Bananas EP. Its title nodded to 1920s vaudeville (foretelling the brothers' soon-to-be home in Peoria), and today it's considered a classic of early hardcore.
Negative Element was largely responsible for incubating Chicago's all-ages scene as punk turned to hardcore.
None other than Steve Albini—Chicago punk pioneer and in-demand sound engineer—raved about Bananas: "This 45 is just brimming with real enthusiasm, joy, intelligence, wit and well-directed anger. Better than some of the early DC records at capturing the essence of being a teenager who's too smart to play the game. Includes the two funniest thrash songs in North America, 'Whatever Happened to Elmer Fudd' and 'Anti-Pac Man,' as well as some blistering anti-religious and anti-police songs. Worth the trip."
Three additional Negative Element tracks appeared on Starving Dogs, a cassette compilation released by Steve Stepe on his own Little Farmer Music imprint. His intent was to document the hardcore scene that he and his brothers were helping to foment—the same task Barry Stepe took on with Primitive Noise, the fanzine he published from 1982 to 1985. Throughout the 80s, all four Stepe brothers were involved in publishing punk and/or skate zines, employing the low-budget, cut-and-paste aesthetic of the day.
Despite plans for a follow-up release, Negative Element was forced to call it quits when Caterpillar came calling. "We were playing a lot of shows, opening for the Dead Kennedys, JFA, Minor Threat, Big Boys and others," Barry says. "It was hard to leave all that. But, my father got transferred to Peoria."
It was 1983. Upon moving to "a farm town far removed from any sort of punk rock scene," as one review later summarized, the Stepes brought hardcore punk with them—and Chicago's loss became Peoria's gain.14 "The Stepe brothers brought the tablets down from the mountain," declares Jeff Gregory, who would later help do the same for another generation of Peoria kids.
*
Newly relocated from Chicagoland to central Illinois, the Stepe brothers embodied punk's DIY ethic: playing in bands, running labels, booking shows, publishing zines, and skateboarding. But in Peoria, "there were no punks, no skaters, no scene," says Chopper. "It sucked." It was up to them to take what they'd learned and build a scene from scratch.
"We were disappointed when we moved to Peoria and didn't see any kind of a punk scene happening, like we were used to in Chicago. So we started our own!" Barry explains. "We made Co-Op Records on Main Street our main hangout. We met some skaters there and started skating downtown as much as possible. And we started to form bands."
In those pre-internet days, record stores were much more than retail outlets; they were bastions of community—hubs for weirdos and outcasts to find one another and connect. Founded in the early 70s (as Budget Tapes and Records) by concert promoters Bill Love and Jay Goldberg, Co-Op Tapes and Records was a regional chain headquartered in Peoria, with more than two dozen stores dotting small towns across Illinois, Iowa, and Wisconsin. From 1977 to 1984, Love also operated The Prairie Sun, which essentially served as Co-Op's in-house alt-weekly, showcasing the latest releases and concerts alongside record reviews, comics, classifieds, and articles about music, pop culture, and current events. It was the Midwest's own Rolling Stone, serving up regular doses of record-store culture at the height of its significance.
Amid copious displays of smoking paraphernalia, the stacks at Co-Op Records trafficked almost exclusively in rock and roll, with little in the way of classical, jazz, country, or R&B. In Peoria, it was the only place where one might find a record by the Saints or the Damned or anything far removed from the Top 40 or remotely underground.
"The guys who worked there knew that stuff," explains Bob Gordon. "Russell Hopkins, Charlie Eberle, Kevin Hein, Sheldon Eater… they were the hookups."
Despite the staff's esoteric knowledge, however, Co-Op's music selection remained limited; it was still Peoria, after all.
"All four of them [the staff] were buying early Cramps records [and] all this weird stuff… but there'd only be one or two copies, and Russell or Charlie would get 'em," Gordon laughs. "So I used to go to Bloomington, Champaign, and Chicago… because Co-Op didn't carry much of it."
Nevertheless, the shop was a welcoming home for Peoria's social misfits—and ground zero for its embryonic punk scene.
__________________________________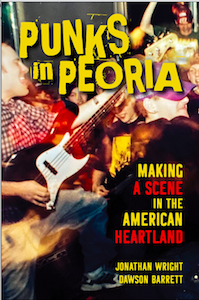 Excerpted from Punks in Peoria: Making a Scene in the American Heartland by Jonathan Wright and Dawson Barrett. Copyright © 2021 by Board of Trustees of the University of Illinois. Used with permission of the University of Illinois Press.
---