How the Prophetic Fiction of Kathrine Kressmann Taylor Exposed the Dangers of Nazism and the Rise of Hitler
Margot Livesey on Address Unknown and the Dangers of Communal Mythology
When I was growing up in Scotland, World War II still cast a long shadow. Sugar rationing did not end until 1953, meat rationing until 1954. The comic I read every week carried a story about Biggles, the intrepid pilot, flying lone missions, while Remembrance Day, when we had two minutes of silence at school and everyone wore poppies, was a deeply solemn occasion.
After hearing about the prisoners of Colditz, I tried with two friends to dig an escape tunnel in the woods. I no longer remember what we were escaping from—only that we gave up after a few feet. Did we know about anti-Semitism? Very vaguely. My adoptive mother, who grew up in London during the 1930s, told me that everyone knew about the anti-Semitism in Germany—after Kristallnacht the Kindertransport brought nearly 10,000 Jewish children to London—but she didn't learn about the concentration camps until after the war ended. Her impression was that the adults around her knew nothing about them either.
Despite many subsequent wars, World War II still has a strong hold on our collective memories and imaginations; it is not only a part of history but also a part of our communal mythology, as the many books, fiction and nonfiction, published every year testify. Novelists can count on readers to know, in some detail, the main facts of the war and can shine a light on some new aspect of the struggle, as happens in Mamta Chaudhry's Haunting Paris, Kazuo Ishiguro's The Remains of the Day, Walter Kempowski's All for Nothing, Ian McEwan's Atonement and Jim Shepard's The Book of Aron, to name a few. These novelists are looking back, fully aware of the dramatic ironies.
But Kathrine Kressmann Taylor's Address Unknown is not a historical novel. She was born in 1903 in Portland, Oregon, and she was writing about the present, about what she observed and understood in the world around her. The rapturous reception the novel received when it was published in 1938, under the name Kressmann Taylor, suggests that she was not alone in her awareness of what was happening in Europe, but few, if any, American novelists were writing about Hitler's rise to power. I read Address Unknown in November 2020, and I have been thinking about it ever since.
There are certain novels that have the remarkable quality of being both timely and prophetic. Think of Kafka's The Trial, Orwell's 1984, Ellison's Invisible Man and Atwood's The Handmaid's Tale. Each creates a very particular world that simultaneously holds up a mirror to the present and suggests possibilities for the future.
Address Unknown has this Janus-like quality. The novel consists entirely of letters (and one cablegram) written between two German friends, Max Eisenstein and Martin Schulse, who own a successful art gallery in San Francisco. Their correspondence begins in the autumn of 1932, when Martin moves back to Munich, and ends in the spring of 1934. What makes the novel still feel so timely are the confounding questions at the heart of the narrative: How do we know what we know, and when do we know it? Why does a good person become a bad person? What power does a citizen have against the state?
Key to the success of the prophetic novel is that it is not a sermon.
These questions felt urgent to Kressmann Taylor 83 years ago, and they feel urgent now. In 2015, in Iowa City, I taught Ellison's Invisible Man, which was published in 1952. I remember beginning the class by writing on the board statistics for Black and white Americans: the mortality rates, the incarceration rates, the levels of education and income. The inequities Ellison had addressed were still, sadly, very much with us. After class I went out to dinner with my students, Black, Asian, Hispanic and white, all of us sitting around the table. Despite what I'd written on the board, I found myself thinking how fortunate we were to live in a time and place where we could work and talk as equals. Only later did I learn that afterward, walking home, my Black students carefully crossed the road to avoid the crowds of white people spilling out of the bars.
As it did for many others, it took eight minutes and 46 seconds on May 25, 2020, to make me realize how painfully limited my understanding was of the lives of Black Americans. The evidence was all around me, yet I had managed to have no idea of the ways in which racism, fear, authorized brutality and prejudice affected, to varying degrees, everyone in the Black community.
When I went to investigate my mother's claim that the adults around her were ignorant of the camps, I discovered that on June 25, 1942, the Daily Telegraph in London published a story with the headline 'Germans murder 700,000 Jews in Poland: Travelling Gas Chambers'. The article lists the numbers killed in various towns and cities, and describes the murder of children, pensioners and hospital patients. It was published on page five of a six-page issue of the paper and disappeared without a trace. No other newspapers took up the story.
Key to the success of the prophetic novel is that it is not a sermon. The reader wants to be informed but she longs to be entertained. Kressmann Taylor fulfills this longing by her gripping, fast-moving plot and her brilliant choice of the epistolary form. She may have come to the latter, as we learn in the afterword, almost accidentally, but she could scarcely have chosen a better way to explore her moral questions. The novel in letters has a long and lustrous history. There were already a number of notable examples when Aphra Behn, the first Englishwoman to earn her living by writing, published Love-Letters Between a Nobleman and His Sister in 1682, and many more were to follow. One of the signal advantages of the form is that it banishes the narrator's voice and moral stance; the letters represent only the point of view of the characters.
It also allows for a useful compression. Readers have a sense of eavesdropping; they don't expect to understand everything, or to learn every detail. Their assumption is that the letter writer has something important to communicate, and too much explaining can make a letter seem contrived. Kressmann Taylor makes excellent use of these attributes, particularly in the deft introduction of her third main character, Max's sister, Griselle, an actress who still lives in Europe and who, after years of struggle, is having great success on the stage in Vienna.
The voices of the two friends are pleasingly distinct—Max in San Francisco a little more colloquial, Martin in Munich a little more formal—but at the beginning of the novel they seem united in their attitudes. Max describes himself as selling the paintings Martin is sending over from Germany "at an appalling profit" and delights in getting an indecent price for an ugly Madonna from old Mrs. Fleshman.
"You speak of the poverty there," he writes. "Conditions have been bad here this winter, but of course we have known nothing of the privations you see in Germany."
From the 30-room house he's been able to buy so cheaply, Martin responds, "The old despair has been thrown aside like a forgotten coat. No longer do the people wrap themselves in shame; they hope again." The bad Jew-baiting, he writes, is only "the little surface scum when a big movement boils up." For many of Kressmann Taylor's contemporary readers, these words would have held no irony.
A few years after Address Unknown appeared, she went on to write a second novel, Day of No Return. It was based on interviews with a theological student who had been forced to flee Germany because he opposed Hitler's takeover of the Lutheran Church. In her introduction, Kressmann Taylor describes Hitler's plan to have the powerful church become a tool to disseminate Nazi doctrine. The Nazis succeed in taking over the church, "but gradually," she writes, "they became aware that something was wrong… A force was resisting them, something they could not put their hands on—a belief." The novel was published shortly before Pearl Harbor brought America into the war.
While Address Unknown has remained timely over more than 80 years, there is one respect in which the world has definitively changed since its first publication. The novel is now being published under the author's full name, unmistakably identifying her as a woman. Whether this would have mattered to Kathrine Kressmann Taylor, I cannot say, but it matters to many of us who read her now.
Good novels, as the name promises, keep bringing us the news, and we read them with both our outer and our inner eyes. We bring to them the swirling chaos of the world around us and the seemingly endless negotiations between the forces of good and evil, and we bring to them our deep-seated, long-lasting preoccupations. Address Unknown satisfies both kinds of reading and offers the additional delights of a piercingly good story.
__________________________________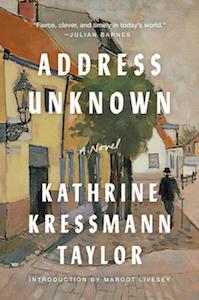 From Address Unknown by Kathrine Kressmann Taylor. Copyright © 1938 by Kressmann Taylor. Introduction copyright © 2021 by Margot Livesey. Excerpted by permission of Ecco, an imprint of HarperCollins Publishers. 
---