How Sigrid Undset Brought a Medieval Norwegian
Epic to Life
Translator Tiina Nunnally on the Making of Olav Audunssøn
In 1905, at age twenty-three, Sigrid Undset gathered up the pages of her first completed book, Aage Nielssøn til Ulvholm, a lengthy historical novel set in 13th-century Denmark, and traveled from Oslo to Copenhagen. There she presented her manuscript to Peter Nansen, head of the prestigious Danish publishing house Gyldendal Forlag, with the hope that he would accept it for publication. Undset had spent several years writing and rewriting this book, after discarding an earlier attempt at a medieval novel.
From her father, the distinguished archaeologist Ingvald Undset (who died when Sigrid was only eleven), she had inherited an intense fascination with the Middle Ages. From her mother, Charlotte Gyth Undset, an intellectual woman who often illustrated her husband's work, Sigrid had inherited both an artistic aptitude and a fierce sense of determination. Both parents cultivated in their three daughters a great love of books, and Sigrid longed to create art and become a writer. In a letter from 1901 to her Swedish pen pal, she wrote: "Someone can have so much love for art and such understanding of what art is that in the morning she burns what she feverishly wrote the night before because she hasn't been able to blow the breath of life into the people who haunt her heart." By the time Sigrid traveled to Copenhagen to seek a publisher for her novel, she was envisioning for herself a full-time career as a writer. And she was hoping that her writing would provide her with sufficient income so she could finally quit her job as a secretary for a German-owned electrical company in Oslo.
A rejection letter arrived a few weeks later. Contrary to how Sigrid Undset would later famously—and bitterly—describe this first rebuff of her work, Nansen's comments were not all negative. We know this because in 2007 Undset's great-nephew made a startling discovery. Inside a book, he found a long-forgotten letter that Undset had written to her sister Signe (dated July 31, 1905), in which she described the actual course of events. In the letter, Undset reported that Nansen did not consider her novel good enough for publication, but he did say it possessed significant talent, with sections of "great finesse and power." He ended his generally positive letter by stating that he would like to see her write a "modern" story and advising her against "disguise"—which Undset took to mean that she should not cloak the work in historical trappings. Though disappointed, she was by no means defeated. In the letter to her sister, Undset said she would keep writing, even though she now recognized "how difficult it will be."
Yet she couldn't resist replying to Nansen's criticism. On August 8, 1905, she boldly sent the publisher a brief letter explaining that she had not intended her story to be a saga, per se, in the Icelandic tradition. And the "violent" events were meant to be seen from a 13th-century, not a modern-day, perspective. Thirty years later, in a conversation with her niece, Undset said that she had recently taken another look at Aage Nielssøn til Ulvholm, and "it wasn't half-bad." She also referred to this early novel as "my first draft of Olav Audunssøn."
Sigrid Undset is a master at weaving her vast knowledge of the Middle Ages into stories of great psychological insight and emotional depth.
*
Although I've spent many years translating Sigrid Undset's work, including her medieval trilogy Kristin Lavransdatter, her modern novels Marta Oulie and Jenny, and a selection of her letters and short stories, it wasn't until 2016 that I first read Olav Audunssøn. I knew that when Undset was awarded the Nobel Prize in Literature in 1928, it was largely for her "powerful pictures of Northern life in medieval times"—and that included her four-volume story about Olav Audunssøn, his betrothed Ingunn Steinfinnsdatter, and their families. I'd heard great praise for Undset's second medieval masterpiece, even though it is not as well known as Kristin Lavransdatter among readers of English. I had always meant to read it. Finally, when I found myself with a break in my work schedule, I opened the first volume of my Norwegian edition and began to read this epic tale set in the late 13th and early 14th centuries, a generation before Kristin's story.
Once again I found myself completely drawn in to the customs and concerns of the people living on large noble estates in medieval Norway. I read all four volumes straight through, hardly pausing for breath in between. The vivid descriptions of the Norwegian countryside and the careful attention to historical detail carried me back in time, just as Undset had hoped when she wrote in 1902:
The whole time, you see, the reader should know where he is, how the land looked, as well as the houses and the people and the animals and the clothing and the weapons and saddlery, and you should quite naturally and easily enter into the life, see and understand why these people are this way, how they feel and why they behave as they do; and all of this without pedantic lectures about the era and the spirit of the times and all that muck that can make a story so inartistic because it's historical. No grand gestures, fancy words, or "romantic" events. It should be written in such a way that whatever might seem romantic to us—murder, violent scenes, etc.— becomes ordinary and alive.
Sigrid Undset is a master at weaving her vast knowledge of the Middle Ages into stories of great psychological insight and emotional depth. It is her keen understanding of the human heart that makes her stories so compelling. We see Olav Audunssøn's fateful life unfold against a backdrop of tremendous upheaval in Norway. Barons and kings vie with the church for power and wealth, heathen practices are still prevalent in the mountain villages, and the defense of kinship and honor often leads to revenge, murder, and banishment. But always at the forefront is Undset's compassionate portrayal of two young people who are bound together by an early promise, only to be ruthlessly manipulated by conniving family members and subjected to confusing laws, both secular and religious.
*
The first two volumes of Olav Audunssøn were originally published in Norwegian in 1925 under the title Olav Audunssøn i Hestviken, with the third and fourth volumes appearing together in 1927 as Olav Audunssøn og hans børn. An English translation by Arthur G. Chater was published in four volumes by Knopf in 1928–30 under the collective title The Master of Hestviken, with the individual volumes titled The Axe, The Snake Pit, In the Wilderness, and The Son Avenger. This new translation reverts to the original Norwegian series title, with different titles for the separate four volumes: Vows, Providence, Crossroads, and Winter. From the time of its original publication, the English translation of Olav Audunssøn has never been out of print, although it seems to have been neglected by readers in recent years. Chater's translation is better than other (sometimes egregious) contemporary translations of Undset's works, but it does not do full justice to the author's natural, fluid style. I found the overall tone of that translation to be somewhat dusty and dull, with awkward phrasing that gives the story a stumbling rhythm. The dialogue is particularly troublesome. The strange syntax and wording are meant to imitate archaic speech patterns, but they do not ring true. Undset was concerned about this when she confided to her pen pal in 1901 that she feared her characters would "turn out pompous, declaiming instead of talking." It is the translator's responsibility to pay as much attention to conveying the music of the original text as to making accurate word choices. In Norwegian, Undset writes in a straightforward, almost plain style, yet she can be quite lyrical, especially in her descriptions of nature. The beauty of the mountainous Norwegian terrain is lovingly revealed in her lucid prose.
Throughout my translation I have retained the original spelling of Norwegian names. Readers should note that Norwegian surnames were derived from the father's given name, followed by either "-datter" or "-søn," depending on the gender of the child. For example, Olav's surname comes from his father, Audun Ingolfssøn. In some instances I chose to keep the Norwegian titles of Fru for women and Herr for men. Back in 1902, when Sigrid Undset was struggling to write the novel that she later called the "first draft" of Olav Audunssøn, she explained in a letter to her pen pal that she wanted the historical details to create an authentic setting for "the simple story of a man and the people who intervene in his life." After Peter Nansen rejected her novel, she went on to write numerous "modern" stories that built her reputation as one of Norway's foremost authors of the day. Eventually she returned to her passion for the Middle Ages with her magnificent chronicle about an impulsive and headstrong girl named Kristin Lavransdatter. Yet, despite the fame and accolades the trilogy brought her, Undset was not content to stop there. The turbulent life story of an introspective, loyal, and complicated boy named Olav had stayed with her for decades. And we have to be thankful that Sigrid Undset finally set down on paper her powerful and deeply moving account of Olav Audunssøn and all the individuals—friends, strangers, and foes—who "intervened" to shape his destiny.
__________________________________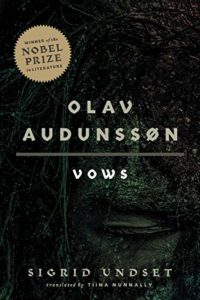 Reprinted by permission from Olav Audunsson I. Vows by Sigrid Undset, translated by Tiina Nunnally. Published by the University of Minnesota Press. Copyright 2020 by Tiina Nunnally.
---