How Ra'ad Abdulqadir Changed the Iraqi Prose Poem Forever
Translator Mona Kareem on His Writing and View of History
It's late 90s Baghdad: with a trembling heart and weak joints, Ra'ad Abdulqadir, the editor of Aqlam literary magazine, would return from his office to his home in the western outskirts of the capital every day. He would change into his pajamas, lay down on the couch, and begin to write a poem for what would become his most notable work, Falcon with Sun Overhead. He would then doze off with the notebook resting on his belly. Like much of the rest of Iraq, Ra'ad spent the 90s suffering from health issues, and the hospital visits became part of his routine. He hated doctors and hospitals and chronicled their dreadful presence in his poems. "The poet used to be an angel," he told novelist Warid Badir al-Salim in what's considered his last interview in 1999. "Now he is a coal miner."
And what does that mean for you, Mr. Ra'ad? "Well, I like to think of myself as the angel in the coalfield."
And so he is—the angel in the coalfield, the cemetery, the empty classrooms, the white hospitals, the dark streets. For years, he was the kind of poet loved and envied by both his contemporaries and the generations that followed for his magical ability to keep the angel's garb free of ash. Now, though, he has been underrated and forgotten.
Ra'ad began to publish in the 70s and reappeared again in the 90s "to save the Iraqi prose poem," as his close friend poet Abdulzahra Zaki has written. He belonged to a generation overshadowed by those that came of age in the 60s, a generation that lives in exile, having escaped the authoritarian grip of the Ba'ath regime, and is celebrated across the Arab world, including poets like Sargon Boulus, Fadhil Azzawi, and Salah Faiq. Those poets that began to publish in the 70s and afterward, meanwhile, endured dictatorship and survived the Iraq-Iran War, the Gulf War, and sanctions. Literary historians describe this period of dictator-ship era literature (1979-2003) as one in which several generations of Iraqi poets—as well as their variety of poetic forms and practices—existed and developed side by side.
For Ra'ad's generation, the 70s poets, survival came at a high cost. Those not already in prison or exile were required to serve in the military. For most people, the only hope was to be a woman, disabled, on reserve, or working as a reporter. Ra'ad worked as an editor and journalist his whole life, which allowed him to continue to write in relative safety. At the time, all forms of cultural production were run by state institutions (unless they were student-run or informal, in which case they would face censorship).
"There is no victim in Ra'ad's poems, and that was totally new for Iraqi poetry."
This was how Aqlam magazine, once considered among the best literary magazines published in Arabic, came into being. First established in 1972 by Iraq's Ministry of Culture, it was run by novelist Abdulrahman Majid al-Rubie, who wanted to focus entirely on Modern Arabic and translated literature. Al-Rubie, also known for his concept of a "Nationalist Novel," an ideological project to use the novel as a mean of narrativizing and imagining the nation-state, could not manage to keep the magazine away from the Ba'ath regime, and ended up publishing Baathist intellectuals that reinforced Arab-nationalist ideas of culture and engaged literature. A decade later, and following the arrival of Saddam Hussein to the presidency, the magazine found itself in a difficult position, becoming one of the main platforms to have given birth to Iraqi "Mobilization Literature"—the sole purpose of which is to charge and support Iraqi troops on the battleground—which lasted throughout the Iran-Iraq War and the first Gulf War.
Under the editorship of poet Ali Jaafar al-Alaq throughout the 80s, the magazine tried to balance out the deteriorating quality of literary writing by offering more space to criticism and theory, written or translated into Arabic. Literary historian Hamza Elaiwi takes note of how the creative work of Arab writers published in the magazine during the 80s was significantly better than the work of Iraqi writers. Non-Iraqi writers published by the magazine had the space to pose critical questions about the role of literature beyond mobilization and nationalism. For Saddam's regime, it was important to pose as a safe haven and platform for non-Iraqi Arab writers, something that Iraqi writers were not afforded.
As Iraqi cities struggled under the US sanctions, Iraqi writers began to experiment with new ways to share their writing, turning to self-publishing and working in small groups. An independent scene began to form in the backdrop of a collapsing publishing industry that had long been sponsored by the state. Issues of Aqlam during the 90s reflect an image of Iraq at the time as weak, as Elaiwi describes it; the pages cut in half, the printing quality at its lowest. It was also this period that Ra'ad Abdulqadir became the editor-in-chief of Aqlam after years of working as assistant and managing editor.
During his years as editor, Aqlam expanded the magazine's publication of emerging writers, becoming more inclusive of names that are not from Baghdad or Basra­, replacing the established writers who focused on publishing their work outside Iraq, where their work could be better compensated and more widely circulated.
Despite his work as an editor, Ra'ad did not think that his final collections—a selection of which appears in my English translation—should be published by the Ministry, perhaps out of fear of censorship or persecution. He decided to manually photocopy his collection Falcon with Sun Overhead and bound it himself with a cardboard cover, designed by fellow poet and friend Ahmed al-Shaikh Ali. In a phone interview, Ali recalled to me his final years with Ra'ad as he wrote and published these two manuscripts. "We would meet every day at Hassan Ajmi Café, perhaps ten of us, writers of different generations and genres, sharing our work-in-progress. At the time, Ra'ad was writing prolifically, as if racing against death—he had a feeling that he won't last too long. He was paranoid at the time. 'They're going to drop the Mother-bomb on us,' he said, 'a bomb of 500-kilos.'"
The literary group met at Ali's small copy and print shop in Baghdad, measuring three by four meters in size. Such shops were a lifeline for Iraqi writers and readers during the 90s, providing space to kickstart a bootleg industry that remains active to this day. US sanctions meant that printing books was a costly process, one that the state could no longer support, and publishing abroad was a difficult business unless the author enjoyed regional fame, so Ali and his friends decided to self-publish their work: 100 copies of each title. From the mid 90s to 2003, Ali managed to publish up to 60 titles of fiction and poetry, storing copies of the books at the barbershop next door—whose owner he trusted—just in case the authorities found out and charged him for unauthorized publishing.
They sold the books "hand to hand," he said. "Sometimes we were lucky to find someone going on a trip outside Iraq, so we entrusted them with copies to give to friends abroad who might publish a selection of the work in magazines in Damascus, Beirut, Cairo or Europe." Ali would photocopy 100 copies of each manuscript page, then arrange the piles in order. He would then turn to the cover-making process: screen-printing on brown cardboard paper with low-quality ink, the only option available at the time. The page would be placed under a lamp or near heat for about 10 minutes so the ink would stick longer; otherwise, the poems might fade away in a manner of weeks or months.
*
By abstaining from publishing throughout the 80s, critics and contemporaries of Ra'ad believe the poet was trying to save himself from a poetry scene that had lost its soul to the battlefield, to the chaos of abstraction, and to the abyss of escapism. When they were not praising the dictator or the youth martyred at his feet, many of his contemporaries were writing about the past, depicting it as either a fantasy or a bedtime story. They turned back to the Mesopotamian gods, rewriting epics and myths—the present was simply too difficult to look in the eye—or to classic verse, perfect for recitals at the presidential palace. Others turned to chaotic abstraction: creating puzzles against form, structure, and meaning; referencing the surrealists in elsewhere lands; seeking the metaphysical.
"He took us toward subjects, concerns; saved us from the abyss of an abstract language which we had first invented as a hideout."
Ra'ad rebelled against this sense of dread. He returned with Leap Year Prizes in 1995, followed by Let the Songbird Wonder in 1996, which holds a special place in the hearts of Iraqis who lived through the years of sanctions (1991-2003). It marked a new poetics for him, one that centered ordinary people who do the heroic work of passing through life one day at a time. In 2000, he published Opera of the Lost Princess, described by critics as a poetry-novel, or perhaps a novel in free verse. "I realized that I am not a poem-poet, I am more of a book-poet," he told al-Salim. "With each book, I have a set of practices, forms, and visionary intentions." With these three collections, Ra'ad cemented his place as a game-changer for the Iraqi prose poem.
For Ra'ad's generation of poets, considering that most of them worked in journalism, writing became almost like journaling, fast and disjointed at the pace of war machinery. They pushed toward a form that melded poetry with an exposé style, one that defied easy genre classification. Ra'ad—who earned a PhD in Islamic philosophy and who has long been obsessed with the Arabic canon, especially Sufi literature—embraced the anti-genre nature of his collections, placing them in the tradition of Farid ud-Din Attar, Avicenna, Abd al-Latif al-Baghdadi, Leo Africanus, and Usama ibn Munqidh, in addition to someone like Apollinaire. Zaki credits Ra'ad for ridding Iraqi prose poetry of the oblivious language that was obscuring its soul: "He took us toward subjects, concerns; saved us from the abyss of an abstract language which we had first invented as a hideout."
"There is no victim in Ra'ad's poems, and that was totally new for Iraqi poetry," Omar al-Jaffal, a 33-year-old Iraqi poet who now lives in Berlin, told me. "Ra'ad's poems focus on the terrified human; the poet's I feels broken. This made him distinct from Iraqi poetry, which is steeped in lamentation and high lyricism. He was a time of rest for Iraqi poetry."
The poems I selected and translated in Except for This Unseen Thread are dense, skillful, and well-threaded. They are deceivingly simple in language and structure. Their playful energy is derived from suspense and surprise, anxiety and horror. They are poems that see the people, creatures, and objects sharing the world and transmit their tragedy with a quiet eye. With the sensibility of his language, his ability to soothingly escalate a text through illusion and motion, Ra'ad processes collective despair with a tone of subtle sarcasm­—a quality unusual of Iraqi poetry. His poems marked a return to the story structure, maneuvering to escape "the sentimental"—an element that the Arabic prose-poet dreads and denounces as cliché.
Some of Ra'ad's poems feel like screenshots from horror movies, in which objects move and humans turn out to be ghosts. The reader will sense the stillness in his scenery, the cinematic eye producing frames that reveal no signs of life apart from the flashing light of a car trapped in a hole, a window finally touched by a child's rock, a coin rolling down the bread queues, or a bowl of soup waiting for somebody's mouth. The poems generate a new power from escapism—an escapism based not on denial, but on the adoption of poetry as an everyday lens. As Zaki puts it: "When life closes her windows to the poet, the poet gets up to open up all windows onto the world. The poet is more generous than life."
__________________________________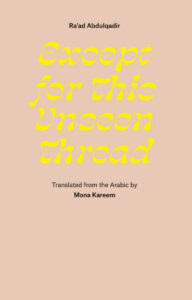 Except for This Unseen Thread by Ra'ad Abdulqadir, translated by Mona Kareem, is available via Ugly Ducking Presse.
---