How Native Basketball Challenged Colonial Hegemony and Rejected Conformity
Abe Streep on the History of Indigenous Youth Who Turned Adversity into Opportunity
Shortly before the turn of the 20th century, a young Blackfeet teacher named Josephine Langley moved home to Montana from the Carlisle Indian School in Pennsylvania. Her destination was a new boarding school set at an abandoned military fort on the plains east of the Rocky Mountains. Around 1896, at the Fort Shaw Industrial Indian Boarding School, Langley started teaching basketball to Native girls from Montana and Idaho. The sport was young then, at least in Western eyes—James Naismith had been credited with its creation in Massachusetts in 1891. But scholars have noted basketball's similarity to games played by Indigenous peoples in Mesoamerica, and tribes from the high plains and Northwest plateau had their own sports involving balls and hoops. Maybe the game was familiar; maybe the court was just a rare place where traumatized kids could be kids at a time when boarding schools took extreme measures to "civilize" Indigenous youth.
The Indian boarding-school era was brutal, designed to forcibly assimilate Native youth through the extirpation of language and culture. Songs were forbidden, hair cut. Richard Pratt, the founder of the Carlisle School, described his plan as to "kill the Indian in him, save the man." Forced integration into American society was his goal, and most boarding schools followed Carlisle's lead.
But when it came to basketball, the Fort Shaw girls did not assimilate, beating college teams in Montana. Langley was a player-coach during the team's early years, and Fred C. Campbell, Fort Shaw's superintendent, eventually coached the team. The girls proved so successful that they were invited to the 1904 World's Fair in St. Louis, where their duties extended beyond the court. In front of white crowds the girls played violins to illustrate the efficacy of Fort Shaw's reeducation programs and recited passages from Longfellow's The Song of Hiawatha while wearing buckskin.
Linda Peavy and Ursula Smith, the authors of Full-Court Quest, a book about the team, wrote that they were "objects on display and full participants in a grand adventure." Peavy told me that, from interviews with the girls' descendants, she understood the players to be savvy about those performances. "It wasn't that they were always happy with how things were going at the school," she said. "What they did was turn adversity into opportunity."
The girls furthered a complicated tradition of living Native theater that was widely known from the painter George Catlin's fundraising tours of Europe and Buffalo Bill Cody's Wild West shows. The latter events featured defeated chiefs and warriors, performances that demanded the reduction and romanticization of a lifestyle for the entertainment of those bent on its elimination. But over time, the form evolved. "As the 19th and 20th centuries unfolded," wrote Philip J. Deloria, a citizen of the Standing Rock Sioux Tribe, in Playing Indian, "increasing numbers of Indians participated in white people's Indian play, assisting, confirming, co-opting, challenging, and legitimating the performative tradition of aboriginal American identity."
On the court, the Fort Shaw girls set their own terms of engagement, playing with such dominance that they were proclaimed world champions. Around the same time, other Native teams took the court in Lawrence, Kansas, in Oregon, and across Montana—especially in the plains. Their game was noted even then for its quick pace and long shots, according to Wade Davies, author of Native Hoops: The Rise of American Indian Basketball, 1895–1970. Montana is home to 12 individual nations, comprising eight federally recognized tribes. Seven of these federally recognized tribes are seated on large reservations. (The Little Shell Tribe of Chippewa Indians does not have a land base.)
For much of the 20th century, those nations' citizens were overrepresented in the state's prisons and poverty indexes; they were underrepresented in its universities, media, and halls of political power. Montana is 89 percent white. But on the court, none of that mattered. For 32 minutes, kids who possessed enough skill and effort could flip colonial hegemony on its head. In 1934 and 1935, Poplar, a team from the Fort Peck Indian Reservation, won back-to-back high school state championships. Another Fort Peck team, Wolf Point, won four titles between 1941 and 1953. In 1957 a Crow star named Larry Pretty Weasel averaged 32 points in a state tournament. He turned down universities like Utah to attend Rocky Mountain College, in Billings, but left early. Willie Weeks, from Wolf Point, averaged 18 points per game in two seasons at Montana State. He would later write, "Alcohol and drugs, however, cut my career short as, after several knee operations, I sought relief and false escape."
In 1967, Don Wetzel, a Blackfeet guard and graduate of Cut Bank High School, enrolled at the University of Montana, where he would play four years of Division I basketball. When he was on the freshman team, he snuck into a varsity scrimmage against the orders of his coach and, in his words, "kind of lit 'em up." That was the first time he heard one particularly vicious racial slur starting with the word prairie. "I took it as a compliment," he said. "I was so focused." He outworked teammates, playing through injuries, and won the team's MVP award. He went on to coach at Browning, on the Blackfeet Reservation. During the American Indian Movement, Wetzel's team took the court in war bonnets, in a show of performative defiance.
The state awards four championship trophies per year to both boys and girls. The Class AA schools come from the cities—Missoula, Bozeman, Kalispell, Billings. The smaller divisions—A, B, and C—consist largely of teams from ranching and mining towns and Indian Country. Between 1980 and 1990, boys' teams from reservations won eight championships and finished in second place six times. In a state with a reported Indigenous population between five and seven percent, Native teams comprised 18 percent of those competing for boys' state championships.
Throughout the 80s, one team reigned above the rest: Lodge Grass from Crow Nation. With a fast-breaking style that thrilled crowds and left opponents gasping for breath, Lodge Grass dominated Class B and just about anyone who dared play them. Their star was Elvis Old Bull, a clutch guard who could shoot, defend, and pass. He won three consecutive state tournament MVP awards. When he entered gyms, announcers boomed that Elvis was in the building.
In 1991, Gary Smith wrote about Old Bull and the Hardin star Jonathan Takes Enemy for Sports Illustrated. The piece, "Shadow of a Nation," examined the players' generational talent, struggles with alcohol, and the apparent limits that had been set—by history, hegemony, or both—on Native ballplayers in Montana. Smith quoted Herb Klindt, the former coach of Rocky Mountain College, in an unvarnished moment. "Well, I tried to work with Indians," said Klindt, who in 1968 left one position of power for another, as a state senator. "I tried to keep them in college. But I got to a point where I just threw up my hands in disgust and gave up, and most of the other coaches did, too."
Since then, young Indigenous women have made significant inroads in the state's Division I basketball programs. In 1992, Malia Kipp (Blackfeet) entered the University of Montana, starring for the Lady Grizzlies. "I felt if I didn't succeed," she once said, "others wouldn't get the opportunity." She played all four years and graduated. Afterward the Lady Griz's coach, Robin Selvig, recruited extensively on reservations. Over the next two decades he signed nine Native players on athletic scholarships. Those teams made ten NCAA tournaments.
But for Indigenous men in the state, progress was slower. In the 1990s, JR Camel, from the Flathead Reservation, starred for the Griz, setting a steals record; he and Kipp later married. In 1999, Pete Conway, a Blackfeet guard, joined the Montana State University Bobcats. He publicly suggested he might leave the team after his coach, Mick Durham, said to The New York Times, in 2001, "Have you ever been on a reservation? There's hardly any green grass. They park right in front of their front door. That's always amazed me. There's no self-pride in having a nice house and taking care of it. They don't care if they have five cars broken down, sitting in the yard." Durham subsequently apologized and suggested his quotes were taken out of context, saying "a very narrow portion of that conversation made it into print." Conway stuck it out and averaged more than 14 points in his senior year.
On the court, the Fort Shaw girls set their own terms of engagement, playing with such dominance that they were proclaimed world champions.
A few years later, Mike Chavez (Northern Cheyenne/Crow), a stunning talent who attended high school on the Blackfeet Reservation, signed with the University of Montana. During his freshman year, in 2003, he was arrested for driving under the influence of alcohol. He left school under intense scrutiny. Then he returned, played two more years, competed in the NCAA tournament, and went on to play professional basketball after being drafted by Justin Wetzel, a Blackfeet coach. Of Chavez, David Whitesell, the superintendent of Arlee Schools, told me, "He fixed it, came back, and graduated." Since then, no Montana tribal members have played on basketball scholarships at the state's Division I men's programs.
At a lower level in the state's athletic hierarchy sit Montana State University Billings, a Division II school, and six programs that compete in the Frontier Conference of the National Association of Intercollegiate Athletics, or NAIA. In 2017–18, those seven schools' men's basketball programs' rosters listed 20 coaches, recruiting coordinators, operations managers, and graduate assistants. Not one hailed from a reservation. "It's a good old boy industry," said one Native coach, who left the state to pursue his ambitions. "People aren't going to usually relinquish that." Absent diversity, stigma lingered. Zanen Pitts, the Arlee Warriors' coach, said that, during one player's recruitment, three coaches asked if the boy was tribal, implying a concern he might not stay in school. "Those coaches need to do a better job of sustaining 'em," Zanen said. "They need to understand what they're coaching."
Don Wetzel, the former Griz star, was tired of hearing the same story, ad nauseam, about Native boys going home. In 2007, Wetzel and his son, Don Wetzel Jr., an educator and athlete who goes by Donnie, cofounded the Montana Indian Athletic Hall of Fame, partly to correct a record they saw as deeply flawed. Donnie Wetzel, an Amskapi Pikuni (Blackfeet) first descendant, was now the American Indian Youth Development Coordinator for the state's Office of Public Instruction. Out of high school he had been recruited to Montana State University Billings, but left after having a child. He also found the basketball challenging, its own unspoken form of assimilation. The stands were empty, and on the court the game was less fluid and connective, instead an ordered sequence of plays, many of them isolations. Donnie Wetzel said, "You're not taught to be like that." He added, "It's conformity."
One coach told Donnie he'd been 0 for 12 in recruiting and retaining Native boys. Whose fault, Donnie wondered, was that? How did leaving a system built for and by others constitute failure? "People from outside Indian Country," he said, "they think that everybody needs to chase their ideals." Around 2010, seven tribal colleges—Salish Kootenai included—started a basketball league, giving athletes an option that didn't involve so much culture shock. But sometimes those programs didn't have enough players to field teams, and Donnie sought larger change. He noted that some state universities have improved recruitment and retention of Indigenous students; he wanted to see that happen on the basketball court. He imagined programs hiring tribal coaches, establishing thoughtful support systems for Indigenous student-athletes, and recruiting multiple kids at once: "I've always said if you're recruiting Native players recruit two at a time."
His father pointed out that roads run both to and from reservations. "We're always talking about the way out," said Don Wetzel Sr. Coaches, he said, "gotta get out to the rezzes. You gotta feel that, what goes on there." Wetzel Jr. envisioned Indigenous recruits taking college teammates home, to show them the richness of the place. Lacking substantive institutional change, it fell to individuals who had to get out and, it was so often framed, make it—whatever that meant. "I wonder if it gets in our children's heads that 'If I don't make it,'" Donnie said, "'I'm just another one of these.'"
__________________________________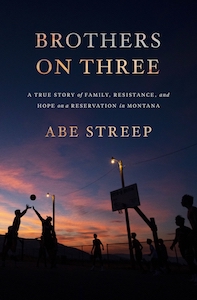 Adapted excerpt from Brothers on Three: A True Story of Family, Resistance, and Hope on a Reservation in Montana. Used with the permission of the publisher, Celadon Books. Copyright © 2021 by Abe Streep.
---