How McSweeney's and Radiotopia Created an Audiovisual Magazine Issue
A Conversation with Claire Boyle and Julie Shapiro
For its latest issue, McSweeney's Quarterly Concern teamed up with producers at Radiotopia to create a project that combined the best of radio and print; the result is a unique venture for the magazine into audiovisual storytelling. Claire Boyle, editor of the McSweeney's Quarterly and Julie Shapiro, Vice President of Editorial at PRX and Radiotopia, answered questions about how they approached the process, adding a soundscape to literary writing for print, and how considering accessibility issues brought a new dimension to the work.
*
How did the idea for this project come about?
Claire Boyle: We're always looking for new ways into story and loved the idea of a grand experiment with audio, essentially approaching contributors and saying, "We're trying to figure out how text and audio might interact to make something new, multifaceted, more textured than either medium alone. Go!" Because of that, each piece is that contributor's own experiment, their take on the prompt. And for that reason, each piece pulls you entirely into its own world, its own logic. It really requires the reader to succumb to that world, to let the piece swallow them up—it's definitely not a collection for someone looking for a passive reading experience. Not sure how good of a marketing idea it is to say that.
Julie Shapiro: We were over the moon when McSweeney's approached Radiotopia about collaborating, as we often think about breaking new ground within podcasting, and the potential for diverse storytelling in different contexts. (And we're long-time McSweeney's fans.) People who work in audio often describe it as "the most visual medium" and I happen to agree. But the invitation to bring the intimacy and power of audio into an actual visual (and 3-D) space, in cahoots with a publication that so deeply prizes creativity and grand experimentation and humor, was irresistible. And the resulting collection of sound, story, art and objects soars in every direction! Though not for the faint-eared listener, either.
What were some of the challenges of assembling an issue that differs so much from your previous work?
JS: Working on a distinct project with many voices, styles, and textures was a notable departure from the podcast zone we're usually operating in, where consistency is key, familiarity feels stabilizing if not crucial, and clarity helps with the overall success of a show. The task at hand was somewhat liberating… and a bit paralyzing, to start with a blank (silent) slate, envision the larger project, and engage with so many audio creators who we knew would appreciate and contribute uniquely to the issue. Listening to and reading these works through more of a free-form, literary filter allowed each audio/print hybrid to find its own essence, and was a gentle (and sometimes noisy) reminder that surprise and experimentation are just as valuable as feeling oriented in a familiar listening experience.
CB: Yeah, I definitely think the open-ended-ness of the project allowed us to think less prescriptively about each piece. Plus it meant I could finally sneak my grandmother's voice into an issue of the Quarterly.
JS: Truly one of my favorite moments in the entire project, by the way.
CB: In a practical sense, so much of the audio production was new to us: finding and coaching voice actors, coordinating recording sessions, mixing and mastering (nothing in publishing sounds as cool as "mixing and mastering"). In that way (and many others), Radiotopia was such a crucial part of this project.
"There's definitely a different kind of writing that works best for print versus audio."
From an editorial standpoint, the most exciting, and challenging, part of the issue was what Julie so beautifully called letting each piece "find its own essence." Because we didn't have a strict framework for how the audio and print would interact across pieces, we were kind of reinventing the conceit with each piece. Or, more accurately, each contributor was inventing the conceit and we were working with them to hone it and bring it to its best form.
Can you address some of the accessibility issues that came up as you were creating the project?
CB: In our earliest conversations, we decided that accessibility would be one of the few central axis points of the issue. It felt really natural, thematically. There is so much already being done in accessibility circles to move meaning and stories across mediums, be it audio descriptions for a movie or alt-text on the web; so much conversation about the different ways to see, hear, read; about the nuances and universalities of each medium. Which were all questions we wanted to ask with this issue: What happens when stories move from one medium to another? What can one medium achieve that others can't?
JS: Also: What does multiple medium representation achieve beyond what single platforms can? While listening, how might graphic illustrations, or intricate page layouts, or an accompanying old school key chain enrich a reader-listener's absorption of each story, and bring them closer to the central theme of accessibility, whether directly or indirectly?
CB: Right! So we thought of accessibility both thematically, with pieces that grapple with the philosophical complexities of accessibility and modality, as well as worked to make the issue itself as accessible as possible. Which is to say, we created a Descriptive Transcript of everything in the issue, and approached it as its own literary project, inviting the likes of Pulitzer-Prize-winner Andrew Sean Greer, Meg Wolitzer, Brandon Hobson, Hernan Diaz, and more to write the audio and image descriptions. Of course, being such a varied and multimedia project, some pieces were easier than others to translate into text descriptions—the pieces that included simultaneous text and audio were the most complex. But we took John Lee Clark's essay in the issue to heart and focused on treating each descriptive transcript like a parallel, unique piece with its own easter eggs and surprises as opposed to attempting to create an exact, textual replica of the original.
How would you describe the stylistic differences that editors or contributors encountered as you were working across platforms? (I'm thinking about, for example, the casual tone that characterizes a lot of audio scripts, but might not be so typical for a literary magazine.)
JS: It was illuminating to work through script and audio draft edits while noting and learning from Claire's perspective ("writer/reader's brain") and her grounding in the so-distinct, yet expansive McSweeney's aesthetic. I tended to pick up on excessive plosives (aka the popping P) or moments when cadence broke down or the delivery of text sounded strained or rushed ("producer/listener's brain") while Claire would point to a weaker sentence or unsuccessful narrative transition happening simultaneously. Leaning into our respective strengths and then dabbling in each others' proved to be the perfect formula—our combined efforts (along with those of fellow partners Andrew Leland and Audrey Mardavich) brought out the best in each piece.
CB: We learned so much about audio from Julie and Audrey and Andrew. Including but not limited to the word "plosives." There's definitely a different kind of writing that works best for print versus audio. In my mind, audio writing wants to be springier, more conversational. Whereas text, of course, needs more description, devoid as it is of non-linguistic information, like a snarky tone or a fading volume. Another cross-modal challenge was figuring out how to integrate audio, which is a temporal medium, with text or images, which you can move through at your own pace, reread, etc. How do we tie them to each other when they don't share the same sense of time or progression? In a few pieces, we used bells in the audio as indication of when to advance in the text—real retro Read-Along record style.
Would McSweeney's consider working in audio again in the future? What kinds of projects might be possible?
JS: Definitely! McSweeney's is 100% planning to publish a bi-annual audio issue with Radiotopia going forward… forever.
CB: Oh my god, yes! Be careful what you wish for, Julie. But yes, we <3 audio. We actually have a few things in the works, so stay tuned…
__________________________________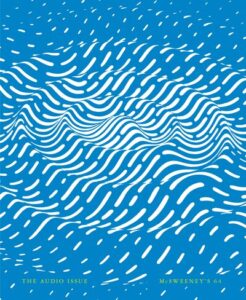 McSweeney's 64: The Audio Issue is available for order now.
---