How "Love Commandos" Help Young Lovers Cross Caste Lines
Mansi Choksi On (Re)Arranged Marriages in Modern India
Cast of Characters
Neetu Rani, the daughter of a landlord from the village of Kakheri in the northern Indian state of Haryana. She is twenty-one, trim and stylish, with the ability to talk about the lives of Bollywood actors as if they are next of kin. She is a Hindu of the Panchal caste, a rank of goldsmiths, stonemasons, and carpenters, and is expected to stay home until she can be transferred to a husband through an arranged marriage.
Dawinder Singh, a twenty-four-year-old neighbor of Neetu Rani and the son of a retired truck driver. He is a Sikh of the Mehra caste of palanquin bearers and boatsmen that is considered marginally lower in the complex web of caste structure. He has a soft, cheerful face, a headful of curls, and a nervous laugh.
Sanjoy Sachdev, chairman of the Love Commandos, a vigilante group that protects couples marked for honor killings by their families. He likes to be addressed as Baba (Grandfather), even though he is "only eighteen with thirty-eight years of experience."
*
A little after nine, Neetu Rani and Dawinder Singh climbed up the dark, curving stairs of a crumbling four-story building across the street from a row of cheap hotels behind the New Delhi railway station, which may have been brothels. On the first landing, a dog named Romeo sniffed them for guns and explosives, and a rotating cast of young men led them into a three-bedroom apartment. Past a metal grille, a mini fridge, and a wall shrine of assorted Hindu deities, in a room cluttered with newspapers, ashtrays, and biscuits, an older man dressed in a matching tracksuit sat in a plastic lawn chair, conducting three different phone conversations at once.
He ordered tea and spiced rice flakes for breakfast, then told them that even the Hindu deities Shiva and Parvati married each other against caste tradition.
"Why is the administration and police machinery criminally silent on implementing the standing directions of the honorable Supreme Court?" he said into one phone.
"Son, in fifteen minutes, the situation will settle down, and the police will release her," he muttered into another.
And into a third phone: "Yadavji, do me a favor and let this love couple pass your jurisdiction safely." He turned around to nod at Neetu and Dawinder and gestured at them to sit down on the edge of a tattered bed.
This was Sanjoy Sachdev, the cofounder and chairman of Love Commandos. He looked unwashed and reeked of cigarettes, but everything he uttered sounded like poetry to Neetu and Dawinder. He ordered tea and spiced rice flakes for breakfast, then told them that even the Hindu deities Shiva and Parvati married each other against caste tradition.
"The world's first intercaste marriage was between Lord Shiva and Mother Parvati," he said. "None of their families were happy. They did not accept it. So what did they do? They exchanged garlands in the mountains and became husband and wife. No one was ready to go along with them, so they arranged a wedding procession of ghosts. The enemies of love screaming in the name of religion today don't understand that what they are opposing is a path set out by Lord Shiva himself."
Dawinder nodded solemnly. Neetu looked over his shoulder to observe two women in the kitchen. They heaped spiced rice flakes onto small plates and poured tea into a tray of mismatched cups. She thought it was too bold for maids to laugh and let cups and saucers clink in full view of guests.
The Love Commandos operated like a family, Sachdev continued, so couples were required to call him Baba, meaning Grandfather, even though he was "only sweet eighteen with thirty-eight years of experience." He oversaw the couples' marriage registration process so that they could not be legally separated. The three other middle-aged Commandos, who lived in the neighboring building, were to be addressed as Papa.
Each had an area of expertise. Harsh Malhotra, a former interior decorator and local politician, coordinated rescue operations of couples in distress. Sonu Rangi, a former worker for the Hindu nationalist Shiv Sena Party, organized weddings of runaway couples. Govinda Chand, a part-time graduate student, took care of groceries and bills.
"I am sure you want to know why us old mad men risk our lives for young people like you," he said. "Let me tell you a story. Once, a small boy asked an old man why he was planting a mango tree. 'Dada, by the time this tree bears fruit, you will probably be dead. Even if you are still alive, you won't have any teeth left to eat the fruit. So then why are you wasting your time?' The old man smiled at the boy and said, 'Son, I am not planting this mango tree for me. I'm planting it for your children. By the time this tree grows, you will have children just about as big as you, and it is them who will savor the sweet fruits of my efforts.'"
"I am planting a mango tree called Love Commandos," Sachdev continued. "I am risking my life for you today so that your children can inherit a country where love is not a crime. It is my small effort for a new and bright India."
As it turned out, Sachdev had never been in love himself—it was only his work.
Before he showed Neetu and Dawinder their room, Sachdev explained the rules of the shelter: no sex, no afternoon naps, and no contact with the outside world. Everything was free, including shelter, food, and legal aid, but since they were a volunteer organization and they had already sold their cars, flats, and gold to protect runaway lovers, each couple was expected to pay for their own wedding. Neetu and Dawinder were so grateful that, without being asked, they handed over Dawinder's debit card and gave Baba the PIN.
*
Their room was at the end of a dark corridor. With its low ceiling, blue-green walls, and gloomy views of a concrete roof, it felt as if the air had been deliberately sucked out. A thin fluorescent tube light flickered all day above a small television that streamed back-to-back episodes of a Hindi soap opera about a dutiful housewife who was really a mythical, shape-shifting cobra.
Neetu surveyed the room morosely as three other couples they were to share it with introduced themselves, including the two women she had seen in the kitchen and mistaken for domestic help. Sanjay, a rickshaw driver from the city of Ahmedabad in western India, was with Bhavika, a landowner's daughter from a higher caste. Prashant and Sheetal, college friends from the northern Indian town of Amroha, were on the run because they belonged to the same clan, and even though they were not directly related, their relationship was considered incest. Afsana, a Muslim housekeeper from East Delhi, was with Malkit, the Sikh heir to a readymade clothes shop in West Delhi. As the couples started to exchange notes about the varying amounts they had paid to reserve a place at the shelter, they heard a knock on the door.
"Children?" Sanjoy Sachdev's voice rang out. "Your wedding is in ten minutes."
As Neetu dabbed the pink of her lipstick on her cheeks, she wished she had brought a brocade salwar suit and gotten a chance to get her hair done at a beauty salon. Dawinder threw on a clean shirt and styled his hair into a disarray.
Sonu Rangi, who sported a handlebar mustache and an explosion of canned laughter for his mobile ring tone, led them past shops selling spare motorcycle parts, stalls stacked with pens and notebooks, and carts displaying plastic flip phones. Dawinder hurried to keep up with Rangi, while Neetu got left behind in a knot of people milling at the shopping stands. When she turned a corner at a row of lawyers in flapping black coats perched on plastic stools to solicit clients, she was on the verge of tears.
"I'm here." Dawinder took her hand. "I'm right here." So much was changing so fast that it was hard to understand if she was crying because she had suddenly lost him or because she suddenly felt lost.
In an apartment on the top floor of a tin-roofed building that had been converted into a temple, Neetu and Dawinder sat cross-legged in front of a holy fire as a priest with sandalwood paste on his forehead chanted Vedic scriptures. Sonu Rangi sat in a corner, talking into his cell phone and gesturing for the rituals to continue.
The couple circled the holy fire seven times and vowed to be together for seven births, the entirety of time it is believed for a soul to break free from the cycle of births and deaths, according to Hindu philosophy. They signed a religious marriage certificate and posed for a photograph as evidence. Then the couple waited at the door with a box of sweets in their hands and listened to curses drift out of the stairwell as Rangi and the priest negotiated the payment.
Hearing of the victims suffering for their love, Sachdev thought, Who are these people to poke their dirty nose in between?
When they arrived back at the shelter, jasmine and rose garlands still around their necks, the other couples stood in the doorway to receive them. "Mr. and Mrs. Dawinder Singh," Sachdev announced from his bed. "Where are my sweets?" The last step to legally formalize their wedding was to submit the religious certificate to the government marriage registrar. Sachdev would take care of that.
*
Before starting the Love Commandos, Sachdev had tried to open a poultry farm, a sweetened-milk company, and a factory for car parts. All three businesses tanked. He worked briefly as a consultant to Indian Railways, entered and lost a local election, and finally became a journalist. But he sensed that he was meant for a larger purpose. One Valentine's Day in the early 2000s, a colleague in the newsroom told him about the Hindu nationalist groups that roamed parks and college campuses to protest the Western corruption of Indian values. They beat up couples, cut their hair, sprayed them with chili powder, and pronounced them brother and sister. Hearing of the victims suffering for their love, Sachdev thought, Who are these people to poke their dirty nose in between?
In 2010, when honor killings started to dominate television news debates, he got the idea to create Love Commandos. Sachdev didn't like the word runaways, so he referred to his clients as "people leaving parental homes for the unification of the love family." He wanted them to relish their freedom. "This country is sitting on a volcano," he said. "This is a country of six hundred and fifty million young people. Each young person has a heart that is burning with a flame called love."
Through local newspaper reporting, the Love Commandos were made aware of at least four bounties that were issued by khap panchayats for protecting runaway couples. Khap panchayats, unelected councils of upper-caste elders in the countryside, routinely issued diktats for disturbing the delicate balance of the caste system. They did not have any government-sanctioned authority, but they wielded extraordinary influence over their communities. Once, while the daughter of a local politician was taking shelter with the group, a mob burst in and took turns beating and kicking the Commandos. But within a week, they were back on their feet, helping a new runaway couple get married.
As it turned out, Sachdev had never been in love himself—it was only his work. "I didn't have time to fall in love," he said, "because I was busy solving other people's problems." At twenty-eight, he entered an arranged marriage. His wife lived in his hometown, thirty miles from New Delhi, and took care of his aging father. Sometimes Sachdev would go to see her, but months might pass between visits, since planning trips depended on his mood. They had four children, now grown, who had given him what he described as "an eternal feeling of love."
__________________________________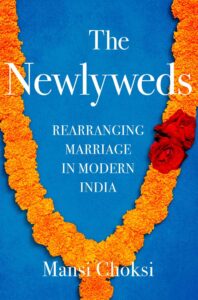 Excerpted from The Newlyweds: Rearranging Marriage in Modern India by Mansi Choksi. Copyright © 2022. Available from Atria Books, an imprint of Simon & Schuster. 
---