How Lakshmi Shankar Became the Voice Behind the Epic Gandhi
The Hindustani Singer Helped Give the Film Its Emotional Force
Fifty-five-year-old Lakshmi Shankar is sitting in an unremarkable London movie theater. All around her there is the buzz of conversation. She starts to feel butterflies in her stomach, a feeling that, although familiar, she never quite got used to even after spending more than 40 years on stage, first as a dancer and then as a singer. This isn't her first time lending her voice to a film. But this time is different; it's for Sir Richard Attenborough's Gandhi (1982), and the magnitude of it strikes her all at once. 
For the past several months, Lakshmi has anticipated this moment as she worked on the soundtrack day-by-day, piece-by-piece. Now, at the pre-screening, she is giddy with anticipation, eager to see how her part fits into the whole, how it all comes together to tell the story of one of the most iconic men in history. The houselights dim and the screen comes alive and Lakshmi is awash with emotions and memories. 
Gandhi opens with the rising sun reflecting on rippling water, fishing boats bobbing while the fishermen are already at work readying their nets, serenaded by crows. We are not told the location, but since India is surrounded by water to the east, west and south, this scene is almost ubiquitous. Then this tranquil image fades to black. 
When the screen lights up again, we begin to hear the soft strains of Hindustani music being played on sarangi, santoor, tabla and, surprisingly, Western string instruments, and we find ourselves in New Delhi on the fateful day of January 30th, 1948. It is just a few months after India gained independence and a crowd is on its way to catch sight of and receive blessings from Mahatma Gandhi, the singular figure who, more than anyone else, has come to symbolize India's struggle for freedom from the British. But despite its newly gained independence, all is not well through the land. There have been eruptions of mob violence between Hindus and Muslims, leaving scores dead. Gandhi has been calling for peace on both sides, but his voice is often drowned out by those of religious and political zealots who stoke the conflict. 
The camera focuses on a man, Nathuram Vinayak Godse, played by Harsh Nayyar, making his way to the front of the crowd at the Birla House. Gandhi, played by Ben Kingsley, weakened from his principled hunger strikes against the continued communal violence, arrives, propped up by his ardent supporters. He makes his way slowly through the crowd and once again the camera singles out Godse, who approaches Gandhi, hands folded together and head bent to offer a pranam. Gandhi stops while Godse bows before him but when the latter stands up again he is holding a gun. We watch as Godse shoots Gandhi several times. The Mahatma falls to the ground, uttering, "Oh God!" and the screen fades to black. 
When the screen lights up once again, it is awash in a sea of humanity. Millions are gathered at his funeral procession to bid a final farewell to the Mahatma. This epic scene was reportedly filmed using 400,000 extras, and held the Guinness World Record for the most number of extras used in a film at the time. The camera alternates between close-ups and panoramic shots, and we see Gandhi's body covered in mounds of flowers, atop a mobile platform being drawn through the streets of New Delhi. People of all backgrounds, dignitaries and common folk alike, are brought together in mourning.
More than any speech, Lakshmi's soulful singing expresses the immense outpouring of love, devotion and sadness felt by millions at the loss of the Mahatma.
Two voices emerge to evoke the poignancy of this scene. One belongs to a Westerner while the other belongs to an Indian. One uses words to convey the significance of Gandhi's life, while the other uses only musical notes to plumb the emotional depths of this grave moment in history, when a fragile, newly independent nation lost a leader who was the spiritual cornerstone of its political struggle. One voice is meant to belong to renowned American broadcaster Edward R. Murrow, while the other belongs to Hindustani vocalist Lakshmi Shankar. 
On the occasion of Gandhi's state funeral, with his voice echoing out to radio listeners around the world, Murrow, portrayed by Shane Rimmer, memorializes Gandhi by saying:
The object of this massive tribute died as he always lived, a private man without wealth, without property, without official title or office. Mahatma Gandhi was not the commander of armies, nor a ruler of vast lands. He could not boast any scientific achievement or artistic gift, yet men, governments, dignitaries from all over the world have joined hands today to pay homage to this little brown man in a loin cloth, who led his country to freedom.
While Murrow's words punctuate the scene, Lakshmi's voice begins to weave together the notes of a melodious Hindustani raga. Her voice is emotive yet unsentimental, sharp enough to prick your conscience yet sweet enough to tug at your heart. More than any speech, Lakshmi's soulful singing expresses the immense outpouring of love, devotion and sadness felt by millions at the loss of the Mahatma. 
"My God. I can't believe I'm singing there!" Lakshmi wonders as she stares at the screen while hearing her voice echo throughout the movie theater. 
More than 30 years later, Lakshmi Mami said of the moment, "Oh it was … it was so emotional, I can't tell you!" as she went on to recount how it all came to be. 
*
Given Ravi Shankar's stature as the most prodigious Indian musician of modern times, as well as his experience of composing scores for films such as Satyajit Ray's internationally award-winning Apu Trilogy and Charly, the Hollywood adaptation of the famous novel Flowers for Algernon, he was the most obvious choice as music director for Attenborough's Gandhi. The lead vocalist for the soundtrack was a less obvious choice, it would seem. Lakshmi was thrilled when Ravi asked her to lend her voice and many years later, she still recalled their conversation.
"Raviji called me from Delhi. He said, 'Well, do you think you want to sing in Gandhi?' I said, 'What?!'" Her eyebrows rose and her eyes and smile widened as she re-enacted the astonishment she had felt at that moment. "He said, 'Yes, I have suggested your name.' But he qualified this by saying, 'They wanted M.S. Subbulakshmi but I said that she won't be able to adjust to my style. What about Lakshmi Shankar? They've agreed now, so you're coming.'" 
And with that Lakshmi, who might have seemed an unlikely candidate to some, but was the obvious choice for Ravi Shankar, became the lead vocalist for Gandhi, and her voice the auditory backdrop for some of the most significant moments of Gandhi's life.
____________________________________________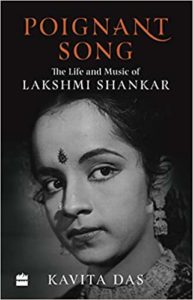 From Poignant Song: The Life and Music of Lakshmi Shankar. Used with the permission of the publisher, HarperCollins India. Copyright © 2019 by Kavita Das.
---