How Kazuo Ishiguro Used "Dream Techniques" to Write His Most Polarizing Novel
Revelations from the Nobel Laureate's Archives
This week, I came across a piece from the Ransom Center magazine highlighting the archive of Nobel Prize winner Kazuo Ishiguro, who turns 64 today. It begins with a note from Ishiguro that explains the archive's origins:
For many years, I've been in the habit of keeping a large cardboard box under my desk into which I throw, more or less indiscriminately, all papers produced during my writing that I don't want to file neatly and take into the next stage of composition: earlier drafts of chapters, rejected pages, scraps of paper with scribbled thoughts, repeated attempts at the same paragraph, etc.
I'd originally started this box-under-the-desk system not because I'd anticipated one day preparing an archive, but because I was nervous I'd throw out work I'd need later.
Looking through the notes, I was particularly struck by Kazuo Ishiguro's list of dream techniques for The Unconsoled, widely acknowledged as his most difficult (and most polarizing) novel. Some called it a masterpiece; James Wood famously wrote that "it invents its own category of badness." But the large part of what makes The Unconsoled so demanding (and/or bad, and/or good) is its use of dream logic—which is what inspired the novel to begin with. "Shortly after the publication of The Remains of the Day, my wife and I were sitting in a greasy spoon, having a discussion about how to write novels for an international audience and trying to come up with universal themes," Ishiguro told The Paris Review in 2008.
My wife pointed out that the language of dreams is a universal language. Everyone identifies with it, whichever culture they come from. In the weeks that followed, I started to ask myself, What is the grammar of dreams? Just now, the two of us are having this conversation in this room with nobody else in the house. A third person is introduced into this scene. In a conventional work, there would be a knock on the door and somebody would come in, and we would say hello. The dreaming mind is very impatient with this kind of thing. Typically what happens is we'll be sitting here alone in this room, and suddenly we'll become aware that a third person has been here all the time at my elbow. There might be a sense of mild surprise that we hadn't been aware of this person up until this point, but we would just go straight into whatever point the person is raising. I thought this was quite interesting. And I started to see parallels between memory and dream, the way you manipulate both according to your emotional needs at the time. The language of dreams would also allow me to write a story that people would read as a metaphorical tale as opposed to a comment on a particular society. Over some months I built up a folder full of notes, and eventually I felt ready to write a novel.
That novel was The Unconsoled, and some of the notes Ishiguro kept about the language of dreams are below.
Dream Techniques
1. Unwarranted Emotion
2. Unwarranted Relationship
3. Delayed realization (ENTER/EXIT)
4. Odd postures—figurative postures + escaped metaphors
5. Placing
6. Weird Venues
7. Extended, tangential monologues
8. Distorted time frame
9. Unwarranted recognition of place
10. Private enclaves
11. Unwarranted familiarity with situation (or person or place)
12. Characters from foreign contexts
13. Characters continuing under different surfaces
14. Distorted Logistics
15. Transmuting Narrator
16. Partial invisibility (And odd witnessing)
17. Backward projection of Intentions
18. Bleeding with Memory
19. BACKWARD projection of Judgment
20. Restricted Witnessing
21. Tunnel Memory
22. The Dim Torch Narrative Mode
23. Crowds—Unwarranted Uniformity
24. Robert Altman [illegible]
25. ("More than I expected") Unwarranted Expectation
26. MIXED PERSONALITY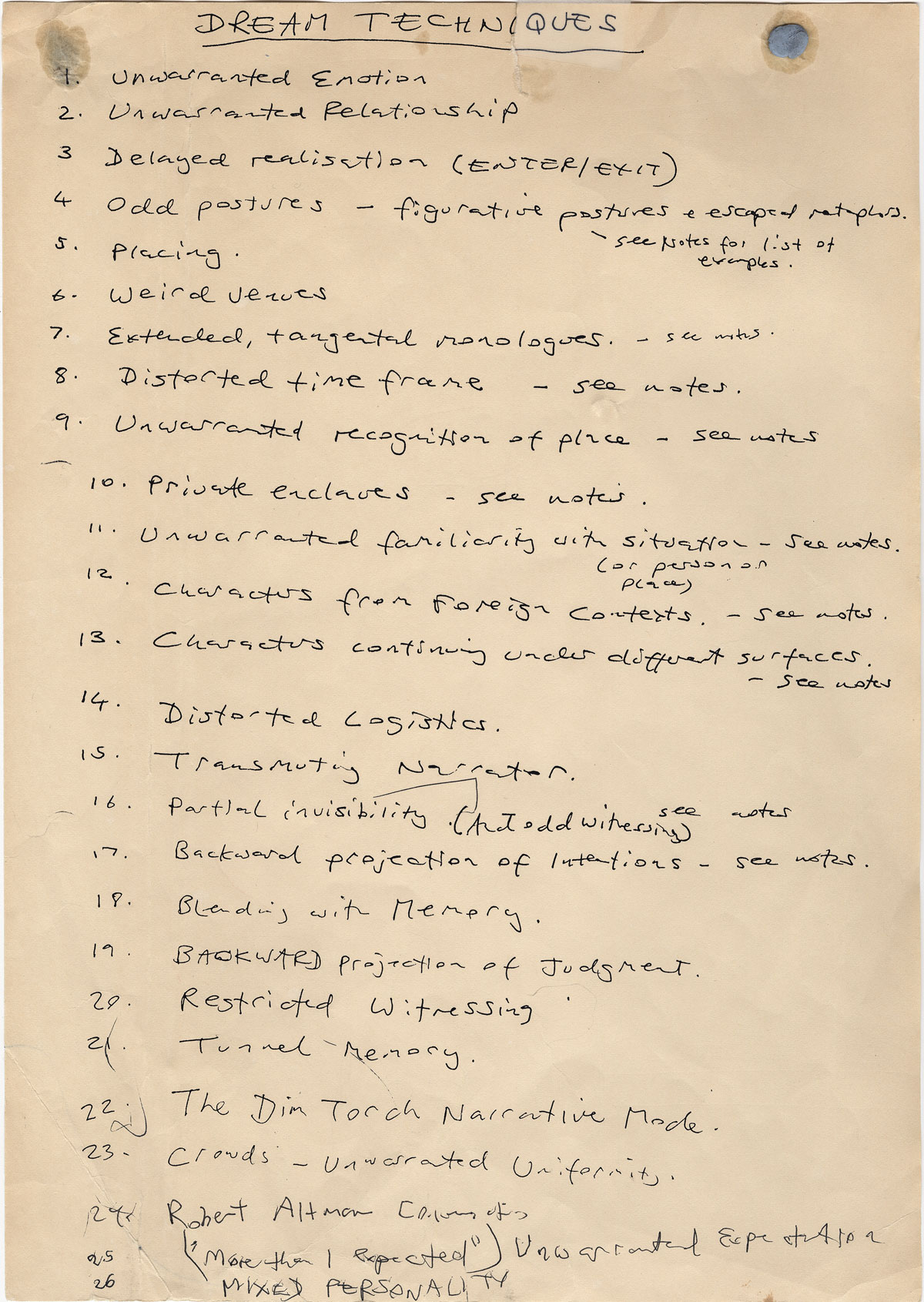 ---