How Important is the First Draft to Your Novel?
Some People Revise, Some People Write
We're an odd lot, novelists. Obsessive. Why else does someone launch a project that consumes so much time and holds out such a wavering promise of reward? I wrote my first three novels in deep night—the only time I had—and I used to put things away (in a dish bucket, set against the kitchen wall) in a tired heave of sadness, as if I might never pick them up again, as if my fledgling world might never be real. And of course it never was, because that's a large part of the siren call of the novel: Come hither and create your own world. Put what you know and believe and want into story. Defy the randomness of real life; make meaning. This is a long-haul project and it is so much a part of who you are, you can't imagine not doing it, not even if it takes years.
Maybe you, like me, write in your hidey-hole and people who know you have no idea how much you've taken on. Maybe you've found a workshop or a graduate program to help you in your endeavor. Either way, you must know by now that you have a world of figuring out to do.
Just know this: You are uniquely you, and the novel you write is one nobody else can.
I've written seven novels. That doesn't count the first one; I spent years, only to discover when it was done that I was sick of it. (I had learned a lot, though.) It doesn't count the one I lost. (I thought I stored it in the linen closet, but it wasn't there when I searched for it.) It doesn't count drafts, that's for sure. It doesn't count false starts (a box of them), or the ones I've been writing in my head for a decade while I tell myself I'm done with novels.
I've read shelves and shelves of novels. Hundreds of reviews. (I've written them, too.) Stacks of criticism. Biographies and memoirs of writers. But what matters to the present subject is this: I have immersed myself in the struggles of at least 200 aspiring novelists, many in one-week workshops in summer writing festivals over 20-plus years, and others in semester-long or year-long mentorships. I immerse myself in outlines and drafts. These writers have put themselves out there in a scary, exciting way. It has been my privilege to help them find new insights and fresh resolve. There is among aspiring writers an incredible range of interests, backgrounds, sense of story, and confidence, but there are many things they have in common. They are readers. They are intrigued by human nature. They are dogged.
One day it dawned on me that every summer, every semester, I have reinvented the wheel. Now, going through my teaching materials, I see that, however I may have recast notes, talks, exercises, and guidelines, there are consistent themes. I want to share what I have learned in my writing and teaching life, with special gratitude for the generosity of so many writers over so many years.
You can find many books to help you produce the first draft of a novel, especially if you subscribe to a popular theory of story much loved by screenwriters. Their strategy of structuring with acts, journeys, plot points, and arcs seems to be ratified by the success of many commercial movies, but is less helpful in developing deep story. If you want to review the basics of screenplay structure, you should read Syd Field, who popularized the model 30 years ago.
My advice is short and simple.
You should feel driven by a story you want to tell, even if you don't know every nuance of it.
You must be able to live with the ambiguity of the enterprise.
You must have a commitment to a schedule of writing.
No one can teach you how to write a perfect first draft.
If you can say, Yes, I'm up to that, and you are just beginning, you may do best by ignoring instruction, at least until your dream is on the page. Free from rules, you may discover you have something in you nobody else has thought of. What rules did Markus Zusak ignore, writing The Book Thief, with Death as the narrator? Or Kate Atkinson, with the dazzle of her innovative Life After Life, in which her characters live more than one life? Amor Towles painted 30 years of Russian history in the confines of a single setting, a hotel, in A Gentleman in Moscow.
However much you think you know your story, however much you love it, allow yourself the freedom of discovery. Think of yourself as solving a mystery. What if? Why? Be wary of judging your work too soon. Sticking with a novel means going forward, not round and round. I say that even though I myself am a slow, deliberate writer at the sentence level. I don't pour out pages; I feel as if every line tells me something about what the next line has to be. But I also don't worry over the pages I've already written until I have a substantial draft. I learned early on that I could end up trying to perfect passages that don't belong in the novel at all. Or I could lose my urgency to discover what next. I learned to jump ahead when I felt stymied. I started two of my novels in the middle.
Keep in mind that a first draft may be a kind of fishing expedition, a mess of a manuscript. You may not be ready to leap to revising. "First draft" should be thought of as a canopy off writing, holding however many drafts it takes to get you to the place where you feel you have grasped the story and put it on the page. You have to know how it ends. You have to know what it means.
The "first draft" of my first published novel was 1,084 pages long. It took about 14 months to write. (Remember, those were typewriter days.) I wrote ferociously and joyously. Then I had to figure out how to define reasonable parameters for the novel, and when I cut it, I discovered a huge imbalance between what I had said the most about and what I'd skimmed over. I made a painstaking outline by hand, on lined paper. There were no word processors. I had to start over with fresh paper in a typewriter. That was what it meant to revise. (I kept the boxes that held that draft in the disused cabinets over the refrigerator for many years, until they were archived. And I looked at them from time to time, a reminder of what I did, what I can do.)
When I wrote what I thought was the finished manuscript of More Than Allies, my perspicacious agent told me she liked a minor character in the story the best of all—and that character became one of the two main characters in a total rewrite. I learned to stay fluid, patient, open, and determined. Every stage has its hurdles—and its rewards.
Have fun finding your way.
You might want to toss a chapter and start over. Fine. You might want to try out a different point of view. You could discover your heavy drama is a comedy after all. You might realize you need a lot more background (setting, history) built into the story (a common concern); or you might realize that your research is clogging the manuscript's arteries. Insight comes when you are immersed in the story, and you then have to decide whether to go back or keep going. I'm inclined to say keep going but make lots of notes about your prospective changes. You have to tell yourself that the most important thing is to get enough story down that you have something to work with; you will know more with every page you write; you can change things in the next draft.
Once you have that first full draft, you are on a different plane of writing. You've done a lot of stumbling and fretting, but you've figured out a story and you have this product, written out from beginning to end. Congratulations. Now you are ready for the next step. Unless you can do it in one go. There are writers who don't revise full drafts, but I think that for them revising is a stream of higher consciousness.
It is instructive and fascinating to read about Gustave Flaubert's writing; he was a man in agony, start to finish. He wrote letters to his friends saying that he hated what he was writing, that he had spent days on a paragraph, and so on. It seems clear to me that he had a very strong sense of his story from the beginning (I'm thinking of Madame Bovary), but achieving what he had in mind was incredibly demanding because his standards were so high. He spent five years writing the novel, his first. He wrote expansively, then cut, as he progressed.
When he got to the end of his "first draft," which was the complete novel, he had performed surgery, acrobatics, diplomacy, psychology, and artistry on every page. And he had written the first modern novel.
John Steinbeck wrote a journal about how he wrote The Grapes of Wrath. It's called Working Days and you can see why: He wrote five days a week, all day, from June to October 1938, about 2,000 words a day. He griped and grumbled, full of self-doubt and self-pity, but he had his head down and his pencil on the paper (his wife was his typist). I think he, like Flaubert, could do a one-draft wonder because every sentence was produced from deep thought. He was driven by an urgency about his subject, and he had done a lot of research. He didn't start writing from scratch by any means.
Bernard Malamud, on the other hand, said when asked how many drafts he typically wrote, "Many more than I call three."
Fast is fast, but is it good?
So many will say, Just get it down—work intuitively and quickly. I can't write fast, so I can't evaluate this approach. Anne Lamott (Bird by Bird: Some Instructions on Writing and Life), famous for encouraging unselfconscious, uncritical first drafts, has made it clear that she also does a lot of restructuring and revising later on. You have to find your own way. If you have had the story in your mind for a long time, your first draft might feel like you are pouring it onto the page. If the story feels like a mystery you want to solve, it will probably go more slowly. The writer Ann Patchett (Bel Canto), whose novels are marvelously varied, has said that she likes to think things through pretty thoroughly before she starts writing, whereas her friend, the novelist Elizabeth McCracken (The Giant's House: A Romance), doesn't think a thing of changing names, histories, and plotlines as she writes. Think of the first draft as close to the chest: It's yours alone.
What I do know is that, whether you crawl through your draft or you write it out as fast as you can type, you have to have the story on the page, start to finish, before you can evaluate it. It's important to stay open to surprises and unbothered by dead ends. This isn't the time to make contracts with yourself, like so many pages a day or the first draft by Christmas. Dedicated time is the one thing you do have to promise yourself. A lot will change in the writing. Later, you will come back to the same questions, the same advice, the same exercises, and find you have gone somewhere altogether different from where you were headed. That's just fine. That's writing. The real book might appear in the margins of your draft. You can't revise what you haven't written down.
__________________________________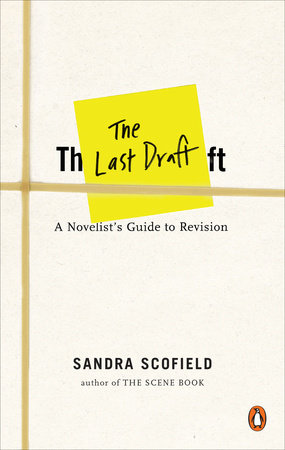 From The Last Draft, by Sandra Scofield, courtesy Penguin Press. Copyright 2017, Sandra Scofield.
---