How I Helped Tell a Soldier's Story
Jane Bernstein on Finding the Human Detail in a Memoir of War
In the fall of 1980, while waiting on line to use a portable toilet at the start of the New York City Marathon, I met the man who convinced me to teach a writing workshop at my house. It was a frigid morning, and I was passing the time bouncing on my toes, hugging myself, and chatting with strangers. The day before, I'd moved from my longtime home in New York City to a New Jersey town near my husband's workplace, where I knew no one, and I was feeling jittery, inside and out. So when I found out that the interesting man waiting with me on the Port-o-San line was practically my neighbor, it seemed an amazing piece of luck.
It was a long wait for the race to begin, and we had plenty of time to talk. That was how I learned that Paul was a psychiatrist who'd co-written a guide to physical fitness with a friend named Joe. While I was dancing in place on that frigid morning, I must have told him I'd published a novel and had taught part-time at Rutgers-Newark for two years. I suppose I also confessed that I didn't know anyone in the town where I'd just moved, because he said he had a great group of runner friends and encouraged me to call when I got home.
I did call, and we ran together a week or so after the race—and for the next ten years. Paul had other reasons for urging me to contact him. He wanted to learn how to write in a more personal way about his childhood in Newark. His friend Joe had also been looking for someone to help him with his writing. Joe had been in an Italian prison camp during World War II and for a decade had been working on a manuscript about his experiences. Paul was sure there were plenty of others who wanted to learn more about writing. He asked if I'd consider teaching at my house.
I no longer recall how much time passed between that icy morning in Staten Island and when I agreed to Paul's suggestion. I can't remember what I charged or whether I provided refreshments. There was only the surprise of realizing that I'd missed teaching. Though I'd loved my students, all of them first-generation college-goers, I'd never thought of myself as a teacher and had viewed the Rutgers job as a way to subsidize my writing. When my daughter was born the year before, I hadn't considered teaching elsewhere. Not until Paul's proposition. The second surprise was how easy it was to round up a few other students. Two were spouses of men who worked at Bell Labs, as my husband did. Sam, the owner of a nearby bookstore, brought a couple of local people. Glen, my former student at Rutgers, took the train in from Hoboken. And then there were Paul and Joe.
I remember meeting Joe that first night: a tall, trim man in a sport jacket, thin hair swept straight back. He was soft-spoken, and stooped, as if to make himself less of a presence. I remember him sitting with the others on chairs I'd bought at garage sales, in a room the realtor had called the "solarium" when she showed us this charmless old house, the only one we could afford in this tony suburb of New York. Joe listened intently to whatever was read aloud. Polite. Reserved. Sam the bookstore owner asked in private if Joe was a minister.
I must have known Joe's last name by then—Frelinghuysen. It was a name nearly everyone who lived in New Jersey had heard. Frelinghuysen was the name of a major thoroughfare in Newark, a middle school in Morristown, and an arboretum in Morris County, where Joe's forebears had settled in the 1700s. A Frelinghuysen had been an officer in the army under George Washington and a member of the New Jersey Convention that had ratified the Federal Constitution, and there had been Frelinghuysens in public service and the military in nearly every generation. According to a Washington Post list of American political dynasties, the Frelinghuysens came in seventh place, just below the Bush family.
Before Joe asked if I'd help him with his manuscript, I'd heard pieces of his story from Paul during our long runs. Joe had been a captain in the army when he'd been captured by the Germans in North Africa and taken to prison camps in Italy, where for ten months he lived on scraps of food. He tried to escape and failed, taught himself basic Italian, and adhered to a strict exercise schedule. He believed that discipline, keeping physically fit, was the reason he'd survived. On his third escape attempt, he and another American soldier managed to get free. They hid in the forest for weeks, racing from enemy fire, close to starvation. A family of Italian farmers, "peasants," Paul called them, risked their lives by feeding and sheltering the American soldiers. After the war, Joe returned to the small town in Italy where the family had lived. When their daughter and her husband expressed interest in immigrating to the United States, Joe brought them over. He supported them financially, helping them settle in New Jersey, finding work for the husband, initially in his family's dairy business, staying in close touch.
Paul was the one who told me of Joe's generosity. Joe never told me this part of his story—and he never spoke about it in the workshop. When he sat with the others, a good-natured group of beginners, he listened to their stories and brought nothing of his own. I don't remember when he asked if I'd work privately with him or exactly why I agreed, though I suppose I said yes because I liked Joe and was attracted by his openness and receptivity. He gave me his manuscript to read. Then he began to come to my house an hour or so before the others gathered in the solarium.
* * * *
I can still see us, sitting side by side at my husband's desk in the small room he used as an office before our second daughter was born. Joe in a sweater and sport jacket: tall, lean, attentive, nearing seventy. He sits in a Danish office chair on casters. His manuscript is open on the desk, lit by twin lamps that clamped onto either side of the oak desktop. Typewritten—because this is still the era of landline telephones and typewritten manuscripts. And there I am beside him. I'm 31 or 32 years old, dark hair, turtleneck, jeans, holey socks: all my socks have holes from the splintery pine floor in the attic, where I write.
I am inexperienced, raw, compared to Joe. Young. His faith in me feels touching or naive. What have I done to deserve it? Run a couple of marathons, published a novel and some newspaper articles. Yes, I taught at Rutgers, but as a part-timer, officially a "coadjutant instructor of journalism and mass media," a position I'd fallen into without training or prior experience, and was astonished to find I liked, since in my twenties I'd been set against teaching and motherhood, which I'd viewed as default activities for women of limited horizons. And now, while I sit beside this man who trusts me to help him with his war story, my little girl is in the bathtub, singing "Baby Beluga" with her dad, and I am feeling the hole in my sock and wondering what I might say to Joe and how I might phrase it.
The sentences that fill the pages of his manuscript are flawlessly constructed: Joe majored in English at Princeton. He knows Latin, knows the formal rules of grammar, which I don't. When Joe came home from his wartime ordeal, his wife bought him a Dictaphone and had him record his story, so the pages are rich in specific detail. And yet there is a deadness in his descriptions of the troop maneuvers, the land and weather, the physical effort he exerted, the people in his midst, who for all their scowling, squinting, grunting, and muttering, never come alive. Nor does he, on these pages.
Joe is the most respectful person I have ever encountered. I've seen this in the writing group. I've seen it in the way he backs up when my little girl toddles in, with no glimmer of impatience at being interrupted. I can feel it in the way he trusts me. It's easy being kind to Joe; the challenge is being candid. To falsely praise this work denies him the chance to rewrite it effectively. It's disrespectful.
I am certain that Joe has no interest in telling a story of derring-do. He doesn't think of himself as a hero. Whatever has driven him to work on his manuscript for a decade is deeper and more complex, although I cannot say what it is, nor can he. The title of his work in progress includes the word survival, so I know he wants to write about his ordeal. Yet he seems to lack the language to tell such a story. Sometimes I think he has no access to what I would call an interior life. Each time I ask what it was like—to go without food, to scrabble alone in the woods—he points to his sentences, as if together we might crack them open and find what they lack.
I try a different angle: It's a survival story, isn't it? I ask. Yes.
To tell a story about your trials and how you emerged intact means going beneath the surface. You want to give your reader the chance to experience what you did, to be in your skin. Do you agree?
Yes, he says. This is his intention.
What did you feel when you were running through the woods at night? You're hearing enemy gunfire. Can you put yourself back at a particular moment? Was it day? Night? Had you eaten anything? Had a drink? From what source? Did you worry the water might be bad?
* * * *
The first year I taught at Rutgers my classes were standard journalism courses of that era—headline writing, copyediting, reporting. Nothing seemed more important than pressing the fundamentals upon my students, making sure they understood craft. Craft was still my focus when I was able to teach a fiction workshop the following year. Although I borrowed techniques and styles from my favorite teachers in graduate school, I still felt it was my job to teach them about scenes and dialogue and point of view, to look at stories as if we were mechanics opening the hood to check out a car. With Joe, it was different. Even though I could not have said it at the time, at the heart of our discussions was how to get humanness on the page in all its complexity.
I remember saying: Your wife was pregnant when you parted. Did she come to mind? When you were alone in the forest, did you write letters to her in your head? Dream of the past or the future? Your friend, the soldier who helped you escape. He wrenched his knee and urged you to leave him behind and flee alone. Where were you when he first asked? What made you finally agree? What did you feel when you left without him?
And Joe, turning the pages of the manuscript, showing me his sentences: I hated leaving Dick. Deserting a friend went against the grain. Asking: Isn't that what I say right here?
I scan the passages on the page and hesitate, worrying that I'm demanding that Joe pull something from memory that he never experienced. When we're apart, I ask myself in shame: Who am I? What audacity to prod him to think and write in a way that's alien to his culture, to his whole way of being. It feels mean-spirited. It makes me dread meeting with him.
Then the next week we're again sitting together at my husband's desk, and something Joe says makes me aware of the shadows of a story not yet written: a man raised in a family with a proud military tradition, haunted by his "failures" as an officer; a man who feels responsible for his own capture, guilty for having left his injured friend behind; a man who was irritable and impatient in his hunger and fear, flawed, frightened, human. I feel sure this is the reason he's kept at this task for so long, that he's driven by all the unpleasant, inchoate stuff inside him, and so I push a little, thinking I can help him shape it into a story. I ask questions, try to take him back in time. He listens. Turns the pages of the manuscript, points to a paragraph and waits.
* * * *
Once, at the end of one of these sessions, Joe looks up at me and says: "I think of you as 'teacher.'"
Teacher. As if I were Annie Sullivan and he were Helen Keller.
* * * *
When I pull back from this image of the two of us hunched over Joe's typewritten manuscript, out of this room, this house, this town, right out into the world of disco and Pac-Man and Ronald Reagan, I am reminded that our time together was in an era before public confession, before "the age of memoir." A few memoirs were on the shelves, written for the most part by writers or dignitaries in their waning years. Joe had read some of these books. He'd also read and admired The Naked and the Dead and From Here to Eternity. But this was not yet a time when private figures and celebrities had begun to reveal the kinds of intimate details once considered too personal to air, to let strangers read candid aspects of ordinary and extraordinary human life. Frailty was not yet out of the closet. Joe and I sat together before there were public conversations about PTSD—before the traumas suffered in war were even called PTSD, although there were other names for the most profound of the psychological repercussions some returning soldiers experienced.
When Joe and I sat together, I thought of myself as a fiction writer. I never imagined writing a memoir. Then again, I had never imagined having a child or teaching. I saw my role as helping Joe write a gripping story that would bring me into his past, so I could feel what it had been like to be captured by the Germans, to wake in a prison camp, to starve, to devise the means to keep his sanity. Often I believed this was what Joe wanted, too. But his perfectly constructed sentences were so devoid of immediacy that I had no sense of his life as it was then lived.
I find myself wondering: If there were other voices besides mine, would it have helped Joe tell his story in a deeper way? If he'd read memoirs by other soldiers who'd returned home, shaken and irritable, full of stories that would not recede, would he then be able to render his tale in a different way?
* * * *
I quit. I stopped meeting with Joe one-on-one because I had nothing more to offer him. For a long time, this is what I believed, so when I thought of Joe, which I often did, sadness and regret rose up. I'd failed and then I'd quit. I'd been presumptuous to keep demanding from this lovely man the kind of story I wanted to read, when in the end it was never what he had intended to write.
Now, going over the dates, I see that this version of events is a little harsh. During this period of time, I was struggling to complete a second novel, co-writing a screenplay, taking care of my little girl. When I look at a calendar, I realize that I must have been pregnant when I quit working with Joe, since my second daughter, Rachel, was born in the fall of 1983. She was not a healthy baby: after her arrival, her physical and intellectual disabilities took much of my attention and altered everything in my family's life and in the life we had imagined for her. So maybe I hadn't quit in such a petulant way.
Also: Joe and I stayed in touch after we stopped working together. I remember a long conversation with him, during which he defined courage as "grace under pressure." I also remember running a 10K race in Morris County with Paul, then driving to Joe's and having lunch in the dining room of his grand old house, with its portraits of forebears on the walls. Joe's wife came by to greet us, and I shrank in my chair, feeling sweaty and self-conscious in a singlet and tiny running shorts. It reminded me how comfortable I'd always felt with Joe. His good manners did not hide any judgment. This was the way it had been when we'd sat together in my shabby house, Joe beside me, listening.
* * * *
Over the next years, Joe continued to work on his manuscript. He'd found someone else to help, a man who taught at a local community college. I tried to work on my manuscript, too, but after Rachel's birth, the novel I'd promised my editor vanished along with all of its characters. My agent suggested I write a "nonfiction book" about parenting a child with disabilities. At first I said no. I did not think I had the inclination or ability to write such a book. But her suggestion sparked an urge to write about the life that was now mine, so different from the one I'd had before. I had not seen such a life depicted elsewhere. So I began to draft a story that I now see was much like the one I wanted Joe to write: a story about daily life during a tumultuous time. It wasn't called a memoir when it was accepted for publication, since that was not yet a marketing tool, but that's what it was.
Two years after my book, Loving Rachel, was released, a small press in Kansas accepted Joe's manuscript. By then he'd been working on it for twenty years. In March 1991, a writer with an interest in military history reviewed Passages to Freedom in the New York Times Book Review, calling it "an exciting tale of physical and moral courage put to the severest of tests."
The book wasn't so different from Joe's manuscript as I remembered it, although I could see the effort Joe had expended weaving into the narrative a few paragraphs about his family's illustrious military past, and a sentence here and there that hinted at the "bitter strains" of being separated from his wife, the anguish he felt as a prisoner when reminders of his family and home rose, despite his attempts to push them from his thoughts. Several grainy photographs gave the book an extra dimension.
In an "Author's Note," Joe explained that his intention had been to write a personal story, not a military book. "The human side always seems to be involved in questions from young people . . . who ask . . . 'What was it like to be caught up in those disasters? How did you feel?' I have tried very hard here to answer such questions, though at times being frank and honest with myself proved painful indeed."
* * * *
I must have congratulated Joe on his achievement. It seems impossible to imagine I neglected calling him or writing a note, but I have no recollection of doing either. I'd like to believe that this memory was overshadowed by other events in my life: the month before the New York Times review of Joe's book, I'd accepted a teaching position at Carnegie Mellon University, and soon after, I moved to Pittsburgh to join the creative writing program there. But I can't say for certain. I recall Paul telling me Joe was "disappointed" to hear I was moving to Pennsylvania, a reaction I understood, given his family's unbroken history in New Jersey.
I made a life in Pittsburgh. Over the next years, I raised my kids, wrote as much as I could, ran. I learned to love hills. I became a teacher. I taught for the pleasure of sharing what moved or delighted me, and to open my students to a range of literature and film they hadn't encountered. I taught for the chance to mentor students in their own artistic pursuits. We still talked about craft, but craft as the means to get to the heart, and not the heart itself.
Sometimes I worked independently with a student, and while sitting together, going over a manuscript and talking about the challenge of getting life to rise up from the sentences, Joe came to mind. I thought of his trust in me and his determination. Whenever I was asked about memorable students, Joe was the person I named first. Sometimes, while running, I composed a letter telling him some of this. The letters stayed in my head.
* * * *
Then one Sunday in late December 2005, I picked up the New York Times Magazine to read their turn-of-the-year feature, "The Lives They Led." Among the one-page stories that marked the passing of notable people whose merits or exploits were often not widely known, was a story about Joe. That was how I found out he had died at 93. "He was prodded to his feet by rifle barrels. This was northern Tunisia, Nov. 29, 1942. Just after midnight, following faulty intelligence, he had led his men into enemy territory." This is how Sara Corbett's gripping narrative begins. "Now he stood surrounded, trembling, sickened by the gravity of his mistake. A German sergeant jammed a pistol into Joe Frelinghuysen's gut and joked that he'd been easier to catch than a rabbit."
Corbett's story is terse and vivid, and tells of Joe's "self-recrimination," and his difficult homecoming, "snappish, disoriented." It relates Joe's postwar return to Italy, that he'd found the family that had sheltered him and helped the younger generation emigrate. "Some soldiers put war behind them, and others live it forever," Corbett wrote. "Joe Frelinghuysen wanted only to make amends."
I remembered sitting with Joe, his manuscript on the desk and the shadow story I sometimes believed was in his grasp. Then these words, written by someone else, echoed in my mind. Self-recrimination. The desire to make amends.
* * * *
I found Joe's book the other day in a section of my bookshelf reserved for books written by people dear to me. The glue had hardened, and when I opened the cover, all the pages came loose. I had forgotten the inscription: "For Jane, with many thanks for your assistance with this book. It was sometimes stern, but always brilliant and honest. I loved the workshop and the tutoring, and shall always be grateful, especially for our friendship. With much love, Joe. July 1990."
I tried to focus on his kind words about our friendship. I tried to focus on the closing: "Love, Joe." But these words, "sometimes stern," filled me with regret, and made me wonder if I had been too harsh. There was so much I did not know—as a teacher, a mother, a writer. I never told him I enjoyed our time together, never told him how much I learned from him. He was the student who showed me that to teach writing is so much more than teaching craft. I never said, could not have said at the time, how surprised and undeserving I felt of his respect. I think of you as "teacher."
Since reading of his death, I've wanted to write about my time with Joe. Years have passed, and the need has not lessened. I suppose the need to revisit the past is a necessary trait for all memoirists, but I'm also driven by self-recrimination, by the desire to make amends, whether or not I've done harm. My own fervent, impossible desire is not only to enter the world we left behind, but to relive it, this time with forbearance and grace, as if eventually I'll meet the impossible standards I set for myself. Maybe in this way, Joe and I are alike.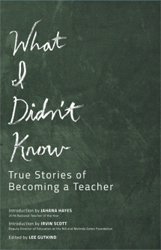 From What I Didn't Know: True Stories of Becoming a Teacher, edited by Lee Gutkind. Used with permission of In Fact Books. Copyright © 2016 by Creative Nonfiction Foundation.
---