How I Cured My Writer's Block With Techno
Stan Parish on the Long Nights That Help Him Work
I was stuck. It was early 2017 and, after closing an issue of the magazine I was editing, I had more time to work on my unfinished thriller, but no inclination or inspiration to write. After weeks of weeding through news stories for factual, structural, and logical weakness, writing fiction was harder than usual, which is to say: not happening at all.
When asked about my writing habits, I always said I couldn't work to music. Friends tried to convince me that this was untrue with a refrain that anyone who doesn't work to music has probably heard. It's the lyrics, they said. Try something instrumental! I tried jazz, but live instrumentation—a palm slapping the body of a bass, the buzz of a finger sliding up a guitar string—took my mind off the page. I tried classical music, then contemporary classical, which didn't hurt my concentration or output, but didn't help either. Besides contributing to the Spotify checks of Phillip Glass or the estate of Johan Sebastian Bach, what was the point?
Back then, my exposure to electronic music was limited to clubs, where I gave almost no thought to what the DJ was playing. I was there to cut loose, to see old friends and meet new ones with music somewhere in my peripheral hearing. I was not a burner, not a raver, and my attitude towards those scenes was summed up by this classic Tweet: "Love when they play music at the drugs festival." Which is not to say that I never enjoyed electronic music. I was a year behind the band MGMT at Wesleyan, where house parties were frequently laced with the sugary synth-pop that later swept the country. In New York after college, I attended a few raves at Studio B, the beloved and now shuttered Brooklyn club, but I couldn't tell you much about the music, except that it was loud and percussive. In Las Vegas on business, I endured 30 minutes of drop-heavy EDM at one of the Wynn's nightclubs before deciding that everything is not for everybody, and EDM was definitely not for me.
Among my friends were a few DJs and aficionados of house and techno—the purist strains that pay homage to the dance music born in 1980s Detroit. A few weeks into my writer's block, one of these techno-snobs got us ticket to see Andrew Hogge, who plays as Lovefingers, at a club in Greenpoint. I was at the office when I first pulled up one of his recorded mixes, part of a podcast series from the Dutch label Dekmantel, and hit play. The opening track stiffened my spine. It was Chopin's prelude in E minor, performed by a Polish vocal quartet called Novi Singers—90 seconds of hypnotic a cappella—followed by Andrea Daltro's "Kiuá," an eerie cut of Brazilian electronica shot through with birdsong, echoic drums, and maracas like the warnings of a rattlesnake. As the mix moved through psychedelic trance-inducing house music and industrial techno, I saw for the first time how track selection, in the hands of a gifted DJ, could tell a story. I'd been working for an hour when I realized that the pulsing kick drums and glittering synths were helping me find a rhythm.
Alone in my apartment that night, I found a recorded club set, two hours of mostly techno from an uncommonly talented DJ named Avalon Emerson, and sat down to write. Here, suddenly, was music I could work to, and a shortcut to the kind of flow state all writers seek, the trance-like condition where dialogue and description run uninterrupted from your mind to your fingertips, where shards of your subconscious get sucked up and spit onto the page to be tweaked and polished later. Techno occupied the part of my brain that was forever judging, analyzing, and applying the brakes as I wrote—a sedative for my inner critic, or maybe just a shiny toy to keep it busy while I worked.
After that, I did with electronic music what I do with anything that interests me: an obsessive, completest deep dive. I listened to countless mixes and tracks, bookmarked Resident Advisor in my browsers, went out when my schedule allowed. I read, and immediately reread, Nick Paumgarten's New Yorker story on Berghain, the cavernous Berlin techno institution. I was writing to techno regularly by then, but still not clear on why it was working. To quote Mr. Paumgarten on Berghain's signature sound, "techno is repetitive, relying on subtle changes over time to intrigue the ear. It eschews lyrics, melody, and, arguably, harmonics. It doesn't resolve. You don't get crowd-pleasing drops." There is, in other words, nothing besides brief and occasional samples to take you out of the experience of listening to techno. In a review of an album by Efdemin, one of Berghain's resident DJs, Pitchfork contributing editor Philip Sherburne wrote that "techno has always been about the promise of disappearing into nothingness." In Theravada Buddhism, which I was studying concurrently, the concept of nothingness is known as Suññatā—also translated as "emptiness" or "voidness"—and used to refer to a meditative state.
A 36-hour dance party with a heavy fetish bent may seem like a strange place to clear your head, but that's what techno and "klubnachts" do for me.
Six months after I discovered the Lovefingers podcast, I went on a date with a Polish artist who lived in Berlin. Back at my apartment, we discovered a mutual affinity for techno, and spent a few hours playing music for each other. My date went to Berghain often, and asked if I was familiar with a little five-seat bar buried deep inside the club. "I've never been to Berghain," I said. My date was shocked. She was friends with Ryan Elliott, a resident DJ there who had put her on the guest list for an upcoming party. Would I like to join as her plus one? Absolutely. That, we decided, would be our second date.
On a Monday morning in Berlin, I shared a bench with an elegantly dressed German couple in their 50s who sipped espresso and banana juice while we chatted—I think— about American politics and the advantages of Los Angeles over New York. The content of our conversation is hazy because it was 4:40 a.m.,15 hours into Klubnacht or "club night" at Berghain, whose Saturday party runs straight through Sunday and into the following week. The bench we shared sits just outside Panorama Bar, Berghain's upstairs dance floor, and the air was thick with smoke, sweat, and the vibrations of a pulsing kick drum under a slinky bassline. A woman wearing only a few square inches of latex appeared, accompanied by a man in a full-body gimp suit. She walked on six-inch spikes while he crawled beside her on a leash attached to the studded collar around his neck. The German couple seemed not to notice. I excused myself and went back to the dance floor, where Ryan Elliott was approaching the halfway mark of a ten-hour set. My new friends were remarkably sober and engaging, but I wanted to stop talking, stop thinking, and empty my mind for a while.
A 36-hour dance party with a heavy fetish bent may seem like a strange place to clear your head, but that's what techno and "klubnachts" do for me. Berghain is famous for its extremely selective and inscrutable door policy, but once you're inside, pretty much anything goes. You can undress yourself or someone else, so long as they consent. You can sample every pill and powder known to man in the packed unisex bathrooms, which look like a cross between a Hieronymus Bosch hellscape and the hyper-sexual early work of the artist Wolfgang Tillmans, whose photos hang on the walls of the club. You can also do what I did that night: stand under the speakers and close your eyes, alone and unbothered, mineral water in hand, and enter a kind of meditative state, your awareness on the beat rather than your breath.
We left Berghain at sunrise, woke up Monday night, and went out to dinner. Back at my date's apartment, I opened my laptop at the kitchen table. "You're on vacation," she said. "Take some time off, yeah?" All I wanted to do was put on headphones, find the tracks that I'd Shazamed the night before, and get to work.
__________________________________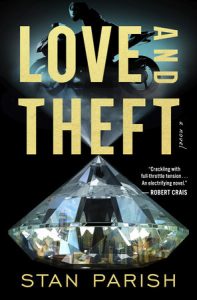 Love and Theft by Stan Parish is available via Doubleday.
---