How Does Focusing on the Self Affect a Woman's Sex Life?
"Great sex is mostly a matter of paying attention."
At the first session of the group therapy clinic, Lori Brotto passes a small plate of raisins around the conference table. It is early morning in British Columbia, on the cusp of fall. The recent rains have let up and light fills the small room in Vancouver General Hospital, where each of the eight assembled women, per Brotto's instructions, selects one wrinkled fruit. "Observe the object," she prompts. "Become aware of the details on the object's surface, the patches of light and dark, and the sensation of it lightly resting on the palm. Touch the object with a finger. Notice the topography. Look at the valleys and peaks." Each woman dutifully touches her withered charge, lifting it to her nose, her eyes, as instructed. Each one then rubs her raisin against her lips before placing it in her mouth and, ever so slowly, chewing and swallowing, "feeling it in the esophagus."
Brotto directs the Sexual Health Lab at the University of British Columbia. Her work on subjects as varied as asexuality, sexual function in cancer survivors, and women's arousal has helped position this idyllic archipelago on the global sexual health map and made Brotto, a psychologist, a leader in the field. Whereas in the United States the scientific study of desire is dominated by the pursuit of a libido-revving cure, here in Vancouver Brotto has secured both funding and broad support for her investigations into the ways that pain, stress, and emotion contour women's sexual interest.
Her orientation moves against the tide of much of sex therapy, which tends to focus on boosting women's excitement. Sexual desire, as research holds, is shaped by two central factors: facilitators and inhibitors, which sex educator Emily Nagoski has likened to gas and brake pedals in a car. This dual control model has received lopsided attention, with most interventions focused on trying to amplify excitement through more stimulation, be it from vibrators, pornography, off-label scripts, or lubricants. Brotto says that instead of throttling the engine, we should consider releasing the brakes.
For the past decade and a half, she has been exploring how mindfulness can help women overcome persistent sexual challenges and connect them to their desire. She believes the ancient practice of nonjudgmental awareness holds the key to the mind-body conundrum; in other words, great sex is mostly a matter of paying attention.
After the women have completed examining their raisins and swallowing them, Brotto asks, "What sensations were you aware of?" The women mention sweetness, texture, and liking or disliking the raisin.
"How was this experience different from the usual experience of eating a raisin?" One woman, a self-described "raisin hater," says she normally avoids them. Another raisin hater mentions a feeling of disgust so strong she didn't even want to pick hers up. A third woman offers that she normally shovels fistfuls into her mouth, without paying attention to their taste or how they might scatter to the floor.
"So how," Brotto asks, "might this manner of paying attention to eating the raisin be relevant to sexual interest and arousal?"
In Brotto's program, this innocuous treat shoulders a lot of responsibility. It at once provides an easy introduction to the practice of mindfulness and beckons the women to have their own moments of discovery. One of the raisin haters concedes that even though she expected it to be awful, when she just focused on the immediate sensations, it wasn't so terrible. Another woman volunteers that she enjoyed the lingering sweetness and wanted more. One shares that she was present for each moment and didn't bypass any part just to get it over with. For the next two months, this group will meet weekly to engage in mindfulness exercises, attempt to smooth the mottled surface of their own sexual beliefs and get a crash course on the latest science of sexual function, attention, and desire.
In-session meditation exercises and structured conversations will surface different ways to stay in the present, such as breaking with our autopilot tendencies, realizing that thoughts are not facts, and allowing sensations to take place in the body without expectation, revulsion, or anxiety. The facilitator's manual offers: "A focus on the impermanence of unpleasant sensations can help the practitioner learn to be with unpleasant sensations, rather than attempt to avoid or push them away. This occurs over time with the development of equanimity and non-self."
Our self-congratulatory multitasking, Lori Brotto says, is ruinous to our erotic health.
As I touch my own raisin, I silently consider how its soft folds bear a likeness to the vulva, which, it turns out, will be an object of similar inquiry later on in the program. In the same spirit of nonjudgmental curiosity, the women are encouraged to explore their genitals with a handheld mirror—not with the intent of exciting themselves, but rather to have a hands-on encounter with their own bodies. Brotto says that for many women, this is the first time they've had such an experience, and that it often provokes tears. Women confront the quiet shame with which they've viewed their bodies and all the ways this has intruded on their pleasure. As she tells me this, I think of one woman I spoke to who shared the lengths she would go to in order to ensure that her longtime partner never saw her naked backside. The woman's voice had fluttered between self-conscious mirth and weepy revelation as she described her habit of walking backward to the bathroom after making love.
The women in the conference room have all come of their own volition, recruited by ads on the bus and in bathroom-stall pamphlets, and convinced that the strength of their desire is somehow wrong or lacking. Some are partnered, some are single. One is employed but presently homeless. A young married woman from the Middle East worries that the later exercises involving erotica might be at odds with her religion. At least half of the women in the session I attended have a history of trauma. Their ages range from early twenties to early fifties, and Brotto, who has been running versions of the intervention since 2003, notes the relative youth of this season's participants.
After the session wraps up, Brotto and I talk about how women come into the program with their own ideas about "normal" sexual function and how they compare to the general public, that is, the liberated, lustful denizens of print and screen and fantasy. Older women, she says, who have typically had multiple opportunities to experience their sexual interest rise and fall, oftentimes express wanting to get their desire back, to regain its splendor before kids, or menopause, or the overfamiliarity of partnership dimmed their interest. For some mature women, Brotto adds, desire has never really been present, and they want to explore what they think they've been missing. But how are we to make sense of a very young woman, scarcely out of college, convinced that she is damaged?
"Sexuality is chock-full of myths and misperceptions that contribute to women's feelings of being broken or not working properly," says Brotto. For adolescents and young adults, these myths may be especially powerful, creating an unattainable baseline that women hold themselves to all the same. With Lucia O'Sullivan, a psychologist at the University of New Brunswick, Brotto has tracked the prevalence of sexual dysfunction in young people between the ages of sixteen and twenty-one. To their surprise, they found that sexual problems affected males and females at a similar rate, with roughly 80 percent of sexually active young people experiencing issues like low satisfaction, low desire, or difficulty with maintaining an erection, for males, or having an orgasm, for females. Although their study only followed people for two years, the research suggests that something happens in early adulthood where women continue to experience sexual problems in greater numbers. "We don't know if early experiences set women up on a trajectory for problems in later life," says Brotto. "It seems possible, but we don't have the research."
There are two red flags here. One is that the landscape of youthful sexuality is looking more complicated and less fun than ever. Flying in the face of teen sexual experimentation as a tender but awkward rite of passage, we see young women and men struggling to enjoy their own sexuality. (It's unclear, however, how much of this is new, because of the long-standing taboo against looking at adolescent sex through any lens apart from that of risk.) The other red flag, which is of greater relevance here, is that even if young men and women experience comparable challenges, as they get older it is the women who appear to fare worse. Research by psychiatrist Raymond Rosen focusing on adults in the United States from 2000 suggests that sexual dysfunction affects some 43 percent of women but only 31 percent of men, and that low desire affects about 30 percent of women but only 15 percent of men. Sexual pain also appears to be highly gendered, affecting 10 to 15 percent of women and less than 5 percent of men.
We're caught up in our heads and can't drop into our skin—so much so that a stroke on the genitals might as well be a tap on the elbow.
Brotto's work wades into the heart of this apparent discrepancy. A calm and unselfconscious facilitator, she walks to the whiteboard and draws what she calls a snowball chart: a series of concentric circles with low desire in the center ringed by guilt, anxiety, avoidance, mood issues, alterations in behavior, and changes in relationships. "Research suggests mindfulness can reduce the suffering associated with low desire," she says. "But I believe mindfulness can help with all of it." She waves a tapered hand across the board.
Her demeanor is warm but efficient, and I get the sense that each piece of her impressively, dizzyingly full life is accorded its own neat compartment. She starts work each day at six in the morning, so that she can finish by three in the afternoon, just in time to manage the active schedule of her three children. Above her desk a printout offering thirteen tips for effective time management is half-obscured by a child's marker drawing mounted on popsicle sticks. When we meet at eight in the morning, her makeup adds a golden hue to her Mediterranean complexion (she's Italian, raised Catholic, with all the sexual baggage that entails). If the spikey heels of her smart bootlets give her feet any grief, she hides it very well. Indeed, the charged spring of her step gives the impression of momentum continually gathering in her form.
Her own supernaturally busy schedule aside, it is Brotto's clinical view that multitasking is the death knell of desire. Women, perhaps mothers in particular, are lauded for their split attention: Cooking dinner while balancing the checkbook. Folding laundry while taking a conference call. Pumping breast milk while grinding through the morning commute. It's doubtful this I don't know how she does it—defying capacity actually serves women. Indeed, the evidence suggests that it contributes to our outsized share of stress, anxiety, and depression, plus the generalized feelings of depletion and never being enough. Brotto believes this trait really works against women when it comes to sex. Our self-congratulatory multitasking, she says, is ruinous to our erotic health. Rather than tuning into our bodily sensations, we become ensnarled in webs of self-censoring, list-making, and incessant problem-solving. We're caught up in our heads and can't drop into our skin—so much so that a stroke on the genitals might as well be a tap on the elbow.
Mindfulness, as Brotto emphasizes repeatedly, does not create sensation; rather, it directs one's focus to sensation that already exists.
According to Brotto, a robust experience of desire is about being in the moment. Women in the throes of eroticism are not marching through their to dos, or reviewing the day's trials and triumphs. They are both physically and psychologically connected to the immediate; they are, in short, participants in their own sexuality. This may seem like a smack-the-forehead, no-kidding observation—of course our sensual enjoyment demands our full engagement. And yet many women—and men—believe that sex is an automatic function that, left to its own devices, will simply take care of itself. As a result, we wait around for the flames of passion to ignite. We believe that we can just lie back and enjoy the ride—or at least climb aboard and be taken to a pleasing place. But for a large number of women—some 10 to 55 percent, with the exact figure difficult to pinpoint—there is no desire and there is little enjoyment. Brotto believes that is often because they are not really present. Hence the raisin. If you can tune into a piece of desiccated fruit, surely you can awaken to the swan song of your own libido.
These days mindfulness makes a regular appearance in the media, in health care, and even in corporate management. Researchers have ascribed innumerable benefits to the practice, including improved mood, heightened focus, sounder sleep, better parenting, deeper compassion, and more expansive creativity. Though the roots of mindfulness reach back several thousand years, its history in American health care extends only a few decades. In 1965, a molecular biologist named Jon Kabat-Zinn, then doing postdoctoral work at the Massachusetts Institute of Technology, attended a lecture by a Zen Buddhist teacher, Philip Kapleau. Moved by what he heard, he started meditating, and eventually he gave up his work in bench science to devote himself to the practice. After having what he described as a "ten second vision" while meditating at a retreat outside of Boston, he believed that mindfulness could spread to hospitals and clinics around the country, transforming the course of care.
His basic premise was, "As long as you are breathing, there is more right with you than wrong with you." The idea was not to eliminate pain, but to help people observe it and realize "the pain is not me." His work paved the way for further interventions, including the well-studied mindfulness-based cognitive therapy for people with depression, which has been shown to be at least as effective as antidepressants. Its aim is to help patients view their thoughts as momentary impressions, rather than naked depictions of the world. The popularity of his work helped to broadcast the idea that unpleasant sensations and barbed memories are not in and of themselves the source of suffering. It is rather the stories, anxieties, and sense of stubborn fate we attach to these discomforts that contribute to our anguish.
Brotto began to immerse herself in these ideas as a postdoctoral fellow at the University of Washington. As part of a behavioral therapy program, she trained suicidal patients in mindfulness techniques and found that staying in the "here and now" helped counter feelings of overwhelming despair. Even if the present was challenging, it was the impulse to revisit the past or speculate on what lay ahead that can create dread. Brotto realized that if tuning into the "truth" of the present helped to stave off self-harm, then mindfulness was bound to have broader therapeutic applications.
Meanwhile, in both her research and her clinical practice, Brotto was helping gynecological cancer survivors address their sex-related problems. She observed that many of her patients complained of absent sexual feelings. As one patient put it to her, "My genitals feel dead." And yet, when these women came into the lab, there was no sign of a physical problem. Brotto would show them a series of short erotic films while a vaginal photoplethysmograph recorded their genital blood flow. Despite articulating feelings of sexual indifference, their bodies still showed a strong response to visual stimulation. How was it, Brotto wondered, that women could report no sensation, and yet experience a robust bodily reaction? She speculated that it was an example of mind-body disconnect: changes were taking place beneath the skin that the mind failed to register. If arousal was already there, maybe women just needed to learn to recognize it. Mindfulness, as Brotto emphasizes repeatedly, does not create sensation; rather, it directs one's focus to sensation that already exists. In the case of women, that appears to be a vast pool of undetected arousal.
__________________________________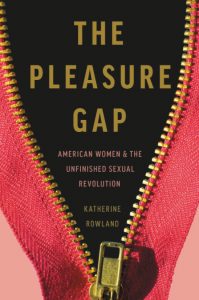 Excerpted from The Pleasure Gap: American Women and the Unfinished Sexual Revolution by Katherine Rowland. Copyright © 2020. Available from Seal Press, an imprint of Hachette Book Group, Inc.
---