How Do You Write About a Woman Who Loathed the Spotlight?
Alice Miller on Georgie Hyde-Lees, Who Was Married to a Famous Irish Poet
When I started writing my first novel, More Miracle Than Bird—the story of the brilliant woman, Georgie Hyde-Lees, who is best known as the wife of the poet W.B. Yeats—I was terrified that someone else would be writing the same story. Some other novelist, a great deal more experienced than me, must also know how damned good this story was. I felt a cool dread as I opened the book review pages, waiting for the inevitable moment when I'd discover that someone else had already told this strange yarn about a clever, determined woman in a wartime London crawling with ghosts. Someone else would have been drawn in by the eccentric, famous artists that play key supporting roles in this drama. Who wouldn't want to tackle such a story?
But then, after a year or so, I accepted that no one else was actually thinking about this story. My anxiety promptly shifted focus. Perhaps it was a terrible idea for a book! Perhaps to take on this very real person and write her story was too audacious, even for an established novelist! It was true that Georgie herself, my protagonist, would not have approved of my project. In the 1940s, in a letter to an academic who had just given a lecture about her husband, she wrote: "Thank you for leaving me out."
*
While writing this novel about a very real person, "audacity" was a word that often came to mind. Writing someone else's story is riddled with arrogance. How dare you steal someone's real life and force your own structure, your own words onto it? At first, I was too scared to get close. It felt worse than breaking into someone's house and trying on all her clothes. It felt more like I was trying on her skin.
And yet, over time, I found that trying on her skin was thrilling.
It may not sound glamorous, but the best part of writing this book was definitely the research. Yes, there's a point where it gets niggly—where the timelines must be juggled, where the paranoia runs high. But at the best times there's the freedom of turning invisible,  borrowing someone else's brain and vanishing into a time that isn't your own.
More than anything else, for me, this act of borrowing someone else's brain required time. I was very lucky to have some long writing residencies while I was working on this book—in a city in New Zealand on the harbor, and in the woods of southern Germany. Apart from the hours writing, rewriting, worrying, deleting, and rewriting again, these residencies also allowed me to spend many hours walking, trying to imagine that I was somewhere other than where I was, in a body other than my own.
I used to go to sleep at night trying to inhabit Georgie's voice, to imagine what it was like to walk through her London in the blackouts. It became a meditative process, walking through her wartime city, to get used to the sight of wounded soldiers on the street, or the straw laid out on the road to mute the sound of the horses' hoofs. Sometimes, half-asleep, I would forget which was her world and which mine.
As a historical novelist . . . you get to galumph about in meadows of books, and to see what burrs stick to you.
As I'm the kind of person who worries a lot about how I'm spending my time, the necessary historical research also gave me permission to pour a lot of time into reading about something that might never be relevant–but could be. In the name of research, I could spend as long as I wished reading and making notes. I justified travelling to Ireland and retracing Georgie's steps all around London. I read certain contemporary books over and over, partly because they were soaked in the details and language of First World War London, and also because I adore re-reading. (A novelist I know never reads the same book twice, which I still can't believe. Why wouldn't you?).
My research reminded me of that Robert Frost line about the different ways that scholars and poets acquire knowledge; while scholars get all their material out of books, Frost said, poets wander out into the fields and see what burrs stick to them. As a historical novelist, you get both: you get to galumph about in meadows of books, and to see what burrs stick to you. You get the books and the meadow.
There's a sense in which I spent years in early 20th-century London. It was my own thrilling, wild meadow, that dark streetscape during the war.
*
I did have to get my head around some new concepts, one of the silliest of which was the northern hemisphere seasons. I've lived in the northern hemisphere for years, but for some reason the seasons of my childhood—the southern hemisphere seasons, the other way round—have stuck stubbornly in my brain. I had to note down carefully the months of each season, so as to ensure I didn't have Georgie layering up all her coats and heading out into a freezing night in the middle of June.
Of course, there's a lot you write and throw away. I read and wrote a great deal about George—as she was known by then—when she was older. That didn't make it into the final version of the book. Still, the later parts of her story stay with me. Once, in their marriage, a man approached George, aware that she was the wife of the famous poet, W.B. Yeats, and asked her "how it felt to live with a genius."
She said, "Oh, all right, I never notice."
Her off-hand response says so much about our cult of genius, about what we believe about people who are immortalized by their work. I never notice.
What I love about novels and poems is the great space in which we can interpret what we read, the huge chamber in which words can echo in slightly different ways to every reader. Right now, the vastness of that space—and the willingness to welcome a multiplicity of possible readings—seems to matter more than ever.
I'm told that early readers of my book are divided between "Team Yeats" and "Team Pike" (a fictional wounded soldier in the hospital where Georgie works). Someone asked me the other day which team I was on, and I said, smiling, "Thank you for leaving me out."
And yet, although I went against her wishes, I'm glad we haven't left Georgie out. She really was an extraordinary, fiercely intelligent woman, and I'm delighted we have a chance to turn the focus to her, to make sure that this time around, she is the one who gets noticed.
__________________________________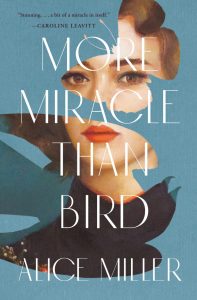 Alice Miller's novel More Miracle Than Bird is available from Tin House.                                                   
---