How Do We Get the USA Back to the World Cup?
Bruce Arena: Two Decades On and We're Fighting the Same Issues
After the US team's stunning loss to Trinidad and Tobago in 2017, dreams of playing in the 2018 World Cup were suddenly a thing of the past. Soccer is now widely accepted and clearly has a great future in our country. On the commercial side, it is growing impressively—in television ratings, sponsorships, attendance, cultural relevance, you name it. Yet on the field there are still enough issues that I have serious concerns. We need to talk these issues through and come to some consensus, or we'll be forever stuck repeating the same mistakes.
One thing is clear: the problems and issues we have now in 2018 are the same ones we had the day before we played Trinidad and Tobago, and they were the same the day after. If you don't agree with that, then you are either in denial or you don't understand the issues.
For a start, we have a huge void in the leadership of the sport in this country, specifically a lack of expertise in the technical side of the game, and that lack undermines any progress we are trying to make on the field of play. We need to improve our coaching, our coaching education, and the administrative leadership of the sport. We also need to avoid listening to the opinions of every Tom, Dick, and Harry. If we begin to make things better by getting the right people in the right places, the sport will grow and get better, and some of the loudmouths might not be heard as much as they are today.
Back in the 1980s, I was taking my refresher course in the A-level coaching school held by US Soccer in Tampa, Florida. Former national team coach Walt Chyzowych, the director of coaching for the federation, gave the course's opening talk, titled "The American Problem." Walt said: "We are geographically a very big country: we have three different time zones, we have different climates, we have different cultures and languages. Yes, we can take bits and pieces from everyone, but ultimately, we need to find our own way of mastering this game. We are simply different from the rest of the world, and therefore trying to copy Holland, England, Spain, France, Italy, Germany, Brazil, or Argentina makes no sense. We have to find our own solutions to our own set of problems. We are unique, we are different from the rest of the world, and we should not be copying anyone else." Three decades later, I'm not sure we've ever really heeded Walt's wise words, and as a result, sadly, we simply have not made the kind of progress we should have made in the technical side of the game. We're still looking for solutions to the American problem.
Where do we start? What do we need to do to get better? Let's look at the professional game in our country. In 1996, we started Major League Soccer, based on an agreement with FIFA for having been awarded the 1994 World Cup in the United States. FIFA felt that the United States was the last frontier they needed to conquer to really make soccer the "world's game." They wanted the biggest and richest country in the world to be truly a part of the FIFA family, and starting the MLS was seen as a very important step toward that goal.
I can tell you that when we kicked off the league, we were nowhere near prepared to handle all the challenges of such a major endeavor. The league and its local markets scrambled to get strong ownership in place. We began with ten teams: the New England Revolution, the New York/New Jersey MetroStars, Washington DC United, the Tampa Bay Mutiny, the Kansas City Wiz, the Columbus Crew, the Colorado Rapids, the Dallas Burn, the San Jose Clash, and the LA Galaxy. With a strong influence of NFL owners—the Kraft Family (New England) and Lamar Hunt (Kansas City and Columbus), plus John Kluge and Stuart Subotnick (MetroStars) and Phil Anschutz (Colorado)—among a variety of other ownership groups, as well as league-operated franchises in Tampa, Dallas, and San Jose, the league kicked off in 1996 under its single-entity business model. Typical of any professional league in its inaugural season, there were countless issues, from poor stadiums and poor day-to–day management to poor travel, poor officiating, and poor leadership. However, we had some surprisingly good players in the league. It was a start.
"Soccer in the United States is growing at all levels, but it will take many more years before we can relax a bit and feel good about where we are."
At the time, when I accepted the head coach and assistant general manager positions at DC United, I was excited that we were kicking off a new professional league in the United States. I was excited that we would be giving our American players the chance to play and become solid professionals, and I was excited that we would be growing soccer to the point where one day we would challenge the rest of the world by positioning ourselves to win a World Cup.
Because of its aggressive deputy commissioner, Sunil Gulati, the league was able to sign some international players with huge reputations and some good playing years still ahead of them, like Carlos Valderrama, Marco Etcheverry, Roberto Donadoni, and Jorge Campos. Some top American players came home to play in MLS, too, including John Harkes, Tab Ramos, Eric Wynalda, and Alexi Lalas. There was good momentum and for the most part we put up a pretty good smoke screen to cover up our many shortcomings, but there would be a lot of work that needed to get done for the league to flourish.
"The guys who started the league . . . don't know soccer," Eric Wynalda commented at the time. "They screwed up in the most vital part possible, which is in how the game is presented."
Leadership comes in all different shapes, sizes, and forms. I think all organizations require good leadership, whether you're talking about business, politics, sports, education, or religion, but just what constitutes good leadership seems to remain a mystery to many people. When things are going well, great, everyone's happy, and sometimes leaders are given more credit than they deserve. When things are not going well, you better have good leaders in your organization, and they need to be the kind of people who are willing to accept the responsibility when things are not going well.
In my opinion, NFL Commissioner Roger Goodell is an example of someone who is not a good leader. His poor handling of a number of issues in recent years, from sexual abuse cases to "deflate-gate," has clearly damaged the reputation of the league. Yet the NFL is arguably the most successful professional sports league in the world. I thought George W. Bush (9/11) and Barack Obama (the aftermath of the 2007–2008 financial crisis) were outstanding leaders in difficult times. Our soccer leadership needs to be better, that is, more than spokespeople or persons positioned on a corporate ladder. Good leaders have vision and perspective. They identify problems and solve them. They follow up and make sure those solutions have been implemented. They also take care to hire the right people and design organizations accordingly. In the end, you will have an organization running on all cylinders, positioned to deal with any problems that may come your way. You should never be blindsided.
Soccer in the United States is growing at all levels, but it will take many more years before we can relax a bit and feel good about where we are. We'll reach that point only with strong, smart, and decisive leadership focused on continuing to chase our goals of successfully competing at the international levels and battling for acceptance in our own country.
*
After the 2014–2018 campaign, we should realize that there is a very fine line between qualifying for the World Cup and narrowly missing out. In the future, we need to get all these decisions right, including seemingly small details, and to do that we have to have the right type of management team in place. We no longer have any margin for error. Unlike other countries, the United States does not have a home stadium for the national team. We also have an incredibly diverse population, which comprises many immigrants from the homelands of our competitors. We need to make the right decisions in venue selections, and all voices need to be heard. Having a general manager in place will ensure that these decisions are made in collaboration with the management of the national team program and that these types of missteps never happen again.
I do want to be clear: I think US Soccer and MLS have done a very good job in moving the sport forward. They have promoted and built it. US Soccer provides for player, coach, and referee development. MLS has impressively grown the professional league. However, that progress goes only so far. We need to get better if we wish to one day compete to win a World Cup. I don't believe either organization has done a good job in developing senior-level administrators. Basically, the same people have remained in control of the sport over the past 20 years. This should not happen. The landscape of the sport has changed drastically, and there is a need for new leaders with technical experience who can bring fresh ideas to the table. There needs to be some new blood and some new ways of doing things.
I don't think we need wholesale changes. However, we need good experienced people to play important roles in our leading entities in the sport.
__________________________________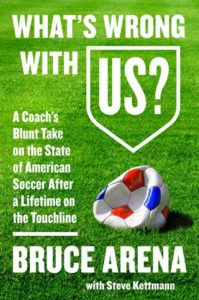 From What's Wrong with US?. Used with permission of Harper. Copyright © 2018 by Bruce Arena.
---