How Do We Banish the Monster That Is Donald Trump?
Ariel Dorfman Looks to Mary Shelley's Frankenstein for Help in Dark Times
Who created Donald Trump, who breathed so much life into him?
In order to explain the origins of the New York contender's astonishing run for the Presidency, many politicians and pundits have persistently recurred to Frankenstein, one of the founding myths of modernity, the story of a colossal monster who rises up and rebels against his maker. These observers point to the toxic political climate engendered by the Republicans over the last decades, Trump as the extreme incarnation of an incendiary stoking of fear, racism, and xenophobia, a misbegotten monster come home to roost.
The easy formula that equates Trump to the Monster and his Party to his Maker, irrefutable as it may be, does not, however, help us address the urgent problem of how to prevent the belligerent billionaire from prevailing. 
For that, we need to turn to the novel Frankenstein, first conceived 200 years ago in the dismal summer of 1816 by a young woman called Mary Shelley. And we should read it in a way that spurs us to go beyond the simplification to which her complex and cautionary tale of hubris has been reduced and confined by popular culture.
I admit to having succumbed, as a child of seven, to the pleasures of that simplification.
It was 1949 and I had just seen Abbott and Costello Meet Frankenstein, and I can remember gripping my mother's hand tight as we returned from the cinema in Manhattan to our house in Queens, not far from where Donald Trump, then three years old, was growing up in indubitably more opulent circumstances. I imagine that Trump might have reacted to the fiend by punching him in the face or carrying him out on a stretcher, but I confess that I was scared out of my wits. But I was also fascinated, determined to surmount my apprehension by visiting his every available avatar, from James Whale's film version to the sequels, Bride of Frankenstein and Son of Frankenstein, and even The Ghost of Frankenstein, where Lon Chaney took over from the perennial Boris Karloff.
My mother did not mind taking me to gorge myself on these shows as long as I promised, once I came of age, to read the original novel where I'd discover that Frankenstein, my Mom said, "is not the monster but rather the arrogant genius who designed him. And that will open up issues that have no facile answers." And in effect, I did go to the source in late adolescence and was indeed tormented by a question that must have haunted Mary Shelley when, vacationing in a Swiss villa with Lord Byron and her future husband, Percy Bysshe Shelley, she began writing Frankenstein: who is the real monster, the unwilling creature who has been granted a deformed life or his overreaching creator?
*
Raising that anguishing question again today lets us delve deeper into what is truly terrifying in the Trump insurgency: the fact that immense legions are voting for a man who feeds on fear and relishes torture and mass deportation. Without these troubled multitudes who project onto him their uncertainties, nightmares, and desires, Trump would not exist. Aren't the real monsters, therefore, the men and women enthralled by his outrageous charisma, his strong-arm bullying, his celebration of greed and manliness?
The temptation to build a wall around those people, to get them out of our sight and our lives, is often overwhelming. All the more reason to be wary of imitating his supporters, degrading and demonizing them as if they were invasive, malignant aliens.
It is precisely this dehumanization of the Other that Mary Shelley's novel critiques. Though most film versions portray the monster as speechless, in the book he has a delicate and despairing soul, and he is able to articulate his loneliness, demanding that he not be judged by his outer deformities. Am I being naïve to suggest that what we should feel for Trump's devotees is compassion? Leaving aside the violent, irredeemable fringes of fanatical bigots and neo-Nazis, can we not venture that the huge majority of Trump voters dwell in an existential desolation that is encapsulated in the epigraph from Milton's Paradise Lost that is quoted on the title page of Frankenstein, Adam's plea to the God that fashioned him: "Did I solicit thee / From darkness to promote me?"
His followers may have created Trump and fostered his rise, but which merciless God was it that promoted them from darkness and made these men and women feel so anxious about their families, so helpless and lost in their abandonment, that they would exalt a demagogue who appeals to their vilest instincts and thrives on their sorrow and insecurity?
Whether Trump is ultimately defeated or not, those masses of our misguided fellow citizens will remain vastly among us. They pose the real challenge. It was the darker side of America that spawned them, that facilitated their need for a Superman savior like Trump, so it must be the other, more luminous America, that should, after looking deep into the mirror, contest and defuse the wrath of so many frustrated millions, convincing them to stop conjuring up false demons from the abyss and start confronting the all too tangible demons of war, poverty, racism, inequality of gender, and ecological catastrophe that threaten us all, the true terrors and monsters we must vanquish side by side. Only if we find a way of stripping the backers of Trump of their delusions and dread, only if we find a way to include them in the solution to the shared dilemmas of our time, will the last words of Mary Shelley's novel, as she bids farewell to the Monster and what is monstrous in us, deserve the slim chance of coming true, turning these lines into a wondrous prophecy: "He was soon borne away by the waves, and lost in darkness and distance."
__________________________________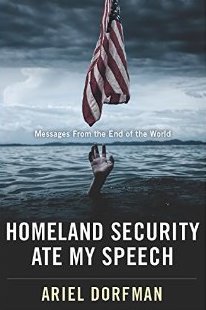 From Homeland Security Ate My Speech, by Ariel Dorfman, courtesy O/R Books. Copyright 2017, Ariel Dorfman.
---