Chuck Palahniuk on the Awful Necessity of Author Photos
From Long-Haired and Grim to Face Tattoos, Nobody's Ever Happy
Margaret Buschmann was my first. We did it on a Saturday when no one would be around. In a tiny first-floor office at the Freightliner Corporation where we both worked. There was a roll-down screen we could use as a backdrop, and Margaret brought her own camera. It was hot, a hot August afternoon. We'd always joked that if I ever sold a book we'd do it. So we snuck in when the building would be otherwise empty, and we did it.
Margaret took my first author photo.
The push-back was immediate. The year 1995 was still the 80s as far as I was concerned so I wore a striped cotton turtleneck sweater. Picture Bazooka Joe on the old Bazooka Bubblegum comics. A thick, ribbed sweater that rolled up to my chin. And I wore it over a black hoodie sweatshirt so that the hood spilled out of the collar of the turtleneck. Did I mention the temperature? Once Margaret arranged the lights I was sweating buckets. She kept looking at me, and asking, "Are you sure you want to wear that?"
My haircut, some version of the 80s infamous claw bangs, and the sweat stuck the hair flat to my forehead so it needed regular fluffing. I told her I was fine. She said I didn't look very relaxed. We argued.
That rite of passage, the author photo, something I'd anticipated for so long, became an unhappy ordeal. On the book tour for the hardcover of Fight Club an interviewer looked at the photo on the dust jacket and asked, "What are you supposed to be? An astronaut?"
A year later for the paperback, my publisher had asked for a different photo. This one a friend snapped in my garden with canna Pretoria blooming in the background. Instead of a turtleneck, the raised collar of a fleece jacket hid my secret, but we'll come back to that.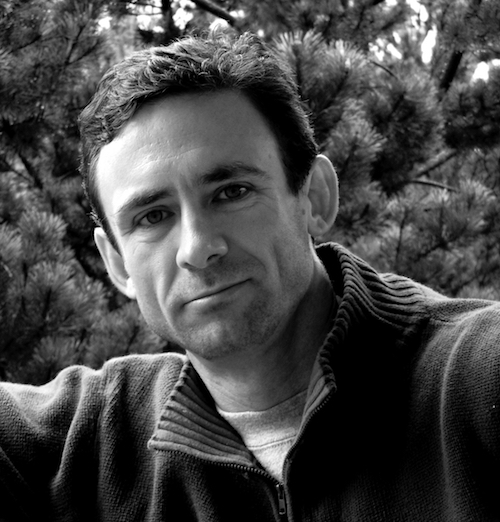 The author photo. As a rule it's as banal as an actor's headshot. But there are exceptions.  Think of Truman Capote's provocative photo used on Other Voice, Other Rooms. Looking like a male Lolita he reclines on a divan and fixes the camera with a come-hither look. That photo got more attention than the book, itself.
A friend, the author Joanna Rose, ran author events at Powell's Bookstore for years. She warned that a too-attractive photo would lead to years of meeting disappointed people. To illustrate, I once appeared at the Galway International Arts Festival. Backstage I glanced through a program guide. One photo left me breathless: A woman with fine, pale features and a wild halo of dark curls. It was the legendary poet Edna O'Brien. I couldn't wait to meet her.
A festival organizer whispered that O'Brien would not be appearing. She added that the photo used in the program had been taken in the 1950s. The real Edna O'Brien would be absent because, as the organizer put it, "She's in London, finally getting her hernia fixed."
To search for images on the web is to risk getting sucked down a Sunset Boulevard rabbit hole—as in: "How could she breathe surrounded by so many Norma Desmonds?"
Each image marks a specific time and place. The me with the wire-framed glasses and the ratty tweed blazer was taken in Cologne adjacent to a bridgehead. The one with long hair and a black silk t-shirt (Bill Blass from Ross Dress for Less, $7) was taken by Chris Saunders, who showed up at a Manchester pub where I'd just completed a six-hour book signing. He asked for ten minutes, and my glower is because it was 2 am, and I was semi-soused and could hardly keep my eyes open and would have to repeat the whole dog-and-pony show the next night in Glasgow.
The author photo is the "reality" that underscores the magic of the fictional work. For a person who does the "labor" of inventing and executing the make-believe, the photo is the staid, clear-eyed proof of their professionalism. It's as if an adult version of our annual childhood school photos, this posed, stylized us will convince readers that writing is a real job. The photo is the equivalent of the actor taking his bow. A performer breaking character, even better, removing his wig or prosthetic nose and breaking the fourth wall to face the audience and prove his humanity. And by creating that contrast, prove his gift. Again, the "real" thing seems intended to highlight the quality of the preceding "fake" thing.
"Yes," the photo seems to insist, "all of the dragons and gorgons and whatnot came from the imagination of this fairly ordinary-looking person!" This photo so interchangeable with that of any realtor in the world.
Perhaps that's why the photos themselves are so unremarkable. No one wants to upstage his own imagination. Plus, of course, a single photo used for years, on many different books, is a branding device. We love our Emily Dickinson tote bags and John Grisham coffee mugs, and those images identify us to like-minded readers.
Not to mention that the photos themselves become a commodity… On one book tour my schedule was dominated by appointments with a different photographer every half hour. I'd be shot by one while the next two or three waited. Each one had his own set-ups within a short walk. I asked one man what publication his photos were for. He shook his head.  There was no specific magazine or newspaper for these photos.  He said, "Getty Images is buying a lot of you, right now." Meaning, my publisher was sort-of renting me by the half hour to speculative shutter bugs, all of whom hoped to get a few images they could sell to the world's largest library of images. This was helping to underwrite the cost of the travel.
For Vogue Homme I lay across broken mirrors on the oily concrete floor of a parking garage while a Russian art director stood next to the photographer repeating, "There! That's the picture! That's the picture!"
In England, a photographer told me not to smile. We were working in the Brighton Corn Exchange, a huge, dim warehouse of a building. I kept smiling, and he kept telling me not to smile. At last I asked why.
"Because," he told me, "you look stupid when you smile."
Enough said. I stopped smiling.
After the Chris Saunders picture in the Manchester pub, I cut my hair. That called for a new author photo so my sister snapped one of me, outside on her deck. If you see a few pine needles in the background, it's the photo in question. This one lasted me for years. It's as banal as banal gets. The archetypal author photo.
Once I started writing comics and coloring books, the author "photo" became a drawing. Pure ego gratification. Once someone who draws superheroes draws your picture, you never want to go back to reality.
Most recently, the Allan Amato photo was a happy medium: A wonderful image, but as staged and retouched as anything between the pages of Playboy.
However life is nothing if not branding and marketing. Packaging and repackaging. And this year my publisher asked for a new photograph. And something snapped.
A friend suggested the photographer Adam Levey who shoots a lot for Nike. An author photo and a police mug shot, they both struck me as cousins of the infamous Faces of Meth. I still had the 1995 black hoodie. I hold onto clothes forever. Halloween was coming, and stores were filled with fake scars. I shaved my head.
For as long as I've been published I've tried to hide something. My neck. I have a long neck. That's why the turtlenecks and stand-up collars. I gave up. I wondered why an author photo couldn't be ugly. Search the web, and the best prison mug shots are a combination of menacing, tragic and clownish.
I covered half my neck, my face and my shaved head with fake tattoos. Adam Levey put on Tom Waits and turned it up, loud. Edna O'Brien, I am not.
Go figure, but the publisher loved it. A week later they didn't like it. They say it might even hurt sales. We are currently in negotiations over a new-new jacket photo sans prison tats.
---