How Christian Leaders Made the Case for the Crusades as an Act of… Love?
Richard Firth-Godbehere on Saint Augustine's Exception to "Thou Shalt Not Kill"
Seven hundred years after Augustine's conversion, Pope Urban stood before a packed hall at Clermont—in what was then the Duchy of Aquitaine—filled with dozens, probably hundreds, of the most powerful and influential people in Europe, including archbishops, abbots, knights, and noblemen from across the region. It was November 1095, and if he was going to make an impact, now was the time to do it. Augustine's ideas about love and emotion still dominated Christianity at the time, and Urban, a skilled rhetorician, knew how to use them. He began his speech.
Most beloved brethren: Urged by necessity, I, Urban, by the permission of God chief bishop and prelate over the whole world, have come to these parts as an ambassador with a divine admonition to you, the servants of God.
At least, that's what the version written by Fulcher of Chartres claims he said. There are several records of this speech, each set down by someone supposedly present at the time. In reality, it's likely that the majority are retellings of a small number of original accounts that have been embellished to make a point. That doesn't mean that they are all completely different, though. Almost every account of Urban's speech has him referring to his fellow Christians as "beloved brethren." The words occur not only in the version of the address above but also in accounts by Robert the Monk, Guibert of Nogent, and Balderic, archbishop of Dol.
That the "beloved brethren" term was used as a way to get everyone on the same page in every account is important. Urban and his chroniclers were tapping into the crowd's brotherly, uti love for fellow Christians who were up against a common enemy. The most explicit example of this is found in the account by Balderic of Dol. After listing the horrors inflicted by Islamic forces on his fellow Christians living at the edges of the Byzantine Empire—they were flogged, driven from their homes, enslaved, robbed of their churches, and so on—Urban is said to have addressed the crowd directly:
You should shudder, brethren, you should shudder at raising a violent hand against Christians; it is less wicked to brandish your sword against Saracens. It is the only warfare that is righteous, for it is charity to risk your life for your brothers.
The word used in most of the primary sources for charity was caritas — that Augustinian right sort of love. But Urban and his chroniclers were also tapping into the direct and powerful frui love you should feel for Christ himself. Robert the Monk had Urban use this notion to pry people away from those they loved on earth:
But if you are hindered by love of children, parents and wives, remember what the Lord says in the Gospel, "He that loveth father or mother more than me, is not worthy of me . . . Every one that hath forsaken houses, or brethren, or sisters, or father, or mother, or wife, or children, or lands for my name's sake shall receive an hundredfold and shall inherit everlasting life."
The chance of everlasting life in the presence of God was the key. Linking it to a frui love for Christ and fellow Christians was powerful.
Much of the crusader rhetoric tapped into uti love for the Holy Land itself. The ever-polemical Balderic of Dol echoed Psalm 79:1 by having Urban say:
We weep and wail, brethren, alas, like the Psalmist, in our inmost heart! We are wretched and unhappy, and in us is that prophecy fulfilled: "God, the nations are come into thine inheritance; thy holy temple have they defiled; they have laid Jerusalem in heaps; the dead bodies of thy servants have been given to be food for the birds of the heaven, the flesh of thy saints unto the beasts of the Earth. Their blood have they shed like water round about Jerusalem, and there was none to bury them."
This uti love for the Holy Land wasn't just a legend built up by Crusade writers. Islamic accounts of the Crusades put similar words into the mouths of crusaders. Writing about the Islamic reconquering of Jerusalem in 1187, Persian scholar Imad ad-Din al-Isfahani heard terrified crusaders get ready for a final battle with the words:
We love this place, we are bound to it, our honour lies in honouring it, its salvation is ours, its safety is ours, its survival is ours. If we go far from it we shall surely be branded with shame and just censure, for here is the place of the crucifixion and our goal, the altar and the place of sacrifice.
The impetus for crusading seems to have been a deep sense of uti love in the Augustinian sense. The problem is, Augustine didn't mean "love only thy neighbors whom you agree with," and that raises a question about how an 11th-century man might reconcile violence against others with neighborly love. Thankfully, at least from the crusader's point of view, Augustine also had an answer for that in his concept of a just war.
Augustine saw war as an act of correction, a bit like disciplining a child who has misbehaved. He wrote:
They who have waged war in obedience to the divine command, or in conformity with His laws have represented in their persons the public justice or the wisdom of government, and in this capacity have put to death wicked men; such persons have by no means violated the commandment, "Thou shalt not kill."
As long as you are fighting for the right reasons—that is, for God—and not for personal gain or hatred, then the war is just. More than that, it can be an act of uti love. Killing a sinner is to remove sin from the face of the earth, and that, to Augustine, was a good thing. It was also a good thing for the crusaders.
__________________________________________________________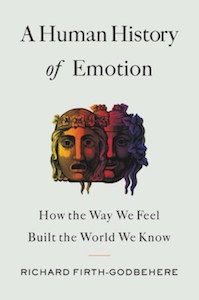 Excerpted from A HUMAN HISTORY OF EMOTION by Richard Firth-Godbehere. Copyright © 2021 by Richard Firth- Godbehere. Used with permission from Little, Brown Spark, an imprint of Little, Brown and Company. New York, NY. All rights reserved.
---